Giants vs. Tigers: World Series Preview, Game-by-Game Predictions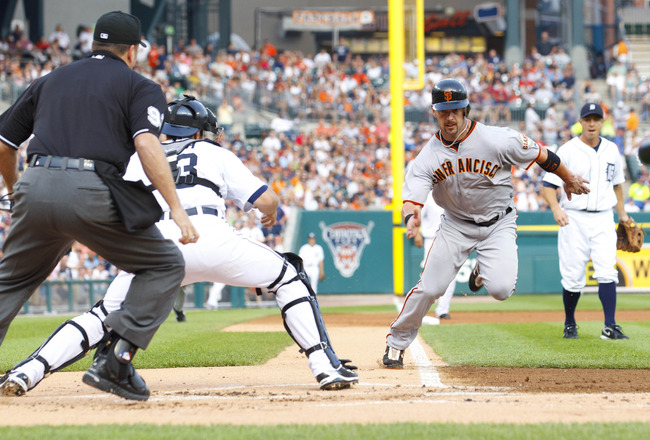 Rick Osentoski-US PRESSWIRE
After perhaps the most exciting divisional series ever and two great championship series that could not have been much more different, we have our two World Series teams.
The Detroit Tigers and San Francisco Giants both had opposite routes getting here; the Tigers swept the Yankees with little difficulty, while the Cardinals squandered a 3-1 series lead, making the NLCS a seven-game showdown won by the Giants with an improbable comeback.
We now have the World Series matchup between the comeback kids in San Francisco and the dynamic duo in Detroit. Which team will emerge victorious? Here's a preview of the series, complete with game-by-game predictions.
Tigers Lineup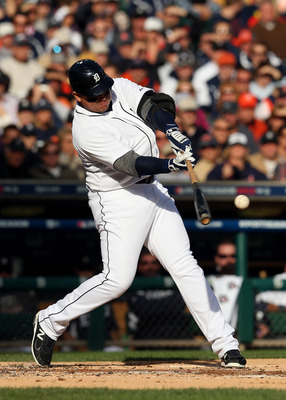 Jonathan Daniel/Getty Images
The Detroit Tigers may have had the most potent lineup of the playoff teams, and after knocking out the Yankees it sure seems that way.
The catcher spot doesn't feature much in Alex Avila and Gerald Laird, but the infield is dynamic with Prince Fielder and Miguel Cabrera. Having those two in the middle always creates a threat, and DH Delmon Young has played great in the playoffs.
Omar Infante and Andy Dirks have not done much, but Jhonny Peralta in the infield and Austin Jackson in the outfield provide more great pop, and having Young just hit without fielding actually makes the outfield that much better on its own.
They don't have much else on the bench, with Quentin Berry and Laird being the only backups really used, but a clear exception to that is Avisail Garcia, who has shown himself to be a bright rookie for the Tigers so far.
Giants Lineup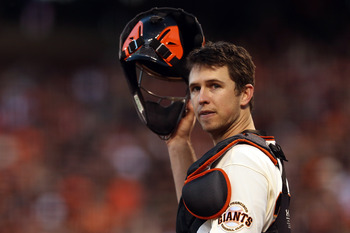 Ezra Shaw/Getty Images
The San Francisco Giants have plenty of firepower in their lineup of late, even if it's not quite at the Tigers' level on paper. Buster Posey has been amazing at catcher this year, and despite struggling in the playoffs he can always become a force.
The infield on one side may be the weak link, as Brandon Belt and Brandon Crawford have not done much. The other side, however, has Pablo Sandoval and Marco Scutaro, the two who are easily playing the best in the lineup right now, and the field as well in Scutaro's case.
The outfield had Angel Pagan,Gregor Blanco and Hunter Pence. Pagan has played well, and Pence and Blanco can show up at times, even if their stats are not much to look at.
Their depth can provide some nice relief. Ryan Theriot hit well as a pinch-hitter in the NLCS, and Joaquin Arias can be plugged in at any time.
Tigers Pitching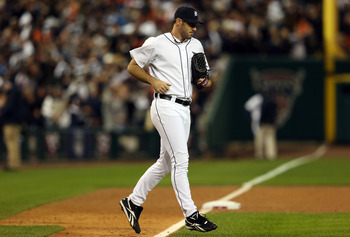 Jonathan Daniel/Getty Images
The lineup is the first thing one thinks of when the Tigers are brought up, but the pitching is what embarrassed the Yankees in four straight games.
Justin Verlander is the best pitcher in the game, and if there's one guy I'd want in a deciding playoff game, it's him. Max Scherzer has shown up late in the year, and Doug Fister and Anibal Sanchez have been great as well.
The bullpen has been lights out, with one obvious exception. Octavio Dotel, Drew Smyly and Joaquin Benoit know how to keep hitters at bay, and Phil Coke has been nearly perfect in seven playoff games so far.
The lone weak spot? Jose Valverde. He lost one game in the ALDS and was the sole reason the Yankees got anything going against the Tigers. Ideally, the Tigers will want to avoid using him down the stretch.
Giants Pitching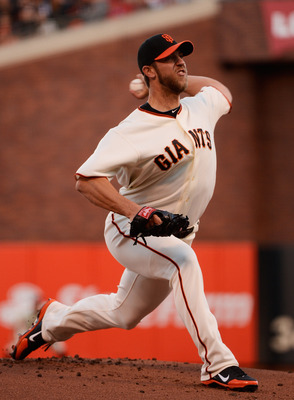 Thearon W. Henderson/Getty Images
The Tigers may have the advantage in hitting, but the Giants beat them out in pitching even in spite of the Tigers' great ALCS. Matt Cain has been dominant when it has mattered, even though a 2-2 record in the playoffs isn't all that great.
Ryan Vogelsong has played lights-out baseball this postseason, and Barry Zito and Tim Lincecum have had their moments. Madison Bumgarner, however, has struggled big time, and he needs to bounce back quickly.
As for the bullpen, Santiago Casilla and Sergio Romo have been great, and Javier Lopez and Jeremy Affeldt have yet to allow a run in the postseason.
Of the relievers, the weak link is Guillermo Mota. He has had trouble in three games, and wasn't good in the regular season to begin with. Especially against hitters like the Tigers, he needs to sit out.
Tigers Intangibles
Jonathan Daniel/Getty Images
One thing that the Tigers have on their side in spades is time. Whether that's an advantage or disadvantage depends. They've had time to rest after the series, which you almost never get to do in baseball. Of course, that might make them rusty in Game 1.
They have Jim Leyland, who has a World Series ring. It was with the Marlins in 1997, and if he can lead that team to the playoffs, certainly he can do it with a team loaded with talent.
It also helps to have a Triple Crown winner, potentially the AL MVP, on your team, as well as the presumed AL Cy Young winner.
Giants Intangibles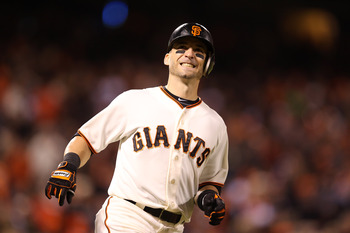 Christian Petersen/Getty Images
The Giants, like the Tigers, have a possible MVP in Buster Posey, who has had a phenomenal year. They also have a World Series ring. Many of the players from 2010 remain on the team, mainly on the pitching end, so they have that always valuable experience.
What always helps a team is having that player who gets hot and can lead the team from nowhere. They had that in Edgar Renteria in 2010, and they have it again in Marco Scutaro, who had an amazing NLCS.
They also have the advantage of not having to wait days on end to play another game, though their pitching rotation does not get to reset.
Game 1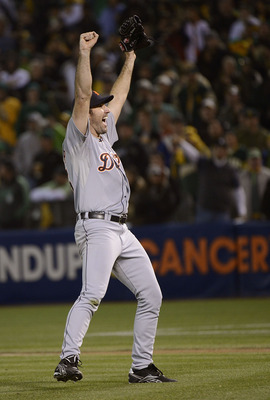 Thearon W. Henderson/Getty Images
Game 1 will be played at AT&T Park as the Tigers make their way there on Tuesday. With the layoff, it's easy to say that the Tigers will be rusty, and as a result at a huge disadvantage.
Right now it seems like Barry Zito will start Game 1 for the Giants, but with Justin Verlander on the mound for the Tigers, it's going to be quite the contest.
If anyone else was pitching, then I would hand it to the Giants given Detroit's rust. Verlander, however, just has a way to get wins when he needs them, and the Giants offense isn't going to have an answer for him the first time around.
Tigers 5, Giants 1

Game 2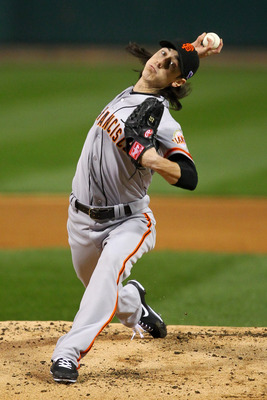 Dilip Vishwanat/Getty Images
Game 2 will most likely feature Tim Lincecum against Doug Fister, unless Zito and Lincecum are swapped in the Giants' playoff rotation, which remains a possibility.
Fister never seems to be able to get run support despite being consistently very good, while Lincecum tends to either be great or awful, especially this year. Will both streaks stay alive?
I believe so. The Freak has been due for a win, and the lights come on for him in the World Series, or at least they did in 2010.
Giants 2, Tigers 0
Game 3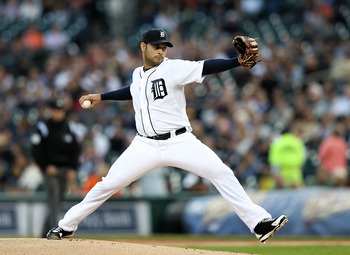 Leon Halip/Getty Images
As of this writing, we don't yet know the starters beyond the first couple games for the Giants. Detroit will be bringing up Anibal Sanchez, and my estimate for San Francisco will be Ryan Vogelsong.
Sanchez has been great in the playoffs so far and seems to have everything under control. He knows the Giants far more than any other Tiger starter, and what are his stats in five career starts against them?
He's 3-1 with a sub-2.00 ERA against them, and that's a trend I see continuing as the Tigers move back to Comerica Park. Still, Vogelsong will put up a fight, and it will be a game decided late.
Tigers 4, Giants 3
Game 4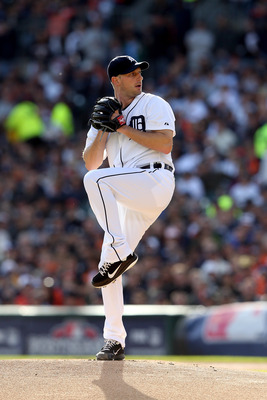 Leon Halip/Getty Images
Max Scherzer will take the mound for Game 4 against the Giants, and if they have not used Matt Cain in Game 3, then he would be available here, making this a great pitcher's duel.
Scherzer has one earned run in two playoff starts this year to go with 18 strikeouts, while Cain has allowed nine in three starts. San Francisco will again be slow to start, and they will end up on the brink after Game 4.
Tigers 8, Giants 3
Game 5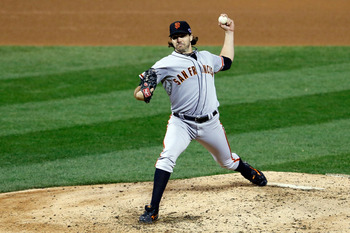 Kevin C. Cox/Getty Images
By the time Game 5 rolls around, it would likely end up being Barry Zito against Justin Verlander in a contest that, on the surface, sounds a bit one-sided.
This will end up being the key game. If Verlander remains dominant, then this is where the Tigers win it all. If the Giants figure out Verlander and Zito throws a gem, then with Vogelsong and Cain coming around again, the Giants could easily have a third improbable run and win in seven.
As for which I think will happen, the Tigers' bats are just too good and will hit Zito just enough to edge out the win.
Tigers 3, Giants 0
Conclusion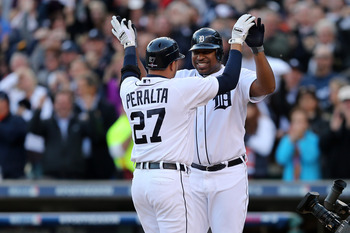 Leon Halip/Getty Images
Due to the Tigers' rest, the Giants always knowing how to come back and the classic top hitters against top pitchers, this World Series is a very difficult one to predict.
On paper, if we go by how the teams have played lately, the Tigers seem to have this one well in hand, which is why I have them winning in five. That doesn't mean it's easy, of course. The Giants have been here before and know what it takes to win.
As long as both the hitters and pitchers come to play, we could have a classic on our hands to go with an already amazing 2012 playoff schedule.
Keep Reading