The 7 Prettiest Shots in College Basketball History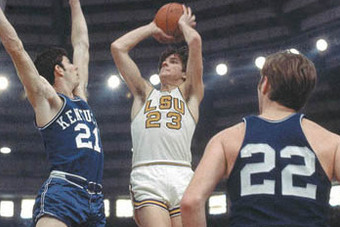 Midwestsportsfans.com
Sure, the high-flyers and rim-rockers able to bring the crowd to their feet are entertaining to watch, but nothing is more beautiful than watching the pure fluidity and fundamentally sound shot of jump shooters in basketball.
These shooters may have been superstars, middling players or role players, but all of them contributed to their team and did so by putting up some of the prettiest jump shots ever seen.
How can one justify and be the self-arbiter to determine who had (or currently has) the prettiest shot in college basketball history?
The discussion becomes a somewhat apples-to-apples discussion and evaluation, but there needs to be a certain criteria to be followed when creating such a list:
—Players like Steve Kerr and Kyle Korver are better known for being "specialists," rather than players with exquisite jumpers. For that reason, they are ruled out of the conversation automatically.
—The same can be said for Dell Curry. Although blessed with one of the fastest releases the NBA has ever seen, his shot was by far the prettiest.
—Also, the player must have spent at least two seasons in college to be nominated (sorry, Carmelo).
—The two-point and three-point shots hold the same weight, especially considering that the three-point line wasn't universally instituted in college basketball until 1986.
Now, with all that in mind—and remembering that the game has evolved, witnessed a plethora of different eras and seen shooters both tall and small play the game—I volunteered in the undertaking of assembling what I feel is the most accurate list of college basketball's prettiest shots you will ever see.
Without further ado...
Begin Slideshow

»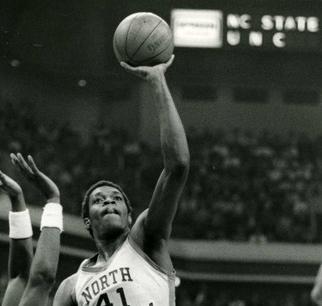 Smooth lefty shot US Presswire
Sam "Big Smooth" Perkins was just that.
Smooth.
The 6'9" lefty from Brooklyn, N.Y. attended the University of North Carolina from 1980-84, where he won a National Championship alongside Michael Jordan and James Worthy.
His seemingly careless and nonchalant ways on the court resonated in his jump shot as well. When Perkins got the ball, not only he, but his opponents as well, knew that the ball was going up. Most times, it went in.
During his time at UNC, Perkins never shot less than 52 percent from the field. His career high in college (and professionally) was a whopping 63 percent, which came in his freshman season of '80-'81.
What was amazing with Perkins was that he could score (and look good doing it) in a number of ways. His three-point stroke became a thing of legend from the corner, and his baby hook in the paint was close to unstoppable due to his ability to get up and over his opponents by using his size and high release point.
The release on Perkins' jumper was perfectly placed just slightly above his head, which allowed the lefty to generate enough velocity and rotation on the ball to not have to jump on his "jumper."
As games progressed on, Perkins relied on his set shot to devastate the likes of Duke, Georgetown and North Carolina State.
Some thought the hitch in Perkins' jumper made his shot ugly, but in actuality, the hitch came from his elbow as a mechanism to create more power with less effort, making it pure genius.
Every single one of Big Smooth's shots resembled the last, making him an integral cog to this list.
Larry Bird: The "Hick from French Lick" would shoot three-pointers with his eyes closed in practice and warm-ups and rarely have a problem making it.
One of the purest shooters to ever grace the game could arguably be the smoothest shooter of all-time as well. Even when his shot was altered, the ball would be released with such fluidity that many players would just give up, as they knew that nothing they could possibly do would change the inevitability of a swish.
His shot was effortless and so ludicrously serene. With the three-point line not yet implemented in the NCAA, the game revolved mostly around post-play and drives to the basket. However, when Bird arrived at Indiana State in 1976, the game experienced an upheaval.
Much like Perkins, Bird's stature at 6'9" and his high-release allowed Bird to confidently shoot over the top of opponents.
With his silky smooth jumper and dangerous tenacity, Bird inspired an entirely new generation of basketball players. Players such as Ray Allen and Mark Price (hint, hint) have all learned from and subtly modified their own variation of Bird's majestic form and tried to sculpt careers for themselves, with the help of what some may argue is the smoothest shooting motion of all time.
Bird may not have had prototypical technique or been as silky smooth as Sam Perkins, but his ability to hit the jumper consistently and ability to do so while torquing his body in unnatural ways makes Larry Bird one of the best and gives him one of the prettiest shots of all time.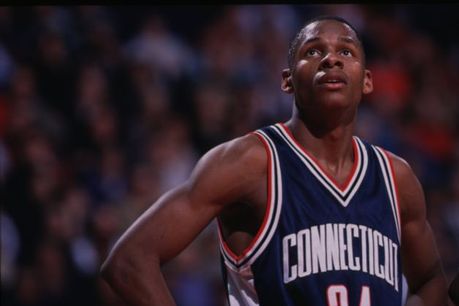 Jesus Shuttlesworth Photo: Getty Images
There is nothing better than watching a pure shooter hit his mark over and over again. Seeing the net move ever so slightly as the ball gently passes through signifies the goal has been achieved.
Ray Allen has become synonymous with that thought.
Allen and his ephemeral motion have made defenders quiver for more than years now. And it all started at UConn, where he began crafting his individual work.
Allen's best year came in the '95-'96 season, when he earned All-American honors as well as Big East Player of the Year for averaging 23 points per game, while knocking down a solid 47 percent of his shots from the field. It wasn't until his last season at Connecticut that Allen found and established his legendary technique. The results showed it.
He has perfected and personified the art of shooting. One can say he actually reinvented it.
It is almost a certainty that every time Ray Allen shoots the ball, you are sure to see the same exact motion as the time before: feet just outside shoulder width apart, right foot slightly ahead of his left, torso completely straight, maintaining an almost perfectly upright stance. When greeting the ball into his hands, he bends at the knees so that his knees eclipse his toes and ever-so-slightly bends at the midsection. The fingers often become perpendicular to the seams of the ball as they spread comfortably on both sides.
As his body rises up, the ball acts as a puppeteer to his feet, rising up almost simultaneously as his knees straighten out completely. The elbows bend to a 90-degree angle as his wrists bend back in a similar fashion. His guide hand (his left) rests on the side of the ball as the ball runs almost parallel to his nose, now above his head.
At the pinnacle of his jump, Allen extends his arms and effortlessly flicks his wrists as his fingers point towards the hoop, allowing for just the right amount of rotation on the ball to hear the sweet sound of, "SWISH."
And to think, all that happens in a matter of .73 seconds.
Whether it is a pick-and-roll or catch-and-shoot, Allen's shooting fundamentals remain picturesque.
Allen could conceivably be the cream of the crop when it comes to talking about college basketball's prettiest shot of all time, but whether he is or not, he without a doubt possesses the most fluidity and rhythm of any other player to hit the hardwood.
Some may be saying, "What?" but truth is, Glen Rice was one of the smoothest college basketball players of all-time.
Rice was the picture of efficiency. During his time at Michigan, Rice averaged more than 18 points per game, while hitting at a 57-percent clip. His most impressive stat, other than being the most prolific scorer in Wolverine history, was that he shot 52 percent from three-point land his senior year, landing 99 of his 192 shots from beyond the arc.
The 6'7" forward had the ability to stretch the court by nailing threes from downtown, while also knocking down his signature mid-range jumper from just outside the paint and posting up smaller defenders down low.
Glen Rice received accolades for basically everything he did, winning All-American honors, NCAA Tournament Most Outstanding Player, All-Big Ten honors, as well as breaking a large number of Michigan's past scoring and scoring average records.
The king (and more or less, modern-day creator) of isolations was cool as a cucumber, and his play exemplified it. His jumper was the definition of "pure."
And that was before Gus Johnson made it his trademark.
Although not the picture of efficiency in the NBA, Jordan was highly efficient at North Carolina.
Before he became known simply as MJ, Jordan shot above 53 percent every year at UNC. He, just like the aforementioned Rice, was known for his devastating mid-range jumper. If he was open, it was going down.
During his college years, Jordan started to perfect the back-to-the-basket, turnaround fadeaway jumper, a move which was rarely ever seen in the college game. Defenders were left in the dust anytime he took the ball down low or began to post them due to his quick trigger and incredible athleticism.
At 6'6", Jordan utilized his leaping ability and slender-but-strong frame to get over the top of opposing defenses, while pulling up for his trademark over-the-top release. He didn't always land straight up-and-down a la Ray Allen and his consistent, mirror-like catch-and-release, but did maintain the same release throughout his entire career.
Jordan liked to have his two thumbs pointed in a "T" shape, which allowed him to dictate the spin and acceleration of each shot, whether defended and interfered with or with enough given time.
Jordan made the best of his athletic prowess and amalgamated it with extreme dedication to get where he is today—among the best of all-time, both in college and the pros.
"The Rock" was always solid. No pun intended.
Mitch Richmond was one of the most underrated guards in the history of college basketball. His hard-nosed style of play made opponents fearful of defending him, allowing him enough space to percolate.
Richmond was blessed with a 6'5", 225-pound frame and a raw, but developing jumper when he entered Kansas State. When he left, he was established as a great all-around player with a penchant to knock players down to get his way on the court. He posted and toasted, he knocked it down from mid-range with ease, and he seemingly connected every time from behind the arc.
Richmond was far too fast, too strong and too good to defend in college.
He averaged 21 points per game and shot 48 percent during his time with the Wildcats. Although he lacked flash, had a calm demeanor and seemed to lope while on the court, he was given a great talent to score.
Richmond wasn't nearly as smooth and slick as the other players mentioned on this list, and his game itself wasn't all that pretty. But his shooting technique was a thing of beauty.
What is sad is that Richmond never got the recognition he deserved, not in college nor professionally. He seems to only be a footnote for the best shooting guards to ever grace a college court.
Not here.
"Pistol" Pete Maravich created the thought of shooting as an art form. Hell, he created a series of instructional videos detailing the "how-to's" of shooting. The setup, the form, the psychology, the drills and so on—Maravich covered it.
A prodigy who mastered his craft at an early age, he came up with a set of rules to follow before, during and after his jump shot. Any shot he ever took consisted of:
—Keeping the ball on "the pads" of the hand
—Keeping the hand directly behind the center of the ball
—Elbow straight (on extension)
—The guide hand kept laterally on the other side of the ball
—A flicking of the wrist while pretending to place fingers in the hoop
—A freeze at the follow-through
—He targeted the front rim to get the proper roll (if needed)
—He put the perfect amount of arc on an individual shot
He always preached the importance of practice (sorry, Iverson).
His collegiate stats aren't as eye-popping as others on the list, but Maravich is known as the Father of Shooting. His best shooting percentage came in the '69-'70 season, when he hit 45-percent of his shots from the field. Not too shabby, right?
How about his average of 45 points per game that season?
Through 83 games at Louisiana State University, Maravich averaged 44 points, 7 rebounds and 44 percent from the field. And to think, all of those points came without a three-point line.
While the debate of greatest shooter or prettiest shot of all-time will never be resolved, Maravich deserves recognition for his formulaic, developed, prismatic jumper. His uniqueness, showmanship and slick and quick ways with and without the ball always left the crowd stunned.
The dedication to his jumper, and creating the same mirror-like shot every single time, showed. Any still of Pistol Pete shooting the ball will show the same thing—elbow high, hand under and cradling the ball and his "window" open.
That is what legends are made of. And that is why he had the prettiest shot in college basketball history.