Week 7 Fantasy Football Rankings: Projecting Sunday's Top Tight Ends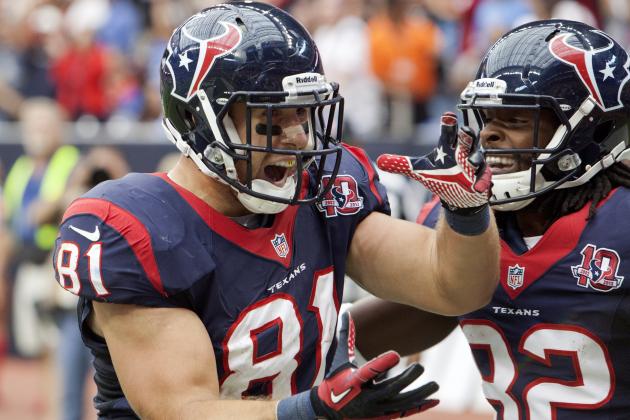 Bob Levey/Getty Images

Courtesy of the pass-happy evolution of pro football, tight ends are quite an appealing fantasy football option.
And even when the bye weeks cause some roster changes to be made, these players are becoming more and more reliable each year. Owen Daniels of the Houston Texans is one we'll preview for Week 7, because he's easily one of the best around.
Also, Daniels and the Texans face a banged-up defense in the Baltimore Ravens. As one of Matt Schaub's favorite targets, Houston fields a balanced attack with explosive ability on an at-will basis.
Other offenses are similar to a certain extent, and it's because guys like Daniels play a key factor in execution. Here, we rank the top projected tight ends of the NFL's seventh week.
Begin Slideshow

»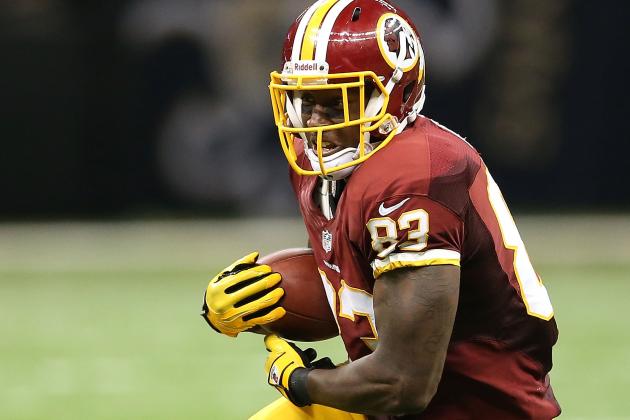 Ronald Martinez/Getty Images

UPDATE
According to John Clayton of ESPN:
Redskins already say Fred Davis won't return.

— John Clayton (@ClaytonESPN) October 21, 2012
Just an unfortunate injury for Davis and the Redskins.
Right now, Fred Davis is leading the Washington Redskins' receiving in yards, catches and first downs.
He's clearly a favorite target of rookie quarterback Robert Griffin III, and Davis' Week 7 impact will be crucial for Mike Shanahan's offense. Playing at the New York Giants, Big Blue is feeling rather confident after a bulldozing of the San Francisco 49ers last week.
So, the Redskins will need to limit turnovers and move the chains to keep New York's defense off balance. If there's one weakness in the Giants defense, though, it's blanketing the intermediate passing game.
Include RG3's ability to extend plays with his feet and Davis will get fed over the middle and accumulate solid yards after the catch.
Projections: Seven receptions for 85 yards, one touchdown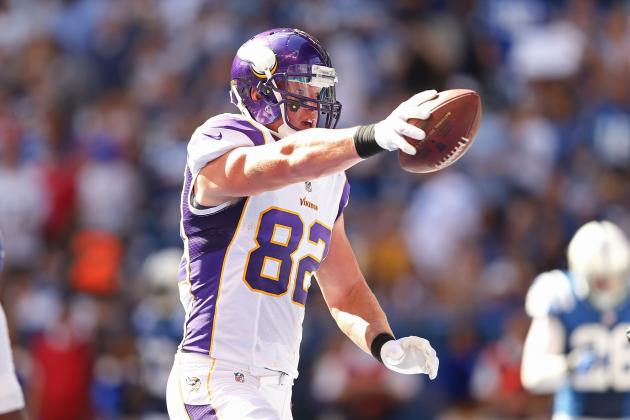 Andy Lyons/Getty Images

Kyle Rudolph is the most reliable receiving target for second-year gunslinger Christian Ponder.
With 225 yards on 25 receptions heading into Week 7, Rudolph leads the Minnesota Vikings with five receiving touchdowns.
By no means is he a threat to gain significant yards after the catch; that duty falls on Percy Harvin. Rudolph, though, is the main man inside the red zone and at any level over the middle. His size and strength alone can beat any single coverage and he can outjump everyone on a tossup.
Facing the Arizona Cardinals this week, this defense is vulnerable to play-action despite the pass rush and weaker against the run. Because of Adrian Peterson's presence, Rudolph won't see double coverage and he'll make even more plays downfield.
Projections: Eight receptions for 100 yards and one touchdown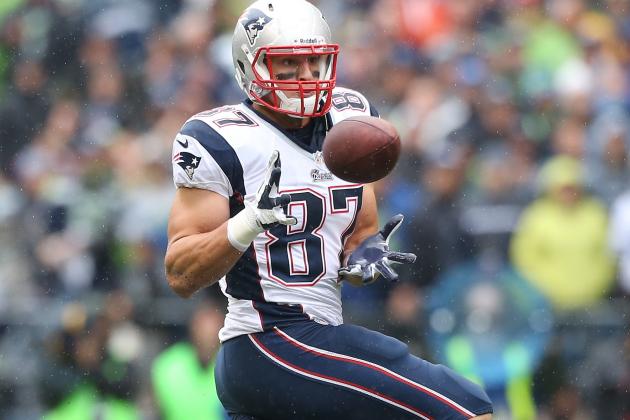 Otto Greule Jr/Getty Images

For the New York Jets to have any shot at slowing down the New England Patriots offense, Rex Ryan must isolate Wes Welker and Brandon Lloyd.
Both receivers are leading the Patriots in receiving across the spectrum, and Tom Brady has confidence that both can make plays against any coverage. Rob Gronkowski has gone a bit under-the-radar because of their production in 2012, however, which only bodes well inside the red zone.
Considering that Gronk leads the Pats with three receiving touchdowns, expect him to remain Brady's primary outlet near the goal line. New York still must prove consistency at stopping the run, and the Pats can slam well between the tackles.
Provided New England does utilize the advantage of play-action, Gronkowski will see inflated fantasy numbers.
Projections: Nine receptions for 105 yards and two touchdowns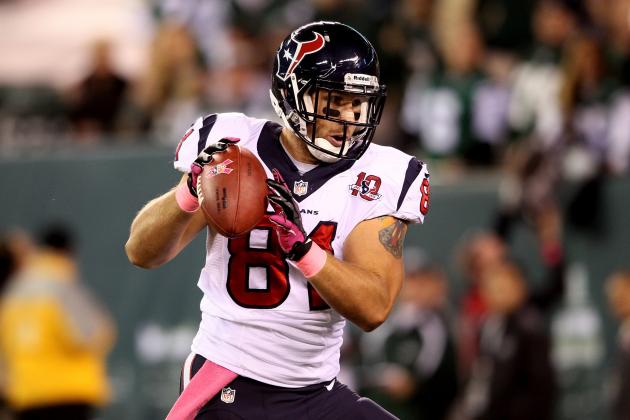 Alex Trautwig/Getty Images

For starters, the Baltimore Ravens, even when healthy, have been extremely weak against the run.
Entering Week 7, Baltimore has given up an average of 136.5 rushing yards per game along with nearly four yards per carry.
Additionally, the Ravens have allowed over 260 passing yards per game and the Houston Texans are quite balanced offensively. Early on, we can anticipate Arian Foster doing his typical work on the ground and with much success, courtesy of Baltimore's inability to stop the run.
So, that ends up setting up Matt Schaub for play-action and quick dropbacks that will allow him to target Owen Daniels. Andre Johnson still remains as the true No. 1 receiver and target because of his deep threat to stretch a defense.
Daniels is simply an excellent complement who's capable of racking up yards after the catch. He's also one of the most reliable when catching in traffic.
Projections: Eight receptions for 110 yards and two touchdowns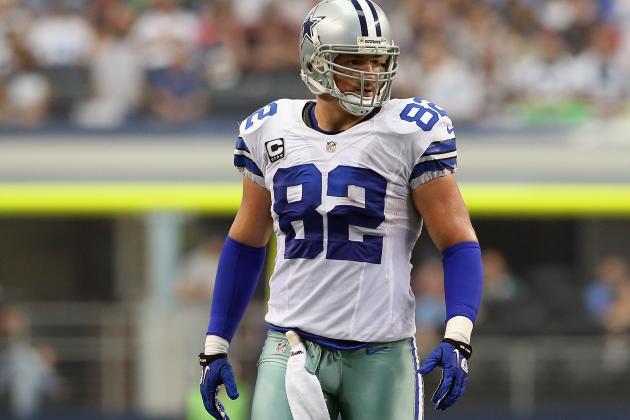 Ronald Martinez/Getty Images

Jason Witten is Tony Romo's most dependable receiving weapon.
The man knows how to get consistently open against man coverage, and he's arguably the best tight end at finding the soft spot between the zones. Taking on the Carolina Panthers in Week 7, Witten sees a defense that is still susceptible to the pass and run.
The Dallas Cowboys do need to punish on the ground, because Carolina does present a few defensive playmakers. That said, the Panthers are vulnerable up the seams when in Cover 2 and on the outside in Cover 3.
All Romo has to do is quickly look off the safety while Dez Bryant and Miles Austin press upfield, which easily opens everything up underneath. Carolina has issues with creating that coverage shield at the intermediate level, and that is where Witten does most of his damage.
Projections: Nine receptions for 120 yards and two touchdowns
Follow John Rozum on Twitter.