Top 5 New York Rangers' Goalies in Franchise History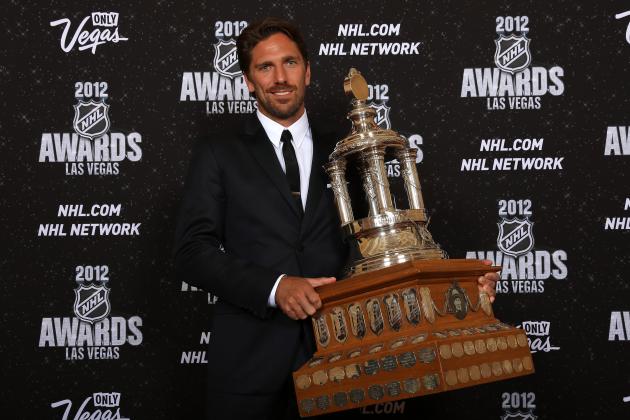 Bruce Bennett/Getty Images
Henrik Lundqvist with his well-deserved Vezina Trophy from the 2011-2012 season.
Goaltenders are the foundation of any great NHL team. They are pieces you build franchises around and win Stanley Cups with (just look at the L.A. Kings from last year with Jonathan Quick).
The New York Rangers are a franchise with a history of elite goaltenders. Last season, Rangers goalie Henrik Lundqvist took home the hardware for the best goalie in the league. But where exactly does Henrik rank among the Rangers greats after only seven seasons with the franchise?
Begin Slideshow

»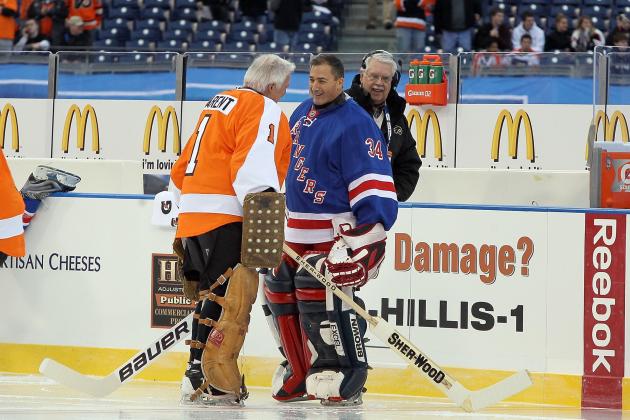 Jim McIsaac/Getty Images
The Beezer minded net for the Rangers in last season's Winter Classic Alumni Game.
John Vanbiesbrouck is one of many homegrown New York Rangers' goalies. He was drafted by the Rangers in 1981 and spent the majority of his playing career with the Rangers, despite being more recognized for playing with the Florida Panthers and Philadelphia Flyers.
Beezer played 11 seasons for the Rangers—his career season being the 1985-86 season when he won 31 games, posted a 3.32 GAA, a save percentage of .887%, three shutouts, an All-Star selection and the Vezina Trophy. He led the Rangers to the Conference Finals that year before losing to the eventual Stanley Cup Champion Montreal Canadiens.
The Beezer leads the Rangers franchise in most career assists and season assists by a goalie.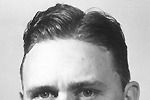 photo via NHL.com
Dave Kerr is touted as being the first regular goaltender for the New York Rangers franchise.
Kerr played six seasons for the Rangers from 1934-1941. In the 1939-40 season he led the Rangers to their third Stanley Cup with a 1.54 GAA and eight regular season shutouts (with three more in that playoffs).
He also won the Vezina Trophy that year and was the first hockey player to grace the cover of Time Magazine in 1938. Kerr ranks second all-time in Rangers history in GAA (2.07) and third in shutouts (40).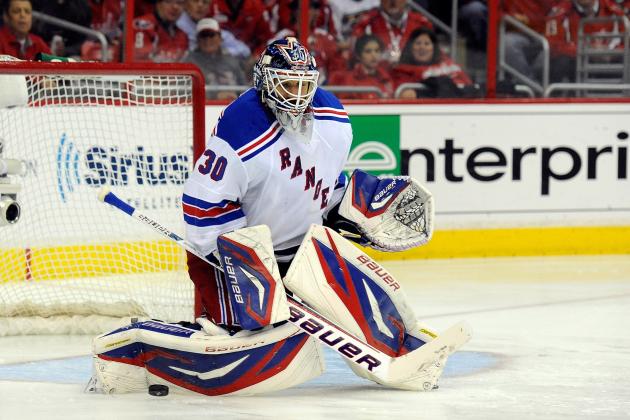 Patrick McDermott/Getty Images

Lundqvist is coming off one of his best seasons to date after winning his first Vezina Trophy.
Since taking over as the starting netminder in his rookie season, Lundqvist has posted at least 30 wins every year. He has the most shutouts by any goalie in Madison Square Garden. He has led the NHL in shutouts twice.
He leads the Rangers in career save percentage (currently .920%) and career postseason save percentage (currently .917%). He is also second in Rangers history in shutouts (43) and third in wins (252).
Hank is the definition of greatness in between the pipes, and his steady play has earned him Rangers' MVP honors every season since 2007. If Lundqvist remains on his current path, and can win a Stanley Cup, he will easily become the greatest Rangers goalie ever.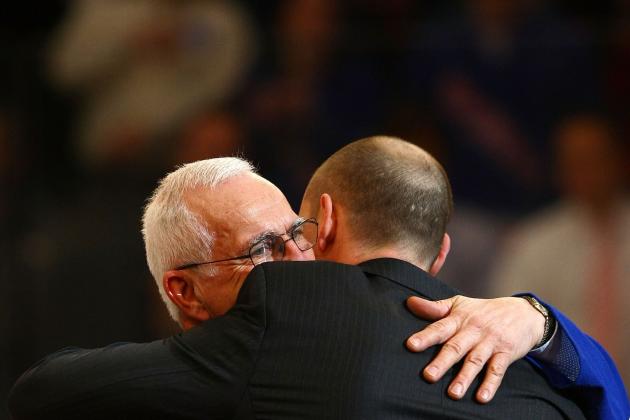 Chris McGrath/Getty Images

Eddie Giacomin never won a Stanley Cup. But his accolades make up for the lack of a Cup: He is one of two Rangers goalies with their numbers retired, he is first in Rangers history in shutouts (49), second in wins (266) and was inducted into the Hockey Hall of Fame in 1987.
He led the NHL in shutouts three different seasons and won a Vezina Trophy in the 1970-71 season when he put up 27 wins, eight shutouts and a 2.16 GAA (though he did share the trophy with fellow Rangers goalie Gilles Villemure). Giacomin is one of the all-time Ranger greats.
Rick Stewart/Getty Images

During Mike Richter's 14-year career with the Rangers, he led them to the playoffs in eight straight years, winning a Stanley Cup in 1994. He is the Rangers leader in games played (666), wins (301), most wins in a season (42), most playoff games played, most playoff shutouts (9), most wins in a playoff season (16, which is also an NHL record) and highest playoff season save percentage (.932%).
Richter is one of the all-time Ranger greats at any position, and he will forever go down as one of the greatest American goaltenders the NHL has ever seen. He is also the only other Rangers goaltender to have his number hanging in the rafters of Madison Square Garden. Though he never won a Vezina Trophy, Ricther is obviously the best goalie the franchise has ever had.