10 Reasons the Patriots Have the Best Fans in the NFL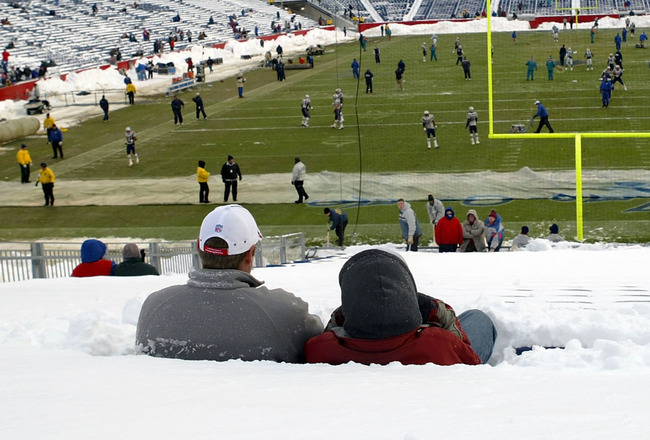 Ezra Shaw/Getty Images
Fans of the New England Patriots have been criticized in the past for not being consistently loud and being too laid back, too casual. For those reasons some people on the outside may think that the New England faithful are not great fans.
Nothing could be further from the truth.
Here are 10 reasons why the Patriots fans are in fact, the best in the National Football League.
Attendance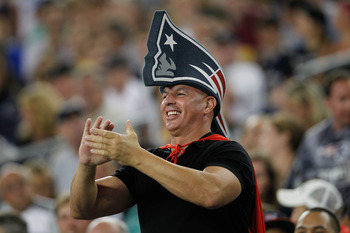 Greg M. Cooper-US PRESSWIRE
The Patriots are currently on a ridiculous sellout streak dating back to 1994, the year current owner Robert Kraft purchased the team.
The demand for tickets is so high people have very few good options to attend games. Single game tickets sell out in a matter of seconds generally and secondary selling of tickets on sites like StubHub are ubsurdly high. Even if you were willing to spend the money to purchase season tickets, you would literally have to wait years and years before the team came knocking.
Luckily for the team, having too many fans is never a problem.
Organizational Growth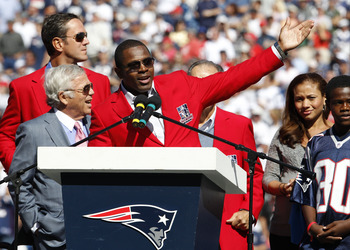 David Butler II-US PRESSWIRE
The Patriots now sport one of the most impressive layouts of any team in the league with a stadium complex that includes the a full outdoor mall in Patriot Place, as well as The Hall at Patriot Place, the team's private hall of fame.
The support and money fans have dumped into the team have helped make the building of things like this development an easy decision for a smart business man like owner Robert Kraft.
International Flavor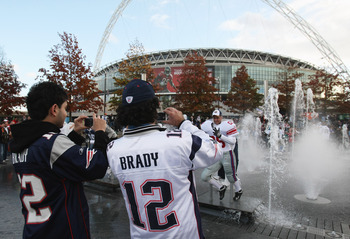 Elsa/Getty Images
The Patriots have such a large international following that their supposed "road game" against the Tampa Bay Buccaneers on the Wembley Stadium pitch in London back in 2009 had the team feeling more like they were at their home away from home.
Both the team newspaper, Patriots Football Weekly, and their online radio show, PFW in Progress, have subscribers and listeners from literally all over the world.
Voting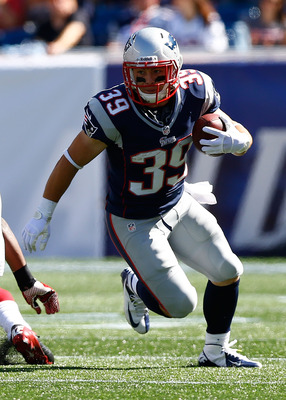 Jared Wickerham/Getty Images
Every year when Pro Bowl fan voting results come in, an inordinate amount of the players near the top are wearing Patriots' red, white and blue. Even much-maligned former-Patriot safety Brandon Meriweather managed to sneak into two consecutive Pro Bowls before his release, something the fans had a large hand in.
Also, is 2011 when voting for the Madden NFL '12 cover was brought to a fan vote, Danny Woodhead made an impressive run, making it into the final eight. Keep in mind, Woodhead was coming off of his first season as a legitimate NFL player and still managed two make it through two rounds of voting.
Defense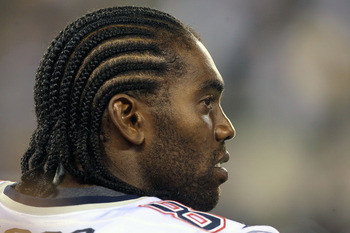 Jim McIsaac/Getty Images
No matter what any Patriots' player or head coach Bill Belichick does wrong, there are always thousands of fans waiting to call into their local radio station or get into online forums to defend them no matter how blatant their offense may be.
If someone said Randy Moss was dogging it, you would get person after person saying he was just winded from running "go" routes all day. There is no convincing these faithful fans that someone did wrong.
Patriots' fans can be like loving parents, and the players, their children that they must stick up for.
Dedication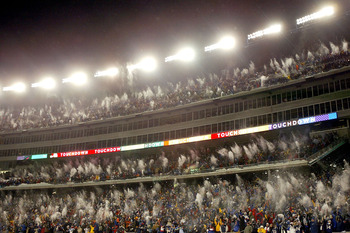 Ezra Shaw/Getty Images
No weather will keep New Englanders away. Patriots fans are at their best when the weather is at its worst. Snow games have become something that every fan of the team hopes for and every visiting team dreads.
Teams generally seem to come into that atmosphere feeling they have already lost.
The 2009 Tennessee Titans who lost 59-0 on a snowy fall day would attest to that.
The fans have made games that were the biggest messes in franchise history into some of the best atmospheres in Foxboro history. The "tuck rule" game in 2002, which was the final game in Foxboro Stadium's life, could have easily kept people away with its blizzard like conditions, instead fans opted to send the stadium out with a bang.
Emotionally Attached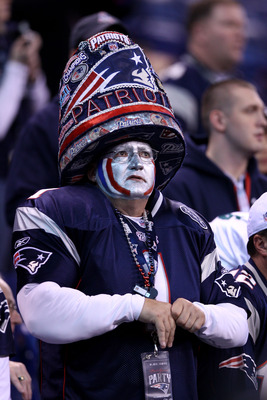 Elsa/Getty Images
If you walk up to any die hard Patriot fan and ask them if they have ever seen highlights of either of the team's two Super Bowl losses to the New York Giants, the answer is likely no, So many New England faithful live and die with the team and take losses perhaps even harder than the team does.
I can distinctly remember listening to the Patriots online radio show PFW in Progress during 2008 training camp and there were many fans who would call in the show declaring that was the first time that had been able to bring themselves to listen to Patriots' talk since the Super Bowl.
That was a half-year later.
To go against my original statement at the top, I do not recommend you bring up either of those games to any fan, you may not like the response they hit you with.
Attentiveness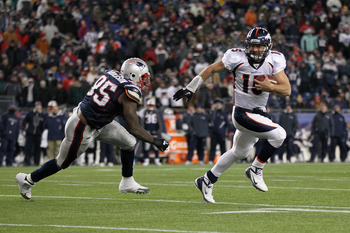 Jim Rogash/Getty Images
If one rumor leaks out anywhere of any player being possibly on the trading block or being released, five minutes will not go by before the phone lines at WEEI or 98.5 The Sports Hub are backed up with callers asking, "You think we should go get this guy?"
It does not matter how injury-prone, washed up or in trouble that player may be, the fans must always do their due diligence in the mold of head coach Bill Belichick.
Home Field Advantage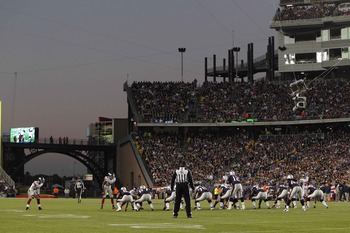 Greg M. Cooper-US PRESSWIRE
Since GIllette Stadium opened in 2002, the Patriots have a league-best 68-24 record at home. Yes, that is in large part due to Tom Brady and Bill Belichick, but the fans do have a role in making No. 12 and the rest of the team feeling at home and letting the other team hear it.
They are not the loudest crowd in the league, but they crack down and get the job done in crunch time just as their team generally does.
Making the Little Things Big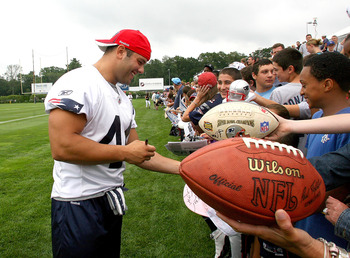 Jim Rogash/Getty Images
Patriots fans have a knack for turning every part of the NFL calendar into a major event. Gillette Stadium hosts annual draft parties and in-stadium training camp practices that attract record crowds. It is probably only a matter of time until they begin holding large gathering for the release of the NFL schedule every year.
The most impressive thing to me may have been the send-off rally the team hosted at the stadium before the Super Bowl this past February. Thousands flocked to Foxboro to see their favorite players for five minutes before they boarded buses like they were going off to war.
You say Patriots, people come running.
Keep Reading

New England Patriots: Like this team?