John Farrell: Boston Red Sox Will Need New Manager to Take His Time to Rebuild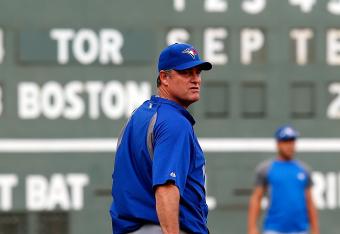 Jim Rogash/Getty Images
News spreads fast in Boston.
Late Saturday night, CSNNE's Sean McAdam broke the news that the Boston Red Sox had hired John Farrell, manager of the Toronto Blue Jays, to be the 45th manager in team history, replacing the experiment known as Bobby Valentine.
In rapid succession, every news outlet, blog, website and radio station was reporting the news. Fans immediately began text messaging one another to spread the word that, "Farrell is back."
After the heart-wrenching end to the 2011 season and the joke of a 2012 season, Red Sox fans were in need of some positive news.
The acquisition of John Farrell may have been just the catalyst for change this organization needs.
Early indicators suggest that the Red Sox will be sending shortstop Mike Aviles to the Blue Jays as part of the deal, which may also have been addition by subtraction for the team.
Aviles played 174 games in a Red Sox uniform, 128 of which came at shortstop, while the rest of his appearances were peppered all over the infield and outfield.
As a member of the team, he was a serviceable infielder who showed flashes at the plate, but was never part of the long-term plan in Boston. This couldn't have been more obvious than when he was played just 12 times in the final 28 days of the season.
Now that the managerial search has been concluded, the rebuilding can truly begin.
Tom Szczerbowski/Getty Images
Regardless of who is at the helm, this ship will take some time to correct its course.
Pitching
Arguably the biggest reason why the 2012 Red Sox were laughable was the fact that their team ERA was 4.72, 27th in Major League Baseball.
The supposed heart of their rotation—Josh Beckett, Jon Lester and Clay Buchholz—combined for a 4.87 ERA and 1.346 WHIP, owning a record of 25-33.
Under John Farrell as their pitching coach from 2007 through 2010, Beckett owned a 4.24 ERA (skewed by a bad 2010 season that saw him post a 5.78 ERA due to injury) and a 1.26 WHIP with a record of 55-30.
Lester owned a 3.61 ERA and a 1.29 WHIP with a record of 54-23.
Buchholz owned a 3.72 ERA and a 1.35 WHIP with a record of 29-21.
If you're keeping score at home, that is a record of 138-74, which equates to a .651 winning percentage, versus the .431 winning percentage they put up this season.
Is he the be-all, end-all to pitching problems? Certainly not.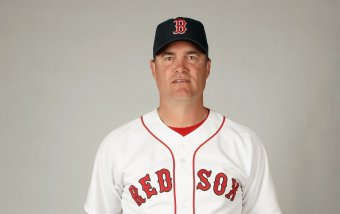 Nick Laham/Getty Images
However, with Beckett gone and the chance to get Lester and Buchholz back mentally, as well as the opportunity to work with Daniel Bard, there is hope for the staff.
The bigger question marks will come in the form of John Lackey, who will be returning from his Tommy John surgery, as well as Felix Doubront and, well, fill in the blank for the team's fifth starter.
How will Lackey perform? Will his attitude be better than what it had been in the past? These are looming questions that will only be answered in time.
Team Morale
In all frankness, this team has suffered from poor team morale. How the front office assembles the lineup for 2013 should be interesting.
Obviously, this is not initially in the hands of Farrell, but he will be tasked with getting the team on the same page—a task that could prove daunting.
For example, what if the Red Sox decide to move on from David Ortiz? He's been such a large part of this organization since 2003 and is the last remaining player from both the 2004 and 2007 World Series rosters.
Will Dustin Pedroia shake off the poor leadership he displayed in 2012?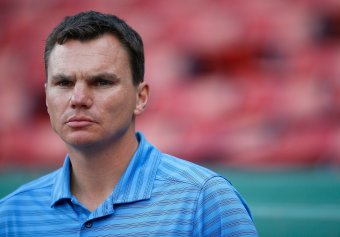 Jim Rogash/Getty Images
What happens if Alfredo Aceves returns?
In the farm system, the organization has some top-tier talent that could have an impact on a major league roster this season. Will they opt to use the home-grown talent or acquire free agents?
Who will be brought back from the 2012 squad and who will not?
This process is not going to be a quick one. The team needs to assess where it truly wants to go from here on out.
The signing of John Farrell is a step in the right direction. He is a man familiar with the organization and could quite possibly bring back the winning ways that Red Sox fans have been longing for.
This article is
What is the duplicate article?
Why is this article offensive?
Where is this article plagiarized from?
Why is this article poorly edited?