New Orleans Saints vs Tampa Bay Buccaneers: Live Scores, Highlights and Analysis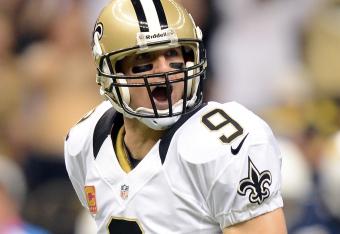 Harry How/Getty Images
The New Orleans Saints have beaten their division-rival Tampa Bay Buccaneers 35-28. They had to hold on at the end to win, but the eked out a victory and improved to 2-4 on the season.
This game marked the return of Jonathan Vilma, who is back from his Bountygate suspension and made his first appearance since the Saints-49ers playoff game. Despite getting one of their leaders back, the Saints were without two starters, Jimmy Graham and David Hawthorne.
Meanwhile, Tampa Bay broke out its throwback uniforms, and their pass defense played like the '70s-era Bucs teams, but Josh Freeman didn't.
Freeman kept it interesting, but in the end New Orleans continued their winning streak after starting the year with four straight losses.
Whoa. Mike Williams was out of bounds and came back in. Illegal touching is the call and the Saints win! Who Dat! Great game by Josh Freeman. Impressed by the entire Buccaneer team. Good win for New Orleans.
Vincent Jackson is just out. It comes down to one play. Wow, what a game.
The Buccaneers converted a 4th-and-2 and are now knocking on the door.
The Saints never make any game easy.
Saints leave guys wide open for two big plays by Freeman. Doesn't look good.
Saints try to draw the Buccaneers offsides. Good coverage on the Morstead punt.
This game isn't done yet, Who Dat Nation. Two minutes left, and Josh Freeman will be getting the ball after this upcoming punt on 4th-and-2. Saints defense has played well, so far, but this is where have to show up the most. Let's see what this unit is made off.
Let's see if the Saints can run the four minute offense... Sean Payton perfected the seven minute offense.
The Bucs cut the lead to 35-28 on a Dallas Clark touchdown reception. That is three touchdowns for Freeman and a 127.1 QB rating. Time for Brees to close Tampa out.
Akiem Hicks is down now. I guess Sedrick Ellis is back in. Time for a Doug Martin touchdown run right here... It's going to happen with him in.
If there isn't a flag on a play in this game, then I'll be concerned.
Joe Morgan is out of the game, and now Junior Galette is down. Just looks like cramps, though.
Roman Harper helping the Bucs out on this drive. He got his second illegal contact in a row. On the ensuing play, the snap goes through Freeman's legs and throws out of bounds.
For all of the bonehead penalties that the Bucs had on this drive, the Saints bail them out with an illegal contact penalty.
Greg Schiano is looking like he is going to explode on this drive.
Patrick Robinson with great coverage, and so goes his up-and-down season.
The long screen pass to Martin is aided by a 15-yard facemask penalty added to the end of it. That was kind of a phantom facemask.
Poor tackling everywhere on that play for the Saints. Doug Martin made them look silly.
The Saints have gone a little conservative in their play-calling. Aaron Kromer just doesn't have that killer instinct to put teams away, and that is why he shouldn't be a Head Coach in this league, right now.
This defensive line has some future stars on it if they could cut the dead, expensive wait off the roster next year. (Will Smith, Sedrick Ellis) The Saints defense, again, comes up with a big stop. Keeps happening all day, don't adjust your sets.
Martez Wilson with a big stop right there. He is looking good versus the run lately.
The Saints are now up 35-21 on the Buccaneers in the fourth quarter. This looks like the Saints of old.
Great third down conversion there, and the Saints score their first rushing touchdown of the year with Pierre Thomas. The offense looks like it's starting to come together after that drive that was aided by a huge Tampa penalty.
That penalty gives the Saints a first down inside of the red zone. Greg Schiano needs to chill with those college gimmicks because he won't last long if he keep'em up.
The third quarter ends, and the Saints still lead 28-21. That quarter went by quickly, but New Orleans has the ball and is threatening.
This article is
What is the duplicate article?
Why is this article offensive?
Where is this article plagiarized from?
Why is this article poorly edited?

New Orleans Saints: Like this team?