Boxing Is Back: 10 Things We Learned from Brooklyn's Triumphant Return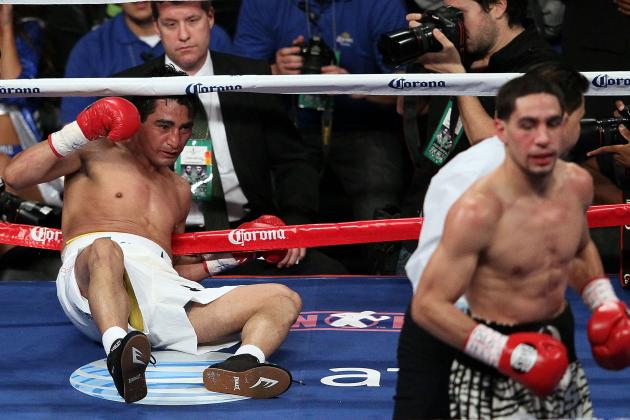 Alex Trautwig/Getty Images
Danny Garcia closed the show in spectacular fashion.
Barclays Center was electric Saturday night, as the sport of championship boxing returned to the borough for the first time in 81 years.
It was a star-studded night put on by Golden Boy Promotions, featuring three world championship fights and an undercard featuring a slew of local fighters and one inspirational story.
From the ringside perspective, it was easy to see who stole the show, but there were many winners and losers that night.
Thus we present the 10 things we learned from boxing's return to Brooklyn.
Begin Slideshow

»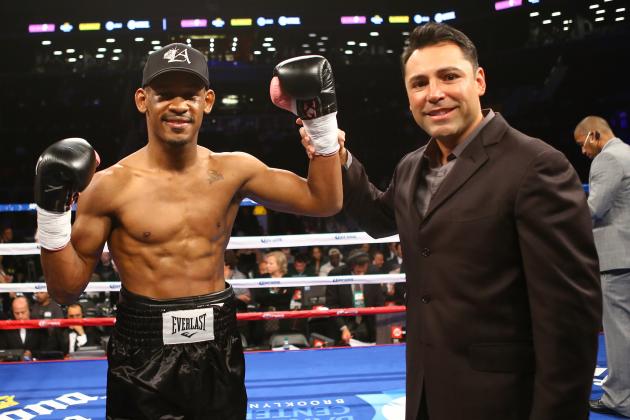 Al Bello/Getty Images
Jacobs' return to the ring was emotional and inspiring.
It may sound crazy, but sitting ringside Saturday night, this was the fight I anticipated the most. Daniel Jacobs, a native of Brooklyn, thought his career and, possibly, his life were over when he was diagnosed with cancer in 2011.
The massive tumor, which wrapped around his spinal cord, left him bound to a wheelchair and partially paralyzed, unable to walk. For most people, boxing would be the furthest thing from your mind when fighting for your life, but it was something that kept Jacobs motivated.
It motivated him despite doctors' pronouncements that he would never fight again.
Daniel Jacobs returned to the ring Saturday night at the Barclays Center. He won his fight by spectacular knockout at 1:13 of the first round. But the result hardly mattered.
What mattered was the story of overcoming what seemed to be overwhelming odds. Daniel Jacobs is an inspiration in a sport that is often known for its negatives. He is someone who can truly shine a positive light.
Here's hoping that Daniel Jacobs fulfills the promise of a career, and a life, spent beating the odds.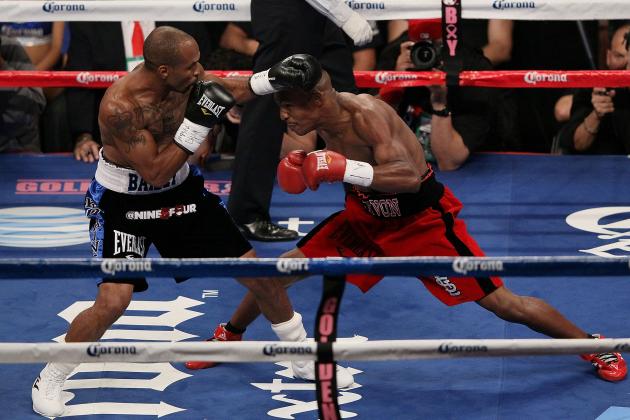 Alex Trautwig/Getty Images
Devon Alexander and Randall Bailey opened the Showtime portion of the card with a stinker.
Devon Alexander easily outboxed Randall Bailey Saturday night to win the IBF welterweight championship.
Easily is a relative term, as most of the crowd inside the Barclays Center was sound asleep for much of the fight and had little knowledge of what happened.
The crowd booed pretty much from the opening minute, as the fight settled into its predictable pattern.
Bailey, the puncher, stalking Alexander around the ring and loading up with big right hands.
Alexander, the boxer, sticking to the outside, content to potshot Bailey and tie up inside when the action got too close.
Not conducive to an exciting opening contest.
Alexander was heavily booed when being interviewed in the ring after the fight, even responding to the crowd that he understood their complaints.
Devon is a tremendously talented boxer, but his style is low-risk. Unless he's matched up with someone who can force him to fight, his style will win him many belts but few fans.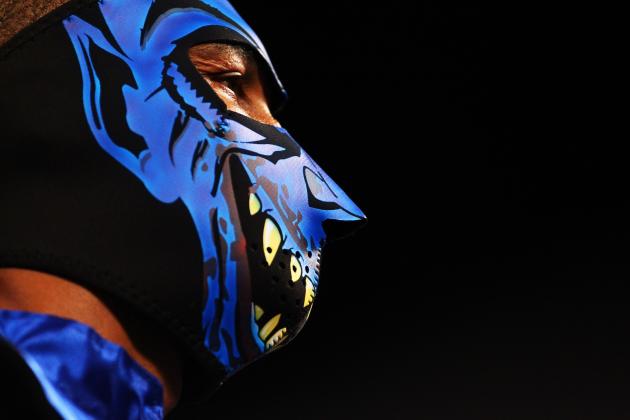 Al Bello/Getty Images
Randall Bailey's performance was still scarier than the mask he wore to the ring.
Few fighters have done more by being a one-trick pony than Randall Bailey. He is known for one thing and one thing only: his big right hand.
If he hits you with it, odds are you're going to sleep. But if you're a slick boxer, like Alexander was tonight and Mike Jones was for nine rounds and change in June, you can beat him.
Now, Jones obviously did not beat him. He got blasted by a huge shot, after outboxing and dominating the majority of the fight. Alexander did, and it's time for Bailey to call it a career.
He seemed to be unable to get off tonight, just stalking around the ring, largely inactive. Alexander was too mobile.
As a two-time world champion at 38 years old, it's time for Bailey to hang 'em up, knowing he did more with less than most fighters do with more.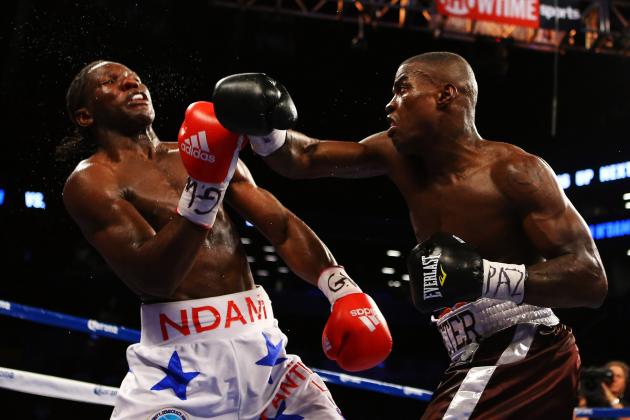 Al Bello/Getty Images
Peter Quillin captured his first title on Saturday, but it wasn't as easy as you'd think.
Peter Quillin, otherwise known as Kid Chocolate, captured his first world title Saturday night, the WBO middleweight championship, in what was the oddest bout of the night.
Quillin dropped defending champion Hassan N'Dam six times, twice in each of the fourth, sixth and twelfth rounds, but he was outboxed for large segments of the fight.
He appeared to tire particularly over the second half of the fight, after going all out for the stoppage early and not getting his guy out.
Quillin showed tremendous power and determination tonight, but he seemingly relies too much on his power punches. He could find himself in some trouble with a fighter who can take his shots or stay on the outside and avoid them.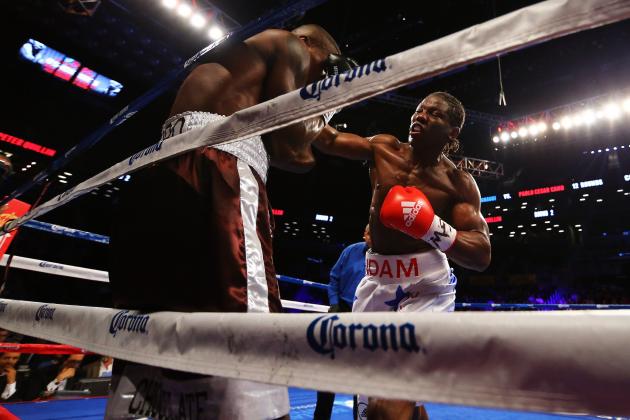 Al Bello/Getty Images
N'Dam outboxed Quillin for much of the fight.
I'll go ahead and say it: This fight was a lot closer than the official scorecards would indicate. Hassan N'Dam did nothing to diminish his stock in defeat, and he should get another opportunity for a big fight.
This may seem odd given he was dropped six times and was a relative unknown in the States coming into the fight.
But N'Dam deserves a ton of credit for refusing to back down and keeping himself in a fight that looked like it could be over in the fourth, sixth, and final rounds.
While Quillin obviously dominated those moments and deserves credit for dropping the former champion, he was outboxed over large segments of the fight.
This was particularly true over the second half, as Quillin tired, and N'Dam began outboxing him and asserting his will. Simply put, if not for the knockdowns, Hassan N'Dam would've won this fight.
He absolutely deserves another shot.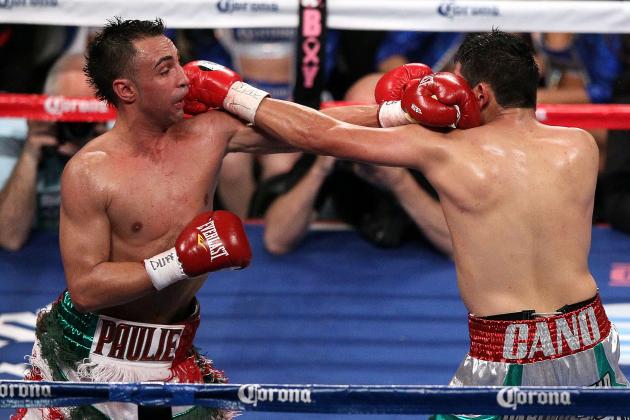 Alex Trautwig/Getty Images
Paulie Malignaggi is a nice guy, but he absolutely lost this fight.
Let me start out by making my point loud and clear: Pablo Cesar Cano got jobbed.
You'll hear a lot about how this was a difficult fight to score, how a lot of rounds were close, etc. And I'm the first guy to shout down the knee-jerkers who declare every close fight a robbery. But this was a robbery, and everyone inside the Barclays Center knew it when it was announced.
The early rounds of the fight were close. You can argue that Malignaggi won them with activity as Cano struggled to get going.
But by the middle rounds Cano was more active, he landed more punches and he was absolutely landing the harder shots.
Without the benefit of Compubox stats inside the arena, it was clear that Malignaggi was rarely, if ever, uncorking power shots. The vast majority of his connects were jabs, while Cano was peppering him with power shots.
This culminated with Cano dropping Malignaggi to the mat in the 11th round, a knockdown that, on my card, absolutely sealed the deal. I had it 117-110 for Cano, or nine rounds to three with the extra point for the knockdown.
Things got nervous when it took an extremely long time between the final bell and the judges' cards finally reaching Jimmy Lennon Jr.'s hands. When the words "split decision" were announced, I immediately grabbed my phone and texted my fellow columnist Michael Walters and said, "They screwed him."
118-109 Cano, 114-113, 114-113 Malignaggi. All you need to know about this is that the crowd, which was hotly pro-Paulie all fight long, booed the hell out of this decision.
And they booed the hell out Malignaggi when he was in the ring being interviewed. Give credit to the Brooklyn fans; they spot a hometown decision when they see one.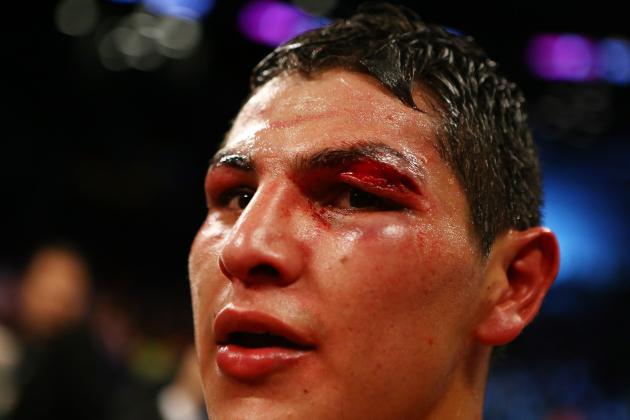 Al Bello/Getty Images
Cano fought most of the fight with that beauty above his eye.
When Pablo Cesar Cano was cut in the second round, it looked like there was no way this fight would go the distance. This wasn't simply a cut. It was a gaping wound, and it got worse as the rounds progressed.
Simply put, he went back to his corner each round covered with enough blood to make Jason Voorhees blush.
The very fact alone that Cano made it to the bell in round twelve with that thing hanging above his eye is a testament to his warrior spirit.
And that's not all. Regardless of what the official cards said, he won the fight. And he said as much in the ring, stating that the public knew who really won. This was met by massive cheers from the pro-Malignaggi crowd.
This kid will be back. He's an absolute warrior in the Mexican mold. He's methodical, he hits to the body and he won't back down.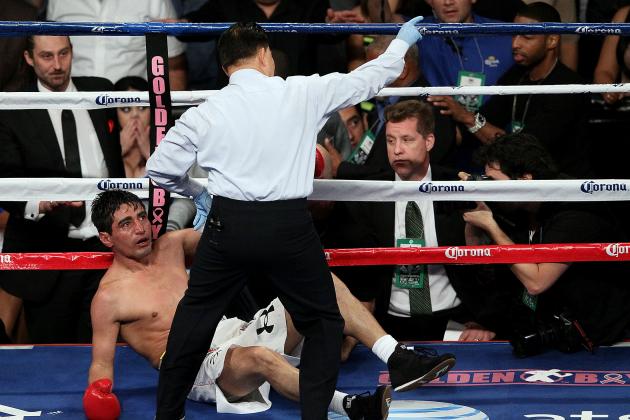 Alex Trautwig/Getty Images
Morales was one of the best, but it's time.
Many observers didn't see the need for a Garcia-Morales rematch. After all, the first fight wasn't overly competitive. But Morales is a legendary future Hall of Famer, and he got a second chance.
That second chance ended quickly, and it ended brutally in the fourth round when Danny Garcia landed a left hook that spun Morales around and nearly decapitated him. The fight was over the second Garcia let the punch go and before it landed.
There was no need to count. They could've rung the bell right there.
Honestly, it was scary to watch.
Morales has accomplished a lot in his career. When he hangs up the gloves for good he will certainly await enshrinement in the Hall of Fame. But it's time he realizes that now is the time to go.
At 36, and coming off what can only be called an absolutely spectacular knockout loss, Morales has nothing left to prove and no reason to fight on.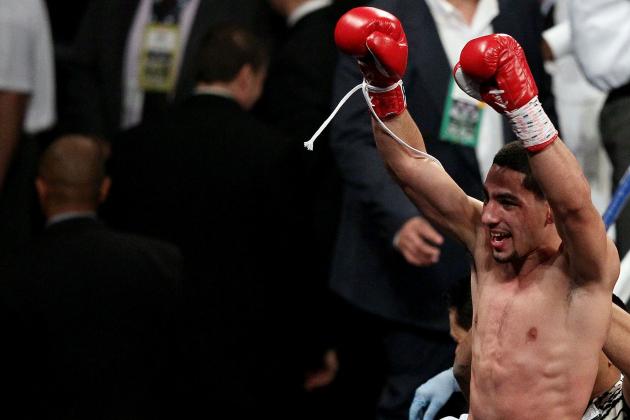 Alex Trautwig/Getty Images
To sum that shot up in a word; wow.
Remember when Danny Garcia was an opponent for Amir Khan? Well if you do, you won't after tonight.
Garcia has established himself as a rising star in his own right, not only beating a legend for a second time, but nearly taking his head literally off his body.
It was absolutely brutal and absolutely stunning, and it will launch Garcia's name to the minds of many boxing fans. He is a legitimate star in the making and has huge potential.
Wouldn't you like to see Garcia in there with Brandon Rios, Mike Alvarado or Lucas Matthysse?
Lots of good fights at that weight, and Garcia is at the top of the mountain. He's the big dog, and they'll all be coming for him.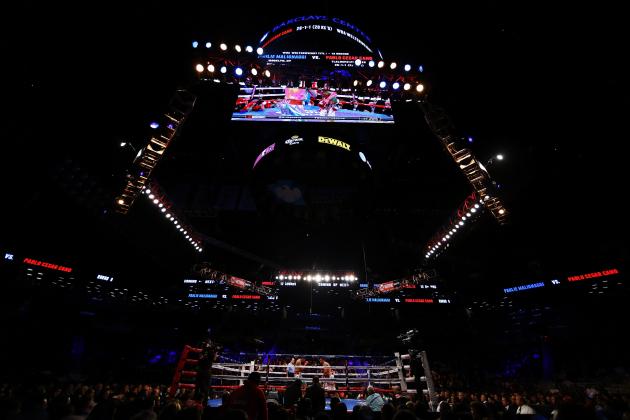 Al Bello/Getty Images
Love em or hate em, GBP gives you bang for your buck.
You can love Golden Boy Promotions, or you can hate them. But they deserve credit where it's due. Their second Showtime broadcast in about a month was filled with great fights, world title defenses and exciting action.
These are the types of cards, with good scraps and spectacular knockouts, that draw fans to the sport. Especially in a place like the Barclays Center in Brooklyn, which is re-familiarizing itself with professional boxing.
If you were there on Atlantic Avenue tonight, or if you watched it on TV, you got an inspirational story, a middleweight war, a controversial decision and, the cherry on top, a spectacular knockout to close the evening.
That's good for Brooklyn, and it's good for boxing.