3 Reasons Why the St. Louis Cardinals Will Win Game 6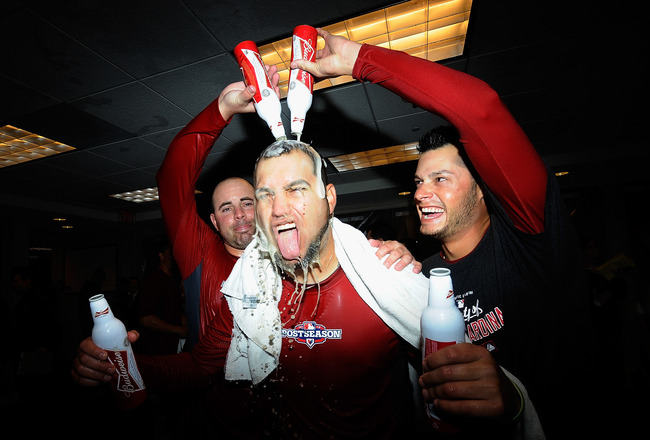 Patrick McDermott/Getty Images
Are we really surprised the San Francisco Giants, pushed to the brink of elimination, have sent the NCLS back to San Francisco for Games 6 and 7?
The story of both these teams' seasons has been one of unrelenting determination. Both St. Louis and San Francisco have come back from the dead, time and time again, to put themselves within sight of the 2012 World Series.
1. The Giants Are 1-4 at Home This Postseason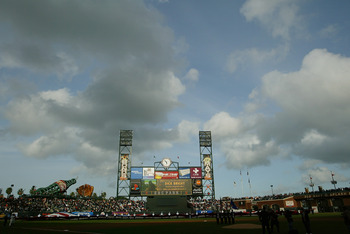 Justin Sullivan/Getty Images
After winning 59 percent of their games at home during the regular season, San Francisco has played miserably at home in the postseason.
After losing their first two games against Cincinnati, the Giants split Games 1 and 2 of the NLCS with the Cardinals. Giants' pitchers have allowed 21 runs and 35 hits at AT&T Park in four total games this postseason. Despite the Giants' uncharacteristic seven-run explosion in Game 2 of the NLCS, they have only scored six runs in the other three home games.
This is a team that seems much more comfortable playing on the road, with two wins in St. Louis and three straight in Cincinnati. In fact, the Giants have scored 66 percent of their postseason runs while on the road.
2. The Cardinals Offense Is Due for an Explosion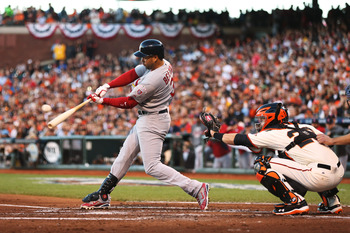 Christian Petersen/Getty Images
For the Cardinals offense this season it's been feast or famine. When scoring four runs or more, St. Louis has a 76-19 record; they have a 5-39 record, when scoring fewer than two runs.
Maybe most importantly, the Cardinals have scored six or more runs in 60 of their 162 regular-season games. This means that for 37 percent of their games, the Cardinals put up six or more runs. In fact, St. Louis was second in the National League this season, scoring 765 runs or nearly 4.7 per game.
Thus far in the playoffs, the Cardinals have scored a postseason-leading 56 runs in 11 games, for an average of five runs per game. Amazingly, the Giants are the next closest team with 38 total runs scored, despite playing only one fewer game.
In their series with Washington, the Cardinals scored two runs in Game 1; however, they followed up the two runs in Game 1 with 12 runs in Game 2 and eight runs in Game 3. Their bats went quiet once again, as they put up only a single run in Game 4. Yet, the Cardinals proved their resiliency, scoring nine runs in a thrilling Game 5.
See what I'm getting at?
Whenever the Cardinals are held down one game, they come out with hot bats in the next. So far in the five games of the NLCS, the Cardinals have scored six, one, three, eight and zero runs.
Given the trend described above along with the Cardinals' potent offense all season long, it's only reasonable to expect big run production from the Cardinals on Sunday night. Allen Craig, Yadier Molina, Matt Holliday and David Freese should all be ready to rock in Game 6.
3. Chris Carpenter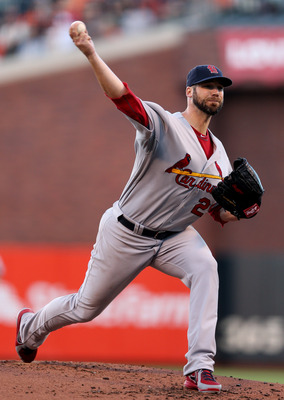 Christian Petersen/Getty Images
This guy is the ultimate big-game pitcher.
Yes, Carpenter struggled in a Game 2 loss in San Francisco. While he gave up five runs, only two of them were earned. While it was a classic Carpenter postseason virtuoso performance, he really wasn't rocked that hard.
Let's give him the benefit of the doubt. It was only his fifth start of the season, in what was an amazing feat to even come back to play this season, and nothing big was on the line. Carpenter just may be one of the greatest big-game pitchers in MLB history.
Statistically, he's right up there with guys like Jack Morris and Curt Schilling. The gritty, gutty Carpenter thrives on the pressure of the big stage, bringing his best when his team needs it most.
Carpenter has an extremely impressive postseason resume, boasting a 10-3 record with a simply ridiculous 2.94 ERA. If you were asked to bet on Chris Carpenter or Ryan Vogelsong dominating Game 6, who would you take? If you're having trouble let me inform you that Chris Carpenter's teams have more wins in playoff games he's started than the 12 total postseason innings that Ryan Vogelsong has pitched.
This is the same man that threw eight innings of three-hit ball against the batting-rich Tigers in the 2006 World Series. And of course, none of us will forget his contributions to the Cardinals' magical 2011 World Series run. His complete-game shutout of the Astros got St. Louis into postseason play.
In addition, he pitched a memorable complete-game three-hitter in Game 5 of the 2011 NLDS, outdueling fellow ace Roy Halladay. Carpenter followed up this performance by pitching three games in the World Series.
Against a Texas lineup that devastated quality pitchers all season, he went at least SIX innings in each start, only ceding TWO earned runs each outing. The fact that he was able to pitch so effectively on short rest in game 7 was another testament to this man's mental fortitude.
Perhaps lost in his great 2011 performances were some postseason setbacks. He got shelled in Game 2 of the NLDS, as he left after three innings when Philadelphia roughed him up for four earned runs. Carpenter used this experience to get himself better prepared for the Game 5 gem, in which he dazzled Phillies hitters over nine innings.
What does this mean? It means that Chris Carpenter can be hit. However, it also means that he has proven an ability to recover from tough outings with dominant ones, particularly in big games. The worst things have gotten for Carpenter in the postseason is three starts with four or five runs allowed.
The best things have gotten are 12 starts with two runs or fewer allowed, four games with no runs allowed and two three-hit complete-game shutouts. If I were Giants fans, I'd be preparing myself for a quick night, as Carpenter should be dealing all night long.
Keep Reading

St Louis Cardinals: Like this team?