7 NBA Rookies Who Will Instantly Contribute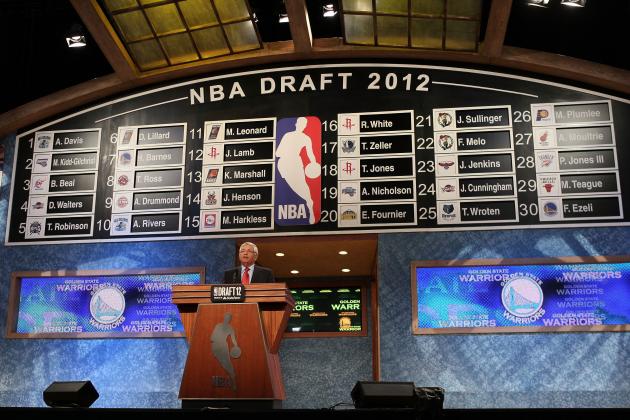 Elsa/Getty Images
The next wave of rookies join the League this year, and more than a few will make significant contributions.
Being an NBA rookie isn't as easy as players like Kyrie Irving, Ricky Rubio, Klay Thompson, Kenneth Faried and Kawhi Leonard have made it seem.
Making an immediate contribution is a tough notion to grasp, but there are seven players from the 2012 NBA draft that will provide comfort in their respective teams' grand scheme of success.
This year's draft class may actually own more depth than drafts in the past couple years, hence the selection of quite a few players.
It takes a perfect blend of player development, talent and opportunity in order for these players to succeed.
While players like Harrison Barnes, Dion Waiters and Austin Rivers certainly provide a bunch of talent, they don't possess the immediate opportunity to succeed.
Not only do these seven have a chance to contribute instantly, they are good bets to have their smiles be the symbol of their respective franchises.
Begin Slideshow

»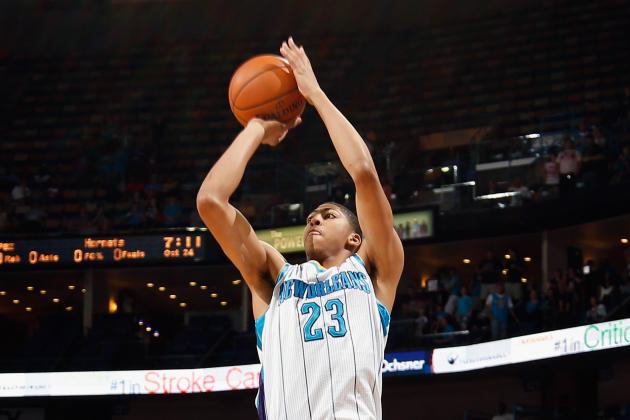 Chris Graythen/Getty Images
The No. 1 pick will have pieces around him to excel immediately.
An easy selection, there are pundits that already rank the lanky center from Kentucky a top-10 big man in the league.
His team, obviously holding the No. 1 pick last season, should not be as bad as it was. While the Hornets have added pieces, the improvement mostly has to do with Davis' addition.
With the selection of Austin Rivers with the 10th pick and the arrival of sharpshooter Ryan Anderson, Davis will have tons of help.
Eric Gordon—a player with knees as strong as Stephen Curry's ankles—is looking to stay healthy for the entire season after signing a max contract.
The only issue with the Hornets is whether their guards will be able to get them the ball. Incumbent point guard Greivis Vasquez is a capable pass-first player, but Austin Rivers may supplant him—a player who looks to create his own shot first.
However, look for Davis to make his mark on the defensive end, especially masking Anderson's defense. He should be able to at least get the Hornets out of the top seven draft slots and be the superstar that Gordon is supposed to be.
Nick Laham/Getty Images
The sweet shooter from Florida will have his hands full.
Bradley Beal went to Florida with sky-high expectations, and while he did not totally bust, he wasn't the sweet shooter and capable defender it expected.
Regardless, he was drafted third overall by the Washington Wizards.
Despite landing with a moribund team, he is actually in a favorable position within the depth chart.
Starting at shooting guard, he should be able to get plenty of looks with John Wall handling and Nene taking the low-post chances.
The Wizards also have a chance to be superb defensively with Trevor Ariza and Emeka Okafor manning the forward and center positions. However, they are merely average offensively.
Okafor last scored off a Chris Paul pass, and Ariza hasn't met a shot he has liked since he was on the Lakers.
Thus, Beal—an underrated ball-handler—should excel in both the shooting and passing aspects of the game.
Damian Lillard was supposed to be too small, too slow and not explosive enough to play for major colleges.
After four years in college, he was drafted sixth by the Portland Trail Blazers and has earned the keys to the offense.
Unlike other rookies, he has plenty of help inside and outside.
LaMarcus Aldridge was a low-end MVP candidate before getting injured.
Nicolas Batum has the tools to be an above-average two-way player and now faces no obstacles for significant minutes.
Wes Matthews will also look to rebound from a slow 2011-12 season and has the talent to do so.
Not only did Lillard excel in Summer League—where games are played without any structure, so the stats are misleading—but he has shown great vision and a good shot in the preseason.
If you don't believe his athleticism, keep in mind not all point guards, or players for that matter, can shoot it and do this.
With Ronnie Price and Nolan Smith as the primary backups, Lillard will have all 82 games to prove himself as the future point guard of this franchise.
Nick Laham/Getty Images
Drummond will look to prove critics wrong after dropping in the draft.
Kwame who?
With many scouts and general managers questioning Andre Drummond's motivation and Kwame Brown potential—similar to Perry Jones at Oklahoma City—he dropped to the Detroit Pistons at No. 9.
That may be an ill-fated decision for teams that were looking for big-man help, like the Golden State Warriors.
So far, Drummond has shown nimble feet and excellent shot-blocking ability while flashing his offensive potential with a soft touch around the rim.
Drummond won't score 20 points a game, and probably not even 10 depending on playing time, but he will affect shots and play defense unseen in Detroit since Ben Wallace.
Perhaps the most significant aspect of his development is the players surrounding him. He needn't worry about scoring with Greg Monroe flanking him.
Monroe is also one of the best-passing big men in all of basketball, so there could be fun "big man to big man" passing this year in Motown.
What goes one way must turn back the other, as Monroe is also one of the worst defenders on the team. Quick development should have Monroe and Drummond providing excellent offensive and defensive production for the next five years.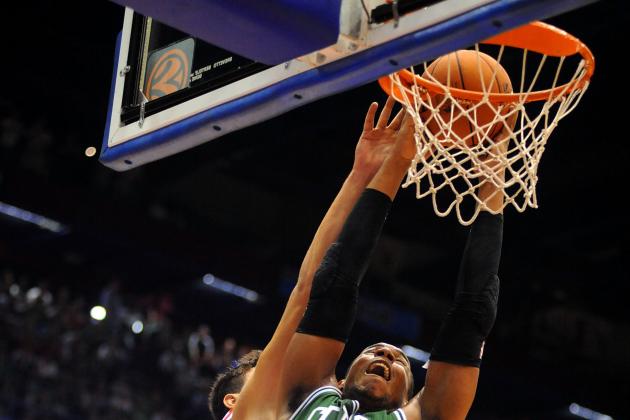 Roberto Serra/Iguana Press/Getty Images
Starting in a lineup with Garnett, Pierce and Rondo isn't bad.
Potentially one of the top five draft picks in the 2011 NBA draft, Jared Sullinger instead stayed in school an extra year.
Despite a drop in draft stock, it is looking like an excellent decision.
Not only is he poised to seize the starting role from Brandon Bass to start the year, Sullinger won't have the added pressure from being a lottery pick to save his team.
The sets that the Celtics can run with Kevin Garnett popping out, Courtney Lee spotting up, Paul Pierce playing a two-man game and Rajon Rondo slashing are endless.
Sullinger will have ample opportunities to score in ways Bass simply can't.
Whereas Bass is an excellent mid-range shooter, Sullinger brings an inside presence that, despite all of Garnett's "toughness" shenanigans, has been vacant in Boston.
An issue going forward will be his ability to score over taller centers, but his strong low center of gravity will help him bulldoze defenders.
While he doesn't possess superstar potential like Beal, Davis or Drummond—unless he loses 30 pounds and finds a three-point shot a la Kevin Love—he provides stability down low to help the Celtics win their division again.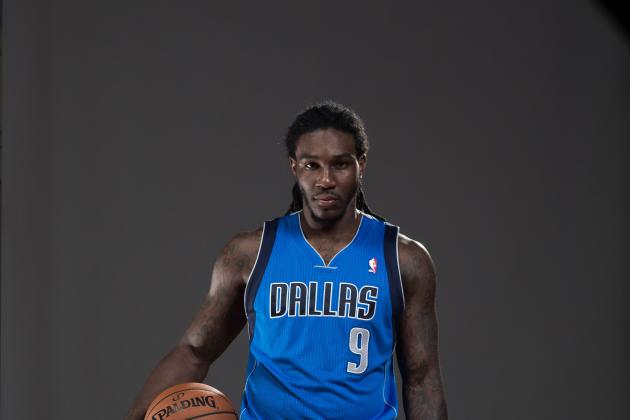 Nick Laham/Getty Images
Under-the-radar player that will shine with opportunities.
I'm taking a leap of faith here by comparing Jae Crowder's game to those of Kenneth Faried and Kawhi Leonard.
What makes Crowder so good is his combination of turnover-free ball and excellent defense.
So far this preseason, he has averaged five steals per turnover and can also shoot.
In his last game, he scored 21 points, grabbed nine boards, dropped three dimes and even hit a three. What can't he do?
Only thing he can't do is figure out the rotations.
Dahntay Jones, always full of potential but little production, Brandan Wright and an aging Vince Carter present minor obstacles to Crowder's success.
Possessing a lanky figure and strong shooting, Crowder has the potential to become a mainstay in the Dallas rotation. Keep in mind, Dirk Nowitzki is out with an injury for the next couple weeks, so Crowder has a chance to contribute right away.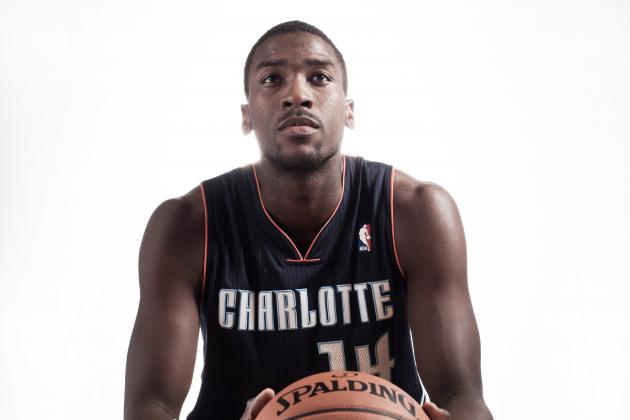 Nick Laham/Getty Images
By far the best defensive rookie.
Defense is contagious, and the best perimeter defender in the NBA draft is taking his talents to Charlotte.
Tyson Chandler single-handedly transformed a terrible Dallas Mavericks defense into a championship unit, and a Carmelo Anthony-Amar'e Stoudemire defense into an average one with a playoff appearance. So yes, defense is a pretty big deal.
This isn't to say Michael Kidd-Gilchrist will have a Chandler- or LeBron James-like impact on the Bobcats, because let's face it, nothing can save these Bobcats right now.
Well, maybe a young Michael Jordan, but the current one is too busy tearing it apart.
Back to actual player analysis—Kidd-Gilchrist certainly has elite shut-down defender potential, a la Tony Allen.
It should be fun to see him and Bismack Biyombo form a potentially elite forward-center combo.
In a strict rebuilding year, Kidd-Gilchrist has the proverbial keys to the car, and his persistent intensity and defense will help him get on Charlotte cereal boxes.