Browns vs. Colts: Final Report Card, Player Grades for Cleveland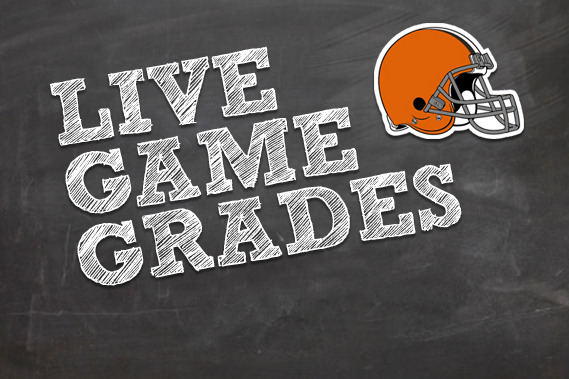 The Cleveland Browns (1-6) fall Indianapolis Colts (2-3) by a final score of 17-13. The loss ties a franchise record 11 consecutive road losses and severely hampers the small chance the Browns had at turning their season around.
Josh Gordon was streaking across the middle of the field and Brandon Weeden found him with single coverage underneath. Weeden made a beautiful play-fake on the play and then tossed a perfect strike to Gordon dropped the ball and the Browns' chances in the end zone.
He may have lost the ball in the glare of the emerging sunlight, but a big-play receiver like Gordon has to make that catch with the game on the line.
He dropped it and dropped the Browns' chances of building any type of positive momentum for their team moving forward.
Check back next week, Browns fans, as your Cleveland Browns host the San Diego Chargers in Cleveland.
Begin Slideshow

»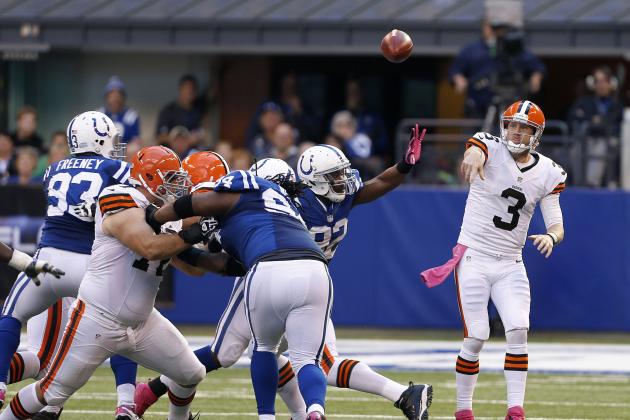 Brian Spurlock-US PRESSWIRE

Brandon Weeden: B+
Brandon Weeden came out and performed well against a pretty stout Indianapolis Colts pass defense. He did it without the luxury of any type of rushing game as the Browns abandoned it after Trent Richardson was unable to get anything going in the first half and sat with a suspected re-injury of his rib.
He made all the throws you would expect out of an NFL quarterback and continued to show progress despite not having a rushing game to support him.
If not for a dropped pass by Josh Gordon in the end zone, you'd be talking about his excellent three-touchdown performance that lifted the Browns to their second-consecutive victory.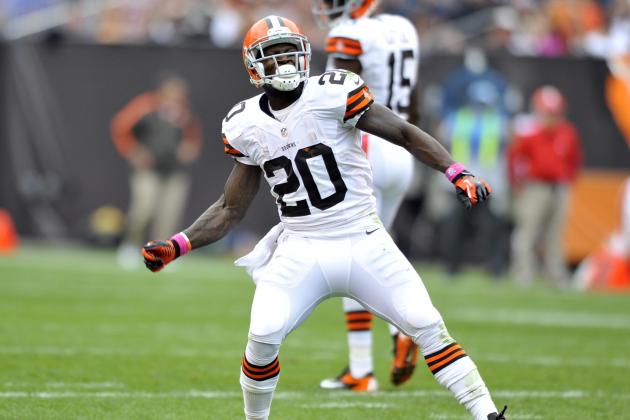 David Richard-US PRESSWIRE

Trent Richardson: C-/Incomplete
Richardson deserves some credit for toughing it out even with a rib injury that ultimately ended his day half-way through the second quarter.
He started off good on a nine-yard dump pass but was unable to do anything on the ground. He averaged just one-yard per carry on eight tries and finished the game with two receptions for 13 yards.
Montario Hardesty: B
Hardesty had a little bit better luck in the rushing game but wasn't afford many opportunities after the Browns chose to stick primarily to the passing game in the second half.
He did have a couple long runs and finished with a four yards per carry average resulting in 28 yards on the ground.
Chris Ogbonnaya: C+
Ogbonnaya had just one rush attempt on a draw before half time but caught a trio of passes in his third down role for 17 yards.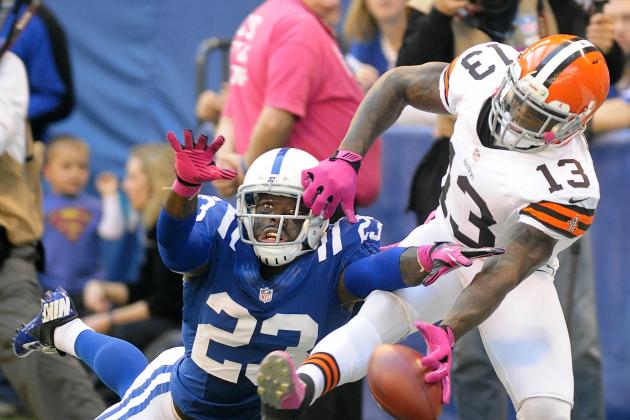 Thomas J. Russo-US PRESSWIRE

Josh Cooper: C+
Josh Cooper played a significant role in the Browns offense on Sunday. He hauled in four of the eight balls that came his way but one of those was the crucial game-ending fourth down target that was knocked out of his hands and fell to the grass.
He proved he's a reliable target for Weeden and someone worth holding onto. However, he needs to make plays with the game on the line. That's something that will come with experience and he's bound to get better.
Josh Gordon: C-
Josh Gordon had a pretty poor day with exception to the 33-yard back-shoulder catch and run that brought the Browns within one point in the second quarter.
His drop in the end zone after beating man coverage on a play-action pass from Weeden was the difference maker in the game.
Greg Little: B+
Little had no drops and a circus catch touchdown in the first half. Surprisingly, he hauled in 6-of-7 targets for 46 yards receiving on the game.
Having Little hold onto the football is an encouraging sign. It may be a performance that the youngster can build upon moving forward.
Travis Benjamin: B-
Benjamin had three catches in five targets and made the most out of his opportunities. He got a stop on the coverage on a sideline fade route but Weeden let the ball hang a little too far out of bounds for the receiver to haul it in.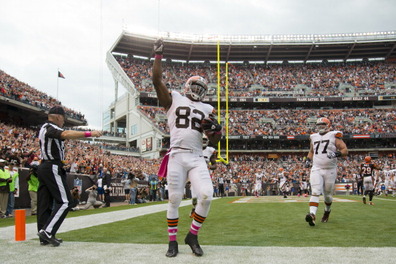 Jason Miller/Getty Images

Benjamin Watson: B+
Watson caught a touchdown pass in the opening moments of the second quarter but it was negated by a pass interference call on Josh Cribbs.
He did, though, haul in all three of his targets for 36 yards. That included a beautiful catch-and-run that set Cleveland up for its ensuing 33-yard throw and catch by Brandon Weeden to Josh Gordon.
Jordan Cameron: C-
Cameron had a false start in a key situation and wasn't very effective at all. Whether he wasn't being targeted or wasn't getting open would take some further evaluation.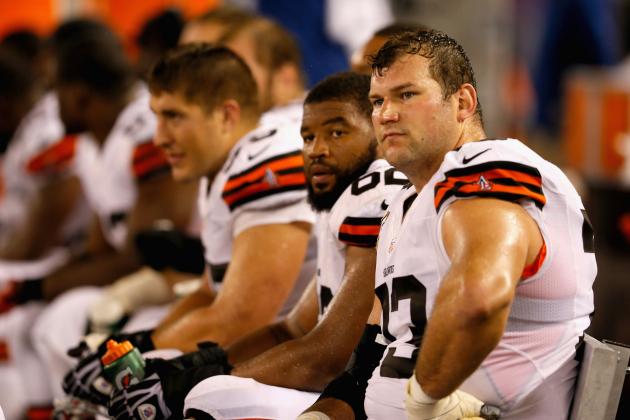 Rob Carr/Getty Images

Entire offensive line: C
It's hard to break-through and grade each of these guys individually. They made very little mistakes that stood out and did not allow a single sack on the afternoon. That includes a very limited amount of penalties, which is surprising given that John Greco was plugged in this week to start for the injured Jason Pinkston.
However, despite those successes, the line was also unable to do much against the Colts front-seven. As a result, Cleveland's rush offense was hindered and eventually abandoned by head coach Pat Shurmur.
Mitchell Schwartz was flagged for a false start on third-and-eight inside the Colts' 20-yard line but the ensuing play was a touchdown from Brandon Weeden to Greg Little.
All in all, the offensive line needs to get more drive and move opponents to open up holes for the running backs. Run-blocking was supposed to be one of the strengths of this unit and it hasn't shown to this point.
Trent Richardson was hindered by a rib injury and didn't have the same explosiveness and ability to bounce-out runs and extend plays with his elusive ability.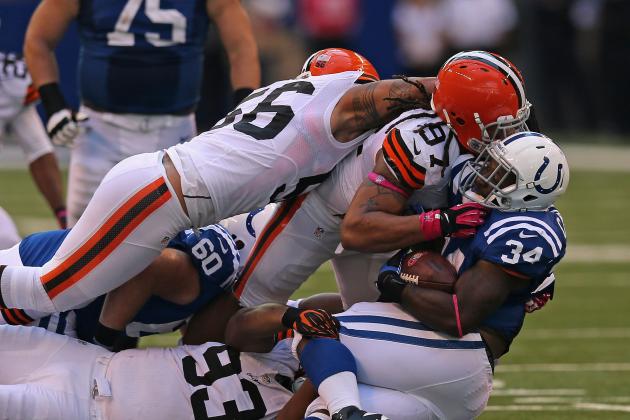 Jonathan Daniel/Getty Images

Frostee Rucker: B+
Frostee Rucker was the most active pass rusher for the Cleveland Browns defense. He had a team-high three pressures on Luck and also came up with a huge sack that forced a third-and-long and eventual Colts punt.
Jabaal Sheard: B-
Sheard had a bit of an up and down game against the Colts. He bit on a play-fake by Andrew Luck and lost containment, allowing Luck to rollout and walk into the end zone for a Colts touchdown.
However, on a positive note, he did put some good pressure on Luck at times and had a huge stop on third-and-one that forced a Colts punt with nearly five minutes left to play.
Billy Winn: C-
Billy Winn has had a good season but didn't do much in this loss. He recorded just one tackle and wasn't the usual disruptive force he's established himself as being in opposing team's backfields.
Also, he jumped on a fourth and inches play in Indianapolis territory in which Andrew Luck exposed the rookie's aggressiveness.
Ahytba Rubin: Incomplete
Rubin, nursing an injured calf, left the game early and didn't do very much from the sidelines.
John Hughes: C
Hughes played well in partial relief for Rubin. He was rotated in and out with Ishmaa'ily Kitchen and made a big tackle for a loss as the Colts were attempting to run the clock out. Most of the game, though, he and his teammates were pushed around on the line-of-scrimmage.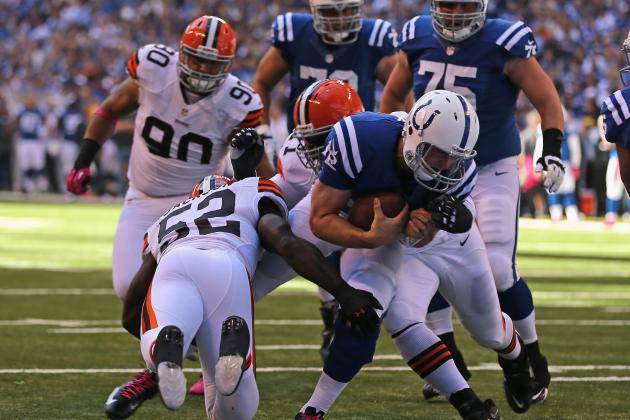 Jonathan Daniel/Getty Images

Kaluka Maiava: B-
Maiava came up with a good sack by bull-rushing over running back Vick Ballard. That dropped Andrew Luck for a loss of five and ended up helping hold the Colts to a field goal.
Craig Robertson: C+
Robertson continued to play decently as a surprise for the young Browns defense. He racked up six tackles and did a decent job in coverage but was beat on a couple occasions for first downs.
D'Qwell Jackson: C-
The defensive leader in the huddle has got to be a better example for the young players looking up to him. Sure, the call was a questionable, but he led with his helmet and was flagged with a bad unnecessary roughness penalty that helped sustain a Colts drive.
He didn't fill gaps effectively and as a result most of this tackles weren't instinctive and were reactive after the runner had made it several yards down field.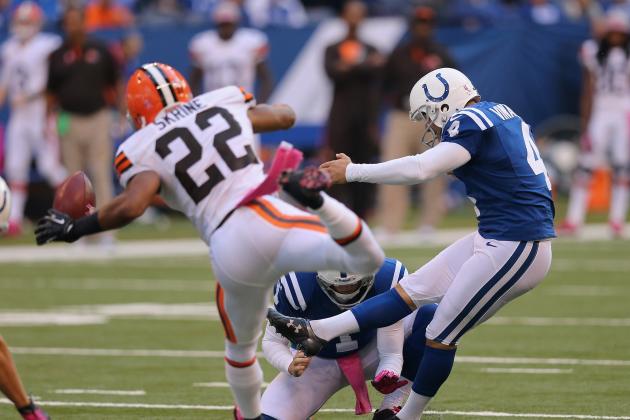 Jonathan Daniel/Getty Images

Sheldon Brown: A-
Sheldon Brown played a nice game as a run supporting cornerback. He had an early tackle for a loss as Colts entered the red zone.
Late in the game he blindsided Andrew Luck and forced a fumble at midfield with seven minutes to play.
The lone bad spot for his day was a missed tackle that allowed Vick Ballard to break a first down run and effectively kill any chances the Browns had of staging a last-minute comeback.
Joe Haden: B
Haden wasn't thrown at very often and with good reason. He made a couple tackles and had a pass interference call picked up due to the ball being thrown well over the head of the intended receiver.
With corners like Skrine and Brown playing soft coverage, it's understandable why Luck elected to stay clear of the ball-hawking Haden.
Buster Skrine: B-
Skrine continues to improve each week but was victim to a couple of excellent Andrew Luck passes. He's stepped up big-time as a tackler in nickel packages and finished the day with seven more tackles to add to his numbers.
T.J. Ward: B+
Ward saved a touchdown on an attempted post-route connection by Andrew Luck and Reggie Wayne. He played a solid game and was much more involved in the defense due to the inability of the front-seven to clean up and stop the Colts offense.
Usama Young: C+
Young had an average game in which he didn't stand out very much in either a positive or negative light. He had four tackles, but was also out of position on at least one occasion that led to a wide-open completion for Andrew Luck.
US PRESSWIRE

Phil Dawson: Incomplete
Dawson wasn't afforded the opportunity to score any points in this one.
Josh Cribbs: B
Cribbs continued his solid performance as a return specialist. However, his good returns were all negated by two holding penalties on Ray Ventrone and a block in the back by Tank Carder.
Reggie Hodges: F
Hodges botched a snap on the Browns first extra-point attempt and then shanked a punt out of bounds at around the 20-yard line after the team elected to punt on fourth-and-one inside Colts territory.
Ray Ventrone: D
Two holding calls in the first-half on kick returns. Veteran Ventrone is known for his special team's acumen but was flagged for two costly penalties that negated modest Cribbs returns.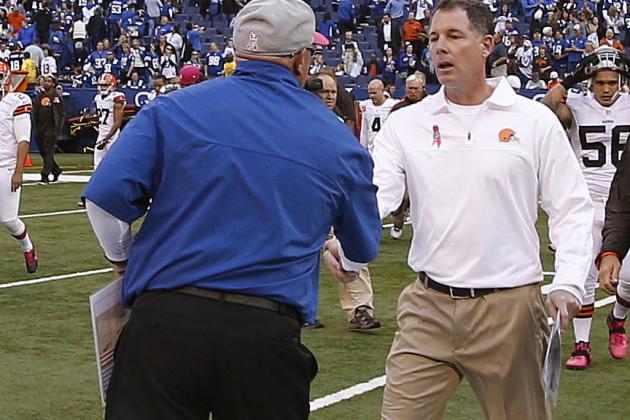 Brian Spurlock-US PRESSWIRE

Pat Shurmur: C-
Crunch-time is when good NFL coaches truly shine. This loss is yet another shining example of the inability for Pat Shurmur to coach his team to victory.
His decision to elect to punt on fourth-and-one with about six minutes to play shows his lack of confidence in his offense and it resonates throughout the team in their play on the field.
The Colts performed much better after their coach, in a similar situation, ran the ball through the gut of the Browns defense for a big first down.
However, despite this negativity surrounding the coach, the Browns were still afforded every opportunity to win this game. They simple, and literally, dropped the ball.
Pat Shurmur can't do anything short of using stickum on Josh Gordon's hands to ensure he hauls in the potential game-winning touchdown that fell out of his hands.
Unless of course he called up Norv Turner and got some pointers on that strategy.
Shurmur abandoned the run after Trent Richardson came out of the locker room on the bench. He did seem to make some nice adjustments at half time but should have tried to involve some semblance of a running game against a team that is extremely poor at defending it.
Dick Jauron: D
Dick Jauron employed soft coverage on the corners and Andrew Luck ate it alive for much of this game until turning to a more conservative approach. The puzzling part was that he continued to dial-up blitzes without switching to a more aggressive coverage scheme. Soft-zone was not adequate as the blitzes weren't hurrying Luck and he was getting easy completions as a result.
Whatever his game plan was, wasn't working or his players just weren't executing it. Luck, a rookie QB, looked like he was a step ahead of the veteran coach and his unit.