The 5 Team Models for NBA Success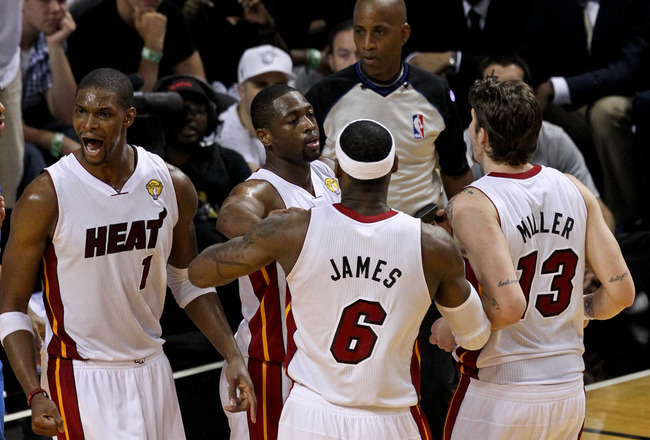 Derick E. Hingle-US PRESSWIRE
The NBA has a number of teams which are sure to be locks for the postseason year after year, and their perennial success surely has many other squads jealous. At times, one can't help but wonder if the owners gather together at times and one asks another, "What's your secret?"
Needless to say, some of the NBA's best franchises have found the winning formula and will continue to use it for years to come while their rivals continue trying to duplicate it.
However, who's to say that there is only one model for success in the NBA? After all, not every team can copy Miami's approach to having an absolutely ridiculous Big Three with a role player sprinkled here and there. As the 2005 and 2006 Phoenix Suns proved, a run-and-gun offense can often be a vehicle to the conference finals, and we all know the story behind Phil Jackson's legendary triangle offense with the Chicago Bulls and Los Angeles Lakers.
However, basketball is an ever-developing game and every year a new system comes along that surprises us all.
More importantly, it's only natural that the models for success keep changing so that they don't become predictable. Over the past few years, a select few have stood out and become the envy of all of their rivals.
Honorable Mention: New York Knicks
Mark L. Baer-US PRESSWIRE
Knicks coach Mike Woodson is no stranger to success, as his isolation offense and hard-nosed defensive style helped turn the Atlanta Hawks from an NBA joke into a regular playoff contender.
He is now manning the helm for the Knicks, who went 18-6 under him last year following the resignation of Mike D'Antoni. Given how well the team did with him in charge last season, to say that New York fans are excited for the upcoming season is an understatement.
However, while Woodson's isolation game is sure to do wonders for star players Carmelo Anthony and Amar'e Stoudemire, the Knicks' real model for success is in their depth. For every starter they have, they have someone on the bench who can jump in and be ready to play starters' minutes, be it point guard Jason Kidd or center Marcus Camby.
Unfortunately, there is no way to call the Knicks a model of success. Why? Well, because we haven't seen the new-look team play a regular season game yet. Until that happens, all we can do is speculate.
Still, given how hungry the Knicks organization is to get back to playoff glory plus how much the players seem to like Woodson, this new model is one that is sure to produce positive results.
No. 5: Boston Celtics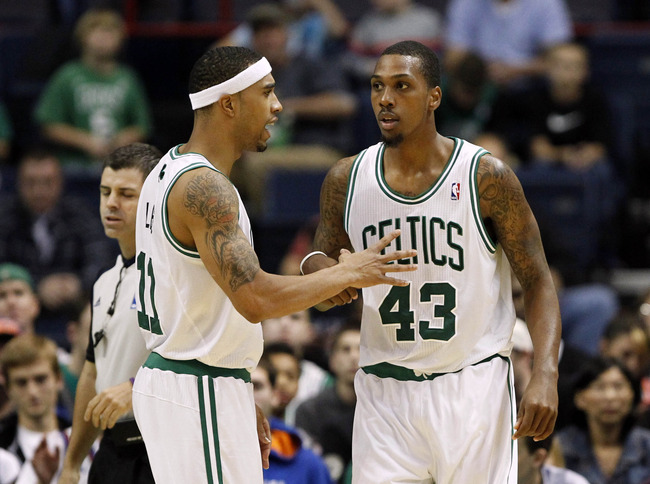 Mark L. Baer-US PRESSWIRE
Say what you want about the Boston Celtics being old, this team knows how to win and uses a great balance of youth and experience to contend for an NBA championship every year.
Led by a well-seasoned trio of Kevin Garnett, Ray Allen and Paul Pierce, the Celtics made it to the Eastern Conference Finals last season and actually took the eventual-champion Miami Heat to a decisive Game 7.
This year is certainly going to be different, as Allen has departed Beantown for the sunny shores of South Beach, but head coach Doc Rivers and GM Danny Ainge have set the team up for what will be another great season in Boston. Allen has been replaced by a fine three-point shooter in 27-year-old Courtney Lee, and Jason Terry is going to do a great job as sixth man in spite of being 35 years old.
More importantly, Rajon Rondo is going to have an MVP-caliber season and rookie forward Jared Sullinger has looked great in the preseason. The fact of the matter is that this team's core players have been playing together for a long time and have taken two trips to the NBA Finals, winning in 2008.
2012-13 will be no different, as the combination of veteran talent and spunky youth will again to drive Boston to the postseason.
No. 4: Chicago Bulls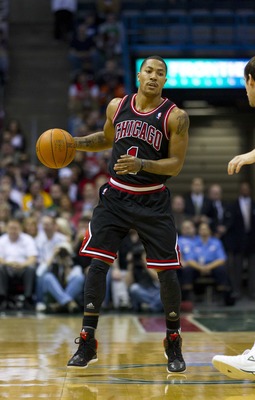 Jeff Hanisch-US PRESSWIRE
No team ever wants to say that they are completely reliant on one player, but the Chicago Bulls basically proved that last year after star point guard Derrick Rose tore his ACL in Game 1 of the team's opening round playoff series against the Philadelphia 76ers.
Without the leadership and on-court skills of Rose, the Bulls lost the series, despite posting the best record in the NBA for the second consecutive season.
Some may say that the Bulls are overrated because of how much they rely on Rose, but he is in fact a testament to their system. Not only is he an amazing point guard, but he also makes his team better, even the disappointing Carlos Boozer. The fact is his teammates react incredibly well to him and thus play with an extra bounce in their step. Most NBA teams can only dream of having a player who has this type of effect on the rest of the roster.
Thus, though the Chicago Bulls may seem like a rag-tag squad without much depth when Rose isn't playing, his mere presence either on the court or as a cheerleader on the bench is enough to make them play hard night after night. Keep in mind, he only appeared in 39 games last year, and the Bulls still had a great season.
Simply put, to have your team be united by one player isn't just a blessing. It's borderline miraculous.
No. 3: Denver Nuggets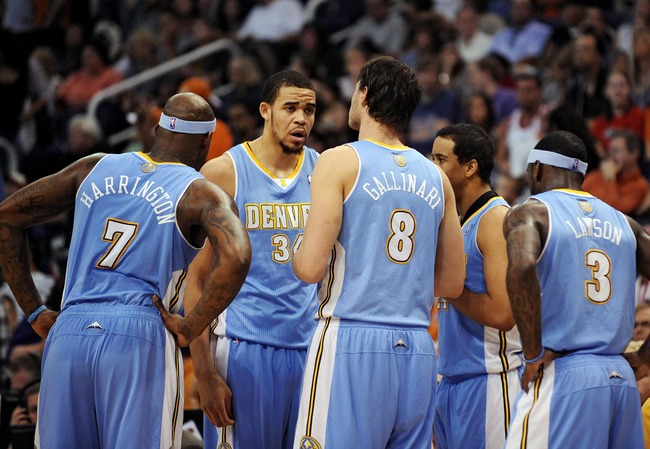 Jennifer Stewart-US PRESSWIRE
I'm a huge fan of blue collar basketball teams, so I always make sure to watch the Denver Nuggets whenever they're on national television. George Karl has put together a lineup that plays hard under any circumstances and thus is the most athletic team in the NBA.
The starting five is as follows: Ty Lawson, Andre Iguodala, Danilo Gallinari, Kenneth Faried and JaVale McGee. Each one of those players is not only great at what they do (be it scoring, rebounding, passing, etc.) but is also a freak athlete in general. The fact that Lawson is just 5'11" and can dunk is amazing on its own, as is Iguodala's ability to stick to opposing players like glue when playing defense.
Throw in some great veteran leadership in Andre Miller, and Denver's model is one that could scratch and claw its way to striking gold in the very near future.
No. 2: Oklahoma City Thunder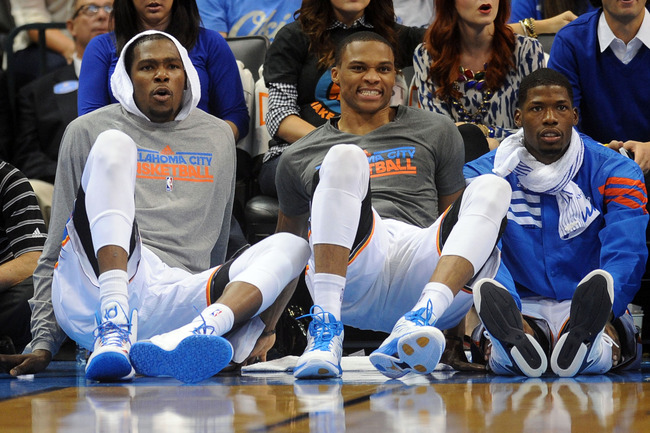 Mark D. Smith-US PRESSWIRE
I don't know what Thunder coach Scott Brooks has done, but it's clearly working.
After taking over 13 games into the 2008-09 campaign, his team has greatly improved year after year and last season represented the Western Conference in the NBA Finals. Sure, the team lost, but they have all the tools necessary to return in 2013.
Simply put, Brooks is a genius on both ends of the floor. He can let either Kevin Durant or Russell Westbrook or even James Harden run the offense with ease, and he has two incredible defensive wizards in Thabo Sefolosha and last year's leading shot-blocker, Serge Ibaka.
That said, just how does one define the Thunder's model? Either way, Brooks should keep at it because it's clearly working.
San Antonio Spurs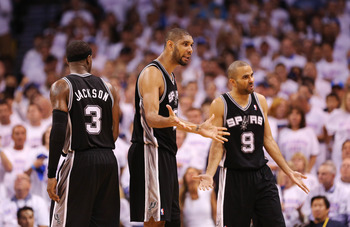 Kevin Jairaj-US PRESSWIRE
The Spurs are an older team, much like the aforementioned Boston Celtics, but there is still a great difference between the two.
While Boston contends for a title every year, it's playoff seeding tends to vary. In San Antonio, it's almost a lock that the team is going to be in the top three.
Simply put, Gregg Popovich balances a great scoring point guard in Tony Parker with a fine big man in Tim Duncan and a deadly bench assassin in Manu Ginobili. The presence of veterean Stephen Jackson and talented youngsters in Kawhi Leonard and Gary Neal is just the icing on the cake.
Oh, and let's not forget that the Spurs also won four NBA championships during a nine-year period. The model may be predictable and starting to look old and tired, but one thing is certain.
It still works.
Keep Reading