Utah vs. Oregon State: Live Scores, Analysis and Results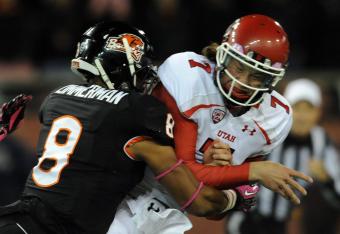 Steve Dykes/Getty Images
FINAL: Oregon State 21, Utah 7
Storm Woods rushed for three touchdowns, and the Utes couldn't overcome four turnovers as the No. 8 Oregon State Beavers beat the Utah Utes by a score of 21-7.
A win tonight marked the first time since 1907 that the Beavers have started a season with a 6-0 record. Utah, on the other hand, is now 2-5.
Give us your thoughts and analysis and keep the conversation going below.
Here is the box score for the game...
FINAL: Oregon State 21 Utah 7
For Utah, the four self-inflicted wounds did them in. One can't expect to win a game on the road against a top ten opponent with four turnovers.
Oregon State didn't have the most aesthetic performance, but they got the job done behind a strong defensive effort.
Storm Woods led the way with three rushing touchdowns. Markus Wheaton had a team-high seven grabs for 90 yards.
OSU corner back Sean Martin intercepts Wilson with a minute remaining. That marks the fourth turnover tonight for the Utes.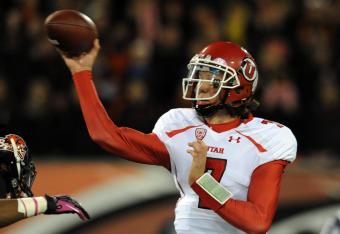 Travis Wilson has taken his lumps tonight, but he's got a bright future. A very heady player with good tools, just now needs the experience.
With a win here, Oregon State will move to 6-0. The last time an Oregon State team started 6-0 was in 1907...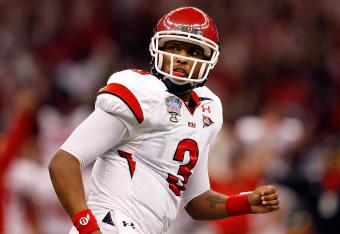 One thing is for sure, and that's that Utah offensive coordinator Brian Johnson has called a weird game. He hasn't done any favors for his young quarterback.
OSU leads 21-7 with 2:40 left in the fourth quarter.
Sack! Oregon State LB D.J. Alexander sacks Travis Wilson, and the Utes have to turn the ball over to the Beavers on downs.
Strange play call, why run a draw on a 3rd and ten? The Utes are now in a 4th and 10 situation in the red zone. If they can't convert on this play, the game is essentially over.
Murphy almost made a big catch for a would-be touchdown. This drive is a great one for Utah, but now they have to convert and score six to give themselves a chance to win.
Anyone else tired of the "chainsaw revving" noise that Oregon State pipes in on third down attempts? It sounds like a Bear snoring with sleep apnea.
Time for Wilson to take shots down the field. It would help if his receivers can catch the ball, however.
Utah needs to get the ball down field quickly. Look for White to be used on screens and draws if the Beavers try and apply pressure on Wilson.
Turnovers and untimely penalties have killed the Utes tonight. OSU has 14 points off of two Utah turnovers, and Blechen's personal foul gave the Beavers an automatic first down on this most recent scoring drive.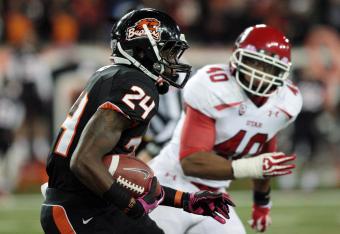 TOUCHDOWN!
Oregon State 21 Utah 7; 7:41 remaining in the game.
After review, the play was deemed good, giving Woods his third rushing touchdown tonight. With under eight minutes to play, Utah has to score quick.
TOUCHDOWN!?
Storm Woods rushed in for what would be his third score of the night, but the play is now under review.
Like I said, good things happen when you get Wheaton the ball.
First and goal, Beavers.
Dumb play by Utah safety Brian Blechen right there. He had the receiver stopped short of the first down, but lowered his helmet and gives Oregon State a first down.
That's a ghastly personal foul right there.
Big time effort by Lotulelei right there. He might not put up gaudy stats, but he's constantly double and even triple-teamed in certain instances.
That should tell you something right there.
Big time 26-yard strike by Vaz to Kevin Cummings.
I wish I could ride my bike to work.
I get that Wilson is mobile, but I don't think anyone is confusing him for Denard Robinson or Braxton Miller.
How many quarterback draws are you going to call, Brian Johnson?
Doesn't seem like a smart idea, especially with a true freshman quarterback.
Anyone been to Corvallis on Halloween? Seems like it'd be a fun place to be with all the black and orange everywhere...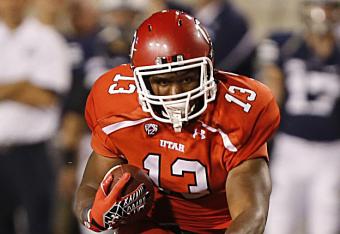 Hello Kelvin York, welcome to the party. He's giving Utah an added dimension from the tailback spot.
This article is
What is the duplicate article?
Why is this article offensive?
Where is this article plagiarized from?
Why is this article poorly edited?

Oregon State Football: Like this team?