Florida Football: 10 Things We Learned from the Gators Win vs. South Carolina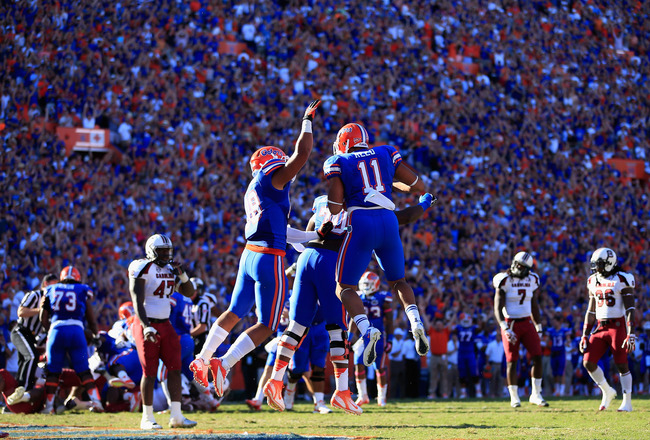 Chris Trotman/Getty Images
The Florida Gators got the job done for the seventh time this season.
Florida hosted Steve Spurrier's South Carolina Gamecocks and ran away with the game. Florida forced four turnovers and held the Gamecocks to just 36 yards rushing and 191 total yards.
Florida will now turn their attention to Georgia. If Georgia wins tonight, then the game next week will determine the winner of the SEC East. That is a far cry from the 2011 Florida Gators. In just one year, Will Muschamp has turned a 7-6 team into not only a contender in the SEC but also for a national title.
Florida's win over South Carolina was an impressive showing. Let's find out what we learned about the Gators on Saturday.
10. The Special Teams Are Returning to Form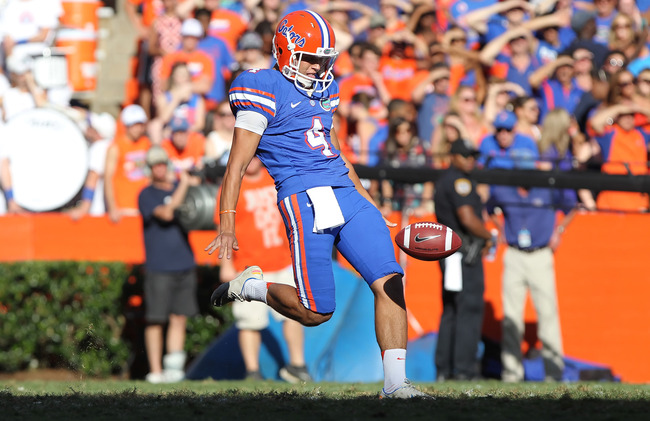 Kim Klement-US PRESSWIRE
Under Urban Meyer, the Florida Gators special teams became one of the best units in the country.
In Will Muschamp's second year, the special teams are returning to that form.
Kyle Christy punted seven times against South Carolina, and each was over 50 yards. Christy has consistently kept the opposing teams out of good field position with his punting and should be the favorite to win the Ray Guy Award this season.
Andre Debose looked good returning one kick and one punt today, and Jordan Reed was able to field an onside kick and return it for 39 yards.
For the second straight game, Florida blocked a field-goal attempt. Sharrif Floyd got his hands on a field-goal attempt for the second straight game, and this one reminded Gator fans of Jarvis Moss' blocked kick in 2006.
Also, Florida has done a great job in punt and kick coverage. Loucheiz Purifoy has been making plays all season long in coverage, and he was able to make another one and force a fumble today.
Florida is getting the job done on special teams, and that has made a huge difference this season. Hats off to D.J Durkin for getting the special teams where they need to be.
9. Halftime Adjustments Continue to Make the Difference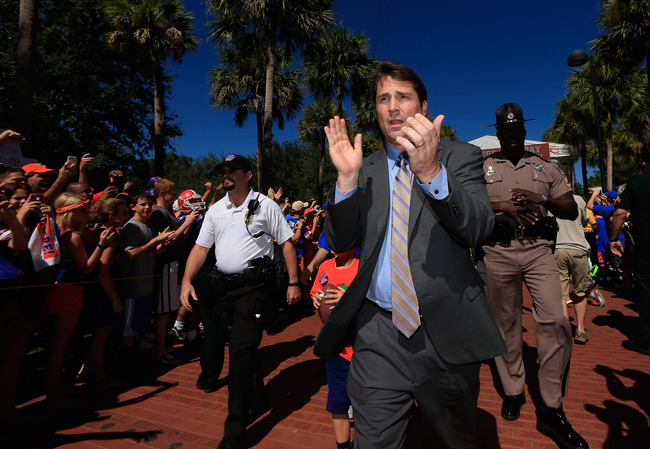 Chris Trotman/Getty Images
The Gators are a second-half team.
All season long, the Gators have been able to make adjustments on both offense and defense and play great football in the second half.
Saturday was no different. South Carolina was held to just 86 yards and five points in the second half.
The coaching staff's ability to react to what is going on in a game and make adjustments on the fly is the difference in Florida being 7-0 instead of 4-3.
8. The Gators Are a Complete Football Team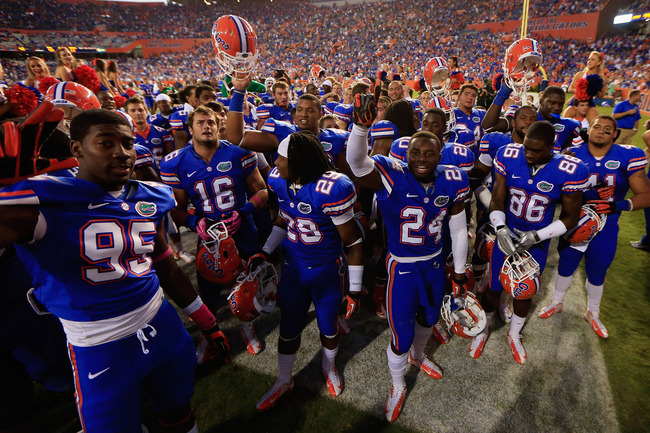 Chris Trotman/Getty Images
This is a well-rounded football team.
The defense picks up the offense when it needs to, and the offense gets the job done when it has to.
From top to bottom, the Gators have quality players at every position, and they have bought into Will Muschamp's system.
Florida's win today marked the first time in school history that the Gators have beat two AP top-10 ranked in the same season. Florida has outscored three ranked opponents this season 95-17.
That's a complete team.
7. Brent Pease Calls a Good Game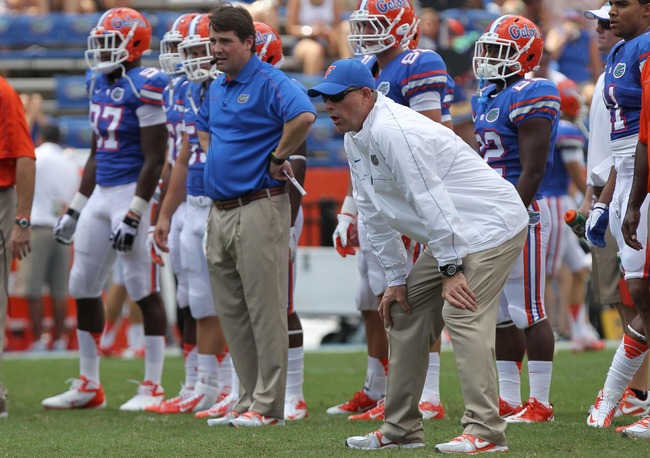 Kim Klement-US PRESSWIRE
With as much as the Gators have run the football this season, Brent Pease had to be chomping at the bit to throw the ball more.
While Florida didn't throw the ball around the field like West Virginia, they did throw the ball when they were down around the goal line. Three of Jeff Driskel's four touchdown passes were for less than 10 yards.
Pease continues to use Trey Burton in the Wildcat package, and it has been successful all season. Today, there was a new wrinkle added when Florida ran a read-option sweep that Omarius Hines was able to find the end zone on.
Pease is calling the right plays at the right times, and his creativity will keep defensive coordinators up at night.
6. Jeff Driskel Just Gets the Job Done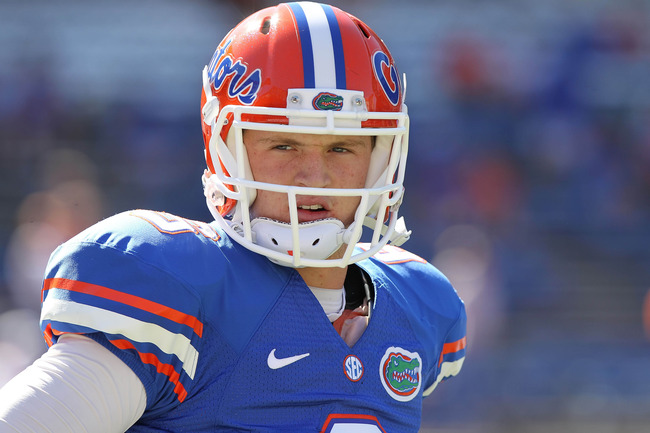 Kim Klement-US PRESSWIRE
He won't light up a box score like Collin Klein, Geno Smith or Matt Barkley, but Jeff Driskel does what his team needs him to do to secure the win.
Driskel has gotten the job done passing like he did against Tennessee and South Carolina but has also been able to get the job done with his legs (Vanderbilt).
Driskel was efficient, completing 11-of-16 passes for 97 yards and four scores. The offense was able to take advantage of the Gamecocks' miscues and put points on the board after each turnover.
Driskel's progression and level of play have kept the offense moving and is a big reason the Gators are in the position that they are this year.
5. Florida Is Capable of Playing a Complete Game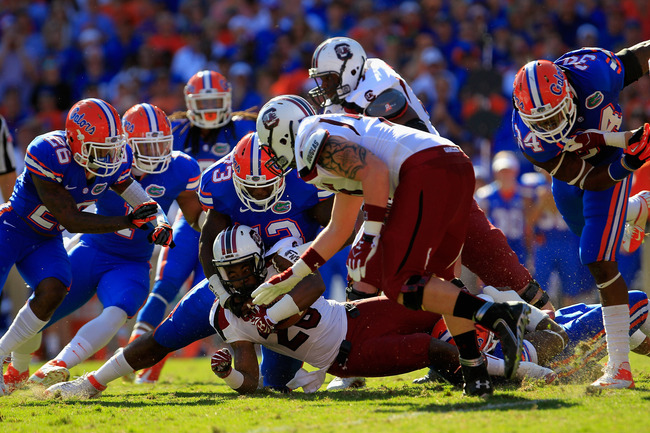 Chris Trotman/Getty Images
After watching Florida struggle in the first half against Bowling Green, Texas A&M and Tennessee, Gator fans started wondering what the team would look like if they could put together a full game.
Well, they have done that twice now, and both games resulted in impressive wins over LSU and South Carolina.
Florida's defense has held their three ranked opponents to just 17 points this year and have only given up 10 points in the fourth quarter all season.
When Florida goes out and plays their brand of football for a full 60 minutes, they are a hard team to beat.
4. Will Muschamp Is a Great Coach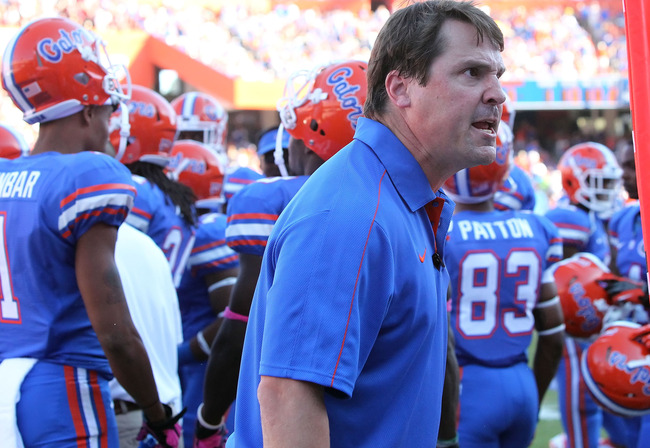 Kim Klement-US PRESSWIRE
There were plenty of doubters after a 7-6 season, and rightfully so, but if Will Muschamp hasn't won you over by now, there is something wrong.
Muschamp's fiery demeanor has rubbed off on this football team, and the Gators play with a passion that is matched by their coach's attitude.
Muschamp has turned this football program around and has the Gators being talked about as a national championship contender in just his second season as a head coach.
3. The Gators Are Taking Back the Swamp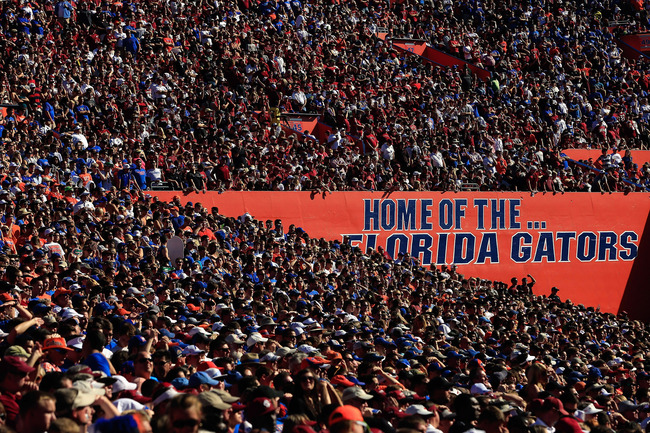 Chris Trotman/Getty Images
"The Swamp, where only Gators get out alive"
The stadium was given the nickname in the '90s by Steve Spurrier, and Florida made a point of defining their home turf.
Over the past two seasons, Florida has lost five games at home, something almost unheard of in recent years, but the Gators are taking back the Swamp in a big way.
The Gators have beat back-to-back top-10 opponents at home, and the crowd is starting to give the Gators a real home-field advantage again.
2. The Defense Might Be as Good as Any Defense in the Country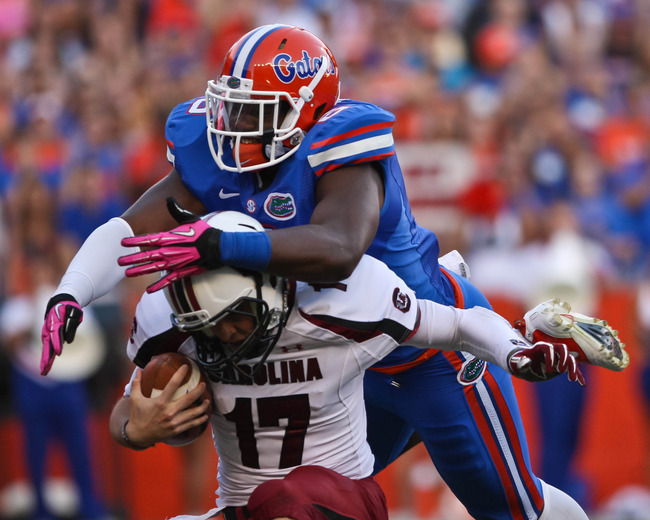 Rob Foldy-US PRESSWIRE
This Florida Gators defense loves to hit, and it's starting to create the turnovers that it couldn't in 2011.
Florida ranked 113 out of 120 teams in 2011 with a minus-12 turnover margin. In 2012, the Gators are plus-11 and ranked in the top 15 in the country.
Florida's defense is ranked in the top 12 nationally in total and scoring defense. It plays a bend-but-don't-break style of defense that is very similar to the 2006 and 2008 national champion defenses.
1. The Gators Are for Real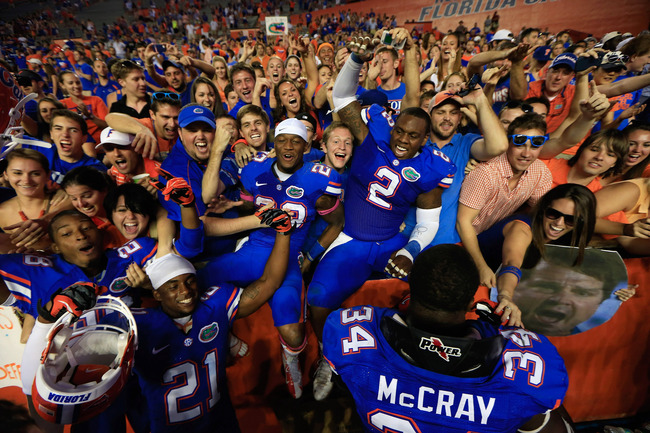 Chris Trotman/Getty Images
After beating LSU, everyone proclaimed that Florida was back.
After beating South Carolina, you can safely say that this Florida team is for real.
The way the defense was able to dominate South Carolina was impressive, and the offense was opportunistic and able to capitalize on South Carolina's turnovers.
Florida is playing their best football since 2008, and this team doesn't look like they are going to slow down anytime soon.
Enjoy it Florida fans.
Keep Reading

Florida Gators Football: Like this team?