Penn State Nittany Lions vs Iowa Hawkeyes: Live Scores, Analysis and Results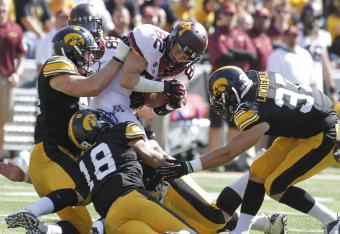 Matthew Holst/Getty Images
Final Score: Penn State 38, Iowa 14,
The score doesn't do justice to how badly Iowa played this game.
After three quarters, the score was 31-0. To add insult to injury, Iowa likely lost two starting offensive linemen—Brandon Scherff and Andrew Donnal—for the year, and had a host of other minor injuries.
The passing game continues to sputter and it seems new defensive coordinator Phil Parker has even fewer answers than his predecessor to a precision, finesse-heavy offense.
Meanwhile, PSU quarterback Matt McGloin played a great game, consistently scanning the field and finding open receivers, of which there were plenty.
For a detailed breakdown check out 10 Things We Learned from the Hawkeyes Loss to Penn State.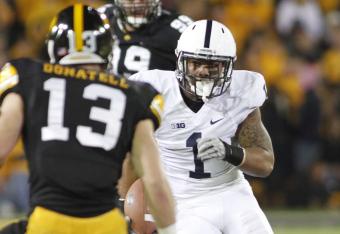 Penn State ran 90 plays for 503 yards. Iowa ran 59 plays for 213 yards.
JVB continues a downward spiral, and his receivers, who had been making improvements, took a major step back this week.
In some fairness to JVB, there have been at least four drops this game, and maybe more.
Some second-stringers are in for both teams.
Quinton Alston is in at middle linebacker, Travis Perry is at strong-side linebacker and Cole Fisher is on the weak side.
On the other side of the ball, Derek Day is at tailback for PSU.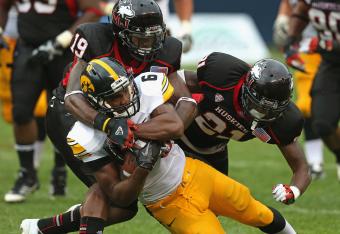 Penn State 38, Iowa 14, Late 4th Quarter.
Keenan Davis scored his first touchdown of the season, seven games into the year.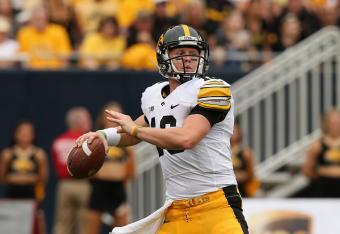 Vandenberg is still in the game.
What is the purpose of keeping Vandenberg in the game? I don't know.
Maybe he'll regain some of the confidence he has lost over the course of the year. That seems unlikely when his team is losing by over 30 points at home.
Ferentz's worst loss in Kinnick Stadium, per Morehouse,
Correct answer is 49-3 Michigan State in 1999. We shall call it the Plaxico Burress game where he didn't shoot off a toe.

— marcmorehouse (@marcmorehouse) October 21, 2012
Cornerback Greg Castillo is on the sideline with ice on his knee.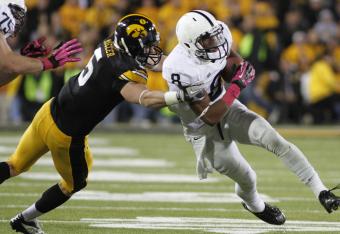 27 first downs for PSU.
Iowa has nine.
Iowa's last three kickoffs that were returned for touchdowns have been in losses—Derrell Johnson-Koulianos had one against Minnesota in 2010 and one against Ohio State in 2009, both of which went for losses.
Assuming this game is a loss for the Hawks, that makes 0-for-3.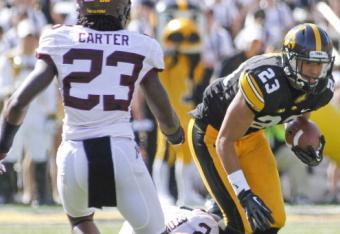 Penn State 38, Iowa 7, Early 4th quarter.
Jordon Cotton runs a kickoff back for 92 yards and Iowa's first points of the night.
Cotton is turning out to be an impressive return man.
Penn State 38, Iowa 0, Early 4th quarter.
Penn State scored a cosmetic touchdown for another six points plus one.
The last time Iowa was shut out was 2000, against Illinois, a game Iowa lost 0-31.
Penn State 31, Iowa 0, Early 4th quarter.
This game is effectively over. The only question is whether Ferentz (and O'Brien) will bring in the backups.

PSU quarterback Matt McGloin is 22-for-33 for 259 yards and two touchdowns.
He has completed passes to nine separate pass catchers, six of whom have two-or-more catches.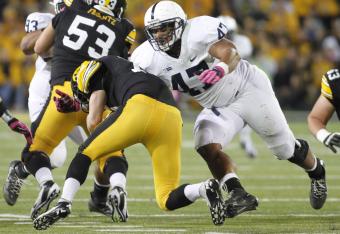 Penn State 31, Iowa 0, late in the 3rd quarter.
Iowa turned it over on downs at the PSU 3-yard line.
James Vandenberg's pass efficiency is 74.3. He has completed 9-of-23 passes.
The only reason to leave JVB in at this point is fear of destroying redshirt freshman Jake Rudock's confidence.
The last pass interference call was a gift.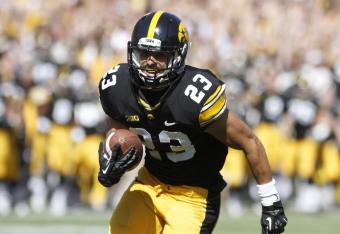 Receiver and return-man Jordan Cotton went down after the last play. He walked off the field on his own, and it looks to have just been a cramp.
Penn State turns the ball over in the end zone. It's a sad thing when that is the best thing to happened in the game.
Vandenberg is back out there.
Vandenberg is picked off on his first play of the half.
Take him out of this game.
Penn State 31, Iowa 0, Early Third Quarter.
The Nittany Lions began the half with a strong kick return and 27 seconds later, Penn State has seven more points.
By the way, backup safety Nico Law was in at strong on that series.
According to Ferentz via Morehouse,
KF: We brought it upon ourselves.

— marcmorehouse (@marcmorehouse) October 21, 2012
Strategy for the second half: bench Vandenberg.
I am not saying he should be permanently benched. Rather, he should be treated like a struggling goalie in hockey. He should be taken out of the game for his own good. Continuing to send him out there tonight is embarrassing, both to him and the program.
Besides, outside of future blowouts, this will be backup quarterback Jake Rudock's only chance to get some playing time this year.
It's half-time stat time.
Penn State: 24 points, 305 yards, 50 plays, 15 first downs, 4-9 on third down, 1-2 on fourth down, no turnovers.
Iowa: 0 points, 101 yards, 29 plays, five first downs, 1-7 on third down, one turnover.
Iowa has seven yards on 14 rushing attempts.
Vandenberg is 7-15 for 94 yards.
The last time Iowa was shut out in the first half was 2006, against Northwestern. For those that don't remember, that was the "Fat Cats" season.
The last time Iowa was shut out in Kinnick was 1998. The Hawkeyes lost to Wisconsin 31-0 in Hayden Fry's final season.
More from Morehouse,
Recruits being huddled into room and being shown that time you guys tore down the Minnesota goalposts. Good times, good times.

— marcmorehouse (@marcmorehouse) October 21, 2012
Penn State 24, Iowa 0, halftime.
The crowd let the Hawkeyes have it as they went to the locker room.
Via Hawkeyegamefilm,
This is quickly become this is the worst halfs of football in Ferentz era. Breakdowns by O & D, give PSU credit, organized attack, well done

— Hawkeye Gamefilm (@hawkeyegamefilm) October 21, 2012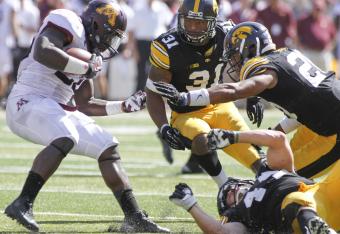 Lots of recruits are in the house tonight.
This showing—both the team and the crowd booing them—will not bring any players to Iowa.
This article is
What is the duplicate article?
Why is this article offensive?
Where is this article plagiarized from?
Why is this article poorly edited?

Iowa Hawkeyes Football: Like this team?