Florida State vs. Miami: Live Scores, Analysis and Results
Florida State 33, Miami 20 - F
The Florida State Seminoles hung on to beat the Miami Hurricanes in Coral Gables, 33-20 on Saturday night.
In a gritty, back-and-forth defensive struggle, Florida State (7-1, 4-1) scored 17 unanswered points in the fourth quarter to blow the game wide open. Miami jumped out to a quick 10-0 lead after two FSU turnovers, but couldn't gain any momentum in the key points of the game.
Miami QB Stephen Morris played through an ankle injury, but wasn't able to help Miami knock off its ACC rival.
Florida State running back Chris Thompson went down with a left knee injury in the second quarter, and did not return to the game. Devonta Freeman scored two touchdowns in his absence.
Thanks for sticking with me tonight as we watched this classic rivalry. Both teams had a chance to win, and it was one of those games that threw all the numbers out the window. I hope you enjoyed it as much as I did, and if this Florida State team can avoid all the needless penalties, they're as tough an out as any team in the country.
For everything else college football, check in with Bleacher Report's coverage of all the Week 8 action, including upsets, Heisman watch and all the highlights from the weekend slate.
Quick Hitters from Tonight's Game
Florida State Running Game Will Survive
With Chris Thompson out, James Wilder and Devonta Freeman picked up the slack. The two combined for 119 yards and three TDs, and helped this offense eat valuable time up in the crucial fourth quarter.
The extent of Thompson's injury isn't yet known. But with these two manning the backfield behind EJ Manuel, Florida State has a nice little two-headed monster of speed and power.
They'll need the running game against foes like Florida, Duke and Virginia Tech in coming weeks, and these two look more than capable of carrying the load if Thompson can't go.
Seminole Discipline
12 penalties for 121 yards is unacceptable for a team that consider itself elite. Jimbo Fisher's team didn't come ready to play, and two first half turnovers helped contribute to an early Miami lead.
It was clear Miami didn't have the same experience that Florida State showed on offense or defense, but even though they lost, you'd have to say that they came away with more positives from this game than Florida State did.
The Seminoles really deserved to lose on the road in this one. They didn't, and you can bet Fisher will have a lot of work to do to get this team ready for any type of big game, much less a BCS bid after the ACC championship game (if they get there).
Was Morris the Right Choice?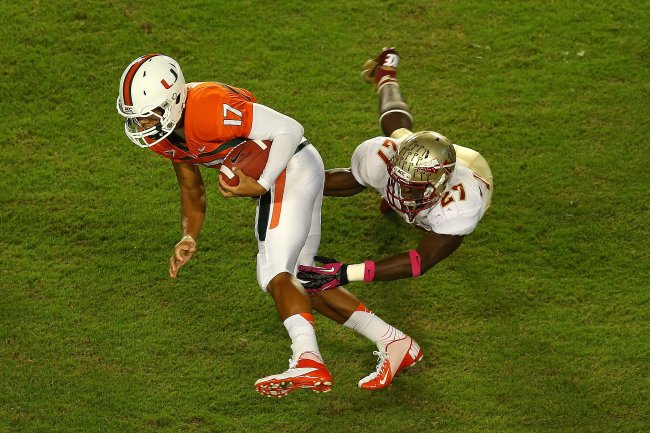 Mike Ehrmann/Getty Images
He played through hip and ankle injuries, but never really gave Miami a true chance to win. When faced with opportunities to make big plays, he overthrew receivers and wasn't able to convert third downs.
Since he didn't take any reps in practice this week, it could be stipulated that he was the wrong choice, even if he was 100 percent.
Just something to think about if you're a Miami fan, although Al Golden and his staff obviously didn't like the practice reps of No. 2 QB Ryan Williams enough to sit down his starter without any reps.
It was a great game, and it was great being able to bring it to you. Florida State takes another step towards the title game with this win, while the .500 Hurricanes have some soul searching to do going forward.
And the knees are going to the turf. FSU 33, Miami 20 will be the final score in this ACC clash.
Stay tuned for some quick hitters from the Noles' 7th win of the season.
Too little, too late for the Hurricanes. They make it 33-20 with less than a minute to play, but it will take two touchdowns and two onside kicks to keep this one alive.
Give it up for Morris and this offense, though, since they didn't have any time in practice this week to get any sort of timing down.
After the outcome, you can make the assertion that Morris was the wrong call for this team, since he didn't have enough practice time with his receivers. It showed on several throws that should have been completed tonight.
The only thing left to settle is the score.
Al Golden isn't going to give up until the last second runs off the clock, which is an admirable quality in a head coach, and something his players will certainly respect going forward.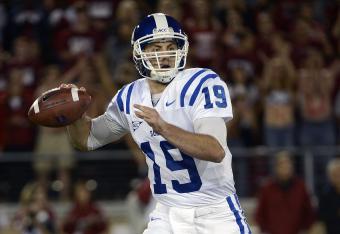 Looking ahead, what game scares you most as a Nole fan? Next week against Duke, the following week vs. Va. Tech or the potential ACC championship game between one of the two?
For Miami, is Al Golden the answer? He's clearly building the program, but needs to go 3-1 to put Miami in a solid bowl game over the next four games.
Jimbo Fisher now 7-0 in the state of Florida.
Freeman puts the final touches on this game with a touchdown run, his second of the game. Florida State hasn't missed a beat with Thompson sidelined tonight, and Freeman is a big reason.
FSU 33, Miami 13
And it's Miami who now shoots itself in the foot.
Going for it on 4th down, Werner shows why he's an elite NFL prospect with that takedown.
FSU ball.
But Morris and this offense isn't done fighting, and they convert a 3rd-and-5 with less than five minutes to play.
The life seems to be out of this Miami team.
It's been a sloppy game for the FSU Seminoles. Sitting at No. 14 in the standings, this game won't hurt them in the BCS, but it won't give them any help back up the rankings, either.
If they can overcome 12 penalties for 121 yards, though, they've got a legitimate claim towards playing against elite teams -- if they can eliminate those penalties in future weeks, that is.
Hopkins comes through on a long field goal for the 'Noles. Up 26-13, it's going to take two touchdowns from the Canes to knock off Florida State with only 6:13 to play.
And, right on cue, a holding call against the offensive line.
Another critical mistake, but Manuel and the Noles are in field goal position if they can add some more yards on second and third down.
Something that shouldn't get lost here - no penalties in this big fourth for the 'Noles.
First it was Freeman, now Wilder.
James broke free around the left end for a first-down and another couple of minutes off this clock, and Florida State is poised to take control right now.
Florida State can put the game away on this drive. They've already burned a minute off the clock en route to a first down, and can put the hammer down with a 5+ minute drive.
RB Duke Johnson is out for the rest of the game. Ankle injury. Real shame.

— Papa Cane (@ByPapaCane) October 21, 2012
Although that play should have been completed between Scott and Morris, it wouldn't have mattered, as a holding penalty was declined.
Miami sends it back to FSU, and needs a quick three-and-out after giving up points on two of three drives this half.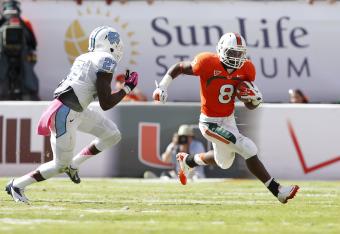 Duke Johnson won't return for the end of this game.
Call on the field stands!
It's a 23-13 lead for FSU, and with the way the defense is playing right now, Miami is going to have to play a perfect game down the stretch here.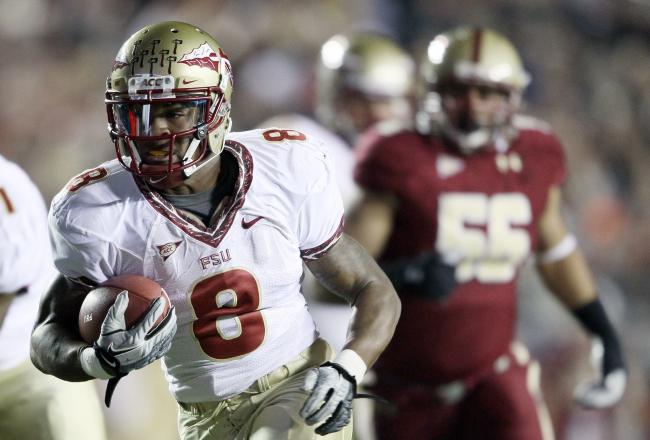 Devonta Freeman is the featured back on the goal line for the Noles.
Lots of over-pursuit right now for the Canes, and Freeman gets in on second-and-goal!!!
The booth will review it.
Looked like Kelvin Benjamin threw that corner back a little bit. It would have been his third penalty of the evening. Good no-call?
The Noles are now threatening, and could increase the lead to 10 with their defense waiting to hold down the fort.
Manuel with a nice play to start the quarter, but another mental mistakes lead to a Jimbo Fisher timeout.
That one might come back to haunt the Seminoles, and we'll keep an eye on it if they need timeouts late in the game.
This article is
What is the duplicate article?
Why is this article offensive?
Where is this article plagiarized from?
Why is this article poorly edited?