Browns vs. Colts: 5 Bold Predictions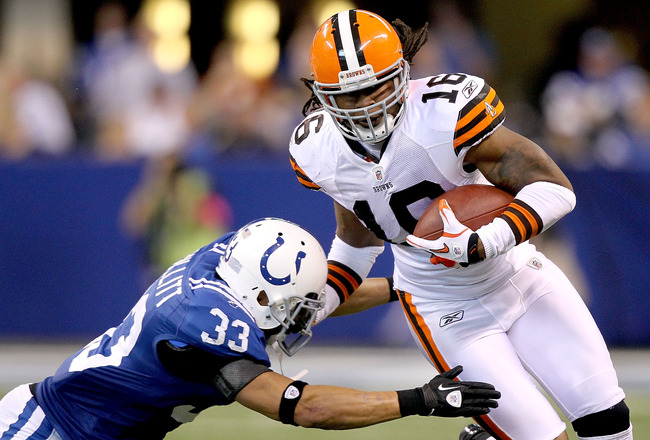 Josh Cribbs runs through safety Melvin Bullitt in Cleveland's 27-19 victory last season.
Matthew Stockman/Getty Images
Approaching this game with vastly different weeks, the Indianapolis Colts and Cleveland Browns both could use a win for the confidence of their rookie quarterbacks.
Despite coming off his first win, Brandon Weeden has watched the man who drafted him, Mike Holmgren, step down as president. This came as a result of the ownership change from Randy Lerner to Jimmy Haslam. Therefore, a win could serve to improve his future with the franchise.
Andrew Luck, on the other hand, will be a Colt for years; however, he needs to bounce back from a rough three-interception performance in a drubbing against the New York Jets.
Joe Haden Will Shut Down Reggie Wayne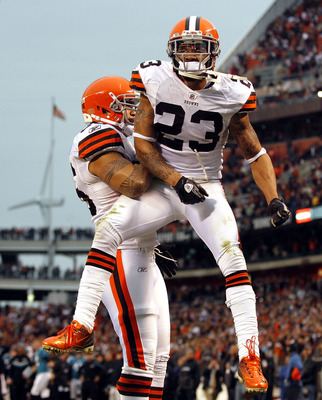 Haden, in his second game back from suspension, looks to shut down Reggie Wayne.
Matt Sullivan/Getty Images
Without a doubt, Wayne has been Luck's favorite target, catching 41 passes for 593 yards and two touchdowns. Antonio Cromartie spelled trouble for this connection last week, holding Wayne out of the end zone and picking off Luck.
Joe Haden should provide a similar role for the Browns. In his first game since coming off a four-game suspension, Haden played aggressively but came up on the short end of the stick against A.J. Green. Reggie Wayne no longer has the explosiveness of an A.J. Green.
Look for Haden to shake the rust off from his matchup with Green and shut down the All-Pro receiver, forcing Luck to look to others for production.
Colts Will Rush for Under 50 Yards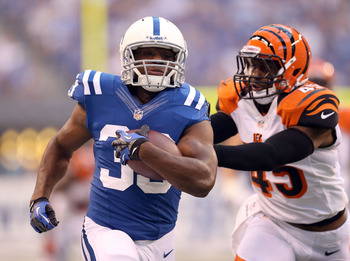 Andy Lyons/Getty Images
With Donald Brown out, the Colts starting running back is Vick Ballard. Brown, himself, only rushed for 239 yards and one score this season. Ballard, who has 67 yards on 29 carries this season, hopes to improve a Colts rushing attack that's ranked 26th in the NFL.
The Browns do have the ninth-worst run defense in the NFL; however, let's consider who the Browns have played. Thus far in the season, Cleveland has been tasked with stopping LeSean McCoy, Ahmad Bradshaw, Ray Rice and C.J. Spiller; Ballard won't be confused for any of these talented backs.
Josh Gordon Will Cause Problems for the Colts Defense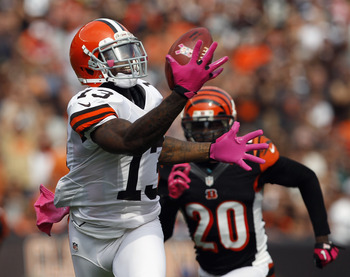 Matt Sullivan/Getty Images
The Browns' rookie has caught five passes for 181 yards with three touchdowns the last two games, though most of that production has come on two-deep bombs.
The Colts have had a hard time covering wideouts this season, rankings 25th in the league by giving up 162 yards per game and nine total touchdowns to opposing wideouts. Given that outside linebacker Robert Mathis is out this week, Weeden should have plenty of time in the pocket. Mathis has 23 tackles and five sacks so far this season, so his loss is definitely missed.
The Colts do not have the strongest secondary; thus, given enough time, Gordon will break free from coverage. This Browns offense has suddenly become much more dangerous with the recent performances of Gordon.
Trent Richardson Will Rush for 150 Yards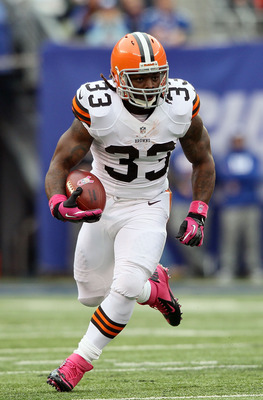 Alex Trautwig/Getty Images
I know Richardson has a questionable status due to a rib injury he incurred in the Cincinnati game; according to a report from Marc Sessler on NFL.com Friday night, Richardson "expects to play through a rib cartilage injury."
An already porous Indy run defense will be missing defensive end Cory Redding, outside linebacker Robert Mathis and nose tackles Fili Moala and Martin Tevaseu. The Colts will have to rely on Drake Nevis, Antonio Johnson and Ricardo Mathews on the front line on Sunday.
This hit to the run defense should open up even more holes for Trent Richardson. Without Redding, the defense had no answer to the Jets' rushing attack as they allowed Shonn Greene to have a career day, gaining nearly 200 yards and scoring three touchdowns.
Richardson has yet to truly break out this season, but look for him to find plenty of running room on a defense that allows an average of 157 rushing yards per game.
Teams Will Combine for Four Turnovers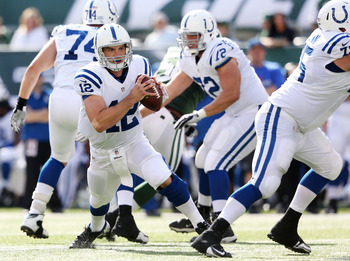 Nick Laham/Getty Images
Turnovers come with the territory of being a rookie quarterback. Brandon Weeden leads the NFL with 10 interceptions, throwing several costly picks in the red zone. Andrew Luck, although he certainly has had his moments, is coming off a two-interception game against the Jets, bringing up his total to seven on the season.
Both quarterbacks rank in the top 10 in the league in pass attempts; therefore, the defenses will have plenty of opportunities to force the rookies into poor decisions.
Prediction: Browns win, 24-17
Keep Reading

Cleveland Browns: Like this team?