Alabama vs. Tennessee: Live Scores, Analysis and Results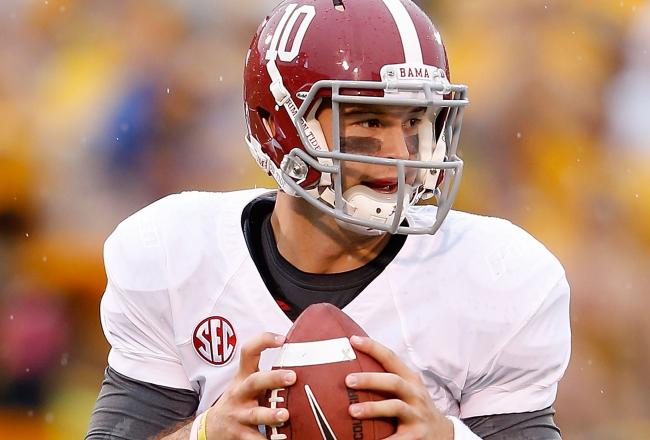 Jamie Squire/Getty Images
Alabama 44 Tennessee 13 Final
Top-ranked Alabama endured a spirited effort from rival Tennessee, but in the end, the Tide pulled away for a 44-13 victory.
Quarterback A.J. McCarron turned in a masterful performance going 17-of-22 for 306 yards and four touchdown passes.
Nick Saban's defense frustrated Tennessee quarterback Tyler Bray and forced two interceptions that led directly to two Alabama touchdowns.
Alabama moves to 7-0 while Tennessee drops to 3-4.
Stay tuned to B/R for more postgame coverage of the matchup between Alabama and Tennessee.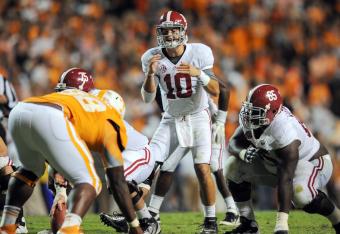 Here's a link to my postgame piece on Alabama's big victory.
Hope you guys enjoy it, and thanks once again for reading!
See you all next week!
This one is over folks, Alabama wins 44-13.
As always, thanks for stopping by and keeping up with the blog.
Stay glued to B/R for postgame coverage of the Tide's win over the Vols.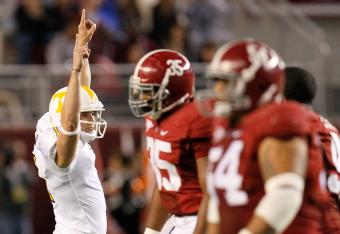 After the turnover, Tennessee gets it inside the five-yard line but is forced to settle for three points instead.
Palardy boots a 20-yarder to make it 44-13 with just under four minutes to play.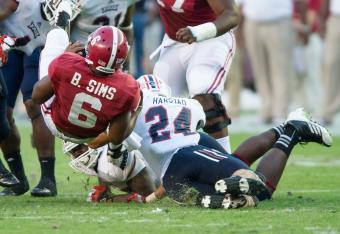 Alabama plugs backup quarterback Blake Sims into the game, but he promptly fumbles on a botched zone read play with Kenyan Drake.
Saban surely will not be pleased with that effort from Sims.
Tennessee inserts backup quarterback Justin Worley into the game, but defensive coordinator Kirby Smart left most of his first-team unit out there and the end result was another punt.
Another impressive part of what Alabama's program is how hard they keep coaching their players in every phase.
Seeing defensive coordinator Kirby Smart implore his squad like the game was still in doubt is something that stands out and helps separate the Tide from other powers across the nation.
Yeldon goes over 100 yards for the second consecutive game, and he is up to 15 carries for 129 yards and a pair of scores on the evening.
Between he and Cooper, the future of Alabama's skill groups is in good hands for the foreseeable future.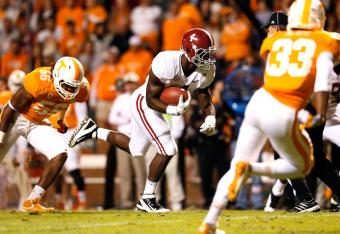 T.J. Yeldon scampers 43 yards for his second touchdown run of the night, and the rout is on.
Alabama goes up by a score of 44-10.
Tennessee is unable to get anything going on offense, and it appears that a little garbage time will play out for the remainder of the final period.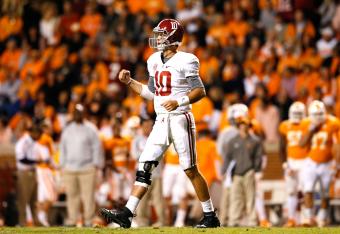 Based off his performance tonight, McCarron may have finally put together the performance that gets his name buzzing in the Heisman Trophy race.
McCarron has gone 17-of-22 for 306 yards and four touchdown passes.
He has simply played a flawless game.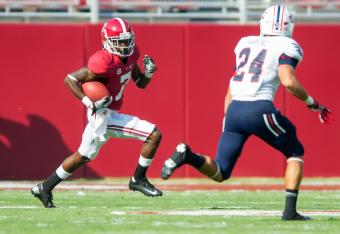 A second blown coverage for Tennessee's secondary results in a 37-yard touchdown pass from A.J. McCarron to Kenny Bell.
Alabama goes up 37-10, and this one is pretty much over.
You simply have to play mistake-free ball to beat a team like Alabama, but Tennessee has let some golden opportunities slip away.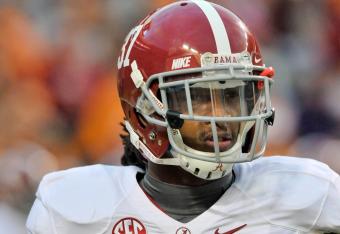 Bray fires for the end zone, but Robert Lester plays centerfield perfectly and picks it off and erases the Vols scoring threat.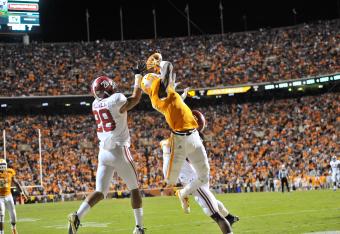 Patterson gets another big return and Tennessee is setup with decent field position.
There's a Justin Hunter sighting, ladies and gents.
He stabs a Bray pass that may not have been intended for him and streaks 44 yards inside the Alabama 20-yard line in a hurry.
But fitting for the Vols, a holding penalty pushes them backwards.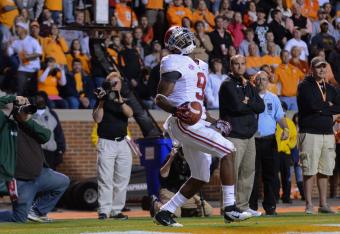 Lacy is still finding tough sledding trying to penetrate this Vols defensive front.
McCarron is able to complete another improbable pass in the face of a rush on third down, and he's shown that uncanny ability to stay poised in those situations.
This is the deepest part of a game that Alabama has been pushed and they are responding well even though they have made some mistakes.
Lacy's spin move is ridiculous.
O.M.G.
Amari Cooper is unreal.
He just hauled in a 42-yard bomb from McCarron, and the Tide strikes again taking a 30-10 lead late in the third quarter.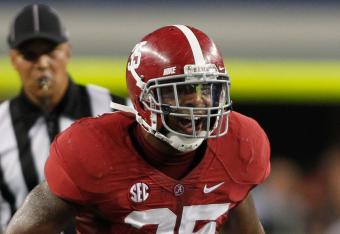 Well, maybe Dooley shouldn't have listened to me, because Bray fires an incompletion on third down.
Ok, guess I was right because Johnson gets stuffed on fourth down and Tennessee turns it over on downs.
The crowd is waiting for something to cheer for here.
Another deep shot fails on first down.
Lane is still running with a purpose, so the Vols would be wise to keep feeding him.
Instead, A.J. Johnson was set to lineup in the wildcat on third-and-short, but a timeout was called instead with the biggest play in the game coming up.
I think its a bad idea to come out with the same package with Johnson telegraphing the run here.
Eventually, Alabama is going to stuff that play.
Tennessee's defense still holding up fairly admirably against the run.
Another third-and-long situation, but this time McCarron cannot come up with a timely completion and Tennessee forces a three-and-out and should emerge from this with decent field position.
Devrin Young returns it to the Alabama 43-yard line and Tennessee is tantalizingly close to making this game that much more interesting.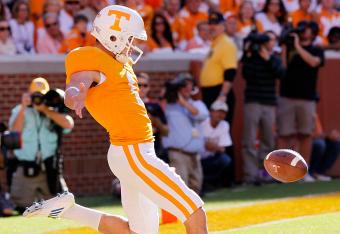 Cannot overstate how impressive Alabama's defense is when defending against wildcat plays or jet sweeps.
The defensive ends set the edge and force the runners to turn back into where help is coming.
The Tide defense once again bails Foster out by forcing a three-and-out.
Nice adjustment by Dooley letting Palardy get off a rugby-style punt, and he promptly pins the Tide inside its own 10-yard line.
If anything, Tennessee was able to flip the field position there.
With Foster missing a pair of attempts, it makes you wonder whether Saban will trust him to attempt another one if the situation arises later in the game.
Tennessee has another golden opportunity to get back into this game with a score here.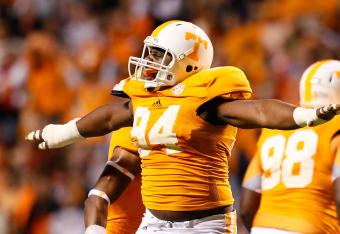 Alabama begins the third quarter with a short play-action pass to Christion Jones, who makes his first catch of the night.
Fitting of a play meant to keep a defense on its heels.
Two plays later, another play-action pass executed to perfection as McCarron hits Kevin Norwood streaking down the middle of the field.
This is way too easy.
Darrington Sentimore stunts the drive temporarily with the Vols first sack of the night.
Wow.
Tennessee gets Alabama in third-and-long from the 30, but the Tide beats it with a 30-yard wide receiver screen to Amari Cooper, but his touchdown is negated due to an illegal formation penalty.
Lucky break for the Vols there.
Another screen pass, this one to Lacy, is snuffed out and the Tide is forced to try its third field goal of the night.
Foster misses his second attempt of the night, and the Vols dodge a bullet.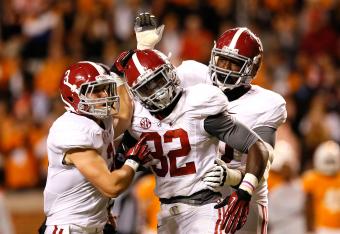 Alabama's defense has been an opportunistic unit this season, according to Andrew Gribble of al.com.
Alabama has converted 14 of the 19 turnovers its forced this season into touchdowns.

— Andrew Gribble (@Andrew_Gribble) October 21, 2012
That is simply astounding and goes to show how mistakes against the Tide can put any team in a hole rather quickly.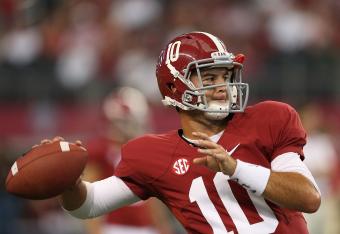 Some halftime observations.
McCarron is continuing his stellar play this season, and he has been able to evade pressure whenever Tennessee has been able to get in his face.
Cooper is having a breakout performance, and the Vols do not have an answer for him.
Alabama's defense has given up some big plays, but Mosley's pick turned into an easy score and changed the momentum.
For Tennessee, the offense has shown some flashes, but they have also been inconsistent.
Bray needs to settle down and Vols offensive coordinator Jim Chaney would be wise to get him some safe completions to get him into a rhythm.
The defense has to find a way to create a turnover, because Alabama's offense started to establish a nice balance and rhythm as the first half went on.
Also, they have to do a better job on the coverage units of limiting Jones from breaking big gainers and giving the Tide an advantage with field position.
Some halftime stats, per ESPN.
Alabama outgained Tennessee 253-145 in the first half.
McCarron went 10-of-15 for 163 yards and a pair of touchdowns.
Cooper hauled in six passes for 120 yards and one touchdown.
Bray went 8-of-16 for 107 yards and an interception.
Alabama held the rushing edge 90-38.
Justin Hunter was held without a reception in the first half, while Cordarrelle Patterson had just one for 25 yards.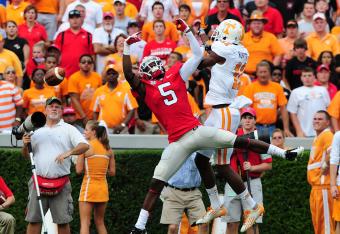 Tennessee throws three consecutive short passes to Marlin Lane, but they are unable to gain substantial yardage.
Then with time winding down, Bray throws a beautiful deep ball to Hunter but he drops it.
Wow.
That would have been a monstrous play for Tennessee and one you need to hold on to if you want any chance to upset the No. 1 team in the country.
That puts us at halftime with Alabama up 23-10.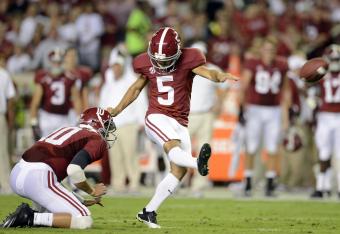 Tennessee's defense muscles up as the Tide enters the red zone and forces a second field-goal attempt.
The Vols defensive line stepped up and whupped the Tide's OL on that play.
Jeremy Shelley drills a short field goal to answer for the Tide and extends their lead to 23-10.
This article is
What is the duplicate article?
Why is this article offensive?
Where is this article plagiarized from?
Why is this article poorly edited?

Alabama Crimson Tide Football: Like this team?