Georgia vs. Kentucky: Live Score, Analysis and Results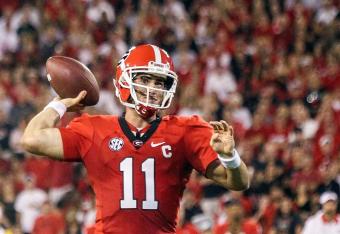 Daniel Shirey-US PRESSWIRE
Georgia 29, Kentucky 24 - FINAL
The Kentucky Wildcats fought hard, but Aaron Murray was too much for the Bulldogs and come way with a win.
Murray threw for over 400 yards and four touchdowns to lead the Bulldogs to their sixth win of the year. They will now face Florida next week for first place in the SEC East.
Kentucky drops to 1-7 and have lost their sixth consecutive game.
Here's 10 things we learned from the Bulldogs win vs. Kentucky.
Well it was not a pretty win, but the Bulldogs leave Lexington on top. They now have a chance to take over the SEC East lead as they face Florida next week. Come back here a little later for my 10 things I learned piece about the Bulldogs.
Georgia now has 25 first downs. They may not get 40 points, but the offense was very efficient. Credit has to go to the offensive line to give Murray time to pick apart the Kentucky secondary.
Georgia recovered the onside kick and will try to run out the clock with Ken Malcome.
Georgia 29, Kentucky 25. Ryamond Sanders scores on a 1-yard run to cut the lead late in the fourth quarter. I think they go for an onside kick because they don't want Murray to shred the secondary again.
Whitlow has given the Wildcats a boost and are in the redzone for the first time this quarter. Well, it looks like I was wrong about keeping Whitlow on the bench.
Whitlow is back in the game, but he's in pain. They might have to go with Newton the rest of the way so they don't do anymore damage to Whitlow.
Sounds about right.
Aaron Murray: 29-for-36, 418 passing yards, four TDs. ... That's about the kind of night he should have against this secondary.

— Seth Emerson (@SethEmerson) October 21, 2012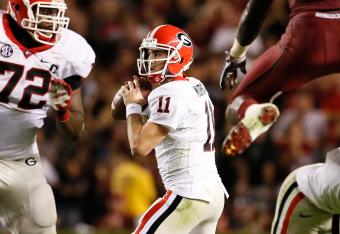 Georgia 29, Kentucky 17. Murray throws a TD pass to Arthur Lynch to increase the Bulldogs' lead midway through the fourth quarter. Murray now has 418 yards and four touchdowns. Not a bad night for the junior signal caller.
Murray has over 400 passing yards. Like I said earlier, he is having a nice bounce back game.
Georgia got a huge break as Kentucky got called with a roughing the kicker penalty. But UGA punter Colin Barber had to be helped off the field. Let's hope he's okay.
Kentucky QB Whitlow out with a head injury. It looks like it will be Newton's game to win, or lose depending on how you look at it.
At this point, they have to take it anyway they can.
Georgia's defense forces the 3-and-out. Or at least benefits from Kentucky receiver dropping pass on third down. Either way, they'll take it

— Seth Emerson (@SethEmerson) October 21, 2012
All day, every day.
Passing game. All day for Georgia. All day. Murray now well more than 300 passing yards tonight.

— Seth Emerson (@SethEmerson) October 21, 2012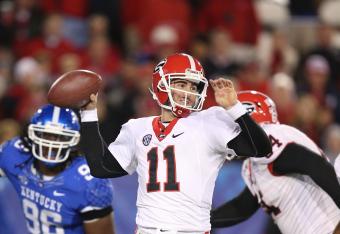 Georgia is back on offense after forcing Kentucky to punt. They need another good drive here to separate themselves from the Wildcats.
The Georgia D is doing a good job stopping the run in this quarter, but Newton is doing a good job making plays with his feet. That has to be frustrating for Todd Grantham.
That's awesome.
Gotta love the sight of Kenarious Gates running as fast as he can from the yellow flag, hoping no one will notice his chop-block penalty.

— Seth Emerson (@SethEmerson) October 21, 2012
Georgia 22, Kentucky 17. Murray throws a TD pass to Chris Conley to give the Bulldogs the lead again. They try to two-point conversion, but missed. It was a series that was needed to give Georgia a boost. But can the Wildcats respond?
It's looks like the coaches are giving the ball to Murray and let him take care of the offense instead of putting all load on Todd Gurley. That's a decision they should have made a lot earlier.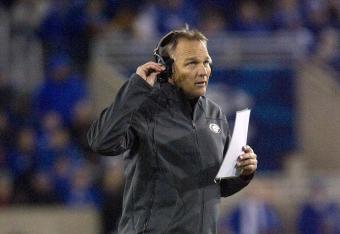 Georgia does its job as Kentucky goes three and out. To say the Bulldogs have to score on their next series would be an understatement.
That's what I thought.
Richt and assistant coach John Lilly spent about 90 seconds meeting with the referee, seeking explanation for the illegal formation call.

— Seth Emerson (@SethEmerson) October 21, 2012
Georgia went for it on fourth down, got the first, but was called back because of a false start penalty. Yeah, it's been that kind of night for the Bulldogs.
Georgia goes three-and-out again. The Bulldogs offensive line got worked by the Wildcats front seven on that series .
Georgia 16, Kentucky 17. The Wildcats nail a field goal to take the lead. They are still running ball well and Georgia is starting to get irritated. The Bulldogs have to put the ball in Murray's hands and not worry about the run game.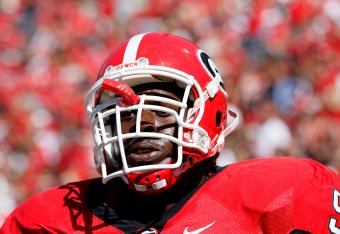 One defender that is not frustrated is Kwame Geathers. He has a sack and just tackled Newton for a loss.
This article is
What is the duplicate article?
Why is this article offensive?
Where is this article plagiarized from?
Why is this article poorly edited?

Georgia Bulldogs Football: Like this team?