New York Jets vs. New England Patriots: Live Score, Highlights and Analysis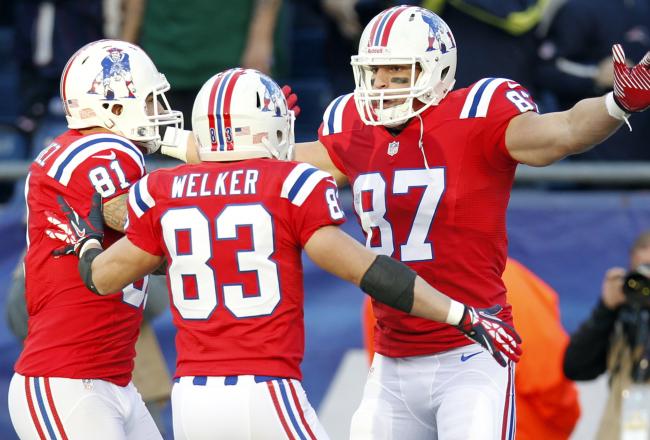 This was a much closer game than most anticipated, as the Patriots find a way to pull it out in overtime.
The Jets had an overtime drive going to match the Patriots field goal, but a strip sack ended the game.
Jets 26, Patriots 29
When: 4:25 p.m. ET
Where: Gillette Stadium, Foxboro, Massachusetts.

TV: CBS
DirecTV: 712
Sirius: 86
Radio: ESPN 98.7 FM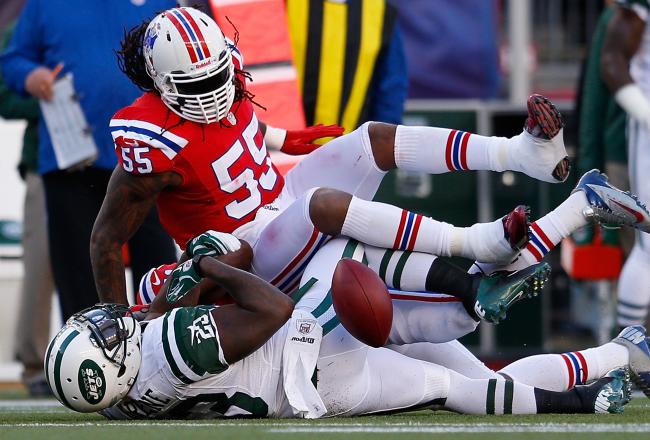 Ruling confirmed. Game Over!
FINAL SCORE: Jets 26, Patriots 29
Game Over! For now. Sanchez is strip-sacked and the Patriots recover! Assuming the call stands, that ends the game.
9:27 OT
Big holding call to extend the Jets drive. Judging by the inaccuracy of Sanchez's pass, that was an intentional incompletion.
Gostkowski's kick is good! But the game is not over...the Jets have at least one more chance to tie or win the game on this last drive.
Big no-call there, but the right now. Wilson did not touch him before the ball arrived.
13:29 OT
Patriots are finding mismatches to move the ball: Wes Welker vs rookie linebacker Demario Davis is not what the Jets are looking for.
Patriots win the toss and will receive.
Pats set up a field goal with 3 seconds left. This is for overtime
Nick Folk's field goal is good! Jets take the lead, 26-23.
Here comes yet another classic Brady drive...or will the Jets hold them? NFL drama at its finest.
1:50 4th Quarter
The Jets try a bootleg on third down, but no one is open and Sanchez smartly takes a sack to force the Pats to use another timeout.
Two minute warning
It would be hard to blame the Jets for doing three straight runs here to take the timeouts away, but giving Brady any kind of time is always a gamble. A first down or two virtually wins it.
2:01 4th Quarter
FUMBLE!!!!
Devin McCourty, who returned a kick for a touchdown earlier, is stripped by Lex Hilliard. Jets take over!
2:06 4th Quarter
Stephen Hill with a brutal drop on third down. Nick Folk's field goal ties it up, and the Patriots have the ball with just over two minutes left.
Whoever wins, this is a terrific game.
Jets 23, Patriots 23
3:50 4th Quarter
Greene wants to come back into the game...we could hear some controversy if he is found to have a concussion after the game.
Greene update:
Shonn Greene (head) has been taken to the locker room, likely won't return. #Jets #NFL

— Wesley_Sykes (@Wesley_Sykes) October 21, 2012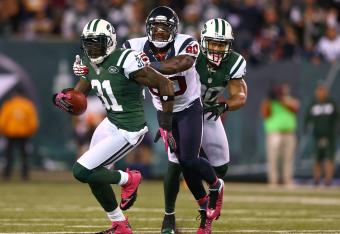 4:31 4th Quarter
Cromartie with airtight coverage on Gronk, but drops what would have been a huge interception. Cromartie is one of the most sure-handed corners in the game,
Meanwhile, the Jets force the punt, and the onus is on the offense to win the game with plenty of time left.
5:40 4th Quarter
The Jets have two remaining time outs left. Will certainly be interesting to see if the Patriots choose to throw or run the clock out here. I would see what I could get with Ridley on a play or two, but still throw when needed.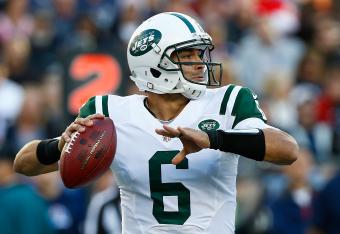 5:44 4th Quarter
TOUCHDOWN JETS!!
Sanchez sticks a throw into Dustin Keller's chest for the score. Jets now trail by a field goal, 23-20. 92-yard drive for the Jets.
8:30 4th Quarter
Jets are finding ways to keep the drive alive. Every completion is difficult, however. This is no way to play-offense long-term.
Shonn Greene takes a nasty shot to the helmet from Brandon Spikes shoulder. I would be stunned if that is not a concussion. The next man up is undrafted free agent Jonathan Grimes.
10:50 4th Quarter
Big-time throw from Sanchez to pick up the first down. Well-run route to gain separation from the Patriots corner.
Sanchez follows up a good play with a near-interception, as he attempted to get rid of the ball before he went down. Jets dodge a bullett.
Jets are burning timeouts when they are at a premium.
14:00 2nd Quarter Big stop by the Jets defense to give the offense one more chance to come back. Isiah Trufant has had a really nice game playing in the slot against the Patriots spread passing attack, and he follows up with a nice tackle.
1:23 3rd Quarter
A devastating holding call brings back a Sanchez scramble that would have resulted in a first down. Patriots force a punt.
A touchdown may just put a fork in the Jets effort. A 17-point deficit would be insurmountable at this point.
This article is
What is the duplicate article?
Why is this article offensive?
Where is this article plagiarized from?
Why is this article poorly edited?