College Basketball Recruiting: Sizing Up the Best Uncommitted Recruits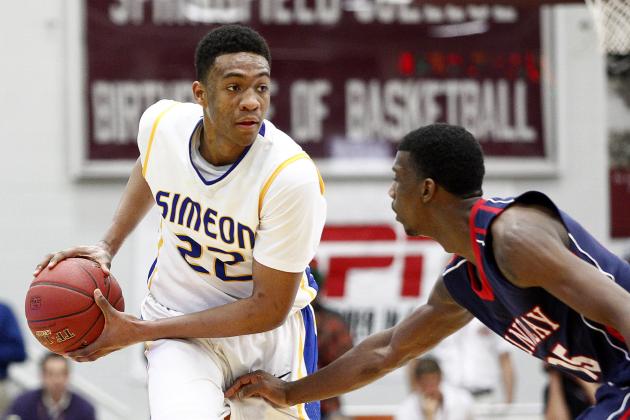 Mark L. Baer-US PRESSWIRE

After a fast and furious month of commitments in the college basketball recruiting world, most fans are wondering who will be the next elite player to rock the college basketball world with his commitment.
I'm asking the same thing.
College basketball recruiting is never what it seems. There are so many factors that go into these decisions, and each case is unique. It's impossible to know what is going to happen unless you have inside knowledge from the player himself.
However, we do know which recruits will create a big impact with their decisions and have a general idea of how those players will turn out. Of the players left to commit in the Class of 2013, these are the ones who will have the biggest impact.
Begin Slideshow

»
Position: PF
Height: 6'10"
Weight: 190 pounds
Considering: Cincinnati, Florida, Kansas, Kentucky, Rutgers, St. John's, Syracuse, UCLA, UNLV
Jermaine Lawrence is a lanky, athletic power forward with a lot of potential.
As of now he can either add weight and play as a power forward in college, or he could work on his jumper and become a combo forward in time.
Lawrence runs the floor incredibly well, which makes him a matchup nightmare. It's tough to find someone who is as tall as he is and can still run the floor well, making him tough to stop in transition.
Lawrence is the type of athlete that a lot of coaches love to work with, which is why he's receiving so much attention from bluebloods like Kansas, Kentucky, Syracuse and UCLA.
Position: SG
Height: 6'5"
Weight: 185 pounds
Considering: Baylor, San Diego State, UNLV, UTEP, Washington
Isaac Hamilton is a tough man to stop inside. He slashes to the basket with such force that it is tough to stop him without fouling. He finds ways to score around the basket, which is why opponents need to keep him out on the perimeter.
Hamilton has a jumper that's still very streaky, but when he gets hot he is impossible to stop. There comes a point where it seems like everything is falling for him, and if defenses extend out just a little bit he'll come crashing through and finish with an easy dunk or layup.
Hamilton isn't just a scorer, however, as he is also a facilitator at times, finding open teammates if he's double-teamed. He understands what the defense is doing to try to stop him, and he exposes weaknesses incredibly well.
Hamilton is far from perfect, but if he can work on his jumper and learn to impact the game without the ball in his hands then we could see him develop into one of the top scoring guards in the nation.
Position: PF
Height: 6'8"
Weight: 200 pounds
Considering: Virginia, Vanderbilt, Duke, Tennessee, Memphis, Auburn
Austin Nichols is a talented big man from the south. Hailing from Eads, Tennessee, Nichols is looking to keep his considerable talents close to home.
At 6'8" and 200 pounds he doesn't have the body to bang down low at the collegiate level just yet, but he is working to add size and many big men his age have the same problem. He has the athleticism and skill to be an elite player once he gains size, and he will soon be an elite big man.
On offense Nichols can play well inside, but he also has a nice jumper which keeps the defense honest against him. When he doesn't have the ball he still finds a way to impact the game, running the floor and rebounding extremely well.
If he can add about 20-to-40 pounds before college then he will be a great asset for whichever school he chooses.
Position: PF
Height: 6'7"
Weight: 210 pounds
Considering: Alabama, Louisville, LSU, Oklahoma State, St. John's, Texas A&M, UCLA
Jarrell Martin has one of the highest ceilings in the Class of 2013, but he could also be a huge bust at the next level. The fact that he didn't play high school ball leaves the question of whether or not he's for real.
At this point he is more of an athlete than a player. He is an elite player in transition, but he tends to struggle inside when forced to slow things down.
He doesn't have the body of a prototypical big man, but he could convert to a wing in college to allow his athleticism to flourish. However, if he does make that switch then he will have to improve on an already-solid jumper.
I see Martin becoming one of the elite players in the Class of 2013 if he plays for a top coach, such as Louisville's Rick Pitino, but he still has some rough edges that need to be shaved off.
Position: PF
Height: 6'8"
Weight: 220 pounds
Considering: Arizona, Boston College, Connecticut, Duke, Georgetown, Indiana, Kentucky, Kansas, Louisville, Marquette, Maryland, North Carolina, Ohio State, Pittsburgh, Providence, Syracuse, Texas, UCLA
After recently reclassifying from the Class of 2014, Noah Vonleh is a young talent who is a new player in the Class of 2013.
Vonleh is still developing, but there's a lot to like. He has incredible athleticism, and he combines it with a big, growing body. He is a skilled power forward who can impact the game with the ball in his hands or out, which is what makes him special.
The fact that he is a year younger than the players around him and still ranks No. 6 in the country is a testament to just how skilled he is.
Position: PF
Height: 6'7"
Weight: 210 pounds
Considering: Oregon, Washington, Kansas, Arizona, California, Kentucky, New Mexico, Stanford
Aaron Gordon is arguably the best athlete in the Class of 2013, and after watching this highlight reel you can probably see why.
Gordon has an aggressive mentality and loves to get to the basket, where he elevates and finishes above the rim. He is a smart player who knows his limits, and if he's in trouble he can make a nice pass, but he truly excels when he has a head of steam and is heading toward the rim.
On defense Gordon is an effort-player. He can stick with a lot of guys, and he has some truly spectacular blocks as well. His ability to elevate is one of his best, and it helps him yet again on the defensive side of things.
Position: PF
Height: 6'9"
Weight: 225 pounds
Considering: Kentucky, N.C. State, Florida, Texas, Kansas, Oklahoma
Julius Randle is the top big man in the Class of 2013, and his recruitment has great implications in the college basketball world. If he were to join Kentucky's incredible class which already has three of the top five players in the nation then the Wildcats would be pegged to go undefeated in the 2013-14 season.
Randle is a special player. Not only does he play well inside with his back to the basket because of his dominant presence, but he can also face up. He has good handles for someone his size, a nice jumper with great range and the ability to assess a defense and make a smart play.
Randle is an explosive guy whose vicious dunks and blocks make him one of the most feared players inside. He is always considered to be one of the top players in the Class of 2013 because of his versatility, athleticism, skill and ability to enjoy a smooth transition to college because of the nature of his game.
Position: SF
Height: 6'8"
Weight: 220 pounds
Considering: BYU, Duke, Florida, Michigan State, North Carolina, Stanford
Jabari Parker is filthy. He is one of the most talented high school players we've seen in the past decade or more, and he is going to light up the college stage.
Parker can do it all from the wing. His body allows him to play any position, and his athleticism allows him to excel at it. He can score, pass, rebound, block shots, defend well and do anything that is asked of him. However, what is most impressive is that he can impact the game without having the ball in his hands.
Because Parker is a known threat, every team he plays keys in on him. If they try too hard to shut him down, however, he'll take a backseat role and instead facilitate for others or even just move without the ball so that the defense is in shambles when his teammates attack.
Parker is an electrifying player, and it will be interesting to see how the rest of his career plays out.