West Brom vs. Manchester City: 6 Things We Learned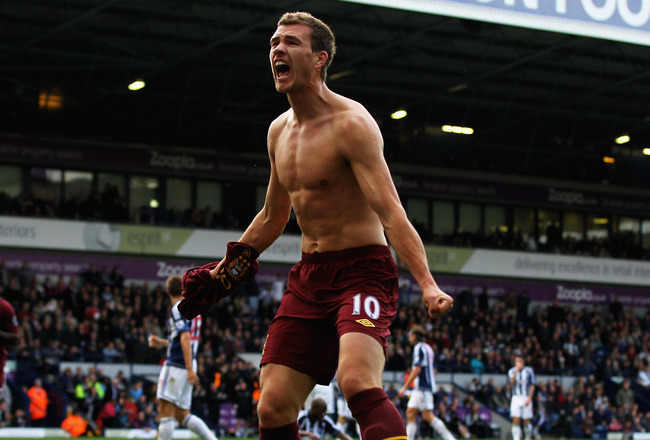 You were expecting someone else?
Matthew Lewis/Getty Images
Yup, just another three points on the road for Manchester City Football Club. Yawn.
All right, so it was not quite as easy as that. There was the part where they went down to ten men with three-quarters of the match still to play. There was the part where they went down a goal with only a quarter of the match still to play, still on the road, still down a man.
And then there was the part where Edin Dzeko once again did more good for City in fifteen minutes than most of the roster did in all the time played before he came on.
Just another three points on the road for the Sky Blues. Right. So what do we take away from this one?
Edin Dzeko...Words Fail to Do Him Justice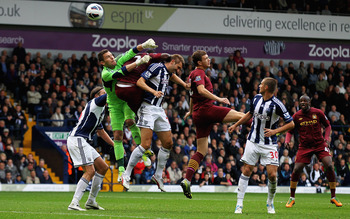 "Oh, we're down one on the road again? Sigh...all right."
Matthew Lewis/Getty Images
It is hard to say where City would be without Edin Dzeko's late-season heroics this season. One place they would not be is within four points of Chelsea, where they remain after stealing this win from West Bromwich Albion.
Dzeko has been providing late-game magic for City all year, often doing so from the bench. He tallied in the opener against newly-promoted Southampton, four minutes after the Saints took a 2-1 lead at the Etihad. Samir Nasri's eventual game-winner got the bold type in the papers, but Dzeko made it possible.
Two weeks later, City was again struggling at home against a decidedly mediocre-or-worse QPR side. Dzeko scored the game-winning goal just two minutes after Bobby Zamora had evened the match and caused no end of concern to the home fans.
Then away at Fulham, with City looking very much like it would get just one point at Craven Cottage, there was that man again. Dzeko scored in the 87th minute (one minute after coming onto the pitch), and City claimed a much-needed three points to stay within speaking distance of the top of the table.
And now this game. Dzeko came on in the 79th minute, scored in the 80th minute to equalize, then drilled home the unlikely winner in stoppage time. That's twice now that he has scored enormous goals upon entering the game. You would think the opposition would see it coming by now.
Edin Dzeko is a goal-scorer who scores huge goals. We knew this already, but it bears repeating.
Mario Balotelli Is Still a Knucklehead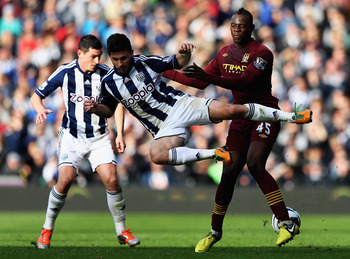 Even if he is not committing a silly foul, sometimes he just finds himself in the wrong place at the wrong time.
Matthew Lewis/Getty Images
So Mario Balotelli picks up a yellow card in the 19th minute against West Brom today. Playing on a yellow for the remainder of the match in that situation is never preferable. It can make a player tentative. It exposes him to expulsion for any type of book-worthy transgression.
And when it is Balotelli, a notorious flake with a temper and a mean streak, it is cause for real concern.
Especially in times like this, when James Milner picks up a straight red card for a "professional foul" to deny a likely breakaway goal. Milner's play put City down to ten, but he was put in a no-win situation when Vincent Kompany made an uncharacteristically poor play near midfield, ceding possession and putting City in real jeopardy.
So Milner is off, Balotelli is on a yellow card...and for the remainder of the first half, Balotelli continued to put himself into situations where another yellow card was a possibility. If that was not enough, Balotelli got after referee Mark Clattenburg at the half-time whistle. (Joe Hart wisely pulled him away.)
City was probably fortunate not to end the half with nine.
10 Is the New 11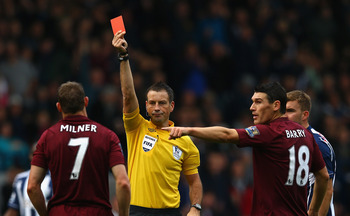 Not what he was looking for there.
Matthew Lewis/Getty Images
Again, going down to 10 (or nine) is never preferred. Somehow, though, City played the remainder of the match on seemingly level footing, and even managed to win.
And while it was a "stolen" victory in the sense that Dzeko won it essentially at the death, it cannot be said that the victory came against the run of play.
City enjoyed comfortable advantages in time of possession (56%,), shots (24-17) and corner kicks (9-6.) West Brom will likely watch the game film on this one trying to figure out why City never much looked to be meaningfully shorthanded, even when they were.
An Abundance of World-Class Strikers...There Is No Substitute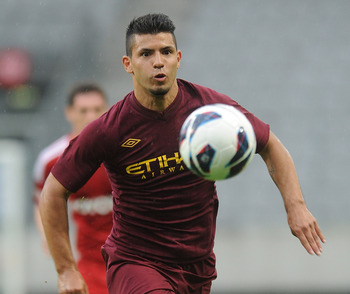 Too much excellence up front is never enough.
Dino Panato/Getty Images
When pundits and fans are bored and looking for something to talk about, Manchester City's plethora of strikers is often a topic of conversation. "What are they doing?" goes the typical patter. "Four top-drawer strikers...you can't play them all!"
Whatever. All four of City's world class strikers played today (in Balotelli's case, unfortunately) and they were all needed. Carlos Tevez did not make the score sheet, but he was his usual nuisance to West Brom's defense until coming off in the 83rd minute after Dzeko had equalized, and Roberto Mancini wanted to secure at least one point.
And, of course, Dzeko's brace was the difference, the second coming from a perfectly weighted and angled pass from which Sky Blue? Sergio Aguero, naturally.
Some days, it's nice to have too much offensive talent on the roster.
Silva's Injury Is Survivable...Short-Term
If there is something he cannot do on a football pitch, it probably has yet to be invented.
Matthew Lewis/Getty Images
David Silva's injury sustained while playing for Spain over the international break was cause for mild to moderate concern for Manchester City coming into a series of important fixtures. Today's was certainly on the "important" list, as West Brom entered the contest off to a heady start to this Premier League season with fourteen points from seven matches.
"Mild to moderate" concern, of course, because Yaya Toure is still in Roberto Mancini's XI every week. So Silva, the creator in the midfield, is going to miss some time? What to do? Ah, yes, that's right...push Yaya forward. He was typically difficult to mark against West Brom and created chances for himself and others.
Even after Milner went off, Yaya's all-pitch versatility and high-end play kept West Brom from taking much possession or even pressing forward with much promise.
In the short term, then, Silva's loss will be mitigated by Yaya's strength and offensive mind.
Still Champions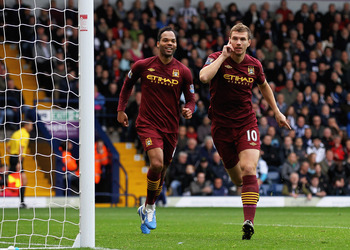 If you don't knock the champs out when you have the chance, it rarely works out for you.
Matthew Lewis/Getty Images
Go down to ten men very early on the road to a quality opponent? Check.
Go down a goal, still down a man, still on the road, with Chelsea and Manchester United posting dominant victories on the board as your match is apparently slipping away? Got it.
Equalize in the 80th minute and look for all the world like it will just be the one point today? Live to fight another day and all that? Sure.
Except, in the end, there was Dzeko slotting home the winner.
Chelsea is defending the Champions League crown, and United is, despite their faults, still United.
But Manchester City are still defending the Premier League title. And today is how that is done.
Keep Reading

Manchester City: Like this team?