Auburn Football: 10 Things We Learned from the Tigers' Loss vs. Vanderbilt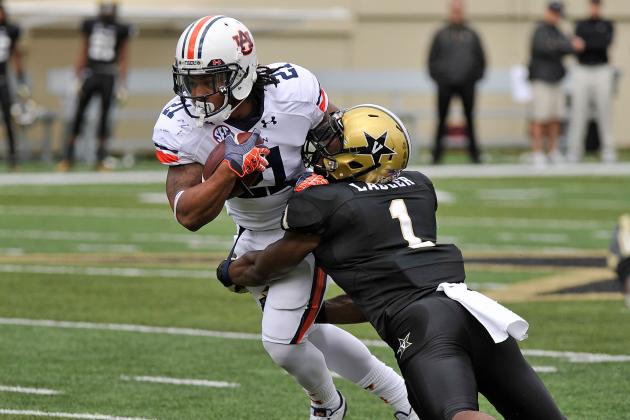 Frederick Breedon/Getty Images

Auburn's historical 2012 tailspin continued Saturday as it fell to Vanderbilt 17-13 in Nashville.
Auburn's potential game-winning drive stalled after getting into Vanderbilt territory. Another disappointing loss will increase the number of fans calling for the firing of Gene Chizik.
Auburn was anemic again on offense, gaining only 212 total yards. The Tigers could not get out of their own way.
We did not learn a lot that we did not already know, but here are 10 things to consider about the Tigers after this loss.
Begin Slideshow

»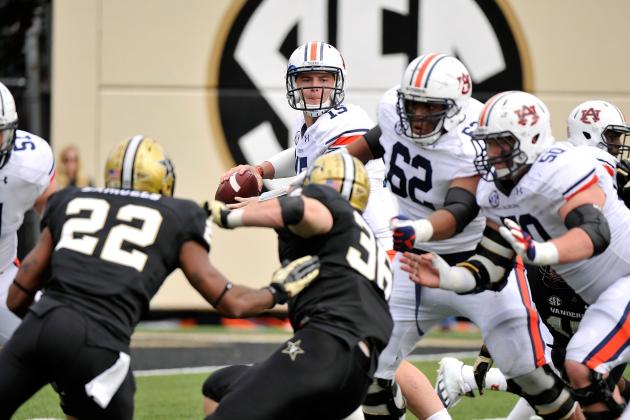 Frederick Breedon/Getty Images

There's no reason to look any further than the Auburn offense.
Scot Loeffler's unit looked woefully unprepared on Saturday. The Tigers had a busted play on the first drive. Those plays are normally scripted and memorized.
The final third-down play was a microcosm of Auburn's 2012 offense. Fooling no one, Loeffler called for the speed sweep to Onterio McCalebb that went for a small loss or no gain.
There were many times whem Auburn would run the same play consecutive times.
One play sequence that was very frustrating (and summarized Auburn's struggles) came after a Tre Mason 34-yard run. Here is the sequence: five-yard penalty, pass for no gain, penalty, another pass for no gain and then a sack.
Auburn has yet to score a fourth-quarter touchdown this season.
Loeffler, like his offense, has made zero progress as an offensive coordinator. Just like Tony Franklin was fired in 2008 after the Vanderbilt game, it would surprise no one for Auburn to have a different offensive coordinator when Auburn takes on Texas A&M next week.
Auburn needs 20 yards to match the offensive effort in 2008 that got Tony Franklin fired...both Auburn teams scored 13 pts

— Brian Harbach (@HarbachCFB) October 20, 2012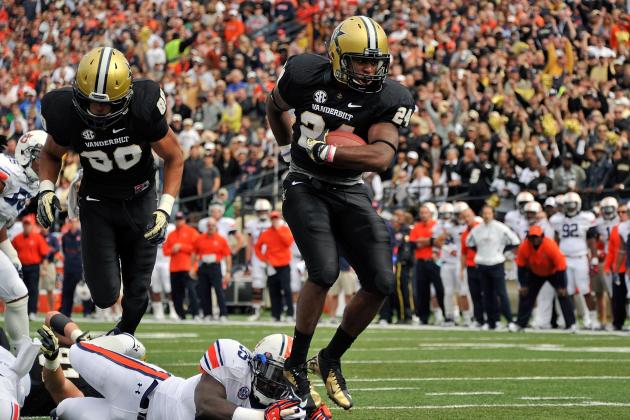 Frederick Breedon/Getty Images

Vanderbilt had fairly easy scoring drives to begin the game and to begin the second half.
This is not an anomaly. Auburn's opponents have had a lot of success on the opening drive of the game this season.
Thru 7 games, #Auburn opponent average opening drive: 10.6 plays, 60.1 yards. Total: 3 TD, 2 missed FGs, goal-line fumble, punt.

— Aaron Brenner (@wareagleextra) October 20, 2012
This usually puts the Auburn offense in catch-up mode from the outset.
This may be due to expecting one thing and getting another to begin the game. Opponents usually script the first 10 or so plays of the game. The Auburn defense usually does much better after the first drive.
Excuses aside, if the Auburn defense played like it did from the second drive of the first half up until halftime, Auburn probably would have won the game.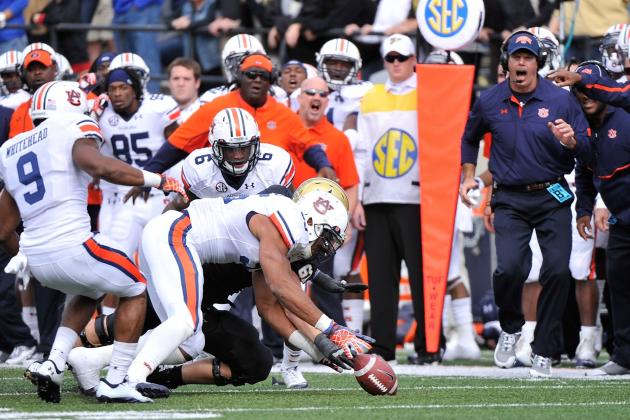 Frederick Breedon/Getty Images

A sad fact for Auburn fans is that James Franklin made a lot of coaching mistakes but still managed to out-coach the Auburn staff.
When opponents make mistakes, good teams find a way to make them pay for it. Auburn is not able to do that this year.
The Auburn defense had two fourth-down stops. One came on a fake punt that led to zero points.
Vanderbilt turned the ball over three times, but Auburn only scored only three points off the turnovers.
Clint Moseley had a wide-open Emory Blake in the end zone on a play would have tied the score early in the first quarter. But Moseley's pass fell hopelessly to the ground when he threw behind the sure-handed receiver.
Auburn is not good enough to let these opportunities slip through its hands. Auburn must learn to capitalize.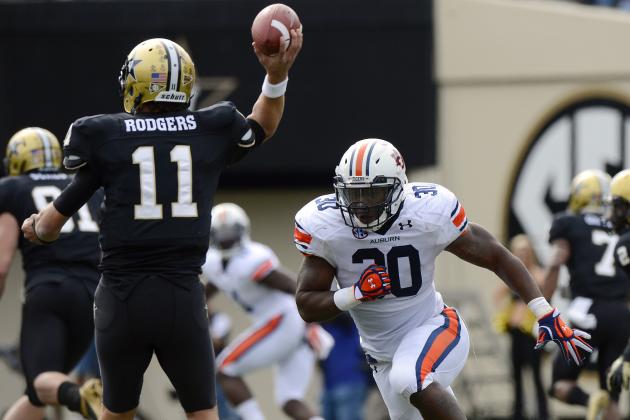 Cassanova McKinzy pressures Jordan Rogers on Saturday. Photo credit: Todd Van Emst / Auburn Athletics
Cassanova McKinzy made his first college start on Saturday against Vanderbilt and it was apparent why he was in the starting lineup.
McKinzy showed speed in filling the gaps that Auburn has not had in its first six games. The freshman led Auburn with 12 tackles and a fumble recovery.
Of course, McKinzy had some alignment mistakes and over-pursued in some instances, but it is obvious that he is the team's best middle linebacker.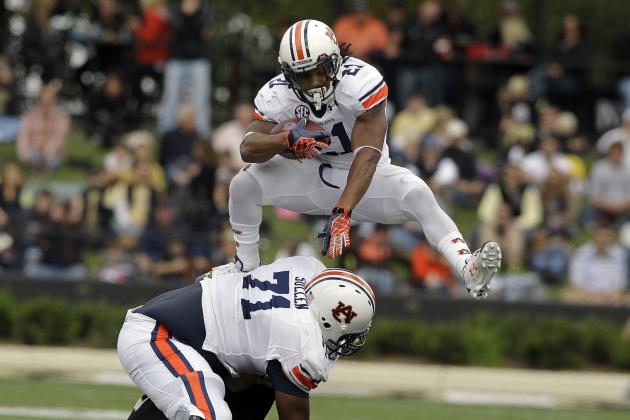 Photo credit: Todd Van Emst / Auburn Athletics
It would make perfect sense on 3rd-and-short to give the ball to your best running back and let him run behind his All-American fullback. Apparently, it only makes sense to us fans.
Scot Loeffler does not know how to use Tre Mason.
Multiple times, Mason was substituted out of the game on a 3rd-and-short situation in lieu of a 170-pound tailback and a freshman QB who never throws the ball.
Football is not that hard of a game strategically. People like Loeffler make it a lot harder than it should be.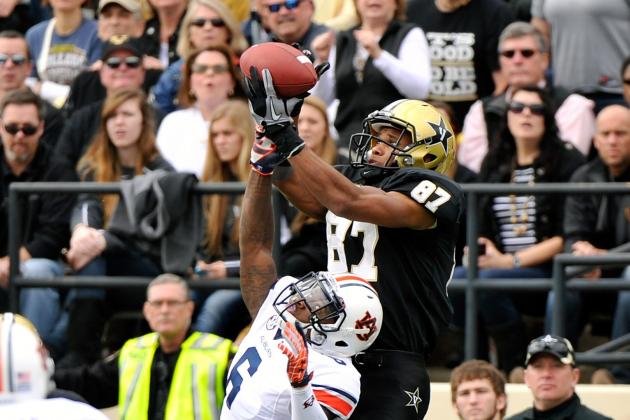 Frederick Breedon/Getty Images

Joshua Holsey, Jonathan Mincy and Jonathan Jones will be special players at cornerback for Auburn in the near future.
Defensive back coach Willie Martinez has transformed this group from a liability in 2011 to a group that plays with confidence.
One play in particular that stands out is Holsey breaking up a crossing pattern. Without interfering with the receiver, Holsey did a great job of getting his hand on the ball on a big third-down play.
Holsey was all over that smash route. He anticipates well. Gonna be a good one.

— Jay G. Tate (@JayGTate) October 20, 2012
Mincy also made a great play late in the game when he showed discipline by staying at home and not being fooled by a reverse.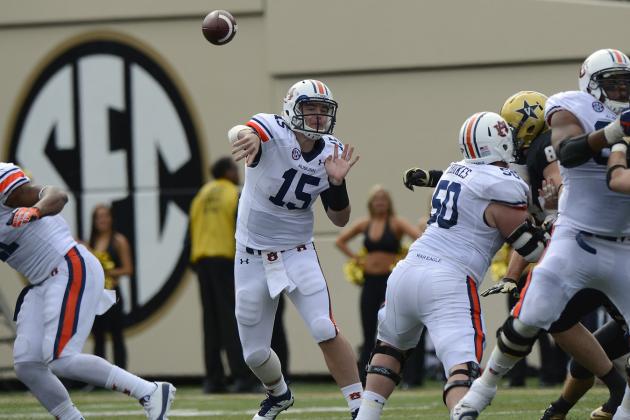 Clint Moseley makes a throw in the second half vs. Vanderbilt. Photo credit: Todd Van Emst / Auburn Athletics
It may not be much of a compliment, but quarterback Clint Moseley is Auburn's best QB at this time.
The junior was 14-of-20 against Vanderbilt. Most important, he did not turn the ball over.
Moseley made more good decisions than bad and was not responsible for the loss. That is more than can be said for QB performances in other Auburn games this year.
Jonathan Wallace showed that he was not quite ready to handle the starting QB duties. The freshman had a fumble that was recovered by Jay Prosch. He nearly had a second fumble later in the game.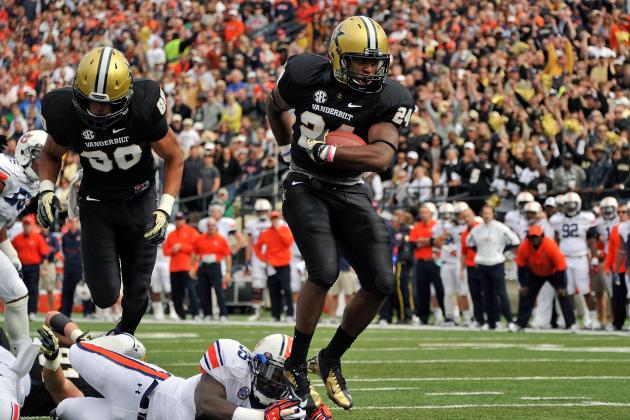 Frederick Breedon/Getty Images

Auburn only had four penalties on Saturday. That would normally be an acceptable number. However, when a team is this bad, free yards given to the opponent are magnified.
This Auburn team is not good enough to give opponents free yards. Auburn made plenty of mental mistakes on Saturday to give Vanderbilt valuable opportunities.
One of those occurred on special teams when Onterio McCalebb and Jonathan Jones interfered with the Vanderbilt punt returner. This gave the Commodores an extra 15 yards to start their drive.
Other times, an offsides penalty would cause the Auburn offense to lose any sort of momentum that it may have had. There were two false-start penalties after Tre Mason's 34-yard run in the third quarter.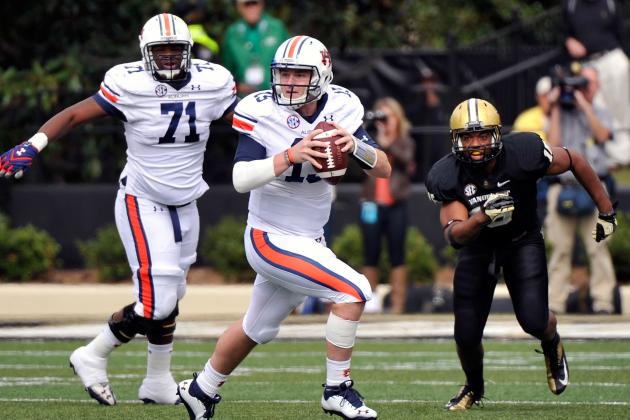 Frederick Breedon/Getty Images

This Auburn offense has hardly evolved. It is still the same predicable offense that showed up in the season opener against Clemson.
Scot Loeffler and the offense go to the same plays that have not worked over and over again. No one is fooled by the speed sweep that Auburn seems to think will eventually work.
Whoever is the offensive coordinator in the near future and beyond must learn to adapt to what the defense gives them and know when to be aggressive.
Kevin C. Cox/Getty Images

Gene Chizik sealed his fate on Saturday. There is little chance that he can survive this 2012 season and return to the Auburn sidelines in 2013.
It's impossible to defend yourself when a team continuously shows no improvement.
As good a man as Chizik is, he is getting paid more than $3 million a year to win football games.
Auburn fans will be grateful for the leadership that Chizik provided in the national championship season of 2010.
Other than that, most Auburn fans will not accept the product that is being put on the field each and every Saturday this fall.
Auburn becomes 1st team ever in AP Poll era to start 1-6 within 2 years of winning a national title.

— Jon Solomon (@jonsol) October 20, 2012