Colorado at USC: Final Report Cards, Player Grades for Trojans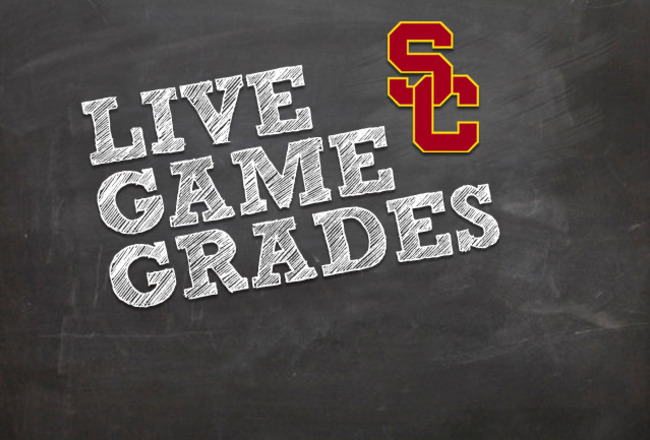 The USC Trojans entered the game as undeniable favorites and definitely showed it. In the process, a few records were broken and USC earned their fourth Pac-12 win.
Colorado's record is now 1-6 as well. The Trojans' performance was so dominating that the starters really played only three quarters of the game.
Let's take a look at the Trojans' final postgame grades and evaluations.
Quarterbacks: A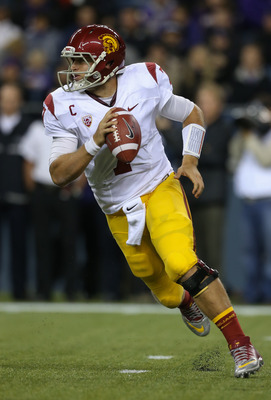 Otto Greule Jr/Getty Images
It only took a quarter for senior quarterback Matt Barkley to tie Matt Leinart's Trojan record of 99 career touchdown passes.
The first touchdown came off a pass to Marqise Lee in the first pass play of the game.
Matt Barkley now holds the USC record for career touchdowns with a touchdown pass to Robert Woods after the second quarter.
The combination of Matt Barkley and Robert Woods did a number on the Colorado defense. With 10 minutes left in the game, backup quarterback Max Wittek was already warming up on the sidelines.
Barkley had no business playing in the fourth with the game seemingly over. Max Wittek did a great job filling in for the senior quarterback, throwing for a touchdown of his own in the process.
Aside from one bad pass, there is nothing bad you can say about Barkley. This performance may have very well inserted him back in the Heisman race.
Running Backs: B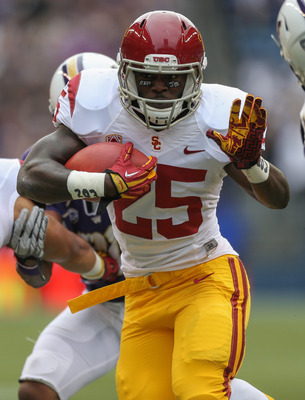 Otto Greule Jr/Getty Images
Surprisingly, running back Silas Redd did not carry the team's running game against Colorado.
Senior Curtis McNeal and sophomore D.J. Morgan were at the forefront of the running game, which took a backseat to USC's stellar passing performance.
McNeal rushed for only 16 yards. Morgan ran for 52 yards.
While the totals are not impressive, both backs did average 5.2 and 5.3 yards per carry, respectively.
Wide Receivers: A
Jeff Gross/Getty Images
Marqise Lee and Robert Woods carried the Trojans' receiving core against the Colorado Buffaloes.
Lee had six receptions for 103 yards and a touchdown, which is an impressive feat.
Woods, however, had an historic outing. His four touchdowns against Colorado marks the most touchdowns per game for a receiver in Trojan history.
In total, the wide receivers accounted for all seven of the team's total touchdowns.
Tight Ends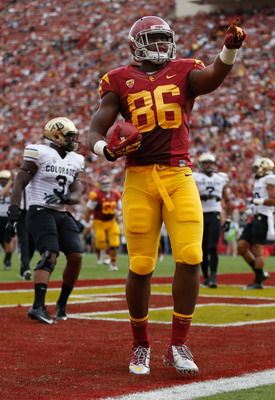 Jeff Gross/Getty Images
The tight ends did not play much of a role in the 50-6 win against Colorado.
But they did manage to get some receptions.
Xavier Grimble did account for one of USC's seven touchdowns. The tight end had three receptions for 26 yards.
Freshman Jalen Cope-Fitzpatrick also contributed to the win with one reception for eight yards.
Offensive Line: B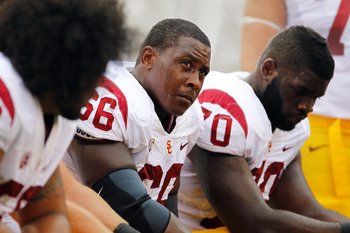 Rich Schultz/Getty Images
The offensive line was superb. Matt Barkley was virtually untouchable in the pocket.
In fact, Barkley was only 19 for 20.
Their dominance did hurt them at the end of the game.
Even when USC had a considerable lead, the starters still played, which did result in an injury. Aundrey Walker was eventually carted off the field.
Defensive Line: B
George Frey/Getty Images
The defensive line showed up tonight. It seemed that in every play, Colorado was unable to secure the ball adequately enough to do anything with it.
There is a sour note concerning the line, however. After a play, Leonard Williams threw a punch at an offensive lineman, which caused his ejection from the game.
The team's discipline is becoming a concern since the players have recently been getting penalties.
Linebackers: B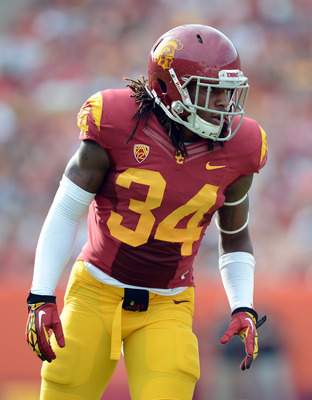 Harry How/Getty Images
The linebackers did their part in stopping Jordan Webb and the Colorado offense.
Senior Tony Burnett picked off Webb. Even though that is his only statistic in the game, it proved to be crucial to the outcome of the game as he returned the interception for 55 yards.
Defensive Backs: B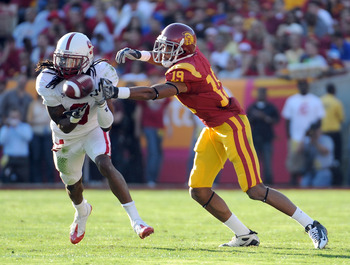 Harry How/Getty Images
USC gained three interceptions in their win. Two of those three were interceptions from defensive backs.
In Colorado's first drive of the game, senior safety Dre McAllister picked off Jordan Webb.
Gerald Bowman also contributed defensively to the team's win with an interception of his own with a 19-yard return.
The defensive backs were solid throughout the entire game, which is partly the reason Colorado failed to score a touchdown.
Special Teams: B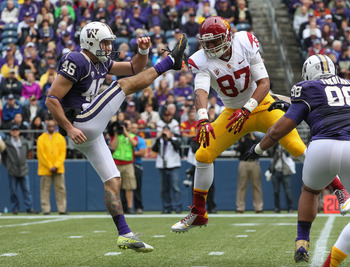 Otto Greule Jr/Getty Images
Just when everything seemed to be firing on all cylinders in the first quarter, Andre Heidari's PAT hit the upright.
Their return team forced a fumble on a 10-yard kick return. Drew McAllister was credited with the big play.
Heidari kicked a 37-yard field goal in the fourth quarter, extending an already large lead.
It wasn't pretty, especially that missed PAT, but a win is a win. The Trojan special teams were able to balance out some flaws with great plays at times.
Coaching: A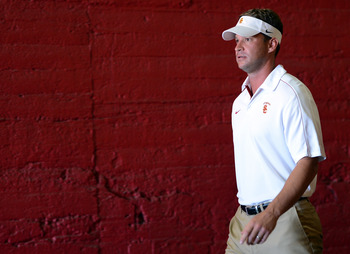 Harry How/Getty Images
Lane Kiffin is definitely coming into his own as the Trojans' head coach. He is seemingly doing everything right, and he should be credited almost as much as the talent he is surrounding himself with.
Especially in the first drive, USC seemed like they were already headed for a history-making performance.
Kiffin did make the right decision by allowing Matt Barkley to sit the rest of the game out at the end of the third quarter.
He still needs find a way to limit his team's penalties, however.
Kiffin will undoubtedly have a few words for Leonard Williams in the coming days.
Keep Reading

USC Football: Like this team?