Packers vs. Rams: Final Report Card, Player Grades for Green Bay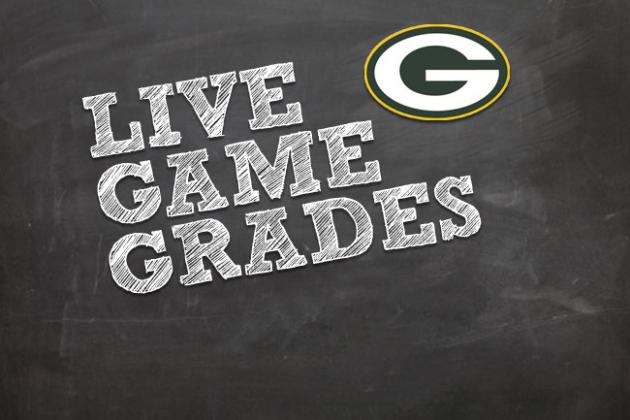 The Green Bay Packers beat the St. Louis Rams 30-20 to improve to 4-3 on the season and get above .500 for the first time this year. Aaron Rodgers delivered another incredible performance, finishing the game 30/37 with 342 yards and three touchdowns.
The Rams hung around until late in the fourth quarter, running all over the Packers in the first half, but still trailed 10-6 at halftime. The Packers used the second half to separate themselves with an impressive showing on offense.
Let's take a look at the Packers' final postgame grades and evaluations.
Final Score
Packers- 30
Rams-20
Begin Slideshow

»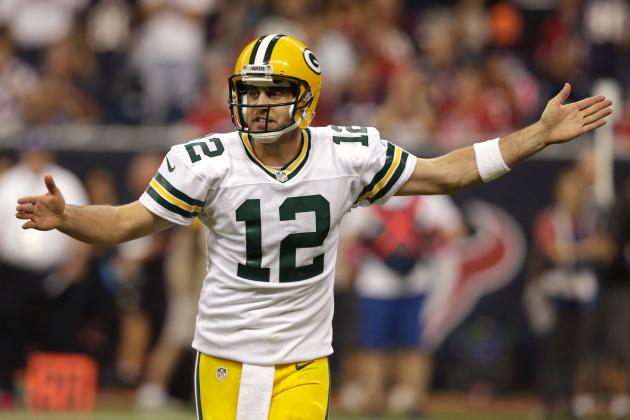 Scott Halleran/Getty Images

Aaron Rodgers–A-
Rodgers followed up his spectacular game last week with another solid game. He absolutely dominated the Rams' secondary for 342 yards and three touchdowns with incredible accuracy (30 for 37). After quieting the critics last week, Rodgers left no room for them to resume talking.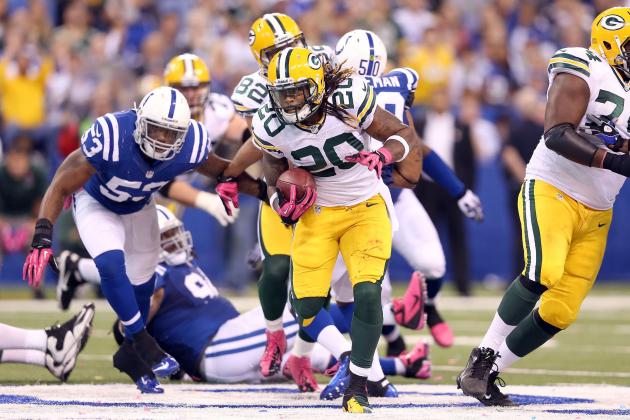 Andy Lyons/Getty Images

Alex Green–C
Green's stat line looked largely unimpressive with 20 carries for 35 yards, but he did added 29 yards on four receptions. He did enough to keep the Rams' honest and opened things up for Rodgers and the pass attack as well as a solid job in pass protection.
John Kuhn–B
Kuhn continues to do everything he is asked to do and does so well. He rushed for 16 yards on three carries and caught a 16-yard pass. He was strong in pass protection, helping a Packers' offensive line that didn't play very well.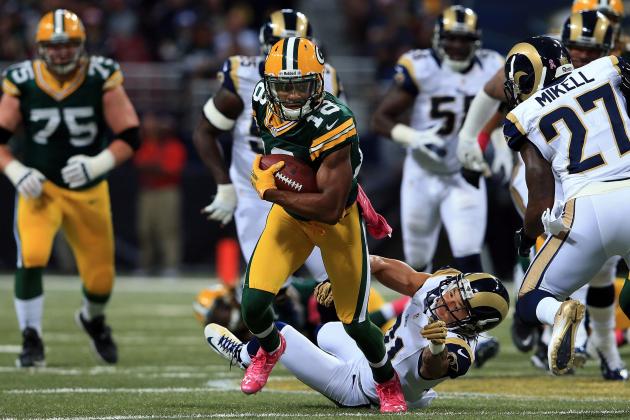 Doug Pensinger/Getty Images

Jordy Nelson–A
Nelson followed up a career-day last Sunday with another spectacular game. Nelson ran strong routes and added a deep threat the Packers haven't really had this season on the 52-yard reception. Nelson's 122 yards led the team in yardage.
James Jones–B+
Jones had to settle for three straight two touchdown games as he was kept out of the end zone against the Rams. While he didn't score, Jones was still extremely solid, catching six passes for 53 yards. He would have had another long reception, and possibly a score, but Rodgers missed him by inches early in the game.
Randall Cobb–A-
Cobb took another step on his breakout tour with an eight catch, 89 yard, two touchdown performance against the Rams. He made a stunning catch on the 39-yard touchdown pass from Aaron Rodgers. In addition to his solid receiving stats, Cobb also showed his versatility on a 19-yard handoff.
Donald Driver–F
Driver just can't manage to get playing time with the players ahead of him playing so well. When he got his opportunity, Driver gained just two yards on a third-and-three.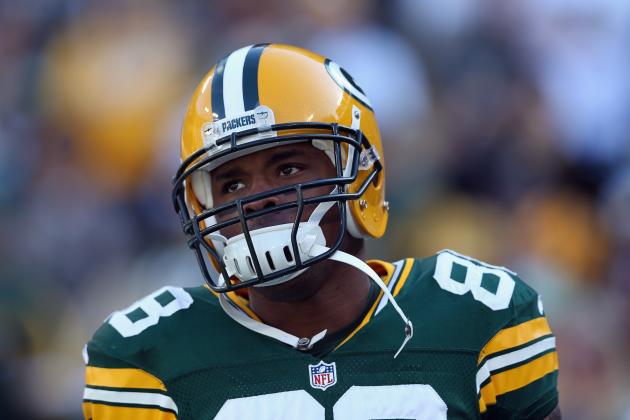 Jeff Gross/Getty Images

Jermichael Finley–C
Finley may still be struggling with a shoulder injury or the Packers' coaching staff has lost patience in Finely and his drops. Despite not seeing the field very much, Finley caught two passes for 31 yards and looked good on those opportunities.
Tom Crabtree–B
Crabtree got the majority of playing time at tight end, mostly blocking and even lining up as a full back for a few plays. He did a fine job blocking.
Ryan Taylor and D.J. Williams–N/A
Both players only really saw action on special teams. Neither play had a huge impact either way.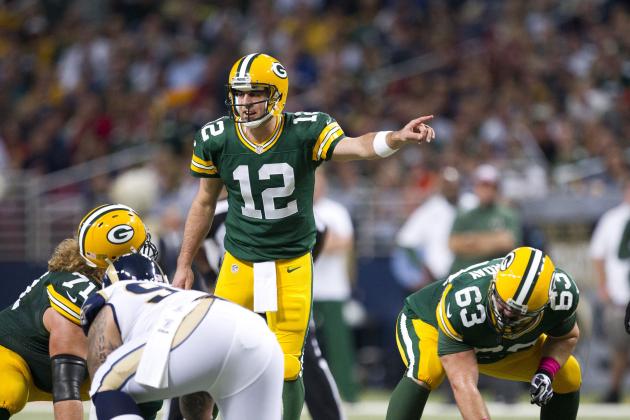 David Welker/Getty Images

Marshall Newhouse–D+
Newhouse struggled against after playing a couple solid games. He was beat early and often and came up some serious pressure on Rodgers early. He was whistled for a couple penalties and was responsible for a sack. Newhouse needs to do better.
T.J. Lang–C-
Lang struggled mightily with Michael Brockers and gave up a ton of pressure from the Rams' interior pass rush. While Lang, and the offensive line as a whole, didn't play well, they did enough to give Rodgers just enough time.
Jeff Saturday–C
Saturday also struggled with Brockers at times, giving up pressure on the interior part of the line. Overall, Saturday showed good command and chemistry with Rodgers in running the no huddle.
Josh Sitton–B
Sitton had the best game of the Packers' linemen, and showed his athleticism, getting downfield in a hurry on a screen pass to Alex Green.
Bryan Bulaga–C-
The theory's of Bulaga playing injured continue to gain traction after another poor showing. Bulaga was bullied by the Rams' defensive line. He was whistled for a holding penalty and a false start.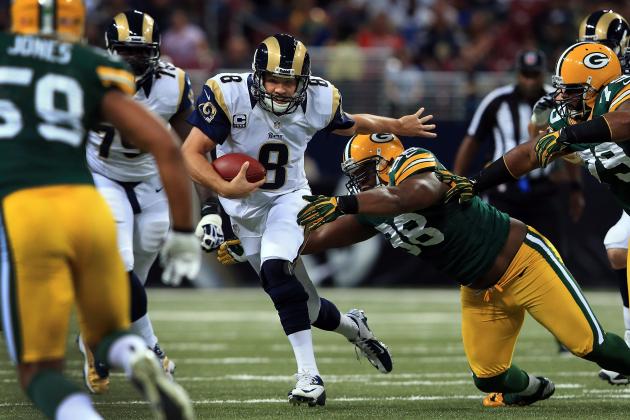 Doug Pensinger/Getty Images

Ryan Pickett–B-
Pickett had a decent game, but as the team's 'run-stopper' has to take some responsibility for the Rams rushing for over 100 yards, with the majority of that yardage coming in the first half. On one play, Pickett made a great effort to chase down the ball carrier for a loss.
Jerel Worthy–C+
Worthy didn't get a ton of pressure on Bradford, but was fairly active around the defensive line. He was right there to help out Pickett on his tackle for a loss. Worthy did get one hit on Bradford.
C.J. Wilson–C
Wilson only got one tackle on the day, but was partly responsible for one of the sacks on Sam Bradford. Wilson got good pressure, but it was definitely a coverage sack. Throughout the game, Wilson played decently, but nothing outstanding.
Mike Neal–D+
Neal got hurt in the second quarter, but managed to return to the game. He didn't play very well and struggled to get pressure on the quarterback. He managed just one tackle on the afternoon, looking very lackluster.
Mike Daniels–Inc.
Daniels got very few snaps late in the game and didn't have a chance to make any plays.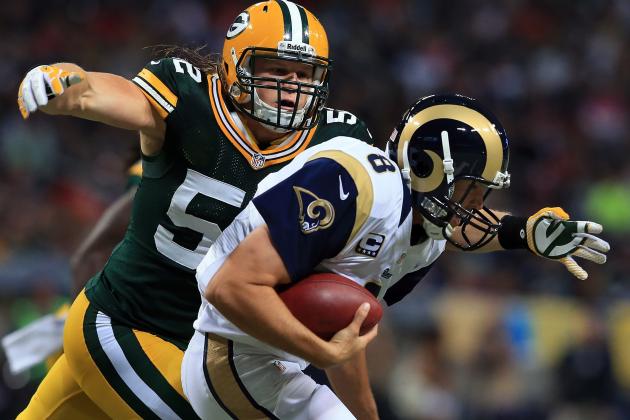 Doug Pensinger/Getty Images

Clay Matthews–B+
Matthews had another solid game and his presence alone forced the Rams to change their game plan. They had help on Matthews and ran away from him in the running game. With the Packers injuries on defense, Matthews showed his versatility, lining up at the inside linebacker spot. Matthews sack gave up nine for the year.
A.J. Hawk–B-
Hawk had an up-and-down game. He got burnt in the first half on a nice move, looking completely incompetent on the tackle attempt. At other times, he looked strong in the front seven, playing physical football.
Brad Jones–B-
Jones did an okay job in his first start at the inside linebacker spot. With the injury to D.J. Smith, Jones, usually an outside linebacker, was the man asked to do the job. He seemed to get better as the game went along.
Erik Walden–B
Getting the start for the injured Nick Perry, Walden had a strong game, leading the Packers with nine total tackles and a sack. While the Packers didn't get much pressure on Bradford, Walden was part of the group that actually did.
Dezman Moses–C+
As part of filling the void left by D.J. Smith, the Packers used Dezman Moses as an outside linebacker and moved Clay Matthews inside. Moses got some quality playing time and was credited with a sack after chasing Bradford out of bounds behind the line. Despite playing well for the majority of the game, Moses was whistled for an unnecessary roughness penalty.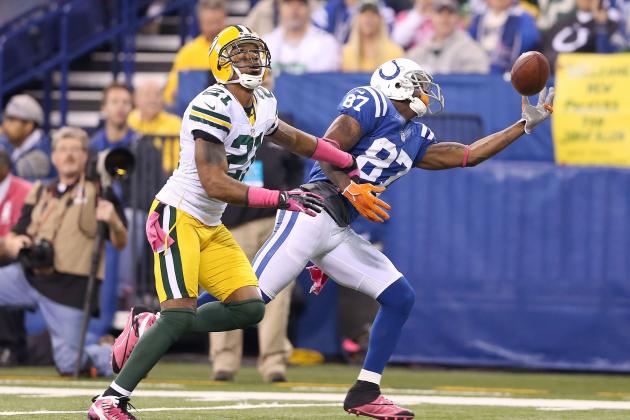 Andy Lyons/Getty Images

Tramon Williams–C
Williams didn't respond well after playing a very good game against Andre Johnson and the Houston Texans. He looked very stiff and struggled to really shut down the Rams' young receivers. His play as set a high standard that wasn't quite lived up to today.
Casey Hayward–B-
Hayward did a solid job in his first extensive playing time of his NFL career. Filling in for Sam Shields, Hayward came up with a brilliant interception for his fourth of the young NFL season. He struggled at times in coverage, but overall played a good game.
Davon House–C+
House got his first action of the season and played fairly well. He had a beautiful pass defense on fourth down that prevent the Rams from getting a first down. He was beaten a few times, but overall it was a solid first outing.
Morgan Burnett–B
Burnett was extremely active for the Packers, but at times struggled with his tackling. He finished with five total tackles on the game. After giving up a few big plays during the first few weeks of the season, Burnett has been much better in the secondary.
Charles Woodson–C-
Woodson continues to show his age as he once again failed to come up with a signature Woodson big play. Part of that is the switch to safety, but even in tackling, Woodson seems to have lost a little bit of his edge.
M.D. Jennings–B
Jennings did a solid job for the Packers, coming up with three tackles and also a big recovery on the Packers' surprise onside kick. Jennings got the start, but also had big contributions on special teams.
Jerron McMillian–C
McMillian got some time, splitting time with Jennings at the safety position. He looked okay, but wasn't able to come up with any big, impact plays during the game.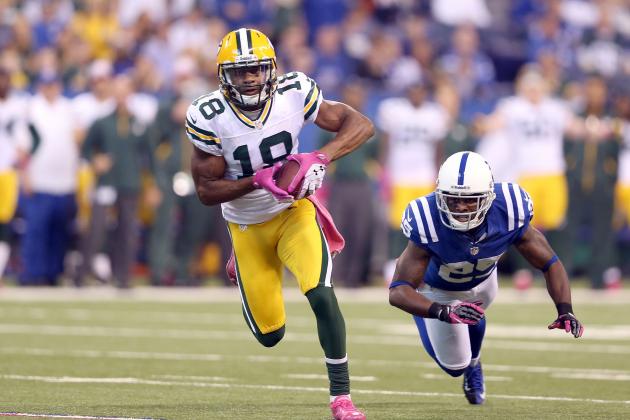 Andy Lyons/Getty Images

Mason Crosby–B+
Crosby hit all three of his manageable field goals, but missed a 58-yard to end the first half. Crosby has hit from 58-yards before, but that's a tough task for any kicker. The more worrisome thing was how poorly he kicked the ball. It came up very similarly to his misses in Indianapolis.
Tim Masthay–A-
Masthay had another impressive game punting the ball. Of his three punts, he dropped two inside the 20-yard line, one at the 10-yard line and one at the 9-yard line. He has been extremely solid this season and lived up to expectations against the Rams.
Randall Cobb–B
Cobb didn't have many opportunities for returns, but made the most of his chances with a 15-yard punt return and a 23-yard kickoff return.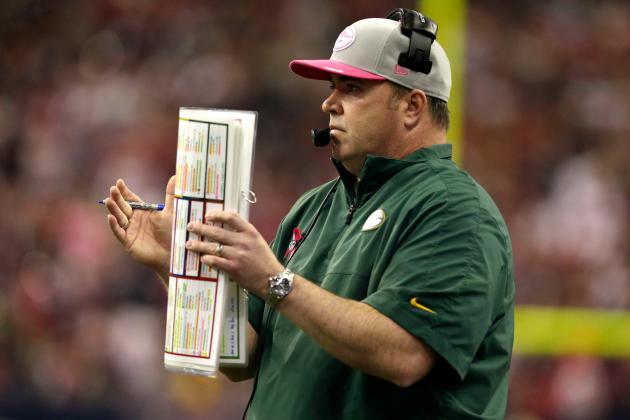 Scott Halleran/Getty Images

Mike McCarthy–A
Offensively, McCarthy had his players ready to go and called a solid game. While Rodgers was on fire, McCarthy did a good job sticking with the run game. The surprise onside kick was a great call and fired up the football team. Throughout the game, there a definite composure coming from the Packers' sideline.
Dom Capers–C
Defensively, the play calling was less-than-stellar and helped the Rams stay on the field on third downs. They tightened up in the second half, but part of that was the Rams' inability to stick with the run because they were trailing.
Shawn Slocum–A
Another properly executed special teams play changed the momentum of the game in the Packers' direction. Slocum deserves a ton of credit throughout the first seven weeks of the season for his fakes and different designs.