South Carolina vs. Florida: Live Scores, Analysis and Results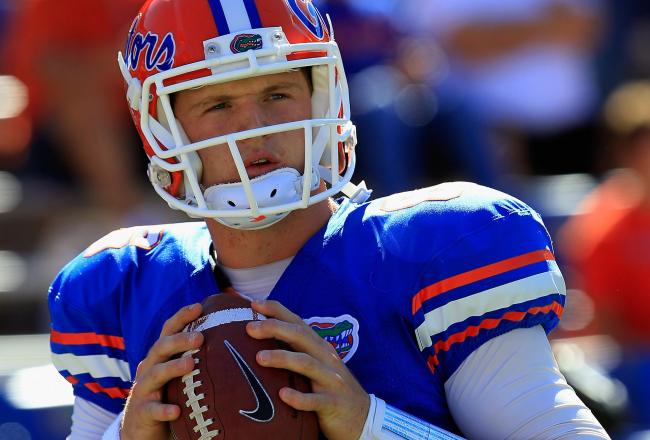 Chris Trotman/Getty Images
Late Fourth Quarter: South Carolina 11 Florida 44
Florida is starting to run away with the game. South Carolina has yet to amass 100 yards of offense and Connor Shaw is watching the game from the sideline.
Stay tuned throughout the day as we will keep you up to date on live scores and highlights as well as analysis and commentary throughout the game.
That's going to be it for the live blog.
Thanks to everyone who came and followed the game with us and for contributing in the comments section.
I'll stick around and answer any questions in the comments section and stay tuned to Bleacher Report for "10 Things We Learned.." and a final game grades that will be up later tonight.
This was an impressive showing for the Gators and they hosted a ton of recruits for the game today.
A performance like this will go a long way in the mind of a high school kid on a visit.
Jacoby Brissett kneels on the ball and the Gators will move to 7-0 (6-0) on the season.
The win today sets up a SEC East championship game next week in Jacksonville.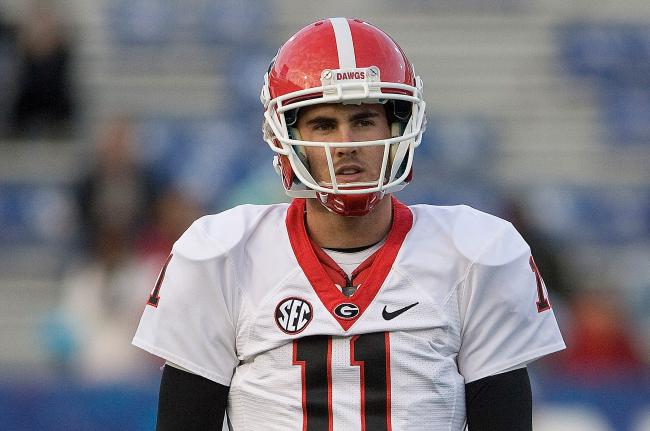 Florida went 0-4 in October last season.
This year the Gators are already 3-0 with a date coming up against Georgia.
A Jabari Gorman interception sets the Gators up deep in South Carolina territory.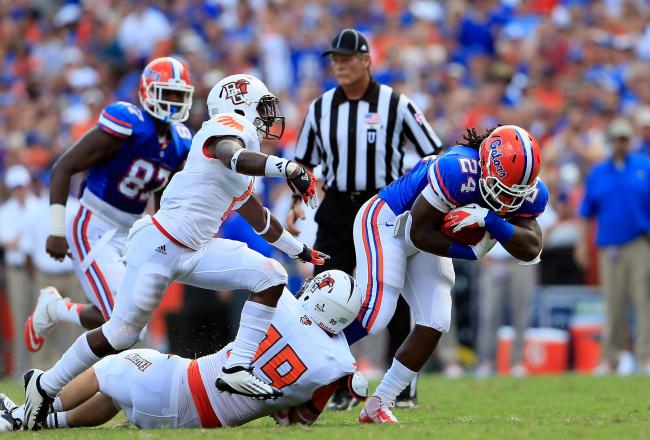 Matt Jones scores from a yard out.
That's the first touchdown of Jones career.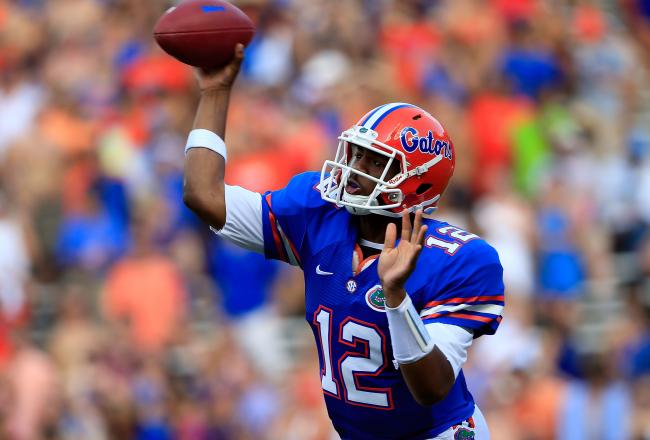 Jacoby Brissett comes into the game for Florida and hands off to Matt Jones.
This basically burns any chance at Brissett redshirting this season. I still think he'll transfer after the season.
Jordan Reed recovers the onside kick and returns the ball down to the South Carolina 12.
When it rains it pours.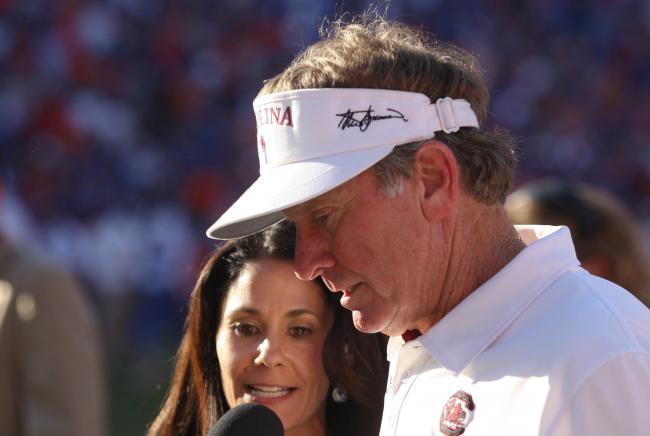 Three more points for the Gamecocks.
I'm surprised Spurrier didn't go for it there.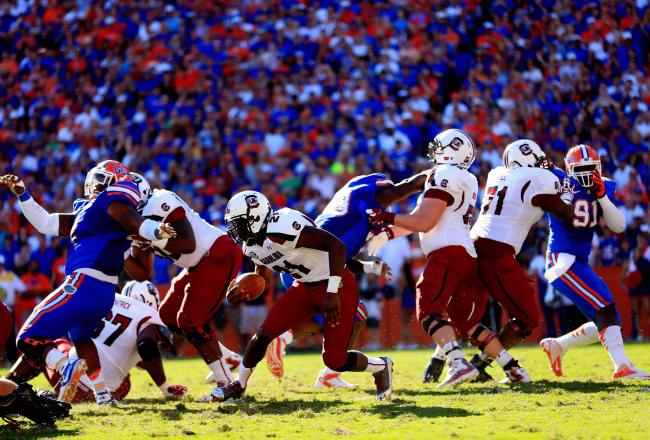 South Carolina is moving the ball well on this drive.
Florida is playing off coverage and Thompson is finding some wide open receivers.
Now it doesn't matter where they are ranked right now but if Alabama comes out flat against Tennessee do the Gators jump them in the polls?
I don't think so, what do you guys think?
Florida just missed on a deep pass to Debose.
At least Debose is back playing offense again.
Although we're moving into garbage time I wouldn't expect to see Jacoby Brissett. Playing Brissett at this point of the season would burn any chance at him earning a redshirt for this season.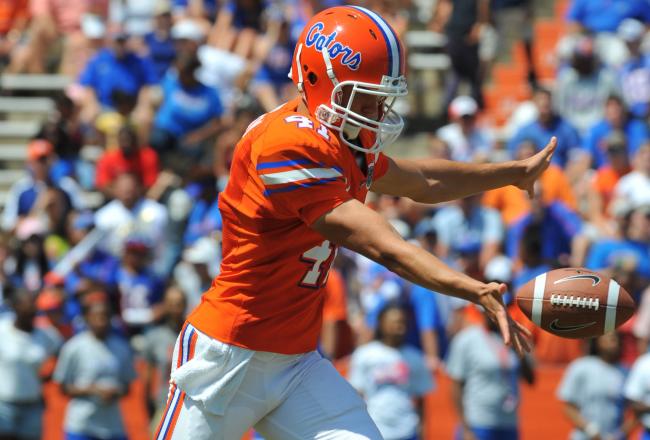 Kyle Christy back at it again.
A 54 yard punt and he is not making a case as the best punter in college football.
Florida's defense has been able to put together a complete game against LSU and they are currently putting one together against South Carolina.
If this defense can realize their potential the sky is the limit for Florida this season.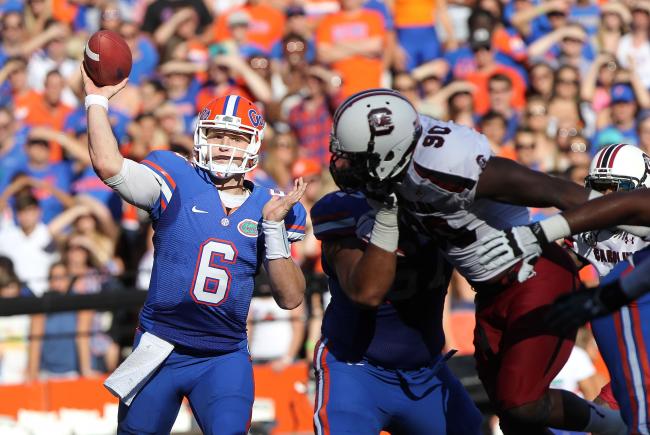 The four touchdowns today match Driskel's season total.
Jeff Driskel throws his fourth touchdown of the game, this one to Frankie Hammond.
Florida is starting to pour it on here late in the third quarter.
Brent Pease is calling a great game for Florida.
South Carolina is having trouble getting the same kind of pressure they did in the first half and Jeff Driskel is picking the defense apart.
Loucheiz Purifoy almost caught his first pass of the season.
Purifoy has been used sparingly on offense and he had a step on the cornerback there.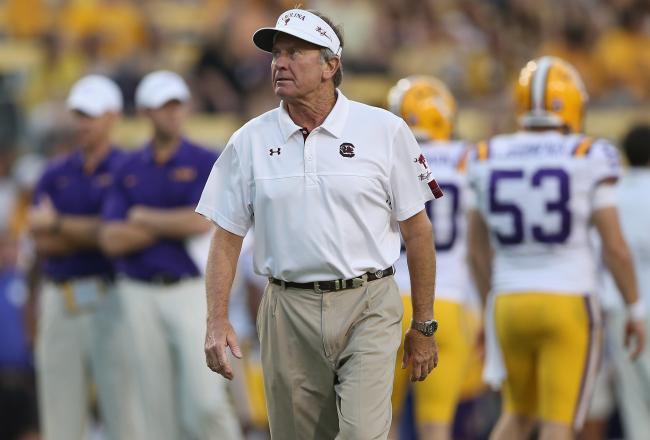 South Carolina has just 97 yards of offense with 4:44 left in the third quarter.
Down 22 points and without having to account for Connor Shaw's mobility this defense is going to pin their ears back and get after the quarterback.
Caleb Sturgis tacks on three more points for the Gators.
That was one of Florida's most productive drives of the game and the Gators would have liked to have put seven on the board.
Pease is showing off some very creative plays.
A screen to Jordan Reed picks up 38 yards and Florida is back in scoring territory.
Florida forces a punt on a sack by Dominique Easley. The secondary had great coverage and Easley showed great pursuit on the play.
This Florida defense is not going to give up 20 points easily.
Connor Shaw has been replaced by Dylan Thompson.
Spurrier is trying to give the defense a spark we'll see if this is the right move.
The extra point was blocked and returned for a touchdown.
That's a good break for the Gamecocks but they need to get points on this drive if they want to stay in this game.
This article is
What is the duplicate article?
Why is this article offensive?
Where is this article plagiarized from?
Why is this article poorly edited?