Patriots vs. Jets: Final Report Card, Player Grades for New York Jets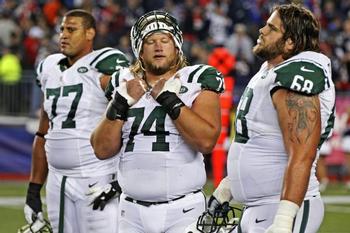 Photo by Stephen Savoia/AP
As New York Jets fans woke up Monday morning and went about their week, the disgusting feeling from giving away the game to the New England Patriots still had to linger.
There were so many huge plays that broke against the Jets, and if just one of them went their way, things would have been entirely different.
This is a difficult game to grade. Despite the crushing loss, there were a number of outstanding performances. Making it even more complex is the fact that a handful of players played excellent games overall but made catastrophic mistakes that chipped in to complete this disastrous ending.
The Jets-Patriots game has provided fans with their most divisive arguments of the season.
Fans have become more vocal in their support or disgust for Mark Sanchez, Rex Ryan, Tony Sparano and so many others.
The individual grades and commentary will further the debate on just what to make of the loss to the Patriots. Is Sanchez the long-term answer? Did Sparano get too conservative? Did Ryan and Mike Pettine play the wrong defense on the Patriots' final drive of regulation?
People have their own opinions and they aren't likely to change.
But can everyone agree that Nick Folk deserves an A+ for his effort?
Quarterbacks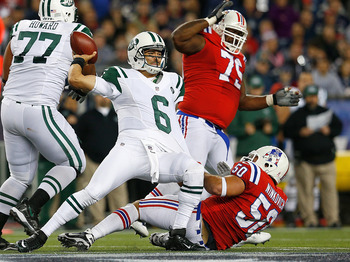 Jim Rogash/Getty Images
MARK SANCHEZ: A-
This slideshow starts right off with the most controversial performance and grade of the game. First of all, if anyone thinks the Jets would have done better with Tim Tebow or Greg McElroy against the Patriots they are sorely mistaken.
This was Sanchez's best performance of the year, considering the environment, magnitude of the game and deficit that the Jets faced. It wasn't a perfect game by any means, but it was a strong performance to be certain.
Sanchez finished 28-for-41 for 328 yards, one touchdown and one horrendous interception. Those numbers warrant at least a high B, but what boosts him up to an A- was his performance in the fourth quarter.
In the fourth quarter and overtime, Sanchez was 10-for-12 with his only two incompletions coming on drops.
The quarter started with Sanchez going 9-for-10 on a drive that was capped by a bullet of a touchdown pass to Dustin Keller to make the score 23-20, Patriots. He converted all three third-down attempts on the drive through the air.
The next drive started with a 21-yard pass to Keller and ended with the crucial drop by Stephen Hill. It resulted in the game-tying field goal.
Sanchez completed seven passes of 17 or more yards on the game, so this wasn't some kind of dink-and-dunk effort that makes his statistics look good.
There were four major gripes about Sanchez from this game.
First, his interception was unquestionably an awful throw.
No excuse for that.
Sanchez saw Hill late, bypassed a wide-open Shonn Greene and threw the ball flat-footed. The pass was underthrown and didn't even cover 45 yards in the air. A poor play indeed.
The fumble between Sanchez and Greene that resulted in a safety was partially Sanchez's fault as the ball was slipping out of his hand on the exchange. However, Greene shares some blame too as TV replays clearly show him take his eye off the ball to measure up an oncoming Vince Wilfork.
Another point of contention was the sack Sanchez took before the go-ahead field goal. First, Jeremy Kerley fell down on his route as Sanchez was about to throw him the ball. The first good move here was that Sanchez pulled the pass down. Because of the play's design, Kerley was really the only option.
The big argument with fans was that Sanchez then took a sack instead of throwing the ball away.
No matter what anyone says, that's the right play there. The seven yards didn't make a bit of difference to Nick Folk and it forced the Patriots to use their second timeout.
The final play to look at when examining Sanchez was the final play of the game. If you want to say that Sanchez needs to hold onto the ball no matter what, that's a fine point. How about the line doesn't let Jermaine Cunningham and Rob Ninkovich have free shots at Sanchez as he's trying to bail them out again?
It's a complex case for sure. Sanchez had his share of mistakes, but in the pecking order of things that went wrong this game, the play of the quarterback comes in very low on the list.
Tim Tebow: B-
Tebow didn't play the big role that was expected of him. He finished with 12 yards on four carries. There weren't many opportunities to insert Tebow into the game with Sanchez playing so well.
Running Backs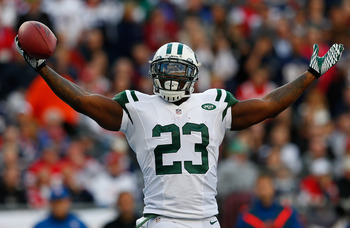 Jim Rogash/Getty Images
Shonn Greene: B+
As usual, Greene ran tough against one of the better run defenses in the NFL.
He didn't have a big day statistically, but he did manage 54 yards on 16 carries with one touchdown. He remained perfect on the season in converting 3rd-and1s and scored on a shot touchdown run on the Jets' opening drive.
The big surprise from Greene came with his involvement in the passing game. He caught a season-high six passes for 34 yards.
Joe McKnight: B+
McKnight deserves a ton of credit for even suiting up for the game. He limped his way through the pregame workouts as he fought off a high ankle sprain he suffered last week. In a surprise move, he was listed as "active" less than an hour before kickoff.
McKnight ran seven times for 23 yards. They weren't huge numbers, but McKnight's presence sent a message bigger than numbers. He's come a long way from the rookie who couldn't make it through his workouts without puking on the field. His toughness can no longer be questioned.
Lex Hilliard: B+
Hilliard has done more in his short time with the Jets than John Connor did in his whole Jets career. Hilliard ran the ball three times for 14 yards and caught an eight-yard pass from Sanchez.
He is the devastating blocker that Connor never became and helps to give the Jets offense a tough personality. It's no coincidence the running game has picked up since his arrival.
Wide Receivers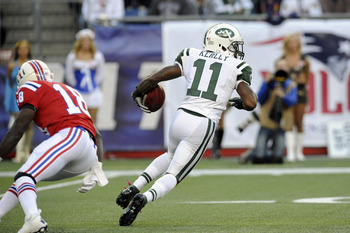 Bob DeChiara-US PRESSWIRE
Jeremy Kerley: A+
The Jets don't miss Santonio Holmes one bit because of the way Jeremy Kerley has been playing. Kerley has been a deep threat and a trusted possession receiver. He has developed tremendous rapport with Mark Sanchez.
Kerley finished with seven catches for a career-high 120 yards. On the drive that brought the Jets to within 23-20, Kerley converted two third downs with clutch grabs from Sanchez. He caught passes of 24 and 26 yards to help set up Shonn Greene's touchdown run on the team's first drive.
Mike Tannenbaum deserves criticism for a number of his draft choices, but picking Kerley in the fifth round is looking to be a genius move.
Stephen Hill: D
Rex Ryan and Mark Sanchez won't put any blame at the feet of the Jets mercurial rookie, but he deserves it.
If Hill catches an easy pass from Sanchez on 3rd-and-4 with 2:15 left, the Jets would have had the ball at a minimum of the 14-yard line at the two-minute warning with a ton of momentum. Instead, the Jets settled for a field goal and the game played out the way it did.
Hill caught four passes for 55 yards before then, so he did some good in the game. But he is an NFL receiver and needs to make these simple catches, especially in the clutch.
Credit is due to the rookie for answering every question posed to him after the game at his locker. There aren't a lot of veterans who would do that.
Offensive Line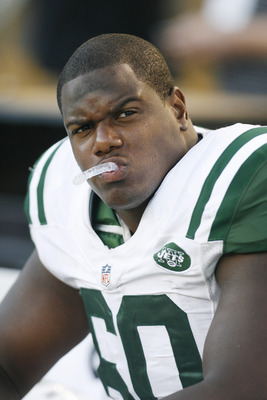 Charles LeClaire-US PRESSWIRE
Austin Howard: C-
Howard was injured early in the game when Shonn Greene rolled up on his knee but returned after a brief period. Howard played a key role in two of the biggest negative plays for the Jets. First, when Mark Sanchez was sacked with 1:51 left, Howard missed a block and forced Sanchez to scramble away from pressure.
Howard was also beaten for a sack on the game's final play. It was his responsibility to block Rob Ninkovich, who ultimately sacked Sanchez, forced a fumble and recovered it.
Brandon Moore: C-
Moore was beaten twice for sacks on Sanchez as well. The right side of the line had been playing well up to this point, but struggled against the Patriots.
Nick Mangold: A-
Mangold did a decent job on Vince Wilfork, which will get you a strong grade any day. Wilfork was active, as he did register seven total tackles, but some of them came while he was lined up over Matt Slauson. Greene ran right behind Mangold on three 3rd-and-1 occasions and converted each one.
Matt Slauson: C
Slauson was bull-rushed by Wilfork on the play that resulted in a safety. Although it wasn't a clean exchange by Sanchez and Shonn Greene, Wilfork plowing through Slauson was a big enough distraction to help cause the fumble.
D'Brickashaw Ferguson: B
There were no glaring errors from Ferguson, who has been having a solid season. On the plays that killed the Jets offensively, Ferguson managed to avoid blame on all of them.
Tight Ends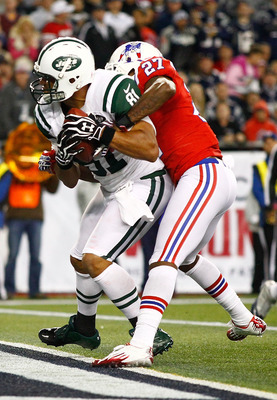 Jared Wickerham/Getty Images
Dustin Keller: A+
This is a totally different offense when Dustin Keller has a big game.
Keller grabbed seven passes for 93 yards, many of them coming in key moments. Keller scored a touchdown on a bullet pass from Mark Sanchez to bring the Jets to within 23-20 in the fourth quarter.
This is the way Keller should be utilized in a game. It's popular to say that he is Sanchez's safety blanket, but that sells him short. Keller is a legitimate weapon when he is used the right way.
Defensive Line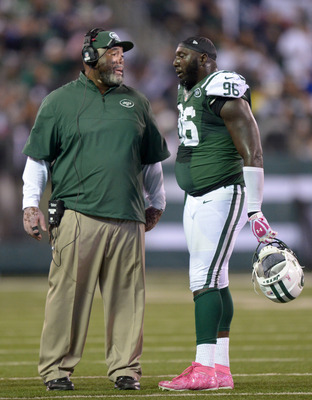 Kirby Lee-US PRESSWIRE
Quinton Coples: B-
Coples was initially credited with a sack of Tom Brady, but that was later switched over to David Harris. Either way, Coples was right there on the play. He had more of a presence in this game than some of his previous ones, but he still hasn't generated a consistent pass rush. He finished with three tackles and was in the backfield on occasion.
Muhammad Wilkerson: B+
Even if he is having trouble getting to the quarterback, Wilkerson's production on run defense can't be understated. Wilkerson had five solo tackles and has been the main reason the Jets aren't missing Sione Pouha and Kenrick Ellis.
Mike DeVito: B-
It was a quite day for DeVito, who registered just two solo tackles.
Linebackers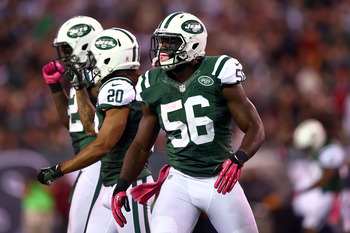 Elsa/Getty Images
David Harris: B+
Harris had the Jets only sack and totaled eight tackles on the day. The Jets were beaten numerous times by Rob Gronkowski and Aaron Hernandez, but Harris wasn't in coverage on them most of the times they were productive.
Harris' sack of Brady came at a key time early in the game. With the Patriots driving near midfield, Harris sacked Brady on a 3rd-and-6, forcing a punt. This was on the drive after the Patriots safety.
Demario Davis: B
Davis played his most significant role yet and totaled five solo tackles on the afternoon. Davis showed a nice burst of speed at times and didn't seem overwhelmed by the extended action. He was filling in for Bart Scott, who has nursing a sore toe. Davis earned more playing time going forward after his play against the Pats.
Calvin Pace: C-
Pace had four solo tackles an continued his underwhelming performance in 2012. His most significant play came when he was in coverage on Rob Gronkowski with the Jets trailing 16-13. He couldn't keep up with Gronkowski on a simple out pattern and surrendered a touchdown.
Bart Scott: INC
Scott saw limited action due to a toe injury. When he did play, he made no impact. Scott registered just one tackle.
Secondary
Greg M. Cooper-US PRESSWIRE
Antonio Cromartie: A-
Cromartie continued to play at a Pro-Bowl level and was avoided most of the day by Tom Brady. The only real time he was tested in a crucial situation was when Brady took a shot into the end zone on Cromartie on their first possession of overtime. He had perfect coverage on Brandon Llyod, though.
Cromartie did drop a simple interception early in the game.
Kyle Wilson: C
Wilson did a good job for a majority of the day, as the Pats trio of Llyod, Wes Welker and Deion Branch didn't do much against Wilson and Cromartie. However, his grade drops considerably because a pass interference penalty kept alive what turned out to be the Patriots game-winning drive.
The penalty was controversial because the referee who was four feet away didn't call anything. It was the ref who was at least 30 yards away who claimed to see interference. Wilson did bounce back on the next attempted third-down conversion with good defense on Aaron Hernandez.
Overall, it was a good performance. But the costly penalty drops his grade significantly.
Isaiah Trufant: B+
For what it's worth, this was Trufant's best game as a Jet. He was very active with six total tackles and played a role in limiting the Patriots wide receivers. He hadn't played well previously, but if he can do a good job against the Patriots, then he should be able to play well against the remaining Jets opponents.
LaRon Landry: A
Landry was at his best today, as he led the Jets with a season-high 12 tackles. Landry made a number of plays in the running game and delivered his usual brand of big-hitting football. The one notable detraction was that he was beaten for a touchdown by Rob Gronkowski, but he actually had excellent coverage on the play. Gronkowski and Brady simply get credit for making a nice play there.
Yeremiah Bell: B
Bell wasn't as active as he has been in the past. He had five tackles on the game and was victimized a couple of times by Gronkowski in the middle of the field. A solid, yet unspectacular effort from Bell.
Antonio Allen: C-
When Allen was on the field, Brady rightly tried to take advantage of him. Most of the time he was overly successful. With the Patriots trailing by three points with 1:32 left, Brady threw three consecutive passes in Allen's direction. He completed all three for big chunks of yardage.
His biggest mistake came on a 1st-and-10 play with 45 seconds left.
Allen was charged with shadowing Danny Woodhead and looked like he did a decent job as the play developed. However, when Woodhead broke out into his pattern, Allen over-pursued the coverage. Woodhead was then able to turn a simple dump pass into a 20-yard gain, setting up the game-tying field goal.
Special Teams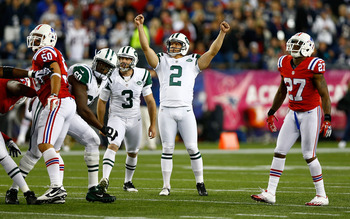 Jared Wickerham/Getty Images
Nick Folk: A+
Would anyone complain if Nick Folk was given the team MVP at this point in the season? He's been the Jets' most consistent player this year and enjoyed one of his best games as a Jet in Week 7.
Folk made what turned out to be a huge 54-yard kick at the end of the first half to bring the score to 16-10. He then kicked consecutive 43-yard field goals with 2:06 and 1:37 left in regulation to tie the game and then give the Jets the lead. He was 4-for-4 on field goals and converted both extra points.
He accomplished all of this in less-than-ideal conditions at New England, a tough place to kick for anyone.
Robert Malone: A
Malone had three punts on the day and absolutely blistered all three of them. How this guy was a free agent leading up to the season is beyond me. Malone averaged 56.7 yards per punt. His only slip up was when he over-kicked his coverage for a touchback on a 51-yarder. He saved the Jets a late-game field position problem when he booted a punt from his own 25-yard line to the Patriots' 15.
Joe McKnight: A
As with his grade in the running back category, McKnight's grade is boosted due to the fact that he performed well despite the fact that he could barely walk. McKnight averaged 29 yards on four returns, including a 41-yarder.
Jeremy Kerley: C
Kerley inexplicably called for a fair catch twice at his own five-yard line. He usually has much better awareness than that. Aside from those blips, he is a player that can be trusted as a punt returner with sure hands.
Lex Hilliard and Antonio Allen: A+
Hilliard forced the Devin McCourty fumble that looked like it could give the Jets the win. Hilliard has been outstanding in everything he has been asked to do since his arrival. Give Allen a ton of credit for coming up with the recovery. The ball actually bounced through Garrett McIntyre's legs, which would have been a disastrous development if not for Allen's awareness.
On a side note, Allen did have a facemask penalty on a punt that was charged to Nick Bellore. The referees not only botched who had the penalty, but also wrongly ruled that it came before the kick, extending a Patriots drive unnecessarily.
Coaching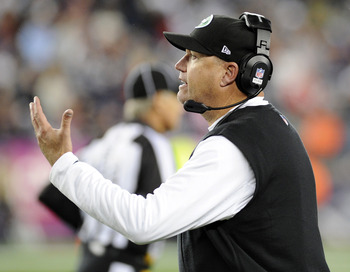 Bob DeChiara-US PRESSWIRE
Rex Ryan: B
People have been critical of the coaching here, but that falls on Tony Sparano instead of Ryan.
First, Ryan has this team believing they can beat anyone despite the fact they have won just one of their past three games and have been besieged by injuries. How many coaches have you seen lose control of their team when that happens?
Ryan actually has his team playing better.
The one major gripe with Ryan was that he was responsible for playing a lax defense against Tom Brady when they were protecting a three-point lead with less than two minutes left. Sitting back in a zone and rushing three is not going to work at any point against Brady.
With no pass rush to worry about, Brady simply let the mismatches take care of themselves and he marched easily to the game-tying field goal. Brady had 95 of his 259 passing yards on the final two drives. Ryan should have stuck with what was working.
Tony Sparano: D-
If you look at the big picture, Sparano's play calling wasn't all that bad. He allowed Sanchez to take a number of shots down the field and dialed up 41 passing plays against a team that couldn't defend the pass. He also mixed in the run pretty well to keep things balanced.
One positive adjustment he made was when he saw the Patriots were overplaying the Jets' quick slants, he got away from that for the most part. When Sparano put those plays in his back pocket, Sanchez's production skyrocketed.
The major problem with Sparano was obviously when the Jets had 3rd-and-1 from the two. The Jets have been incredibly efficient at picking up at least that one yard. They have a potential Hall of Fame center and a bullying running back who was running strong. Just give Greene the ball and get out of his way.
You could even argue that Tim Tebow could have easily picked up that first down or touchdown.
However, the last thing he should have done was put Sanchez in a shotgun and try a play that hadn't worked all day.
That was the kind of nonsense that mindless offensive coordinators like Brian Schottenheimer, Paul Hackett and, yes, Rich Kotite used to do.
Another gripe that hasn't gotten as much attention was the play call on 3rd-and-7 on the Jets' last drive of regulation. Calling a pass play there wasn't a major problem, but the designed roll out limited Sanchez's options basically to one receiver. That receiver was Jeremy Kerley, who was open for a moment but fell down.
The play resulted in a sack.
By calling that play, it showed that they didn't trust Sanchez to avoid the turnover in that situation. The play gave Sanchez one option and took any decision-making out of his hands.
Perhaps Sparano was spooked by memories of the J.J. Watt tipped pass interception against the Texans.
Whatever the reason, those two play calls inside the 20-yard line forced the Jets into six points instead of a possible 14.
Keep Reading

New York Jets: Like this team?