Liverpool: Why Match-Winner Raheem Sterling Can Be Liverpool's Next Big Thing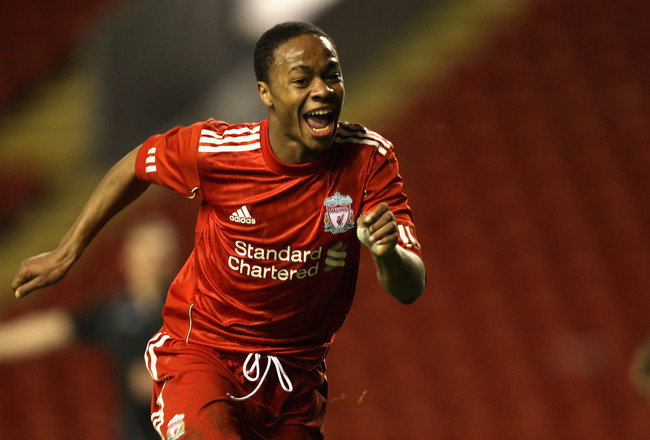 Clive Brunskill/Getty Images
Saturday's match-winner Raheem Sterling has been hitting headlines for all the right reasons for Liverpool. His first Premier League goal against Reading has propelled him from "wonderboy" to "next big thing."
Sterling was signed by the Reds from Queens Park Rangers' academy in 2010, and his rise to the top has been rapid and fruitful.
The talented winger has been one of the shining lights of Liverpool's rather lackluster season, and his efforts were rewarded with a great finish from the edge of the box for his first senior goal.
Liverpool's youth system has been producing some fine players in recent years, but Sterling could well become the biggest success since Steven Gerrard. The youngster's talent and trickery has been praised by his manager, teammates and England U21 coach Stuart Pearce, and for good reason.
Sterling has three aspects of his game which give him the title of Liverpool's next big thing, but what are they?
Speed
Speed is a key attribute to any forward's game, but Sterling is on another level.
He seems to have 11 gears, and no matter how fast the opposition is, he will cut right through them.
His pace can trouble even the most experienced defenders, which he showed against Manchester City, Manchester United and Arsenal. Whether he has the ball at his feet, or he is moving into position, this kid is lightening quick.
Sterling's goal against Bayer Leverkusen shows how easily he can storm past defenders.
Skill
Raheem Sterling isn't just quick, he has incredible skill as well.
His touch is phenomenal and the ball just seems to stick to his feet.
With both pace and skill, Sterling is a double threat to defenders. This is something Liverpool Football Club hasn't really seen since the days of Michael Owen.
And when Sterling combines these two attributes, he will be deadly—as shown by his goal against Reading.
Sterling's control and turn against Arsenal's reserves shows just what he is capable of.
Maturity
The most important aspect of Sterling's game is his maturity.
Many young players have the talent to succeed, but if they don't utilize it, they will fizzle out into Premier League darkness.
Sterling, however, seems to have a very old head on those young shoulders.
At just 17, Sterling is capable of putting the ball into a space which will best help the team. Plus, he intuitively knows to move into positions which will put him one step ahead of the opposition.
And he will always work hard to get the best out of a situation—as demonstrated by his assist for Adam Morgan vs. Toronto FC.
Raheem Sterling has a great footballing brain, and it is this—along with his speed and skill—which will turn him into Liverpool's next big thing.
Keep Reading

Liverpool: Like this team?