BYU vs. Notre Dame: Live Scores, Analysis and Results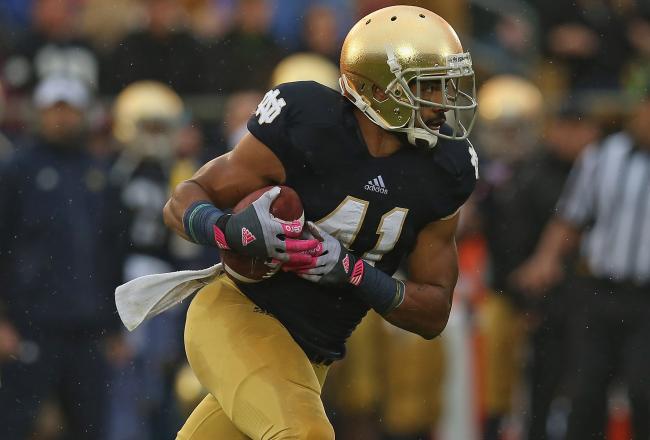 Jonathan Daniel/Getty Images
FINAL: Notre Dame 17, BYU 14
Brigham Young gave No. 5 Notre Dame all it could handle, but the Irish dominated up front to come away with the win. The Irish improve to 7-0, while the Cougars fall to 4-4.
Give us your thoughts and analysis and keep the conversation going below.
As promised, here's a recap of today's game. Thanks for following along and keep the conversation going below.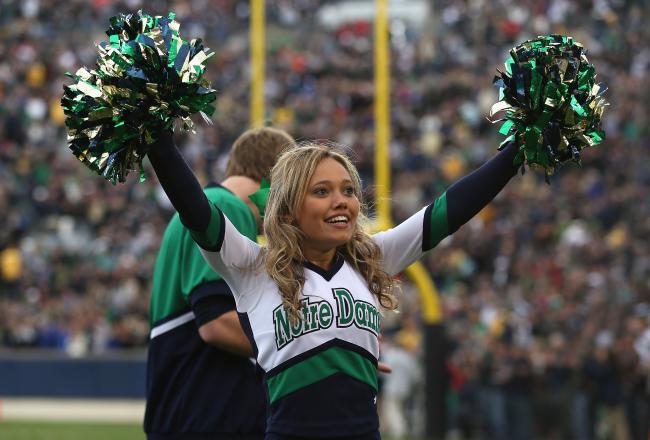 FINAL: Notre Dame 17, BYU 14
Keep it here for some postgame analysis. Also keep the conversation going below with your thoughts Notre Dame's close win over BYU.
It wasn't pretty, but Notre Dame found a way to escape with a win—which is exactly what good teams do. Football isn't a beauty pageant, just win baby.
BYU gave a great effort and nearly came away with a season-defining upset, but the Notre Dame dominated up front on both sides of the ball. It's hard to win when you lose in the trenches.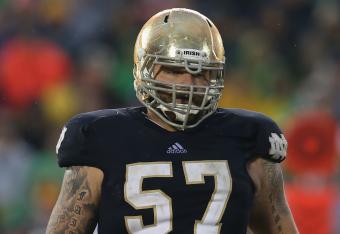 With starting quarterback Everett Golson out, Notre Dame did it on the ground behind a strong game from its line.
Cierre Wood with a 22-yard dagger as we go under two minutes.
That may do it. Riddick busts through a couple of arm tackles and, with one timeout left, it's looking pretty grim for BYU.
A pretty, pretty, pretty, pretty big third down for both teams.
If that kind of running continues, this one is over. Notre Dame generating a great offensive push. Kelly should keep it on the ground and let that line win this one.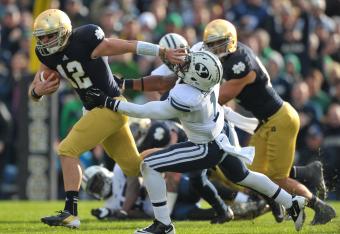 Notre Dame 17, BYU 14 | Fourth Quarter, 6:19
It wasn't easy, but Notre Dame got the defensive stop it needed. Now it is up to the BYU defense to slow down Riddick and Wood to give the Cougars a chance for the upset.
Notre Dame's defensive line just cooked and ate Nelson which really hurts BYU's drive. Second down and very long now.
Wow. Cody Hoffman was all alone. How did Nelson miss him?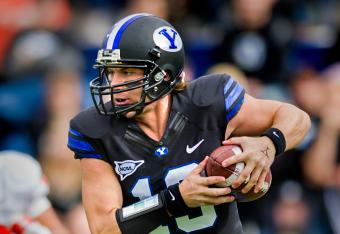 Nelson with a great run on the quarterback draw to convert the third down. These draws and screens will continue to take the Notre Dame pass rush out of the equation, which bodes well for BYU.
Williams back in the mix on the inside screen. That play has been pretty effective for BYU. The short passing game needs to continue in the fourth quarter.
Good news for the Cougars: Facemask penalty on Nix on third down and long.
Just an awful penalty there by the Notre Dame junior.
More bad news for the Cougars: The crowd that they had previously nullified is now rocking.
BYU absolutely does not want to kick it back to Notre Dame, especially with the Irish now able to run this clock out behind Riddick and Co.
Theo Riddick's day: 13 carries, 141 yards. Of #NotreDame players falling into "trap" game today, he's at bottom of list. Running possessed.

— Brian Hamilton (@ChiTribHamilton) October 20, 2012
Nelson made a great first-down scramble which was negated by a holding call that may kill this BYU drive.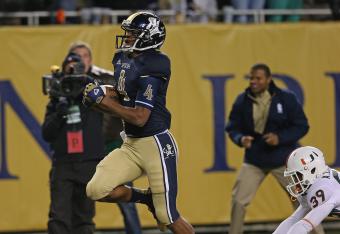 Notre Dame 17, BYU 14 | Fourth Quarter, 12:52
After three rough quarters, George Atkinson jukes a BYU defender out of his cleats to give Notre Dame a lead. That's only 11 yards for Atkinson on the day, but the Irish are back out in front.
Jordan Johnson didn't look tired on that play. Just an awesome diving deflection by the sophomore.
Riddick busts through a huge hole and he just continues to gash a BYU defense that is looking more tired with every play.
BYU 14, Notre Dame 10 | Start of Fourth Quarter
Aside from deep balls like the last one and the run by Riddick, BYU has been very good defensively. That will need to continue as Notre Dame is driving to start the fourth quarter.
BYU 14, Notre Dame 10 | Third Quarter, 1:26
Notre Dame holds strong defensively, as Nelson couldn't decide which receiver he wanted to throw to, so he just threw it to the grass between both of them.
Thinking back, why on earth didn't Notre Dame try to throw the ball to Eifert down by the goal line? Anybody?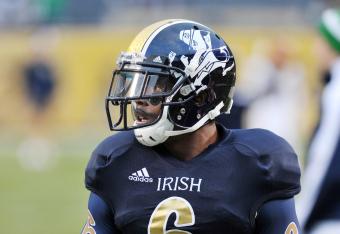 BYU 14, Notre Dame 10 | Second Quarter, 3:00
I can hardly believe my eyes—a kicker finally hit a field goal in this game. Of course, the Irish had to put him 24-yards out to do it, but three points are three points.
BYU hasn't been able to drive the length of the field yet today, so let's see how the Cougars do after taking their first kickoff since the first quarter.
Theo Riddick injects some life in this crowd with a phenomenal run. He was downright mercurial going through the pile.
This article is
What is the duplicate article?
Why is this article offensive?
Where is this article plagiarized from?
Why is this article poorly edited?

Notre Dame Football: Like this team?