Titans vs. Bills: Final Game Grades and Player Analysis for Tennessee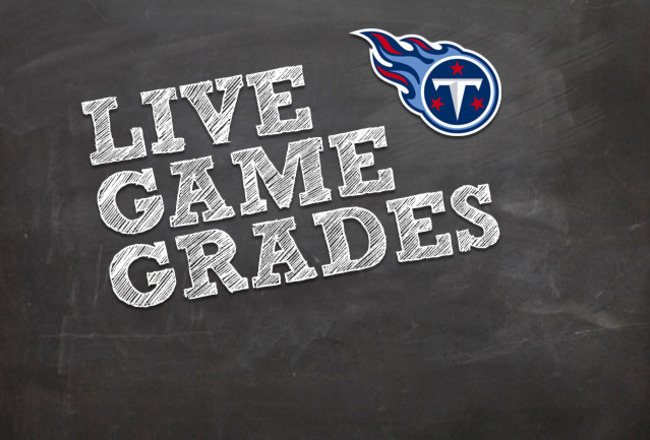 It was a close game, and in the first few quarters, it looked like neither defense could stop anything, leading to a high scoring game early on.
However, as the game went on, both defenses made adjustments and started to managed to get a few stops.
In the end, the Titans got the better of it after Jason McCourty picked off a terrible throw by Ryan Fitzpatrick, and then capitalized with a touchdown to take the lead.
It was a close game, but the Titans managed to come out of Buffalo with their first road win of the season.
Score: Titans 35, Bills 34

Matt Hasselbeck—B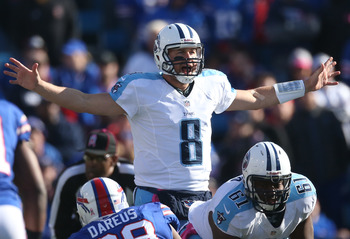 Tom Szczerbowski/Getty Images
Matt Hasselbeck started strong. He led the team down the field for a score right off the bat.
In the first half, he only threw three incomplete passes, and even though he didn't get any touchdowns, he was still great.
However, he started to show his age in the second half. He started to make bad throws, including a couple of near-interceptions. He was clutch when the Titans needed him to be, throwing a game winning touchdown late in the fourth quarter.
However, keep in mind that Buffalo has one of the worst defenses in the league, so take the performance with a grain of salt.
It's kind of sad watching Hasselbeck play because he still has the skillset to be a top quarterback, but his age is catching up with him, and he just can't make all the throws for a whole game anymore.
Final Grade: B
Running Backs—A
Rick Stewart/Getty Images
Now I think that Chris Johnson's game isn't that indicative of him being back to form, since the Bills have the absolute worst run defense in the league, but I can't give anything less than an A to a runner who rushed for nearly 200 yards and two touchdowns.
He got bottled up for most of the second half when the team started stacking the box against him, but still managed a great run off the edge in the fourth quarter.
Jamie Harper had a solid game too, with two one yard rushing touchdowns, and one other big run for seven yards. Like Johnson, he got bottled up when the Bills started to stack the box.
Four rushing touchdowns is three more than the Titans have had in the rest of the season, so the improvement is still huge.
Final Grade: A
Wide Receivers—B+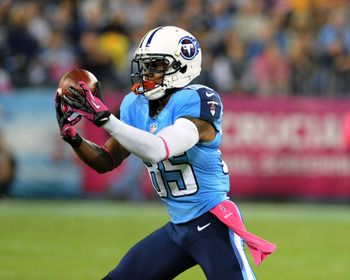 Al Messerschmidt/Getty Images
The receivers did well overall today. Nate Washington was the top receiver, but he had a few missed opportunities. He fumbled a ball out of bounds while trying to switch hands, but luckily, it didn't result in a turnover.
Kendall Wright caught all three of his targets for a fairly good 19 yards. It's better than it sounds, since all of those passes were thrown to him at or around the line of scrimmage.
Kenny Britt still hasn't turned into the difference maker that he was expected to be. He caught four of his six targets for 30 yards.
Damian Williams had one of his better games. He's normally a notorious pass dropper, so it was nice to see him catch three of four passes for 38 yards.
Overall, not a bad outing for the receivers.
Final Grade: B+
Tight Ends—C+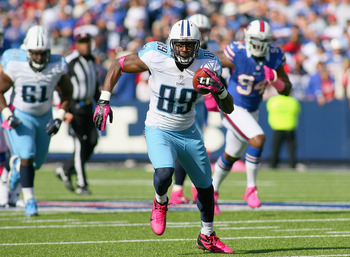 Rick Stewart/Getty Images
Craig Stevens had a big catch early on for 17 yards, but that was his only contribution to the passing game, which should be expected since he's mostly a blocking tight end.
Jared Cook is being way underutilized. He did have five targets, but most of those were uncatchable passes. He did catch two passes for 37 yards, but I don't know why he isn't getting the ball more.
He could have ended the game for the Titans one drive earlier if he'd come up with a big catch. The ball wasn't perfectly thrown, but it was catchable, and probably would have been a touchdown.
Taylor Thompson was only thrown to once and dropped the pass.
Final Grade: C+
Offensive Line—B+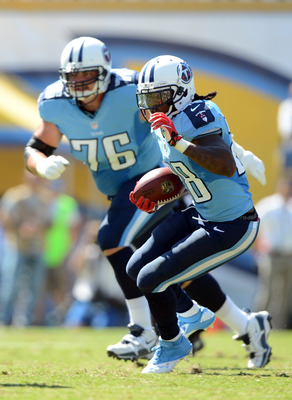 Harry How/Getty Images
The offensive line had a great game today overall, especially in the first half. There was no pressure on Hasselbeck and they opened up huge holes for Johnson in the run game.
However, the biggest difference I noticed was the lack of penalties. David Stewart has had a lot of problems getting penalties and keeping his temper under control. This week, he was cool headed and had several perfect blocks that set up big runs off the edge.
Michael Roos saw a familiar matchup with Mario Williams, the former Texan. Roos shut him down pretty much completely.
The Bills defense stuffed the run and got a lot more penetration late into the game, but overall, it was a great performance by a unit that has struggled this season.
Final Grade: B+
Defensive Line—C+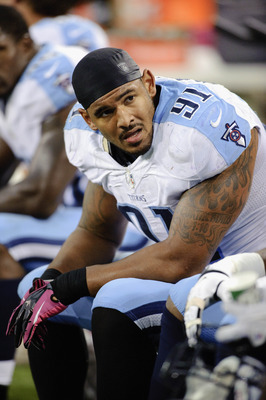 Hannah Foslien/Getty Images
The defensive line was less disruptive against Buffalo than they normally are. Each defensive end came up with a big play: Kamerion Wimbley had a sack-fumble which Derrick Morgan recovered, and both of them were in the backfield a lot more than I expected them to be.
Morgan deflected two passes and got two hits on Fitzpatrick as well.
The defensive tackles had a much tougher time getting penetration than they usually do. The only tackle with a tackle for loss was Sen'Derrick Marks, who had one.
Overall, they didn't do great. The ends had a better game than average, while the interior had a lesser game than average.
Final Grade: C+
Linebackers—C+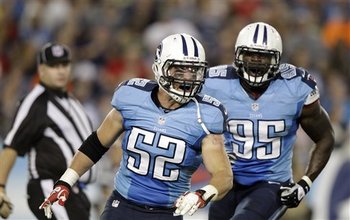 With all the poor tackling, you'd think I'd give the linebackers a worse grade. However, Colin McCarthy was out from the beginning, and then his backup, Zac Diles, was injured almost immediately too.
Then there's the absence of Zach Brown. I have no idea what Jerry Gray was thinking, but Brown didn't start, even after Diles left.
When he did come in, he made some big plays, which again makes me wonder what on earth Gray is thinking.
Akeem Ayers had an up and down game. He had some pressure on the quarterback, forcing an incomplete and getting a near sack, but he also missed a few tackles that he should have made.
Considering that a lot was against them, the linebackers didn't do that poorly.
Final Grade: C+
Defensive Backs—C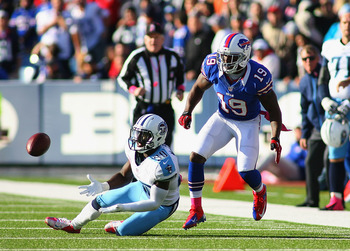 Rick Stewart/Getty Images
Like the linebackers, the defensive backs had some up and down play against the Bills. There were a lot of catches made by the Bills receivers which should not have been made.
However, Jason McCourty did have a deflected pass and an interception which led to the game winning touchdown, so that makes up for his mistakes early on.
Alterraun Verner was one of the few consistent tacklers in the matchup, getting five tackles, all of them solo.
The safeties were typically bad. Michael Griffin had a better game than he's been having, but cost the Titans 15 yards on a big penalty for hitting a defenseless receiver.
Jordan Babineaux led the team in tackles and had a defended pass, but there was a lot of blown coverage by both Babineaux and Griffin.
However, I think some of the blame falls on Jerry Gray's system.
Final Grade: C
Special Teams—B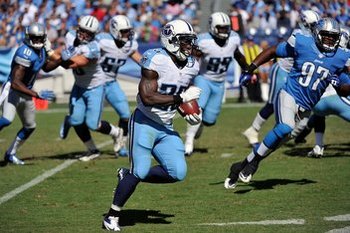 There has been a team-wide problem with missed tackles, and nowhere has it been more apparent than on special teams. Return coverage on kickoffs and punts has been poor, and that cost the Titans a touchdown against the Bills.
However, like I said, this seems to be a team-wide problem, so I don't think much of the blame for that goes to the special teams coaches.
Other than one return where he slipped and fell, Darius Reynaud had a good game. Even with the one short return, he averaged 23.5 yards per return, which isn't bad.
The kicking game was perfect. Rob Bironas made every extra point.
Final Grade: B
Coaching—B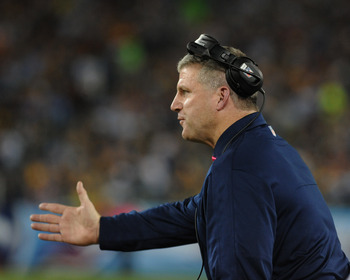 Al Messerschmidt/Getty Images
There were several decisions made in the game that just confounded me. Jerry Gray put the safeties playing extremely deep again, which didn't work early on and cost the Titans a lot of yard against the Bills too.
Then there was the decision not to start Zach Brown. Brown has been a playmaker every time he's been on the field this season, and I have no idea why he wasn't out there from the get-go.
Palmer made some strange calls as well. At first, the Titans offense was doing well, and the balance on running and passing caught the Bills off guard.
However, as the game went on, the Titans became more predictable and there were too many deep passes called for. Hasselbeck's deep ball isn't what it used to be, especially late in games, and it resulted in a lot of incompletes.
Munchak did a good job reserving time outs, as the Titans may have ended up needing them in the end, and the Titans won the time of possession battle, even if it was by a slim margin.
Most importantly, they came out of Buffalo with a win.
Final Grade: B
Keep Reading

Tennessee Titans: Like this team?