Bellator 77: Live Results and Play by Play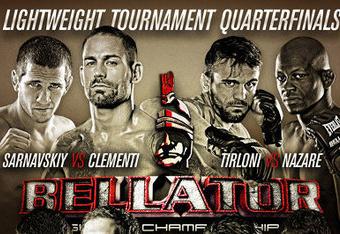 Bellator 77 will take place in Reading, PA at the Reading Eagle Theater inside the Sovereign Center tonight. The feature of tonight's event is the quarterfinal round of the lightweight tournament.
The lightweight tournament bouts are:
Rich Clementi vs. Alexander Sarnavskiy
Rene Nazare vs. Ricardo Tirloni
Marcin Held vs. Murad Machaev
Dave Jansen vs. Magomed Saadulaev
Preliminary card bouts:
Matthew Lozano vs. Dave Morgan
Eric Albright vs. Brett Martinez
Cosmo Alexander vs. Mike Bannon
Duane Bastress vs. Lewis Rumsey
Carmelo Marrero vs. Lew Polley
Emanuel Brooks vs. Darrel Horcher
Bleacher Report will provide you with live play-by-play and results.
Dave Morgan vs Matthew Lozano
Morgan with a quick takedown and into the guard of Lozano who lands some elbows from the bottom, which have Morgan leaking copious amounts of blood and Yamasaki calls the doctor in to take a look. The doctor says ok and Lozano plants a knee that drops Morgan to end the round.
The cut man has some work to do here between rounds and the doctor is right in there to keep an eye on things and they are back for Round Two. Morgan staggers Lozano with a desperation right and gains the takedown and again is in the guar of Lozano. Morgan looking for a crucifix and Lozano looks for an reverse triangle and he locks up the body and cranks the neck and that draws the tap.
Lozano wins this one by submission at 2:28 of Round Two.
Rich Clementi vs. Alexander Sarnavskiy
Sarnavskiy closes the distance and looks to be the aggressor, but the veteran is unfazed until he tastes a spinning backfist, which has him going for the takedown. Clementi has Sarnavskiy's back as Sarnavskiy stands. Clementi is looking for room to sink a choke in, but can't find the opening, instead he tees off with some punches to he head. With 46 seconds left Clementi finds his spot and locks the choke in and takes Sarnavskiy to the mat. Sarnavskiy impressively fights the choke off.
Sarnavskiy staggers Clementi with a left early in the second. Clementi sucks the legs in for a takedown and passes to side control, he then takes Sarnavskiy's back and works the hooks in while looking for another choke. Clementi moves up to a body lock, but still has no luck in locking on the choke. With a minute left Sarnavskiy reverses and lands some strikes before Clementi pulls him into his guard. Yamasaki stands them up and Sarnavskiy immediately staggers Clementi, but can't capitalize as the round comes to an end.
Third and final round and Sarnavskiy's hands are finding the mark. The fighters go to the ground and things slow down and Yamasaki stands them up, but not for long. Sarnavskiy postures up and looks to land some strikes before letting Clementi up. Clementi throws a spinning backfist and falls to the ground looking to draw Sarnavskiy in and he does. Sarnavskiy finishes the fight with a last ditch triangle attempt.
This one goes to the cards: 29-28, 28-29, 29-28 for Clementi in a split decision.
Dave Jansen vs. Magomed Saadulaev
Saadulaev opens with some kicks and goes for the takedown and Jansen looks to work out, but after a prolonged struggle Saadulaev takes his back and slips in the hooks. Jansen goes old school and looks to escape with a Gramby roll, which looks nice, but doesn't work. Jansen does reverse, but takes a stiff punch when the fighters stand and Saadulaev is pretty free with the lefts and the kicks before gaining another takedown and landing inside Jansen's guard.
Jansen is throwing, but he's far out of range and landing nothing. Saadulaev back in for a takedown, which fails. Some strange body language from Saadulaev here as he makes a fist with his right and looks down at it and then briefly places the hand on his hip, looks like the tank is running low. Jansen with the takedown, but finds his arm in a precarious position as Saadulaev has a kimura, he frees that and slaps on an arm triangle choke, which he gives up when he can't jump to the side to tighten it up. Jansen postures up and is throwing heavy strikes down on Saadulaev.
Team Jackson practically drags Saadulaev back to the corner between rounds two and three. Saadulaev in for a takedown and Jansen slaps on the guillotine and Saadulaev taps out.
Dave Jansen moves on with the submission victory at 0:41 of Round Three.
Marcin Held vs. Murad Machaev
Held comes out aggressive and pushes Machaev against the cage. Held is walking Machaev down looking to land his strikes. They go to the cage again and Held works for the takedown, but finds nothing there after a brief struggle. Held walks Machaev down and throws a spinning backfist and then gains the takedown.
The two exchange a brief flurry to start the second and Held looks for a takedown. He finds nothing and after some time in the clinch, Machaev comes out swinging, other than that, not a whole lot happening in the second.
Onto the final round, Held again looks for a spinning backfist and again doesn't find much in the way of contact. Held trying to draw Machaev into his guard, it didn't work in round one and two and it doesn't work in the third either. Neither fighter putting together much in the way of combinations here during the third.
This one goes to the scorecards: 29-28 x 3 for Marcin Held.
Rene Nazare vs. Ricardo Tirloni
First fight of the lightweight tourney. Tirloni looks anxious to get things started. Nazare in on a single against the cage the two go to the clinch and then break and start throwing hands before returning to the clinch. Nazare looks to have more snap to his punches, while Tirloni is active with his knees from the clinch. Tirloni is actively looking for a choke when they go to the clinch.
Round Two:
Nazare is snapping his punches and he has Tirloni hurt when Tirloni comes back and gets the takedown and clamps on a deep choke that seems to put Nazare to sleep.
Tirloni moves on to the semifinal round with the D'arce choke submission at 1:14 of Round Two.
Carmelo Marrero vs. Lew Polley
Two big dudes here as Marrero drives Polley back with his hands, but no damage done. These two are swinging hard, but not really connecting. The fight goes to the ground with Marrero taking Polley's back. Polley works to his feet and they square up with a lot of distance between them. Polley shoots for a takedown and finds nothing as time expires in the first.
Marrero closing the distance to start the second and he sneaks some strong punches through. Polley attempts a takedown and finds nothing. Marrero is landing his punches, but nothing really damaging as most are coming from distance.
Third round sees Marrero looking comfortable as his hands are by his sides as he snaps off jabs, but again most are from distance. Marrero cuffs Polley on the side of his head and pushes him to the mat. Looks like neither fighter has much left in the tank as the fight nears its end.
To the cards: 29-28, 30-27, 29-28 for Lew Polley and this one is not a popular decision.
E.J. Brooks vs. Darrel Horcher
Brooks comes to the cage with Kris Kross' "Jump", so points for that.
Well, that didn't last long. Horcher measures Brooks with a couple jabs and then lays him out with a big left.
Brooks on his back in the cage for a very long time after that KO. The medics are bringing the backboard into the cage for Brooks and he is carried from the cage.
Knockout at 21 seconds of round one.
Cosmo Alexandre vs. Mike Bannon
Alexandre looks stiff and XXXX Bannon. A lot more movement from coming from Bannon . Bannon in on a single, but Alexandre is fighting it off with the help of the cage and a very wide stance. Bannon is not giving up on the single, and Alexandre looks for a kimura, but finds no purchase. Wrestler vs. striker bout here folks.
Bannon gets the takedown and looks to pass the guard of Alexandre, but Alexandre is up and they are back to standing. Another single leg attempt from Bannon that fails. Leg kicks from Alexandre have Bannon backing up and Alexandre is clearly measuring him for something big at this point. Bannon wants no part of the the striking of Alexandre and looks for a single leg and eats some body shots for his trouble.
The doctor waves this one off between rounds one and two and the fight goes to Cosmo Alexandre via TKO.
Ariel Sepulveda vs. Duane Bastress
This one goes to the ground early and Sepulveda works through the kneebar attempt of Bastress and regains his feet. Bastress stays on the ground and Sepulveda makes a mistake and engages him there where he quickly finds himself on his back. Bastress briefly gets mount, but Sepulveda escapes and the fight goes back to standing. Sepulveda's strikes have Bastress wincing before they land, never a good sign. The fight again goes to the ground and Bastress is in side control landing knees to the body as round one ends.
Second round opens with the two spending a brief time on the ground. Bastress looks rejuvenated after finishing round one strong. The two go to the clinch against the cage and Bastress looks to land some body shots and knees to the legs before Mario Yamasaki splits them up. Bastress gets the takedown and is working toward a choke, which he cannot find, he then finds himself in the guard of Sepulveda. Yamasaki again stands them up and Sepulveda is bleeding pretty good from his eye.
On to the third round and we're not too far into it before we get the dreaded kick to the nether regions. Bastress gets the takedown and looks for a choke, it doesn't appear to be all that deep and he releases and grabs a single leg before Sepulveda can regain his feet. Bastress back in top control and inside the guard of Sepulveda and another stand up from Yamasaki.
Bastress shoots and Sepulveda lands some strikes to the head while Bastress clamps down on that single, last ditch effort from Sepulveda at a choke at the horn.
Onto the cards: 29-28, 28-29, 29-28 for the winner Duane Bastress
Brett Martinez vs. Eric Albright opens the show, between them they had three professional bouts and all three of them were on Martinez's record.
Takedown negated by Albright and he works from inside Martinez's guard, but Martinez is able to stand. A head kick misses from Martinez and he quickly shoots from the ground, but Martinez thwarts him and they go to the clinch.
Albright again with the takedown and again into the guard of Martinez who briefly finds an armbar, but he surrenders that and has his back taken. The fight goes back to standing and Martinez eats some knees to the head from the clinch before again being taken to the mat and Albright is into side control and looking for an opening to land his punches. Good round for Albright
Albright looks comfortable, but dominating in your first pro round will do that for a fighter. The two go to the clinch and Martinez is cranking on a hellacious choke. They break and Martinez again hits the deck after a missed kick and Albright looks for an armbar. A quick exchange against the cage and back to the clinch where Martinez finds a guillotine choke, but Albright is out. Albright gets the back of Martinez, but no hooks and Martinez finds the opening for a guillotine and that's the night for Albright at he taps 3:28 of Round Two.
This article is
What is the duplicate article?
Why is this article offensive?
Where is this article plagiarized from?
Why is this article poorly edited?