Jets vs. Patriots: Final Report Card, Player Grades for New England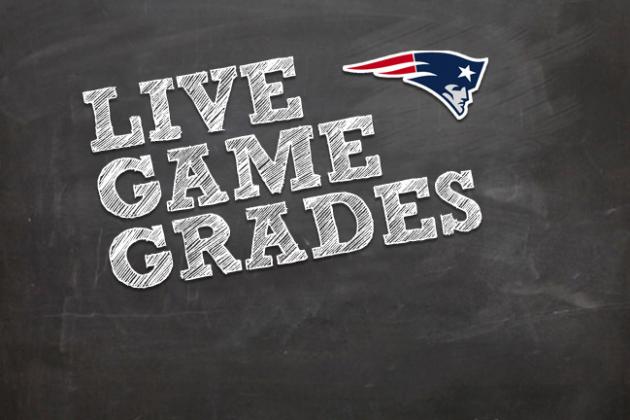 New England Patriots 29, New York Jets 26 (OT)

The New England Patriots have had a horrible time with closing out games in the fourth quarter this season, and Sunday's overtime win against the New York Jets was no different. The Patriots entered the fourth quarter with a 10-point lead, but gave up thirteen unanswered points in less than five minutes late in the fourth quarter, and needed to mount two field goal drives at the end of regulation and in overtime to win the game.

The Patriots are certainly relieved to leave this game with a victory, but there is still major work to be done, as this game was much closer at the end than they would have liked it to been.

Who gets the most credit for helping the Patriots pull out a win, and who takes most of the blame for putting the Patriots in a difficult situation? The following slides examine that with grades of each player who played a significant role in the game.
Begin Slideshow

»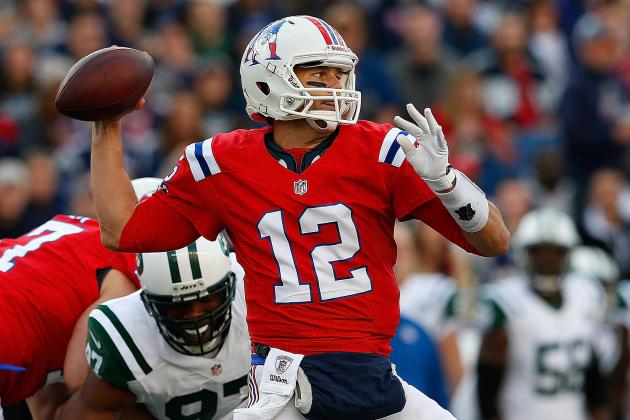 Jim Rogash/Getty Images

Tom Brady: B-
At the end of the day, Tom Brady's stat line was pretty good, having completed 26-of-42 passes for 259 yards and two touchdown passes. His day gets graded primarily, however, on the plays he made and didn't make with the game on the line.

In the crucial game-tying drive at the end of the fourth quarter, and game-winning drive in overtime, Brady was his old clutch self. Between those two drives, Brady completed 9-of-13 passes for 94 yards, was accurate and composed, made smart decisions, and put kicker Stephen Gostkowski in position for two big field goals.

Brady almost made a horrendous mistake, however, in the fourth quarter, that really lowers his grade. With his team still up three points, but needing to put together an offensive drive to keep the Jets' offense off the field, Brady threw a terrible pass rolling right under pressure, and should have been intercepted but was dropped by Antonio Cromartie.

Brady was lucky to get the opportunity to go out and win the game, but it wasn't before he almost lost them the game, hence a lower grade that some may expect.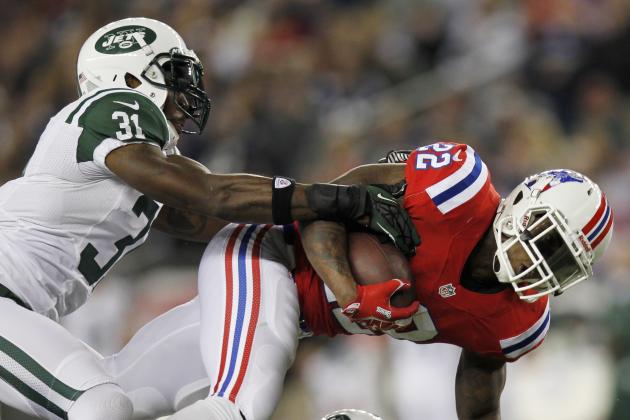 Greg M. Cooper-US PRESSWIRE
Stevan Ridley
Stevan Ridley: B-

Stevan Ridley had a fairly unspectacular day rushing the football against the Jets. Ridley ran the ball 17 times, but gained only 65 yards and had just two runs of 10 or more yards.

Just three of Ridley's 17 runs went for first downs in this game.

Danny Woodhead: B+

When the game was on the line, the New England Patriots turned to Danny Woodhead to come in the game at running back. That investment paid off on the final drive of regulation, when Woodhead took a screen pass 20 yards to bring the Patriots into position for a field goal, which was eventually converted to tie the game.

Between the game-tying and game-winning drives, Woodhead had six total touches, and proved to be reliable when the Patriots needed him most. He only had 46 total yards on 10 touches for the game, but he grades out well for his key contributions.

Shane Vereen: A-

Shane Vereen had yet to make any sort of significant contribution for the Patriots this season, but with Brandon Bolden out due to a knee injury, the Patriots went to Vereen early and often in this game.

Vereen received touches on the Patriots' first three plays of scrimmage, and gained two first downs. Vereen gained another first down late in the game, and had a very good average yards per touch, gaining 49 yards on eight carries and 10 yards on one reception.

It has yet to be seen whether Vereen can ever make the Patriots' investment of a second-round pick in him last year pay off, but he showed some great flashes against the Jets.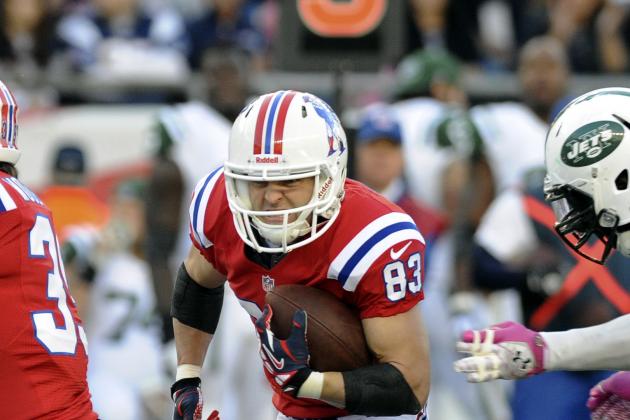 Bob DeChiara-US PRESSWIRE
Wes Welker
Wes Welker: A-

Wes Welker had another productive day. He caught six passes for 66 yards, and many of them came in crucial situations, including two for a combined 25 yards on the game-winning drive in overtime.

During a third-quarter touchdown drive, Welker also came up big. Brady went to Welker for two third-down conversions, including a 3rd and 4 play where he got open for Brady to allow him to make a tough throw under pressure, and later with the Patriots' longest play of the game, a 21-yard gain off a bubble screen on 3rd and 8.

Welker also continued to serve as the team's punt returner, and including a free kick return following a safety, Welker gained 38 combined yards between three returns, another impressive number for him.

Brandon Lloyd: F

There was not one player on the Patriots who had a worse game on Sunday than wide receiver Brandon Lloyd.

Lloyd was targeted eight times, but caught just one pass for six yards. Lloyd had three passes go off of his hands in this game, and was also called for pass interference on a fourth-quarter possession where the Patriots needed to mount a drive to preserve a three-point lead but failed to do so.

Lloyd has made some tremendous catches for the Patriots this season, but this was a day he'll wish to soon forget.

Julian Edelman: C-

Julian Edelman's return to action after missing three games with a hand injury was very anticlimactic. Edelman did not return to his punt return duties, as the team stuck with Wes Welker, while he caught only two passes for 7 yards.

Deion Branch: C

Deion Branch did not play often in this contest. Brady did look to Branch on the team's game-winning overtime drive, and completed a tight 9-yard pass to him on the left sideline, but aside from that, Branch did nothing else to stand out, as it was his only reception of the game.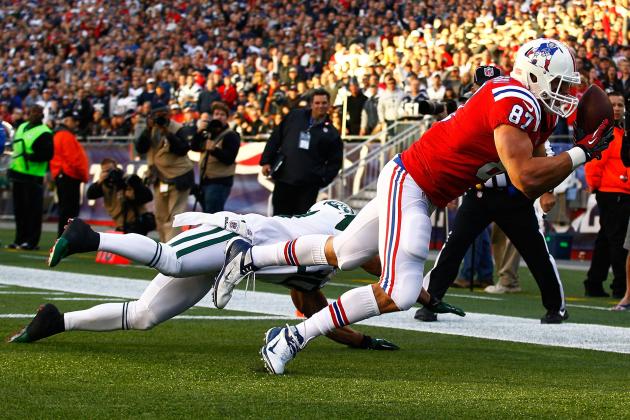 Jared Wickerham/Getty Images
Rob Gronkowski
Rob Gronkowski: A-

Rob Gronkowski scored both of the Patriots' touchdowns in this game, including a tremendous 17-yard diving catch in the end zone in the first quarter. Gronkowski also came up very clutch on the team's game-tying drive, catching two consecutive passes for 27 combined yards to get the drive going.

Gronkowski's performance, in which he had six total receptions for 78 yards, should have earned him a clean A, but he dropped for one surprising reason. Uncharacteristically, Gronkowski dropped two passes in this game.

Aaron Hernandez: B-

Aaron Hernandez had a very solid game, catching five passes for 54 yards, but like Gronkowski, his grade drops as a result of a couple of mistakes. Hernandez had a pass go off of his hands that should have been a touchdown in the end zone, and he was also flagged for a false start in this game.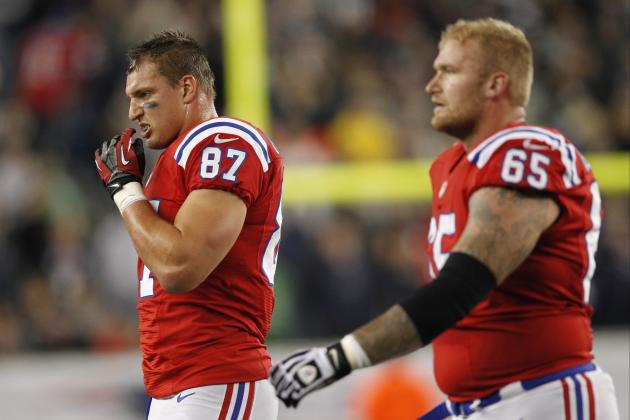 Greg M. Cooper-US PRESSWIRE
Nick McDonald
Nate Solder: B+

Left tackle Nate Solder had a very solid game on Sunday. The Patriots did not do much running to the left side, but he did a good job in pass protection.

One play of Solder's game stood out, however. Wes Welker's 21-yard gain off of a bubble screen was made possible due to the efforts of Solder, with a terrific block on Isaiah Trufant that opened up a lane up the left side.

Donald Thomas: B

Donald Thomas filled in for Logan Mankins at left guard on Sunday, and it was barely noticeable. This was mostly a good thing, as Thomas did a fine job of filling in for the All-Pro guard, but it is also a result of him not making any blocks that stood out.

Thomas was called for a holding penalty in the game's first quarter.

Ryan Wendell: C

The Patriots had big trouble with giving up interior pressure on both passing and rushing plays in this game, and a big reason for that was the struggles of Ryan Wendell. Wendell did not have any horrible lapses, but he left the middle too open for blitzing and pressure too often, which it made it difficult for the Patriots to generate a downfield passing or power running game.

Nick McDonald: C-

Right guard Dan Connolly left the game after one series on Sunday due to an illness, so Nick McDonald was called upon to fill in. The game turned out to be a considerable struggle for Connolly's replacement.

McDonald was responsible for a great deal of the interior pressure that the Jets brought in this game. It was he who missed the block on David Harris on the only sack allowed by the line on Sunday.

McDonald was put into a tough position having to fill in for an ill player, but his struggles cannot be overlooked.

Sebastian Vollmer: B-

Another Patriots offensive lineman who struggled with allowing pressure in pass protection on Sunday was right tackle Sebastian Vollmer. Much more pressure came after Brady on the right side of the line than on the left side, and a big reason for that was the shaky play of Vollmer in this game.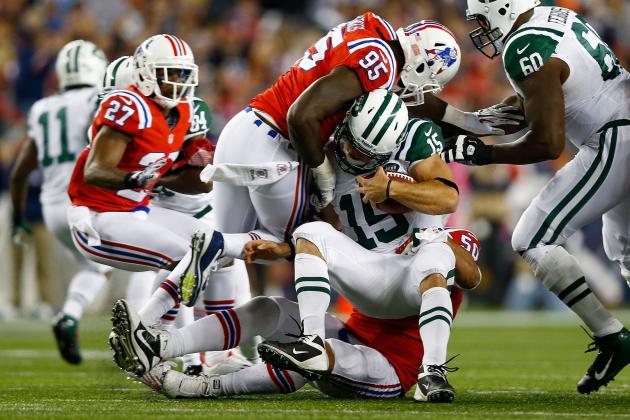 Jared Wickerham/Getty Images

Vince Wilfork: A-

For the most part, Patriots defensive tackle Vince Wilfork had a dominant game.

It was Wilfork's push against Jets right guard Brandon Moore that disrupted a handoff between Mark Sanchez and Shonn Greene early in the second quarter, forcing the ball back through the end zone from where Sanchez kicked the ball out of the end zone for a safety.

Wilfork continued to do a great job of bringing interior pressure, which helped allow many other players to make plays, while he ended up with seven total tackles on the stat sheet.

Wilfork did have one badly missed tackle on a 13-yard Joe McKnight run, and there were times where he was uncharacteristically driven back by the Jets' interior offensive line, but for the most part, he won the battle in the trenches.

Kyle Love: B-

Kyle Love was able to record a sack in the game, but that sack was a result of pressure brought by the Patriots' defensive ends, Jermaine Cunningham and Chandler Jones. For the most part, Love had a tough time in the trenches. He was often driven back, allowing the Jets to establish a power run game to his side of the line.

Chandler Jones: B-

As mentioned, pressure from Chandler Jones led to a Kyle Love sack in the first quarter, but for the rookie defensive end, it was a fairly quiet game for his standards. Jones had a solid game in both pass-rushing and run-stopping, and ended up with four total tackles, but unlike he usually does, he did not make any big plays to stand out on the field in this game.

Jermaine Cunningham: A

With most of Rob Ninkovich's snaps in this game coming at outside linebacker, Jermaine Cunningham received the majority of snaps at right defensive end, and he had what may be his best game yet in his Patriots career.

It was Cunningham's relentless pass-rush that created the game-ending strip sack for the Patriots. Cunningham ran a terrific inside stunt to bring pressure up the middle, and even though he went down to the turf, he did not give up on the play. Cunningham clawed his way to the quarterback and wrapped up his legs, allowing Ninkovich to come over the top to finish the sack and force the fumble.

Cunningham did a great job of bringing pressure all game—his pressure around Jets right tackle Austin Howard set up the Love sack—and he also had his best game yet in run defense. Cunningham may only receive credit for two total tackles and a half-sack on the stat sheet, but he impacted many other plays.

Justin Francis: C

With Rob Ninkovich playing most of the game at outside linebacker, rookie defensive end Justin Francis received significant playing time for the first time this season. He did not make any noticeable impact, however, and did not show up on the stat sheet.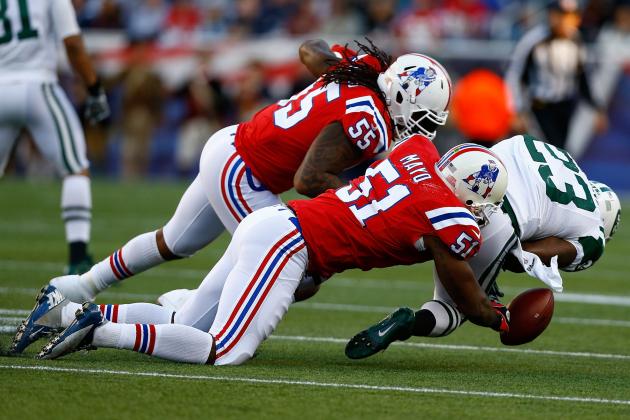 Jared Wickerham/Getty Images
Brandon Spikes (55) and Jerod Mayo (51)
Jerod Mayo: A

Jerod Mayo left the game for a brief period in the second quarter with an injury to his left arm, but returned and ended up being the Patriots' leading tackler on the day with 11 total tackles and 10 solo tackles.

Mayo was a big difference-maker for the New England defense in this game. He was sound in all of his tackles, including one tremendous tackle on a 3-yard Shonn Greene catch on a 2nd and 4, and also forced a Greene fumble in the first quarter, which was eventually retained by the Jets.

Mayo also did a great job of bringing pass-rush pressure in this game, including some of the pressure that led to Dont'a Hightower's big 10-yard sack on the Jets' go-ahead drive in the fourth quarter.

Mayo did get beat on one 23-yard pass play over the middle to Dustin Keller. Overall, however, he was all over the field making plays in this game, and for that he earns an A.

Brandon Spikes: A

Brandon Spikes is one of the NFL's best run-stopping middle linebackers, and that showed up on Sunday. Spikes had 10 total tackles, many of which were tremendous stuffs on run defense.

Spikes stood out with his run-stopping ability, and even took Shonn Greene out of the game with a big hit that he laid on him on a short 3-yard pass reception.

The only error of Spikes' game came on a dropped interception opportunity off a deflection, but he was outstanding otherwise.

Dont'a Hightower: B

Dont'a Hightower played a limited number of snaps in his return to action from a hamstring injury, and he struggled at times. Hightower did, however, have seven tackles, and made one of the biggest defensive plays of the game.

On the Jets' go-ahead drive, Hightower thwarted the Jets' chances of extending their drive to run additional time off the clock or go for a touchdown with a massive 10-yard sack on 3rd and 7, which not only ended the drive but made Nick Folk's field goal attempt 10 yards more difficult.

Folk made that field goal, and it was other plays that eventually won the game for the Patriots, but that was certainly a big moment in the game defensively.

Rob Ninkovich: A

Rob Ninkovich has come up huge on many occasions for the Patriots already this season, but none bigger than he did against the Jets.

Ninkovich played most of his snaps at outside linebacker on Sunday, and he did an excellent job. Ninkovich was credited with a sack early in the fourth quarter when Jets quarterback Mark Sanchez had to slide for a 2-yard loss due to heavy pressure, but it was his role in the game-ending sack that earned him an A.

Jermaine Cunningham made the initial contact on Sanchez, wrapping up his legs, but Ninkovich finished the play. Ninkovich came in flying over the top to hit Sanchez, which not only took him to the ground, but also popped the ball loose. Ninkovich hopped over Sanchez to recover the fumble that he forced, and clinch an overtime victory for the Patriots.

By not only forcing the game-ending fumble, but recovering it, too, Ninkovich gave an absolutely outstanding effort, in an all-around solid game in which he had six total tackles.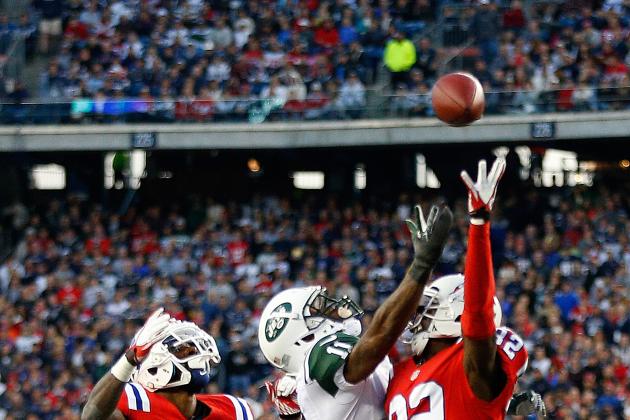 Jim Rogash/Getty Images
Kyle Arrington (24) and Devin McCourty (32)
Devin McCourty: B (on defense)

With both of the Patriots' starting safeties, Steve Gregory and Patrick Chung, out of this game due to injury, the Patriots called upon starting cornerback Devin McCourty to move inside to safety.

McCourty had a decent game in the defensive backfield, as he was not burned badly at all, but at times he hung back where he could have been in position to make a play, and in turn allowed completions he could have broken up. He had a good game tackling, finishing the game with five.

There is more to come on McCourty's game as a kickoff returner in the next slide.

Tavon Wilson: B

As the other starting safety, Tavon Wilson did not make any big plays in the secondary, but he was not at fault for any either. Wilson did have a solid game tackling, including one tremendous play where he quickly read a short pass to the left sideline to Shonn Greene, and took him down with an immediate open-field tackle to hold him to a 3-yard gain.

Kyle Arrington: C+

Kyle Arrington had a strong first half, including two terrific pass deflections in the second quarter. He had one serious issue, however, throughout this game, especially late in the game: he struggled mightily with defending Jeremy Kerley on out route.

Lining up against Kerley for most of the game, Arrington was consistently beaten on routes to the sideline, leaving Kerley open for consistent downfield gains. Kerley had 120 yards on seven receptions, and most of those came against Arrington.

Overall, even though Arrington made some strong coverage plays and seven tackles, his suspect coverage skills continued to outshine his positive contributions.

Alfonzo Dennard: C+

With Devin McCourty playing at safety, rookie Alfonzo Dennard moved into the starting lineup at cornerback. As McCourty is known for, Dennard had a similarly roller-coaster-like day: he made some great plays, but also some bad mistakes.

The big play of Dennard's day came in the second quarter. Dennard was playing up on what turned out to be a Mark Sanchez deep ball, but Dennard did a fantastic job of covering ground and tracking down an underthrown ball intended for Stephen Hill, and was able to high-point the pass for an interception.

Dennard was solid in coverage for much of the day, but had a very shaky fourth-quarter and overtime performance. He was beaten multiple times by Hill, leaving him wide open, while he was also called for holding and illegal contact penalties.

Dennard's gaffes did not cost the Patriots this game, in part due to a horrible 3rd and 4 drop by Hill on one play where he beat Dennard, but they could have.

Dennard gains grade points for his interception, but drops sharply for his late-game mistakes.

Ras-I Dowling: B-

Another young cornerback who made great plays but was also plagued by big mistakes was Ras-I Dowling.

Dowling made a very nice first-quarter pass breakup while working as the slot corner on a pass intended for Chaz Schilens, and he also forced an incompletion that held the Jets to a field goal on their long drive to open the third quarter.

On the other hand, Dowling was called for two defensive holding penalties, and had one badly missed tackle that led to a 15-yard play on what should have been a short gain for Dustin Keller.

Dowling made some great plays, but his grade is also hurt considerably by his mistakes.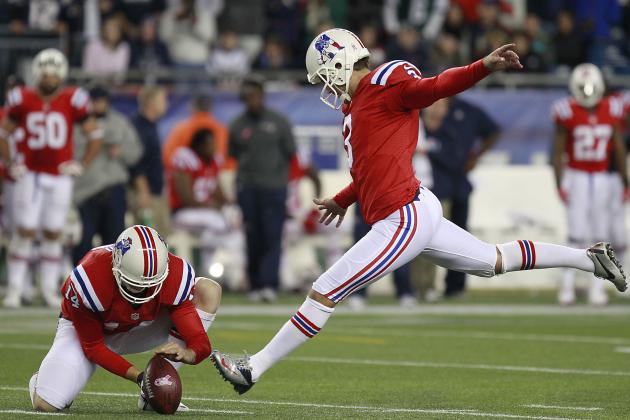 The Star-Ledger-US PRESSWIRE
Stephen Gostkowski
Stephen Gostkowski: A+

When Stephen Gostkowski was faced with the first game-changing kick of his career, a 42-yard kick against the Arizona Cardinals that had a win or a loss hanging on the balance, he missed wide left. When Gostkowski had two crucial field goal attempts against the Jets, he drilled both of them.

First, Gostkowski made a 43-yard field goal straight down the middle at the end of regulation to tie the game and send it to overtime. Then, in overtime, he drilled a 48-yard field goal from the right hash to give the Patriots the lead, and held up to be the game-winning score.

Gostkowski came up absolutely clutch when the Patriots needed him to be, and for that, he earns the best grade possible.

Zoltan Mesko: A

Zoltan Mesko has had some early struggles this season, but he was at his best on Sunday.

Out of six total punts, Mesko hit five of them within the 12-yard line, only one of which was returned from outside the 20, and his other punt traveled 53 yards.

Devin McCourty: B

In one game, Devin McCourty had the best possible and worst possible outcomes of a kickoff return both happen to him.

In the first quarter, McCourty gave the Patriots an immediate response to a Jets touchdown, by returning a kickoff out of the end zone, taking off up the left sideline and going all the way for a 104-yard touchdown.

In the fourth quarter, however, after the Jets had hit a game-tying field goal, McCourty made the ultimate mistakes when he fumbled the kickoff at the 15-yard line, setting the Jets up in prime position for a potential game-winning drive.

McCourty is lucky that his team was able to come back and win the game, or he would have been held up as a scapegoat. But with that said, his terrific kickoff return helped get the Patriots out to a strong start, and had he not gotten that return, who knows if the Patriots ever could have won this game.

His touchdown ought to be appreciated, and therefore he still grades out well even with his gaffe that nearly cost the Patriots the game.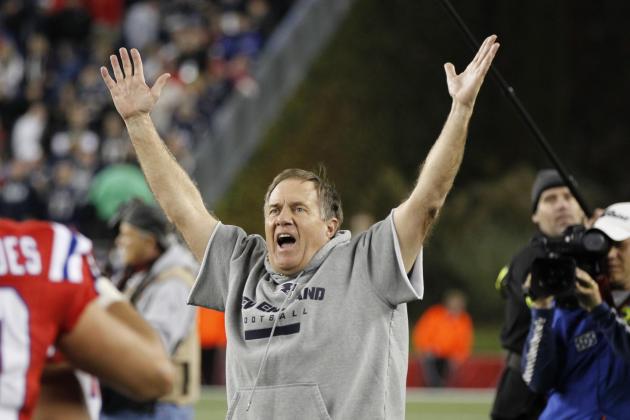 Greg M. Cooper-US PRESSWIRE
Bill Belichick
Coaching Staff: B-

For the second time in as many weeks, the Patriots suffered a brutal fourth-quarter collapse, this time blowing a 10-point lead, and were on the brink of losing another game to fall below .500 on the season. Josh McDaniels' offensive gameplan had failed to come through late in the game again, while Matt Patricia's defense had failed to make the necessary plays to preserve a lead.

But finally, on the brink of defeat, the coaching staff rallied their troops, and both the offense and defense made the big plays necessary to pull out a victory in overtime. It may not have been a pretty win, so the coaching grade is still fairly low for a win, but by bringing the team together, their grade gets a major boost.

Dan Hope is the New England Patriots game day correspondent and an NFL draft Featured Columnist for Bleacher Report. For more coverage of the Patriots, follow him on Twitter @Dan_Hope.