San Francisco 49ers: Grading the Week 7 Win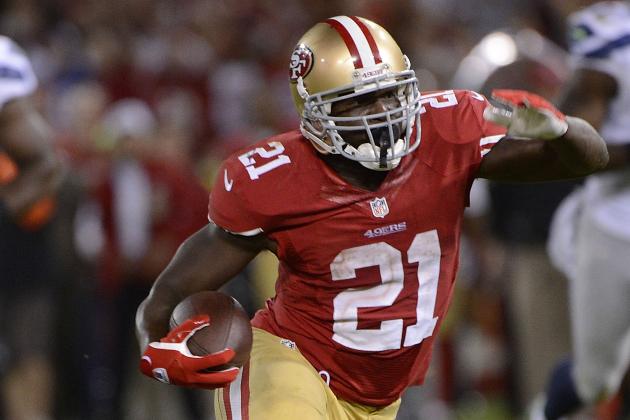 Thearon W. Henderson/Getty Images

The 49ers got a little head start on the rest of the NFL this week, playing in the featured Thursday Night Football game. They took on the division rival Seattle Seahawks in a battle of first-place teams with punishing defenses.
It was a cute try by the Seahawks, but the 49ers prevailed 13-6 in a game full of lots of handoffs and big defensive stops.
The play-calling was a bit conservative, but the 49ers needed to ease Alex Smith back in after the horrendous showing last week against the Giants. Luckily, the running game was up to its old tricks, busting through for big gains all night.
And the defense definitely came to play against Seattle, after being picked apart by New York. Here is how the Week 7 victory grades out.
Begin Slideshow

»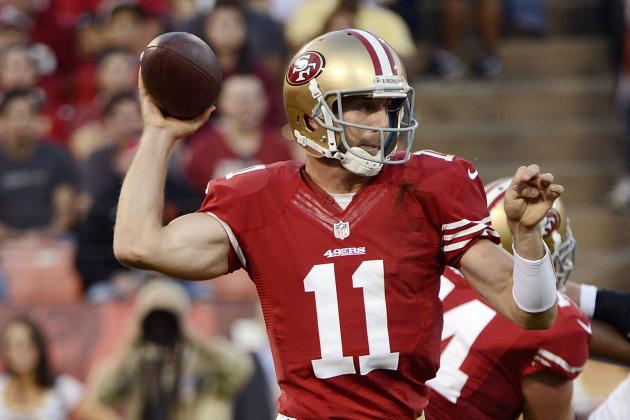 Thearon W. Henderson/Getty Images

Alex Smith looked a little tentative again against the Seahawks, but he made some nice throws when he needed to. For the most part, the game plan was to check down to Frank Gore.
Let's play Good, Bad and Ugly for Smith's performance against Seattle:
The Good:
Smith made a few huge throws to pick up first downs late in the game. He connected with Michael Crabtree and Randy Moss on third downs to continue drives. Also, he got Delanie Walker involved in the passing game a little bit, tossing the game's only touchdown pass to him.
The Bad:
He made two throws downfield early in the game that were intended for an open-enough Kyle Williams. One would have been a touchdown; one would have been close to a touchdown. In both instances, he turned Williams around and overthrew him by a couple yards. The deep ball is still lacking from Smith's game.
The Ugly:
Luckily, this didn't come back to hurt the 49ers, but Smith's decision to force a pass into the end zone on the run was nearly disastrous. It was picked off, but the 49ers got the ball back and bailed him out. If the Hawks had driven the length of the field and scored, Niner fans would have had Smith's head (again).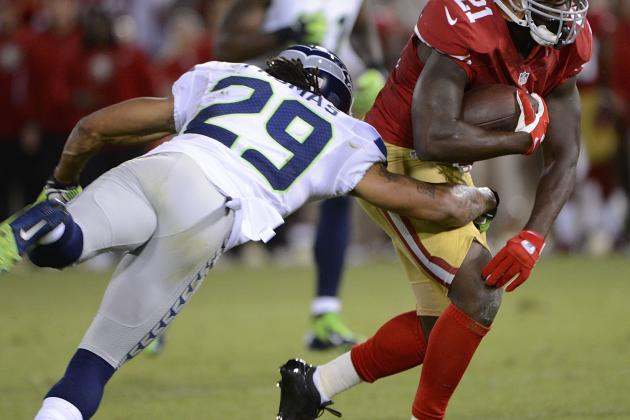 Thearon W. Henderson/Getty Images

The offensive line was fantastic in opening holes up the middle for Frank Gore and Kendall Hunter. The Niners slashed a run defense that had been nearly impenetrable this season for 175 yards on the ground, including 131 from Gore.
Our star running back averaged over eight yards per carry against the Seahawks and seemed unstoppable most of the night. I don't know what it is about playing Seattle, but Gore absolutely dominates them.
Unfortunately, Brandon Jacobs didn't get into the game, which I found surprising. I still want to see what the big, bruising back can do in the red zone. Also, more end-arounds to Kyle Williams, please!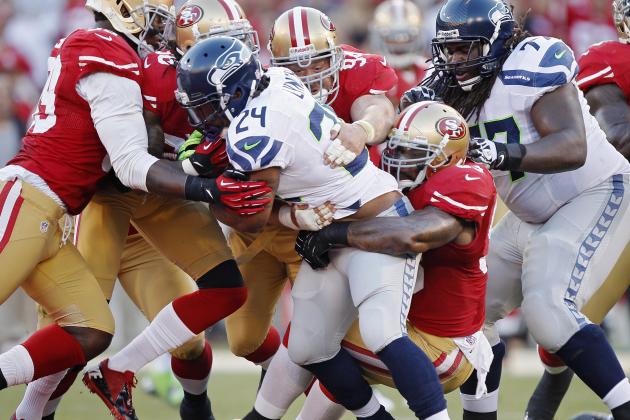 Brian Bahr/Getty Images

The usual suspects had big games against Seattle: Justin Smith, NaVorro Bowman and Patrick Willis each had seven tackles in the contest. Bowman also recorded a sack, and Willis defended two passes (one of which would have been a Braylon Edwards touchdown).
Aldon Smith recorded three tackles and a crucial sack on a late drive on which he made a fool of the offensive lineman. Altogether, it was a very impressive effort by this group of guys.
Unfortunately, I couldn't bring myself to give them an A. We hold this front seven to the highest of standards because they forced us to with their amazing play over the last couple seasons.
And the fact that Marshawn Lynch bowled his way to 103 yards for an average of nearly 5.5 yards per carry is a bit surprising. Sure, Lynch is one of the better runners in the league and arguably the hardest to bring down. That makes two straight home games in which the defense has allowed 100-yard rushers.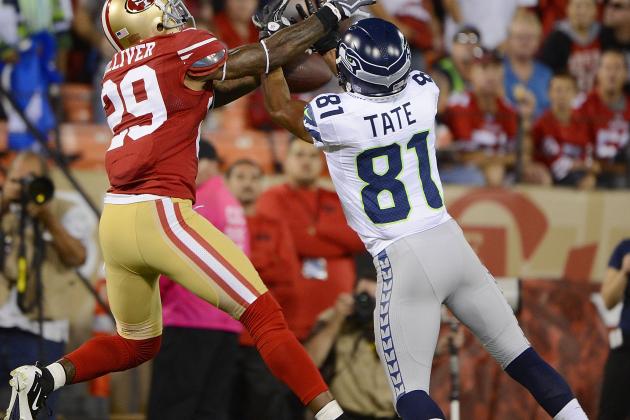 Thearon W. Henderson/Getty Images

What a game from the 49ers' young secondary. Though they were aided by a few dropped passes by Seahawks receivers, they still played a very good game in coverage. Russell Wilson hardly had openings to throw to, accounting for his 9-of-23, 122-yard, no-touchdown performance.
Dashon Goldson came up with a few big hits and a big pick on a bad pass from Wilson that completely shifted momentum in the fourth quarter. Goldson and Chris Culliver each knocked down two passes as well.
That being said, the 49ers did allow a few big pass plays of 25 or more yards, which is a scary thought, considering the opposing quarterback isn't the most complete. And if you include at least four dropped passes, there was potential for disaster there in the secondary.
They did what they had to do, caught a few breaks and played a major role in winning this game, so the secondary gets high marks.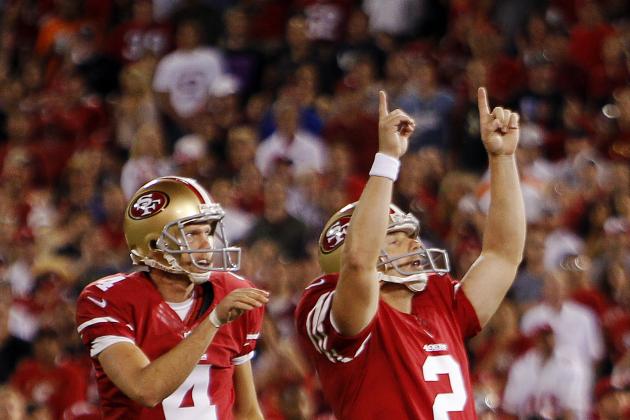 Brian Bahr/Getty Images

David Akers is back, folks! He nailed his only two field-goal attempts yesterday, allowing for a giant sigh of relief among 49er fans. Andy Lee was good too, though he was out-averaged by Jon Ryan of Seattle. Lee pinned four punts inside the 20, though.
The kickers did a good job of holding Leon Washington's returns in check with booming kicks both on punts and kickoffs. On the flip side, Ted Ginn Jr. almost broke a couple big ones. He gave the 49ers good field position and might be regaining that final explosive step we've been waiting for.
On coverage, the guys looked a lot better than last week, getting to and swarming Washington on punts. He misplayed one punt, and on two other returns, only managed a total of five yards.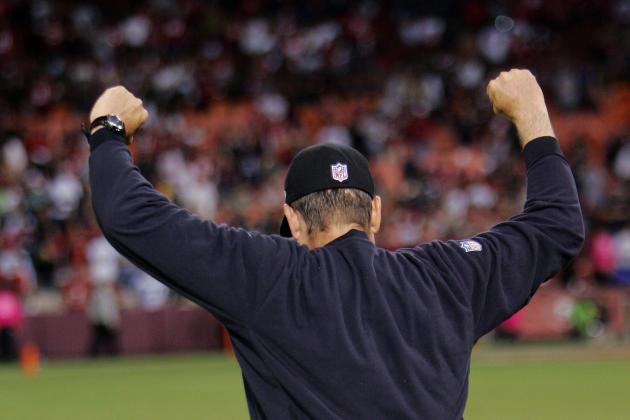 Brian Bahr/Getty Images

This was a tough, gritty, hard-fought game that showed Jim Harbaugh is the better of the two coaches (versus Pete Carroll). That improved his record to 3-0 against Carroll in the NFL, and it took a great game plan and some good challenges to get there.
Notoriously bad at challenges, Harbaugh won both of his on close plays that helped swing certain drives in the 49ers' favor. And whatever he said to Alex Smith after the debacle against New York certainly helped. While Smith wasn't at his best, he looked much more confident for most of the game.
The defensive strategy worked wonders, as Wilson was scrambling for his life on many passing plays. The only thing I question with the coaching was not letting Colin Kaepernick get more snaps—and not letting Jacobs have any.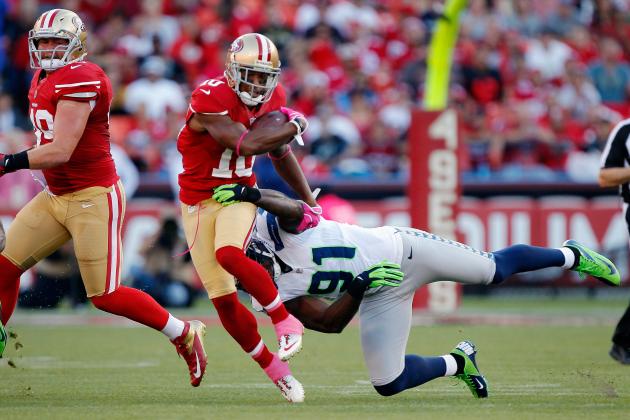 Brian Bahr/Getty Images

The defense looked great, and the special teams were fantastic. I think Harbaugh and company did a great job getting this team to have a short memory from the loss against the Giants just four days prior. Alex Smith looked a little shaky and threw an awful interception.
But the running game was punishing, as Gore had his best game of the year. The front seven, while allowing another 100-yard rusher, was effective in containing one of the best running backs in football. Plus, they got to Wilson and made the rookie get happy feet in the pocket.
The secondary had a great game, though they caught a few breaks when easily catchable balls hit hands, then turf. Akers returned to form with a couple easy field goals, and Ginn Jr. is one step away from breaking a big return.
All in all, it was a good effort, though some things will need to be improved upon before traveling to Arizona for the Monday night matchup next week. Here's to hoping we smack another division rival and claim the NFC West as our own.
Who's got it better than us?