Kansas State vs. West Virginia: Post-Game Grades and Analysis for Mountaineers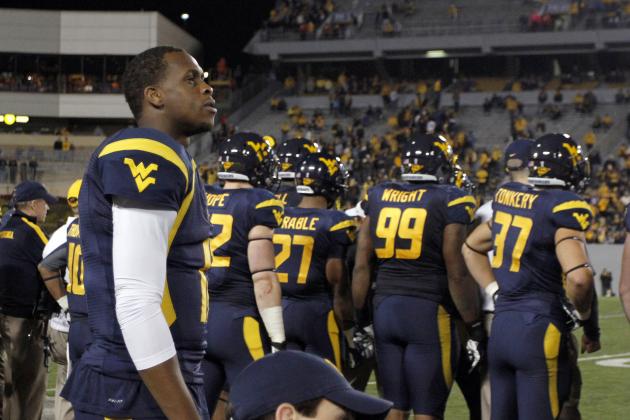 Justin K. Aller/Getty Images

Kansas State 55, West Virginia 14
The West Virginia offense was held in check for the second straight week. Last week, it was 408 total yards—just 243 Saturday. The 651 total yards during this two-game losing streak is less than 100 yards more than the five-game average to start the season (570.8).
The Mountaineers' defense has been historically bad. They are allowing 44.5 points per game against FBS schools.
Collin Klein accounted for all seven touchdowns Kansas State scored—three passing and more rushing. Changes to personnel may be in order, as may be changes to the coaching staff.
That will be a story line to watch over the coming days and weeks.
Begin Slideshow

»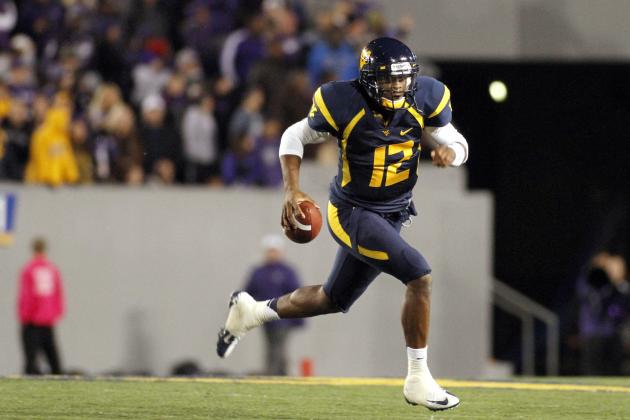 Justin K. Aller/Getty Images

It was a rough night for Geno Smith. He completed 21-of-32 passes, nearly 66 percent. But his 143 yards are the fewest since compiling 196 in the 2010 Champs Sports Bowl, a game West Virginia lost, 23-7, to the Russell Wilson-led North Carolina State Wolfpack.
The lone offensive touchdown WVU scored, a five-yard strike from Smith to receiver Tavon Austin, did not come until the 7:31-mark of the fourth quarter, when the game was already in hand.
Smith has thrown for 418 yards with two touchdowns and two interceptions over the past two games. That is a far cry from his 400-yard, four-touchdown single-game average over the first five games of 2012.
He dink-and-dunked his way through the game, often using his check-down targets less than five yards from the line of scrimmage.
It worked at times, but the big plays for which he is known were not there Saturday night. Check-down routes are there to use if receivers downfield are covered. Much of the game they were, but a handful of big plays were left on the field that his offense needed him to make.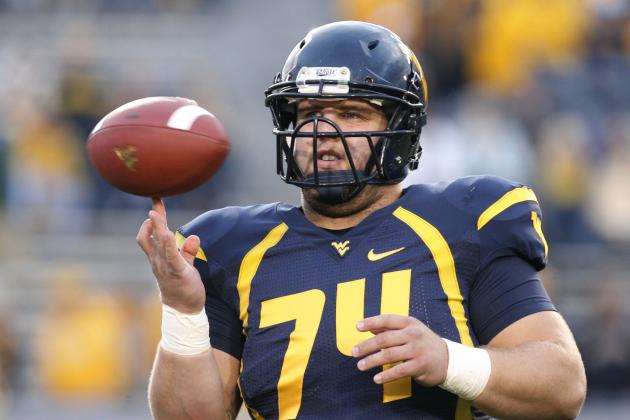 Charles LeClaire-US PRESSWIRE

The West Virginia offensive line allowed a season-high-tying four sacks to Kansas State. Smith was unable to set and throw with any kind of rhythm all night as he routinely had pressure in his face.
There was no run game of which to speak, mainly because the team was playing from behind all night. But the lack of running lanes was evident as well.
The speed of the Mountaineers was matched by the Wildcats defense; they could not set the edge with Andrew Buie or Dustin Garrison, and the big chunks of yards were not available until late in the game.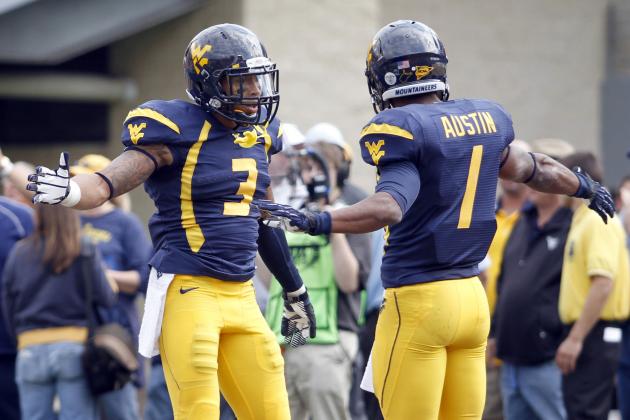 Justin K. Aller/Getty Images

Austin caught a late touchdown pass from Smith, but he had only 34 yards receiving on the night. Stedman Bailey mustered only 34 yards as well, and the two were both held under 100 yards receiving for the second consecutive game—the only two times this season neither has surpassed the century mark in receiving yards.
Senior J.D. Woods, the team's third-leading receiver, was held to just one catch for nine yards. Even he has had a 100-yard performance this season (13 receptions, 114 yards, 1 touchdown vs. Baylor).
Though Smith missed opportunities for big plays throughout the game, his receivers did not do enough to help him when needed.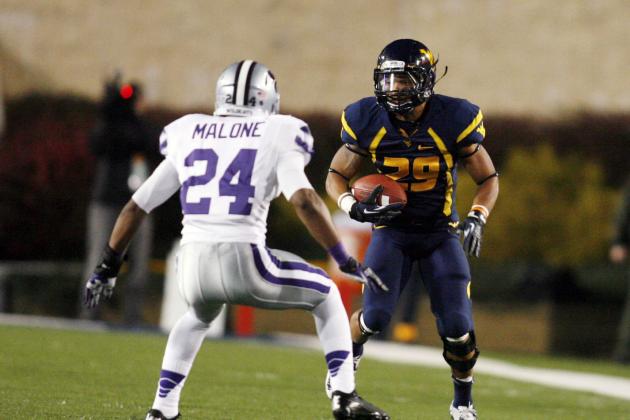 Charles LeClaire-US PRESSWIRE

Dustin Garrison was the team's leading rusher Saturday, carrying the ball nine times for 54 yards. Andrew Buie, the team's leading rusher with 504 yards and five touchdowns, carried the ball 11 times for only 49 yards in the loss.
Holes were routinely closed by the time either of the two got to them, but when they had opportunities to make defenders miss, they instead were stopped where they were contacted.
Yards after contact are the most important part of a running back's success. If a back cannot break tackles, the run game stalls. When the run game stalls, typically the entire offense stalls as well.
That is what we saw tonight. It was a team effort and everyone is to blame. Not breaking tackles is on Garrison and Buie.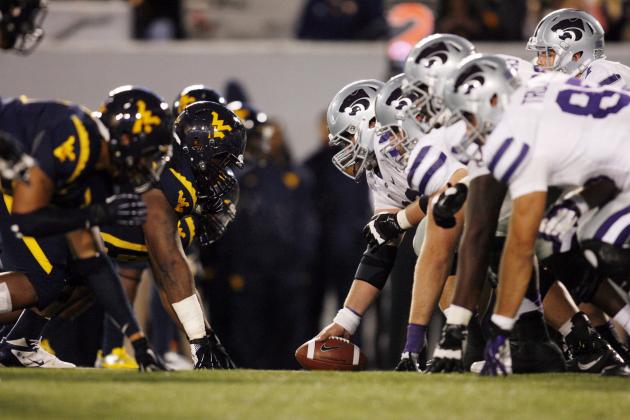 Charles LeClaire-US PRESSWIRE

The defensive line struggled against K-State all evening, unable to get any push to create pressure on Klein. They were blown off the ball by the Wildcats' offensive line, and they put up little fight against the run as well.
Junior running back John Hubert carried the ball 16 times for 52 yards, a 3.3 yards-per-carry average that will not jump off the page at you.
But KSU totaled 146 yards on the ground, including 41 yards and four touchdowns from Klein.
Klein, who accounted for all seven touchdowns, had his way because of the lack of penetration from guys like Shaq Rowell and redshirt freshman Kyle Rose (playing for an injured Will Clarke).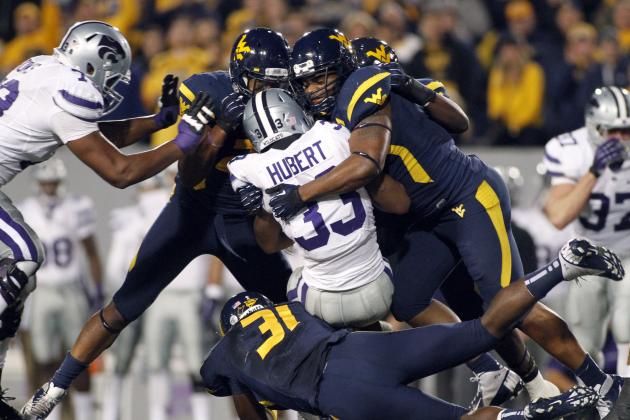 Justin K. Aller/Getty Images

WVU's linebacking corps was the best group on the defensive side of the ball Saturday. That is not to say they were spectacular, because they were far from it. But, they were average, and that is better than the two other tiers of players.
They made stops in the run game that otherwise would have been broken for big gains, and Isaiah Bruce—the team's leading tackler with 57 coming into the game—showed up all over the field, as usual.
But they missed key tackles on Klein that led to two of his rushing touchdowns. Missed tackles have been West Virginia's Achilles heel this season. It bit them again tonight.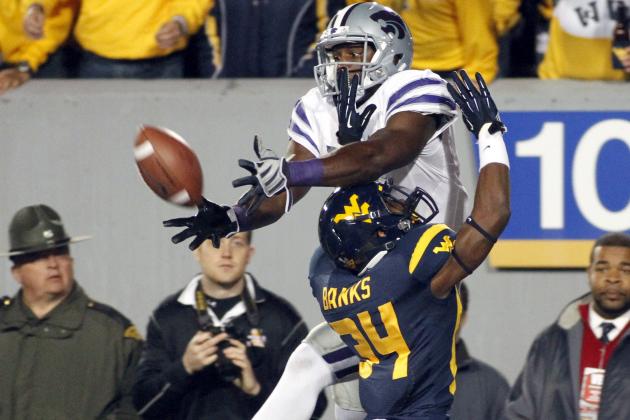 Justin K. Aller/Getty Images
Ishmael Banks interferes with a K-State receiver during the first quarter.
Tyler Lockett: Nine receptions, 194 yards, two touchdowns
Chris Harper: Six receptions, 96 yards, one touchdown
That is not getting the job done defensively. Any time your opponent's top two receivers go for 15 and 300 with three scores, you know you have issues on the back end.
The group was awful tonight, allowing big play after big play to the tandem of Lockett and Harper. Five of Lockett's receptions were for at least 20 yards, including two of 31 and 35, and another for 44 yards.
Safety Ishmael Banks was called for pass interference on a third down that would have held the Wildcats to a 42-yard field goal attempt but instead led to Lockett's first touchdown—a beautiful 10-yard strike from Klein to the back corner of the end zone.
There are major problems within the secondary, and it is apparent coach Dana Holgorsen is searching for the right key to unlock defensive success (but we will get to that in a minute).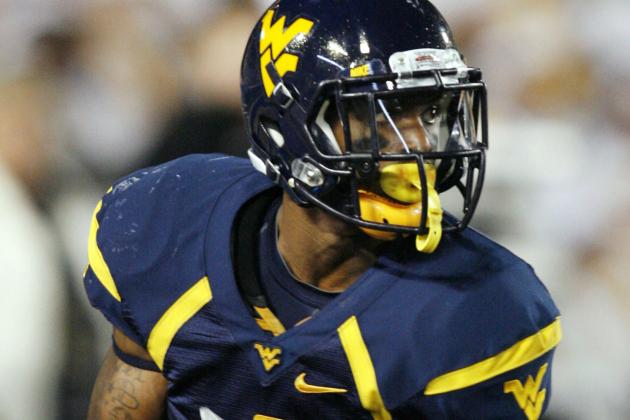 Charles LeClaire-US PRESSWIRE

An outstanding 100-yard kick return for touchdown from Tavon Austin highlighted an otherwise uneventful special-teams night for West Virginia. The return followed Klein's second rushing touchdown—third overall—and briefly put the Mountaineers back in the game at 24-7.
But the defense could not hold, and that was as close as they would come the rest of the night.
The kick coverage team allowed a long punt return when the offense was already backed up before the kick. Tyler Bitancurt got off a punt that was low and on a line. It was fielded by K-State return man Tramaine Thompson at the WVU 46-yard line, and he took it 30 yards to the 16.
It set up Klein's fourth-and-final rushing touchdown of the night, a 1-yard plunge that made it 38-7.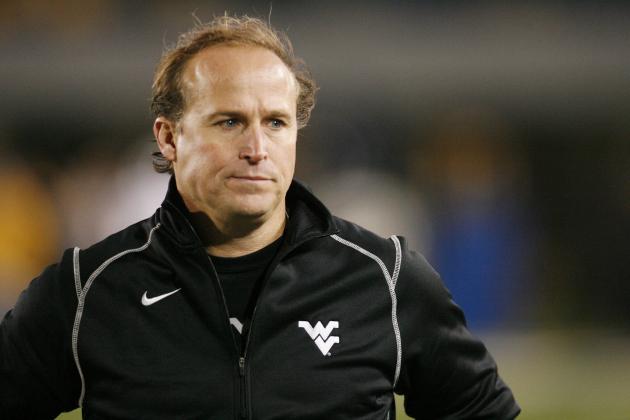 Charles LeClaire-US PRESSWIRE

Defensive coordinator Joe DeForest may not last long in Morgantown. His attack was weak. There was no pressure on Klein all night, and K-State receivers were wide open with regularity.
There is only so much he can do with the athletes he has been given, but he certainly is not helping his cause.
Offensively, Shannon Dawson was unable to create any of the big plays the fans have grown accustomed to seeing from the Smith-led offense. The Mountaineers' offense has scored three touchdowns over the past two games—once unthinkable after the start Smith and the offense had.
Coach Holgorsen told the media after the game they used "probably somewhere in the neighborhood of 30 players on defense."
He added:
That's what we've got and we're going to focus hard on it, especially with all of the young guys that we've got. On several different occasions, I saw eight or nine freshmen out there. Those guys will get better and we'll keep coaching them hard.
Searching for playmakers in the middle of a football season is not good. That is when you know you have a problem. The time to do that is during spring ball and during summer workouts. Now, all fans can do is wait with bated breath and hope for the best on a weekly basis.