Highlighting the Ways Aaron Rodgers Rediscovered Himself
Thomas Campbell-US PRESSWIRE
Aaron Rodgers was not himself to begin the 2012 NFL season.
But don't take it from me, the numbers don't lie: He started the year with three sub-95 QB-rating games—his first stretch like that since October 2010.
Yeah, he's set the bar rather high for himself, hasn't he?
Following the team's 1-2 start, however, Rodgers has rediscovered his ultra-confident style of play that features pinpoint lasers to wideouts down the sideline, teardrops to the corner of the end zone and rockets over linebackers and in front of safeties down the seam.
His stellar play against the New Orleans Saints and Indianapolis Colts culminated with arguably the most prolific and jaw-dropping effort of his NFL career—a 338-yard, six-touchdown, zero-interception masterpiece against the stout Texans defense in Houston en route to victory on Sunday Night Football in Week 6.
Let's highlight how Rodgers has found "himself" again.
First and foremost, the Green Bay offensive line has finally begun to gel into a cohesive unit. With new center Jeff Saturday taking the spot of Pro Bowl anchor Scott Wells, it's certainly been a process for the group to adequately protect Rodgers—especially on some of the team's longer-developing vertical routes.
As pointed out by Bleacher Report's NFL Lead Writer Aaron Nagler, against the Texans, three of Rodgers' touchdown passes came from absolutely clean pockets.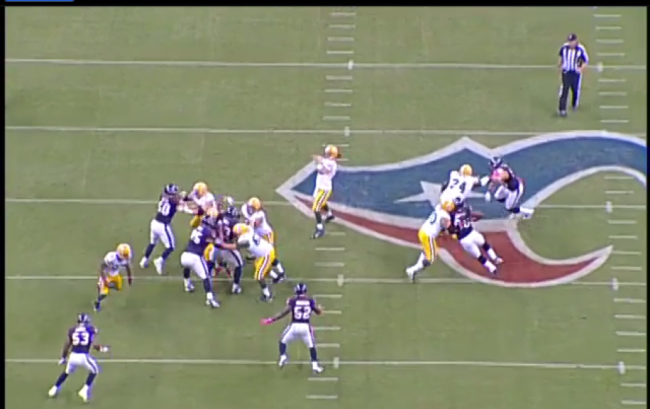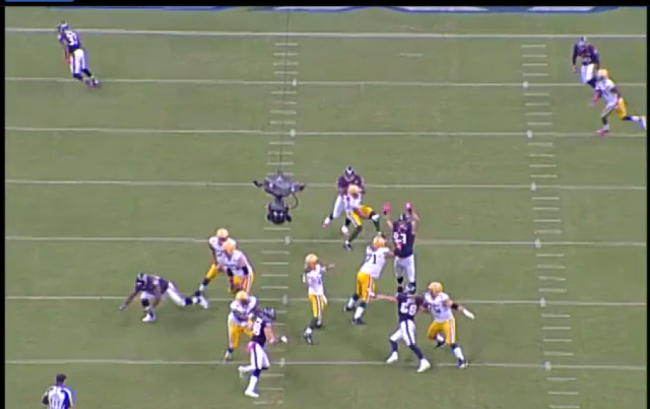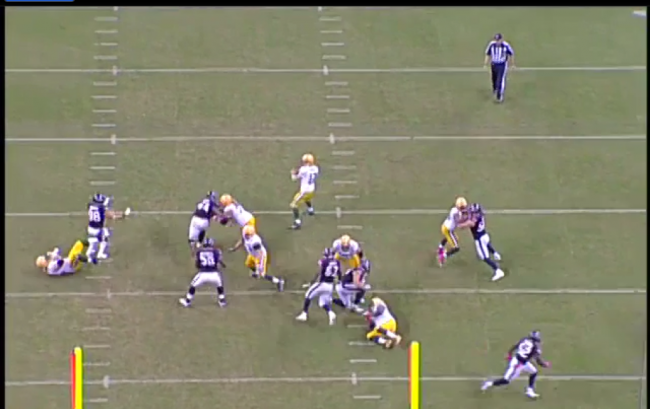 Typically, when the Packers quarterback gets that type of protection from his offensive line, the opposing defense is in major trouble.
Although he's deceptively athletic and can pick up yardage outside of the pocket on scrambles—obviously—Rodgers is far more deadly when he doesn't need to improvise with his feet.
He was sacked eight times in the first two games, and that seemed to shake his psyche. More importantly, the frequent offensive line breakdowns to start the year appeared to have gotten Rodgers and his pass-catchers out of sync.
Playing the San Francisco 49ers, Chicago Bears and Seattle Seahawks defenses to begin the season certainly didn't help either.
However, take a look at the protection provided on a nine-yard touchdown strike to Greg Jennings against the New Orleans Saints in Week 4.
Not only was Rodgers able to step into the pocket, but check the game clock. When the snapped ball reached his hands, there was 14:22 left in the second quarter.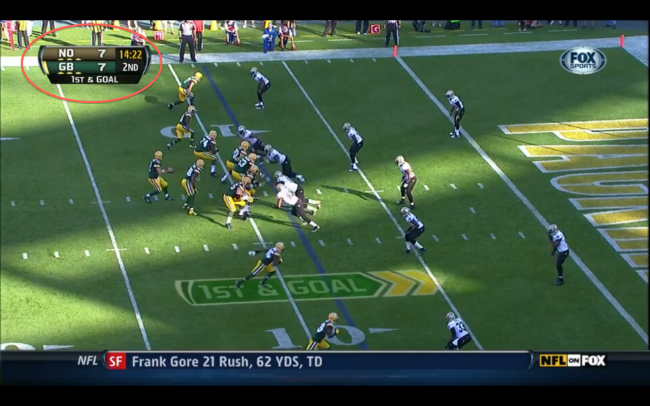 When it's released, 14:17 left—five seconds for Rodgers to look for a target in the end zone?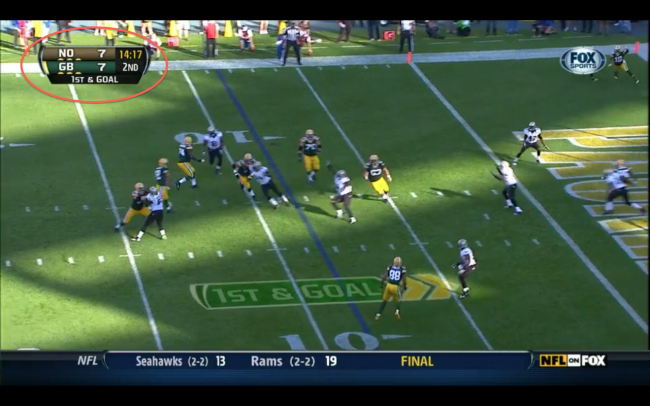 Way too much time.
Against the Indianapolis Colts the next week, again, Rodgers was able to reestablish the precise timing with his wideouts thanks to great protection from his offensive line in key moments.
On a 31-yard touchdown pass to the speedy Randall Cobb, Rodgers looked far more comfortable in a relatively clean pocket that was slowly collapsing around him.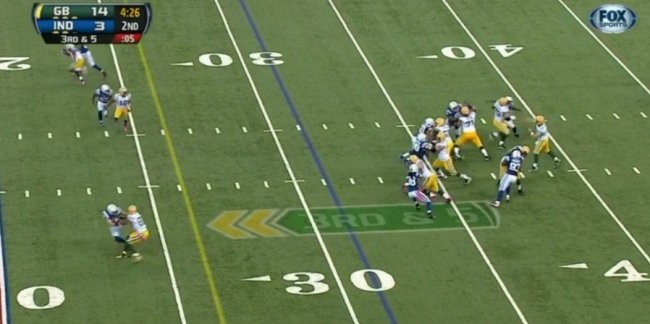 With his confidence seemingly back, he was able to deliver a bullet across the middle to Cobb, who actually was pretty well covered.
Touchdown.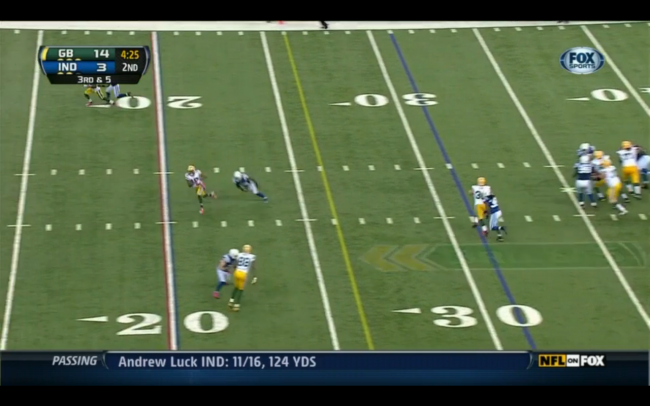 However, the offensive line failed him for much of the second half (sacked five times, one of which appeared to be Rodgers' fault), and the Packers lost.
Against Houston, the Green Bay vertical offense hit its 2011 stride.
With the likes of J.J. Watt, Connor Barwin and Brooks Reed lurking, as Nagler put it, the offensive line "played about as perfectly as you could ask." Because of that, though he was sacked twice by the ridiculously talented Watt, Rodgers was able to showcase his amazing ability to throw accurately on the run.
He no longer appeared totally flustered when pressure broke down.
Take a look at this first down pass to Cobb on 3rd-and-15 in the first quarter.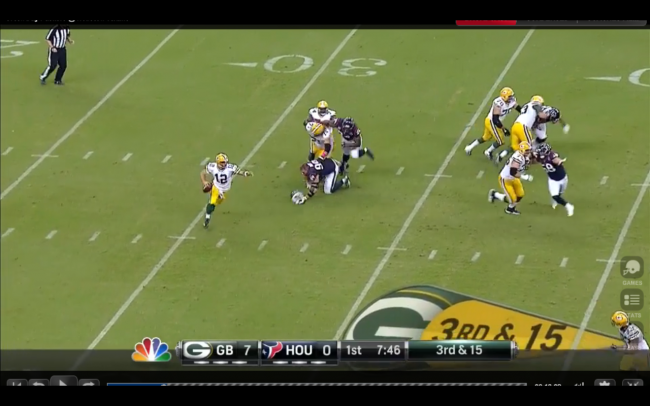 Rodgers vacated a pocket that was breaking down, directed Cobb to the sideline and zinged a rocket that hit his wideout between the numbers.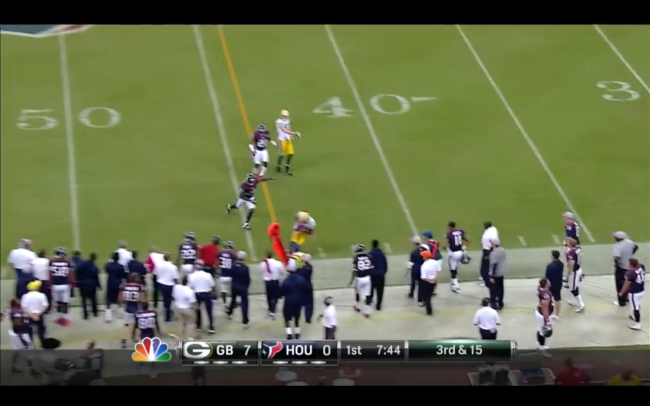 First down.
Later, when facing an outside blitz, he found tight end Tom Crabtree for a touchdown.
Rodgers isn't incapable of making plays with his feet. In fact, he's extremely dangerous when he leaves the pocket and looks downfield to improvising receivers.
He just needed to be reassured that he wouldn't be running for his life on every down.
This article is
What is the duplicate article?
Why is this article offensive?
Where is this article plagiarized from?
Why is this article poorly edited?