10 NBA Players Who Are Hidden-Stat Fantasy Gems
Harry How/Getty Images

Fantasy basketball superstars are superstars for a reason: They do a lot of things very well and have ample opportunities to show off their skills. Even so, there are players who are lesser-known but are highly productive fantasy players in their specialized stats.
They're not going to be top-70 picks in drafts, but they are the type of guys that can strengthen the foundation that the superstars contribute to your fantasy lineup.
Here are 10 such players.
Begin Slideshow

»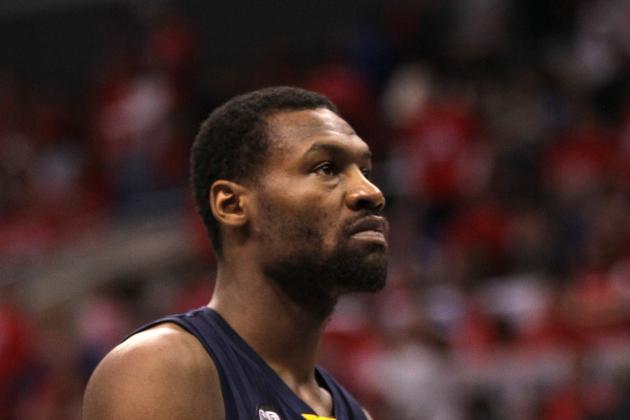 Stephen Dunn/Getty Images

Tony Allen is a defensive menace for the Memphis Grizzlies. The starting 2-guard doesn't contribute much to the offensive categories for the sake of fantasy basketball, but he doesn't hurt your percentages because he doesn't shoot threes.
Last season, Allen shot 46.9 percent from the field and 80.0 percent from the line. He averaged a career-high 26.3 minutes per game, which is sustainable as O.J. Mayo has left town.
Allen's best value for fantasy basketball is in the defensive categories. He averaged 1.8 steals and 0.6 blocks—which is high for a guard—per game last year.
Streeter Lecka/Getty Images

Second-year Bobcats big Bismack Biyombo will deal a blow to your free-throw percentage and won't help your team's field-goal percentage like a big guy should, but he can also win a category for you almost by himself at times.
This guy blocks shots.
After the All-Star break in his rookie year, he averaged 2.0 blocks and 7.1 rebounds per game in 29.2 minutes per contest. That was as a center for the Bobcats. He'll be coming into the season as the starting power forward for Charlotte.
Biyombo started just one game at forward for Charlotte last year. He grabbed 13 rebounds and blocked two shots in 33 minutes that game.
Look for him to take a step forward in his sophomore season while he continues to erase opponents' shots.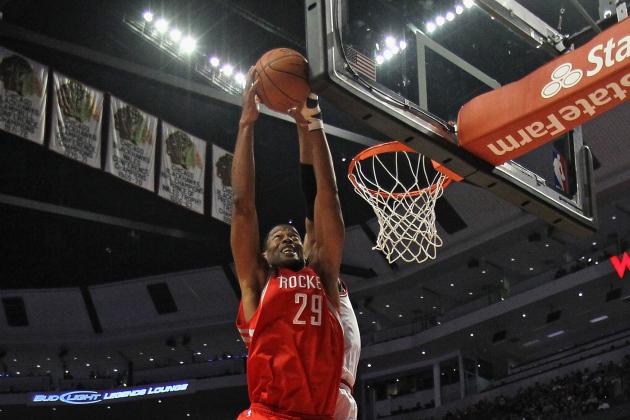 Jonathan Daniel/Getty Images

Marcus Camby has already cemented his NBA legacy as a feared shot-blocker and relentless rebounder. At 38 years old entering the season, that legacy doesn't figure to change.
Camby will be backing up Tyson Chandler in New York and probably won't see many minutes in relief duty, but he will stuff the stat sheet with nice per-minute rebounding and blocking numbers. He pulled down 9.2 boards and knocked away 1.5 shots per game last year in just 23.3 minutes.
Camby's upside is very limited, but he could see an uptick in minutes should injuries hit the Knicks' frontcourt.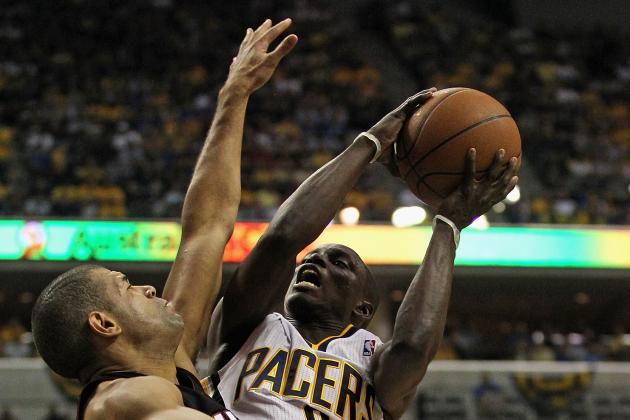 Jonathan Daniel/Getty Images

As a fantasy point guard, Darren Collison disappeared in Indiana after a great rookie season in New Orleans. He should be better this season in the Dallas Mavericks' veteran-laden rotation.
While star power forward Dirk Nowitzki sits out the early part of the season due to injury, Collison could be relied upon to score the ball along with O.J. Mayo. He's quick enough to beat guys off the dribble, resulting in a lot of high-percentage buckets when he's allowed to drive to the hole.
He's also a very capable free-throw shooter and could end up with eight assists per game in 2013.
Ezra Shaw/Getty Images

Jamal Crawford joins a crowded Clippers backcourt which includes Chris Paul and Chauncey Billups as the starting guards. Both starters have had recent injury concerns, which could free up more playing time for Crawford to play his game.
Crawford can play the 1 or the 2 and can create his own shot. That has led to a poor field-goal percentage throughout his career, but he makes up for it in fantasy basketball by getting to the free-throw line.
Last season, he knocked down 92.7 percent of his 3.4 shots per game.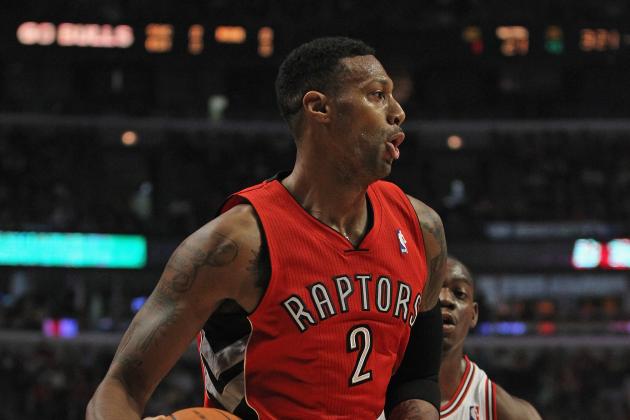 Jonathan Daniel/Getty Images

James Johnson will be playing for his third team at the start of this season after the Chicago Bulls drafted him in the first round in 2009. While there's been a lot of change for him throughout his career, there's one thing he has done consistently: get defensive stats.
Johnson averaged 1.4 blocks and 1.1 steals in 25.2 minutes for the Toronto Raptors last season. He'll likely be buried on the Kings' depth chart to start the year, but is worth keeping an eye on if he can find minutes in the Sacramento rotation.
Andre Miller isn't the Denver Nuggets point guard that you want to target at the beginning of your fantasy draft. This isn't 2005.
But after stints with the Philadelphia 76ers and Portland Trail Blazers, Miller returned to the Nuggets and backed up Ty Lawson effectively.
In 27.4 minutes per game (seven starts), Miller averaged 6.7 assists per night. That's more than sustainable—he's only failed to top six assists per game in two seasons.
One of those was his rookie year.
The 36-year-old is also incredibly dependable with regard to suiting up. He has missed one total game in the last five seasons: a result of a skirmish with Blake Griffin (video above).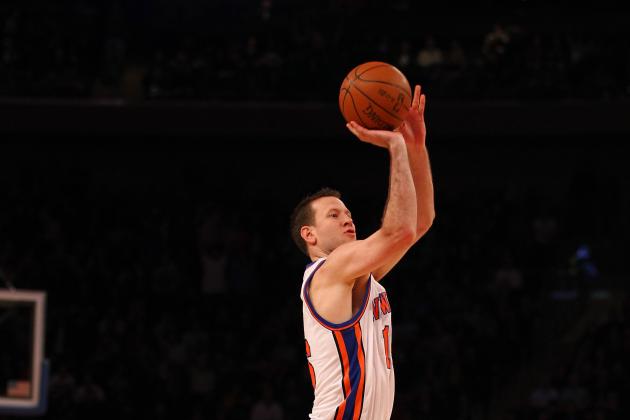 Al Bello/Getty Images

Steve Novak gets buckets.
He's a shooter in the purest sense of the word. He doesn't get boards, dimes, steals or swats at a particularly fantasy-relevant rate—but he will get you buckets.
Last season, Novak averaged 22.3 points and 6.3 threes made on 13.2 attempts per 48 minutes. The only problem is he played just 18.9 minutes per game. That's still enough for 8.8 points and 2.5 threes per contest.
He brings good percentages to the table as well. Novak should be able to shoot 45 to 48 percent from the floor along with a free-throw percentage in the mid-80s.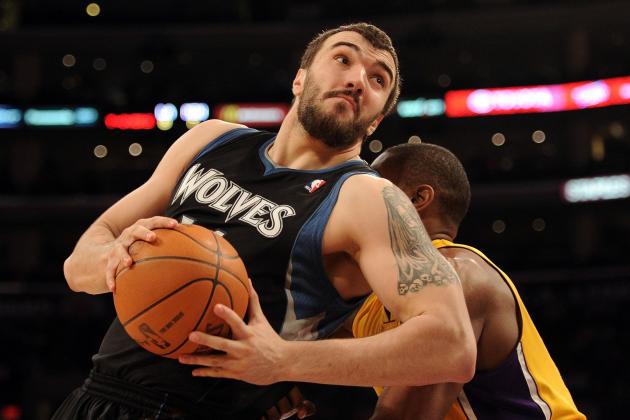 Harry How/Getty Images

Nikola Pekovic can be one of fantasy basketball's most sought-after centers during the early part of the season. Kevin Love will be out of the lineup for the first six to eight weeks, opening up some shot opportunities for the 6'11" center.
The third-year big guy started 35 games last season and averaged an efficient 54.7 percent from the field and more-than-acceptable 74.2 percent from the line. He added 8.5 boards and 0.8 blocks per game.
You won't be looking for him to swat away three shots per game, but Pekovic can produce good scoring numbers this season on fantastic fantasy percentages.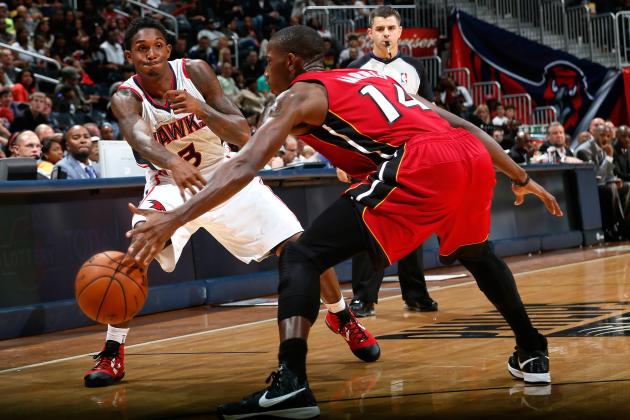 Kevin C. Cox/Getty Images

With the Philadelphia 76ers, Lou Williams proved that he's a legitimate scoring threat as the first man off the bench for an NBA team.
He couples a low field-goal percentage with a high free-throw clip like Jamal Crawford. He'll add a couple of rebounds, a few assists and maybe a steal per game for his fantasy owners. He is a low-turnover guy too, which is a boost to his overall efficiency.
You're looking mainly for scoring and a free-throw boost when you draft Williams, but he'll contribute enough assists and steals for you to care about those categories as well.