Predicting the Boston Red Sox's Lineup in 2 Years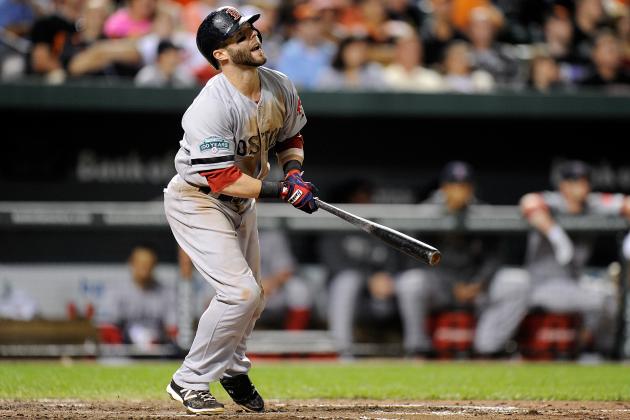 Greg Fiume/Getty Images
Dustin Pedroia still figures to be a key piece of the Sox lineup going forward.
Now that the 2012 season is in the rearview mirror, Boston Red Sox fans are looking ahead to 2013 with a guarded sense of optimism. While the team may not be a World Series contender, things certainly can't get any worse.
After 2013, though, is when things get very interesting. The Sox have a number of fascinating hitting prospects in their system, and by 2014 some of them may be ready to break into the everyday MLB lineup.
A 2014 Sox lineup projects as a unique combination of veteran producers and young talent. It has power, speed and several excellent defensive players as well.
While we obviously can't predict exactly how everything will happen, the lineup here could be that of a contender for a division title or, at the very least, a wild-card berth.
Here is the forecasted starting nine for the 2014 Boston Red Sox.
Begin Slideshow

»
Christian Petersen/Getty Images

The dynamic young outfielder will likely be making his debut as a full-time player and will be counted on at the top of the 2014 Sox lineup after the inevitable departure of Jacoby Ellsbury, either via trade or as a free agent after the 2013 season.
Bradley represents another player in the Ellsbury mold who could be a huge piece in the Sox lineup for years to come. Splitting the 2012 season between Single-A Greenville and Double-A Portland, he hit .315 with 24 steals and a .911 OPS.
As long as Bradley can continue that upward trend next season, his career trajectory looks like it could follow the same path as another big time contributor: Will Middlebrooks.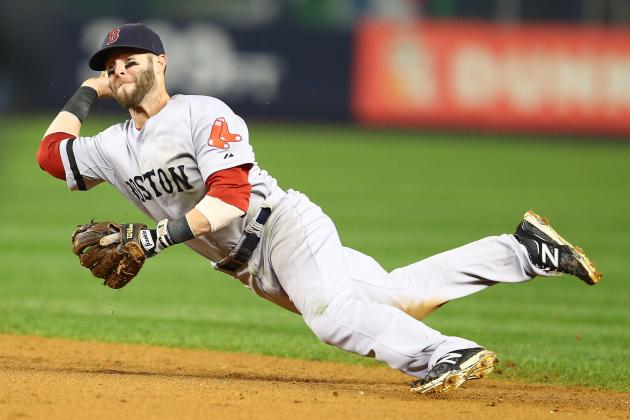 Al Bello/Getty Images

In 2014, Pedroia will be playing his eighth full MLB season with the Sox. A Gold Glover at second base and the 2008 AL MVP, Pedroia has been a model of success on the field.
Likewise, his energetic presence off the field will set a fine example for the many young players on the Sox roster. Making a modest $10 million given how talented he is, Pedroia also will be a of great value to the Sox in terms of payroll flexibility.
At just 30 years old for most of the season, the diminutive infielder will still have many good years in front of him in a Sox uniform.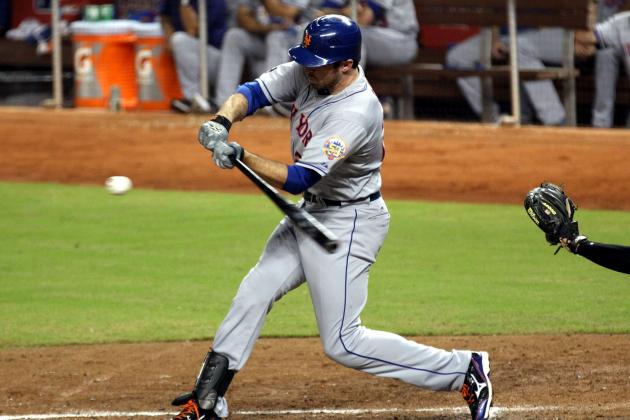 Marc Serota/Getty Images

At just 25 years old, Davis presents a rare opportunity at first base for the Sox. The Mets seem willing to make him available this offseason to make room for highly touted prospect Lucas Duda, and given his powerful bat and youth, Davis seems an ideal fit for Boston.
After hitting 32 home runs in 2012, Davis would give the Sox a young power bat they desperately need. As ESPN Boston's Jeremy Lundblad points out, though, Davis' home-road splits were a bit vexing, given how drastically better he performed outside of New York.
The Sox would likely have to surrender a key player (Jarrod Saltalamacchia?) to get Davis, but in doing so they would shore up first base for the long haul at a price much more reasonable than what they paid for Adrian Gonzalez.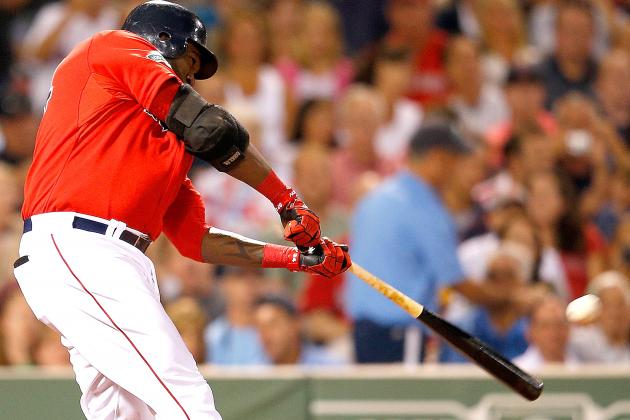 Jim Rogash/Getty Images

Anyone who thinks Big Papi won't be back is simply kidding themselves. Both sides want to make it happen, and according to ESPN Boston's Joe McDonald, contract talks have already begun.
While the exact dollar amount is unclear, Ortiz is a mortal lock to land a two-year deal in the $25 to $30 million range.
He has shown no signs of slowing down despite his advancing age, and it's fair to expect that even in year two of his deal he'll still be mashing the ball enough to stay in the heart of the Sox lineup.
As the longest-tenured player on a roster short on experience, Ortiz will be vital in mentoring the younger players and guiding them through the grind of a 162-game season.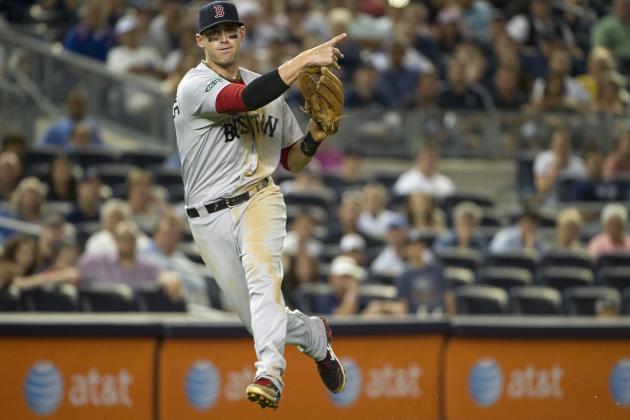 Christopher Pasatieri/Getty Images

After a stellar rookie effort that saw him supplant Kevin Youkilis as the everyday third baseman, Middlebrooks will have established himself as a dependable everyday big leaguer by 2014. The power he flashed this season (15 home runs, 14 doubles in 267 at-bats) offers promise for the future, as does his .835 OPS.
The Sox have lacked a steady right-handed power bat since Manny Ramirez left town, and while Middlebrooks likely will not approach Manny's numbers, he can still have a big impact on the lineup. His ability to hit the ball to the gaps and drive in runs will be huge for a young team looking for steady performers.
While he'll need to have improved his plate discipline (just 13 walks in 2012), the young third baseman will be a huge piece of this improved Sox team.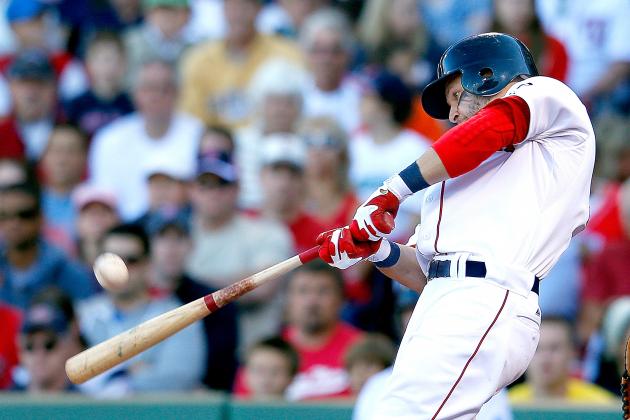 Jim Rogash/Getty Images

Ross will also almost certainly see his contract extended this offseason, and will be a veteran presence in the mold of Trot Nixon by 2014.
Ross' outstanding first season in Boston was a bit overlooked due to the team's futility on and off the field, but the versatile outfielder has proven to be one of the best decisions GM Ben Cherington has made. While Ross did strike out a lot (127), he also showed excellent power and a knack for the big moment in 2012, and in doing so endeared himself to the Fenway faithful.
Like Ortiz, Ross' veteran presence would be a huge boon for the young players on the Sox's roster. As someone who will be entering his ninth MLB season, Ross' pleasant demeanor and extensive experience will make him a valuable asset to a team that possesses significant potential.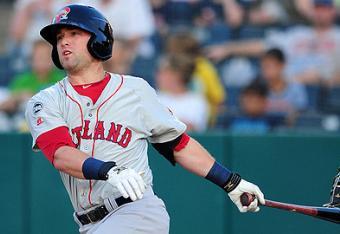 Like Bradley, Brentz figures to be a rookie making his debut as an everyday player on the 2014 Red Sox. He has zoomed through the Sox's minor league system, making it all the way up to Triple-A Pawtucket this past season after being drafted in the first round for the 2010 MLB draft.
After spending much of the season in Double-A Portland where he amassed a .296/17/76 stat line over 122 games, Brentz was summoned to Triple-A on August 30 and was a part of the PawSox's run to the International League Championship. In 2011, he showed his power potential by crushing a combined 30 home runs in 115 Single-A games.
While he needs to work on his plate discipline (136 strikeouts last year), Brentz has the ability to become a fixture in the Sox's lineup in the very near future. His stint in the 2012 Arizona Fall League should only help his development.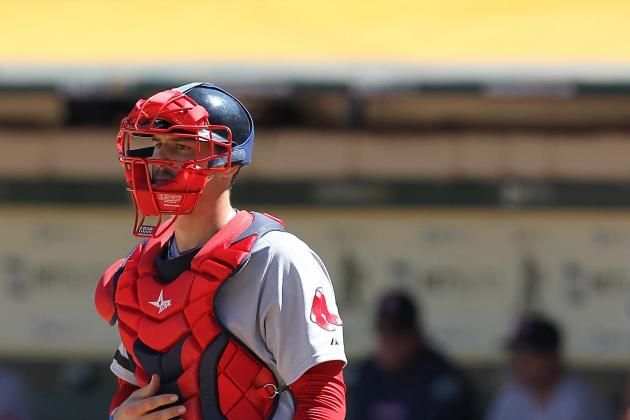 Tony Medina/Getty Images

Lavarnway struggled to close out the 2012 season, but the catcher showed significant improvement in his defense and enough success at the minor league level that it's reasonable to expect he'll be the "catcher of the future" in Boston rather than Jarrod Saltalamacchia.
The fact that Lavarnway won the International League's Best Defensive Catcher Award is a critically important factor in determining his longevity in Boston, since the Sox organization places particular emphasis on the preparedness of their backstops. With Jason Varitek now working in the front office, the organization is really driving this point home and will likely utilize the retired captain to assist Lavarnway as he develops into an everyday big leaguer.
Fortunately, the Sox will have enough offense in 2014 that Lavarnway's offense will not be the determining factor as to whether he stays in the lineup. While he does have some pop in his bat, the catcher can struggle with his consistency and must instead prove his worth by playing good defense.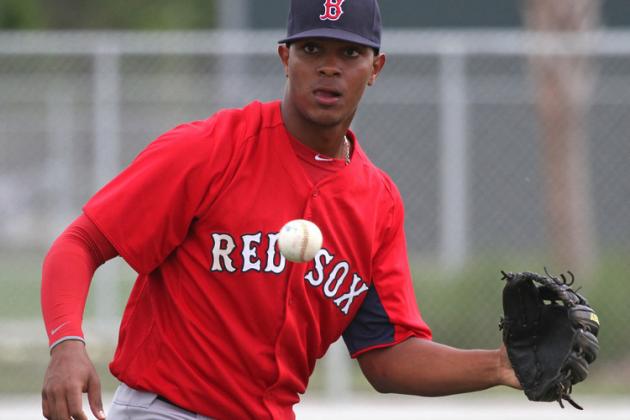 The big, powerful shortstop is the No. 1 prospect in the Sox's farm system according to SoxProspects.com, and it seems that he'll finally be ready for the show by the time 2014 rolls around.
While Bogaerts is not an elite-level shortstop, his ability to drive the ball more than compensates for his lack of range. While he may end up at third or in left field eventually, the Sox will want to get his potent bat in the lineup as quickly as possible.
In 2014 the Aruban-born Bogaerts will still be just 21 years old, giving the Sox a potential star in the mold of Hanley Ramirez for many years to come.