Connecticut vs. Syracuse: Live Scores, Analysis and Results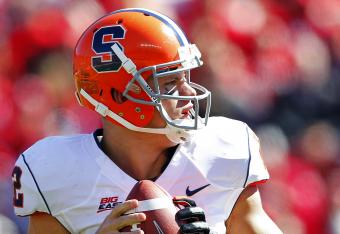 Rich Schultz/Getty Images
Syracuse 40, UConn 10 -- Final
After a slow and sluggish first quarter, Syracuse broke the game open in the second half and ran away with a 30-point victory.
The connection between Ryan Nassib and Alec Lemon were absolutely on fire tonight, accounting for 166 yards and a touchdown.
Syracuse running back Jerome Smith also had himself a game, rushing 19 times for 135 yards.
We watched the game live and provided live, in-game analysis throughout the evening.
Here's 10 things we learned from the game:
Game over. Syracuse dominates in a 40-10 win over UConn.
Nope. It's picked off by Syracuse. This game is all but over.
With a little less than two minutes left in the game, it looks like UConn may be able to salvage a garbage time touchdown. Not that it will do much...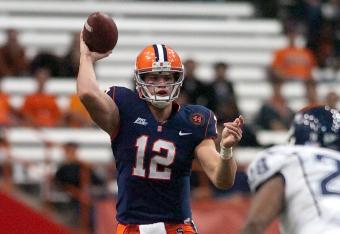 Ryan Nassib looks like he's done for the night. Put up an impressive overall game after a relatively weak first quarter: 14 of 20, 251 yards, two touchdowns, and zero picks. A solid game without any true mistakes is just what the Orange needed tonight.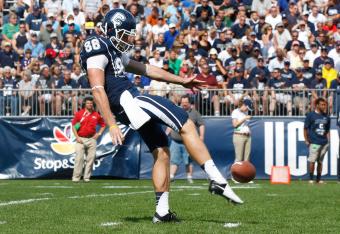 UConn has to punt it away yet again. That is the seventh time Huskies' booter Cole Wagner has had to kick it away to the Orange. Not good looks from the UConn offense and quarterback Chandler Whitmer.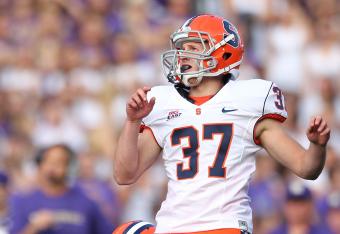 And another field goal by Syracuse's Krautman. 47-yarder makes it 40-10. Who thought the Orange were going to drop 40 (maybe more) tonight?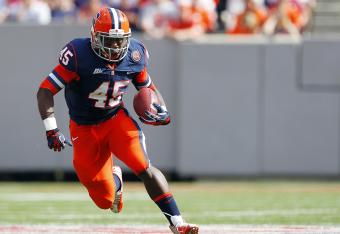 18 carries for 136 yards on the ground, resulting in a 7.6 yards per carry total...
Jerome Smith has reached 100-yd mark midway thru the 3rd qtr vs UConn, the 1st time a Syracuse player has rushed for 100+ yds this season.

— ESPN Stats & Info (@ESPNStatsInfo) October 20, 2012
While UConn falters on offense once again, let's marvel at the effectiveness of third down plays for the Orange.
The Syracuse offensive line has picked up the third down blitz, allowing the Orange's playmakers to do just that while converting 7 of 12 attempts.
On the other hand, Connecticut currently stands at 1-for-10 on third down. That alone will keep you from winning ball games.
You know it's become a blowout when the commentators start talking extensively about other games in the third quarter.
Can we call it a blowout yet? Another touchdown for Syracuse, making the score 37-10. That Nassib-Lemon connection has been insanely good tonight.
UConn had a scary moment right there. The Huskies desperately need a touchdown on this drive to remain relevant in this game.
There's plenty of time, but if they don't punch one in here it could get ugly quick.
Syracuse add three more. Ross Krautman nails a 42-yard field goal to give the Orange a 30-10 lead.
Good point there by ESPN commentator Rod Gilmore. Syracuse's offensive line has communicated well and handled any blitzes the Huskies have thrown at them.
The same can't be said about UConn's o-line...
Couldn't agree more...
The front 7 for Syracuse is incredible tonight. Harassing Whitmer on almost every play.

— Daily Orange Sports (@DOsports) October 20, 2012
Syracuse's front seven really came to play tonight. Again, they blow up a play in the backfield, dropping running back Lyle McCombs for a loss within the Huskies' 5-yard line.
The pressure is continuing to heat up, and if Whitmer isn't able to remain poised, the Huskies' offense doesn't have a great chance to come back.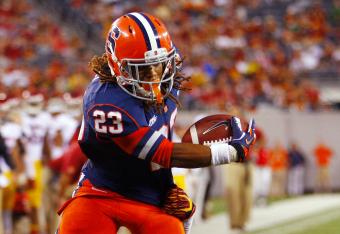 Touchdown Syracuse. The Nassib-Lemon connection sets up an easy 4-yard run for Prince-Tyson Gulley for the score. The Orange create some distance with that one as they're up 27-10.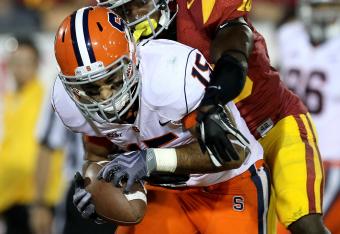 Alec Lemon with another huge catch. Nassib slings it to the outside to an open Lemon, who then cut it back across the middle of the field for a 69-yard reception (longest offensive play of the year for 'Cuse).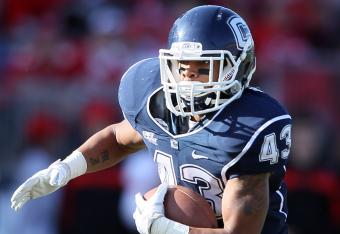 One key stat that really stands out is the ineffectiveness that UConn has had with running the football.
The team's top rusher, Lyle McCombs, has been held to nine yards rushing on nine attempts and the Huskies have been shut down to -25 rushing yards as a squad.
It's odd to see that UConn has more first downs than Syracuse considering the lack of a running game.
Then again, Syracuse's field position has limited the amount of yardage they've needed on scoring drives.
But on a serious note, Connecticut needs to shore up this defense if they want to win.
They haven't gotten much help considering the phenomenal field position the Orange have had. However, prior to this game they ranked 16th in country with only allowing 16 points per game.
The 20-point first half by Syracuse is the most points the Huskies have surrendered in a first half all year.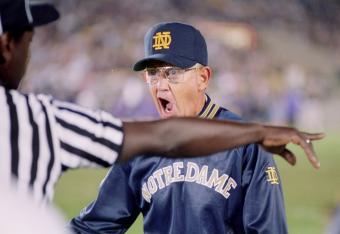 And with halftime, it's time to listen to the wisdom of Lou Holtz...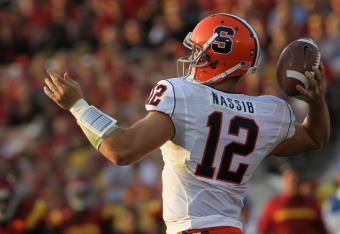 First Half Stats:
Ryan Nassib (Syracuse QB): 7-12, 104 yards, 1 touchdown
Jerome Smith (Syracuse RB): nine carries, 62 yards
Alec Lemon (Syracuse WR): four receptions, 72 yards (41 yard gain)
Chandler Whitmer (UConn QB): 14-23, 193 yards, 1 touchdown
Lyle McCombs (UConn RB): nine carries, nine yards
Touchdown Syracuse. Play-action roll out by Nassib finds tight end Beckett Wales for the score. 'Cuse takes a 10-point lead with just 1:19 left in the half.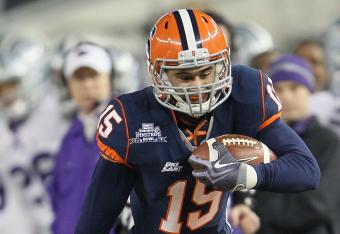 Just as I say that, a 40+ yard pitch-and-catch from Nassib to Alec Lemon sets up a 1st-and-goal from the 2-yard line.
Nassib and the Orange building a little momentum here with that dart.
With just under three minutes to go in the first half, Syracuse have it just beyond midfield going into Huskies territory.
With 'Cuse getting the ball to start the second half, the Orange would be in great position if they tacked on some points here before the half ended.
This article is
What is the duplicate article?
Why is this article offensive?
Where is this article plagiarized from?
Why is this article poorly edited?