The tough battle between Notre Dame and BYU will be decided by the contributions of a few key players.
After defeating three ranked teams in a span of four games, things get a little easier this week for the Fighting Irish. The Cougars have the No. 7 defense in the nation, but they have a 4-3 record and recently allowed 42 points to Oregon State.
Still, this should be quite a fight. Depending on how these players perform, the game is certainly up for grabs.
Everett Golson, Quarterback, Notre Dame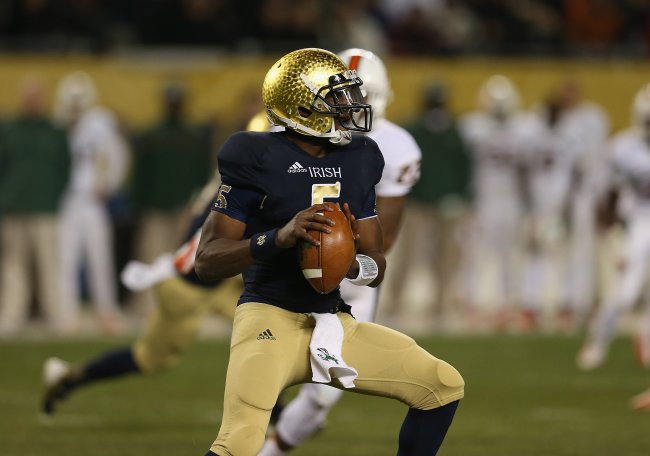 Jonathan Daniel/Getty Images
Golson already passed his first test of the week. He successful proved to doctors that he is over his concussion symptoms from a hit he took against Stanford.
Now he needs to prove to the coaching staff that he can consistently move the football against a good defense and not turn it over.
If he cannot do this, Tommy Rees will be waiting on the bench to take over like he has in three games already.
Kyle Van Noy, Linebacker, BYU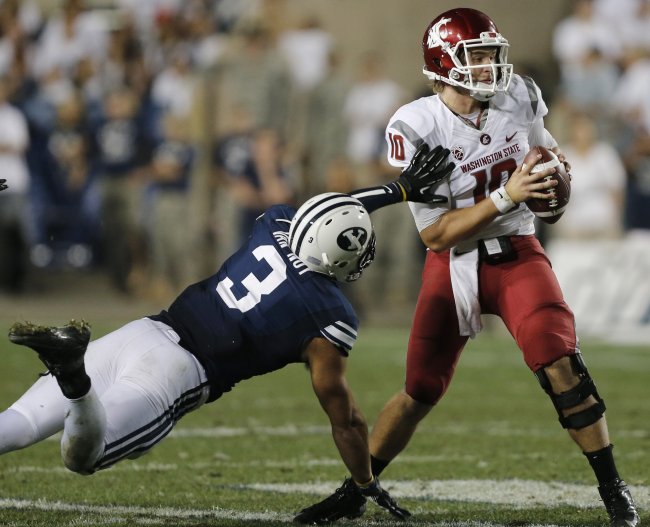 George Frey/Getty Images
A big reason BYU has been so successful defensively this season is its ability to get to the opposing quarterback. The Cougars have 22 sacks as a team, led by Kyle Van Noy with 7.5. This ranks sixth in the nation, only 1.5 behind Bowling Green's Chris Jones for the NCAA lead.
The junior was out most of last season, but still showed his impact with 11 tackles and two sacks in the Bell Helicopter Armed Forces Bowl against Tulsa.
Notre Dame has been susceptible to good pass rushes this season. If Van Noy can force Golson into mistakes early, it will give the team a chance to pull the upset.
Cierre Wood, Running Back, Notre Dame
Jonathan Daniel/Getty Images
Theo Riddick has gotten the majority of carries in the Notre Dame backfield this season, but Wood might be the most talented player the Irish have on that side of the ball.
He has averaged over five yards per carry in each of his four games this season, something that Riddick only accomplished once. Also, he has more consistency than boom-or-bust runner George Atkinson III.
If Notre Dame struggles to score with the starters in the backfield, coach Brian Kelly needs to make sure the ball gets into Wood's hands more often.
Riley Nelson, Quarterback, BYU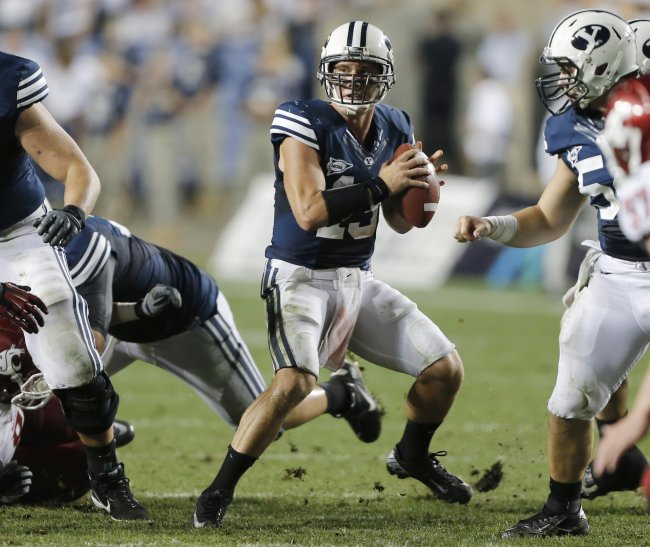 George Frey/Getty Images
The senior starting quarterback has not fared well as of late, losing his last three games. He threw three interceptions in a 7-6 loss to Boise State a few weeks ago and then threw three more in the loss to Oregon State last week.
Freshman quarterback Taysom Hill showed his ability to make things happen with his legs as well as his arm and has made much fewer mistakes when he is in the game.
If Nelson struggles early against this talented defense and turns the ball over, the job might turn over to Hill for good.
Manti Te'o, Linebacker, Notre Dame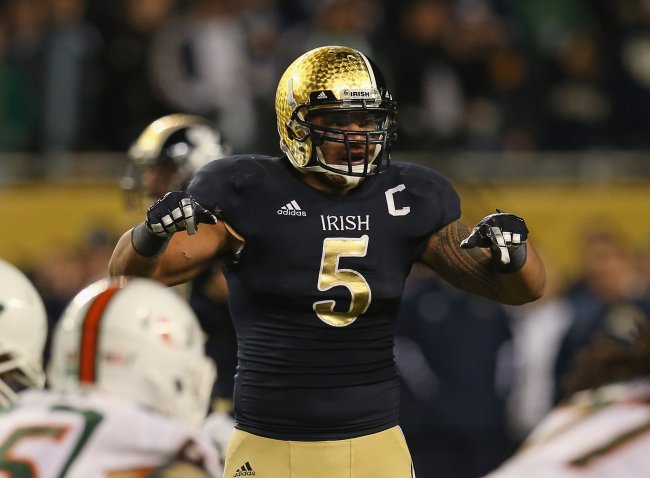 Jonathan Daniel/Getty Images
Through the course of the first half of the season, Te'o has transformed from talented linebacker on a good team to a Heisman candidate on one of the best defenses in the nation.
The senior has been all over the place for the Irish. He leads the team in tackles, has three interceptions and defends passes as well as a cornerback.
Te'o now needs to continue playing at his incredible level throughout the season if there is any chance for Notre Dame to run the table and finish with an undefeated record.
Cody Hoffman, Wide Receiver, BYU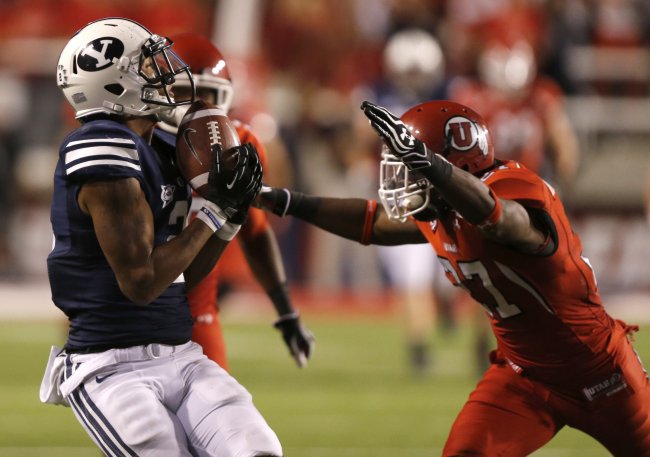 George Frey/Getty Images
Hoffman has been BYU's most dynamic player on offense this season. While he has only gotten into the end zone twice, his 534 receiving yards are twice as much as the next player on the team.
It will be difficult for any offensive player to have a solid performance against this standout defense, but Hoffman knows how to find gaps and get himself open. Whether Nelson or Hill is under center, the quarterback must find the junior throughout the game.
This might be the only chance the Cougars have to move the ball.