Heat Between the Rock & HBK, The Rock's Return and WM 29 Matches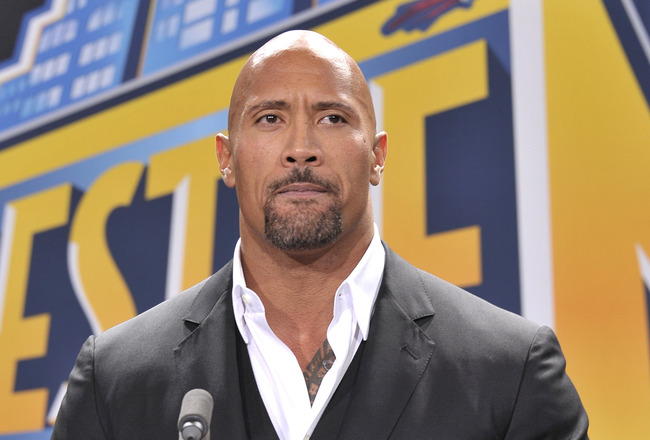 Michael N. Todaro/Getty Images
Every Friday I will open up the Twitter mail bag.
Throughout the week, send me your questions or thoughts that you would like me to comment on and I will do my best to get it on one of the upcoming installments of this mailbag on Bleacher Report.
Simply tweet me @JustinLaBar and put B/R at the end of the question so I know you would like it answered in this weekly feature!
Here we go!!
Is There Still Heat Between The Rock and Shawn Michaels?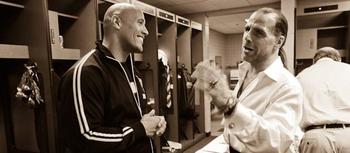 Photo courtesy of WWE.com
@PMX16 says:
@JustinLaBar how did hbk and rock heat begin and where is it now #B/R
My understanding of the heat between The Rock and Shawn Michaels is something that started when The Rock was a teenager. I believe Dave Meltzer of The Wrestling Observer Newsletter was on top of giving everyone a history lesson a long time ago on the route of these two legends' problems with each other.

The story goes that Michaels was rude in some fashion to The Rock's grandmother, who was the wife of wrestler Peter Maivia.

The animosity remained over the years. Bret Hart even noted in his autobiography that when The Rock came to WWE in 1996, Shawn Michaels, who was on top of the company at that time, politically tried to hold The Rock back.

As I recall a 2005 interview with WWE.com, The Rock made it clear he had no interest or regrets with never working with Shawn Michaels.

It seems the beef between the two was ended. Both older and more mature, they were shown in WWE pictures sharing a pleasant moment behind the scenes at the WWE Hall of Fame. Unconfirmed reports from anonymous sources say the two settled their issues with each other in 2008 when The Rock inducted his father and grandfather into the Hall of Fame.

Keep in mind, Shawn Michaels has admitted many times in interviews and his own book that he was a pain in the you-know-what to deal with for a lot of years. He had all the talent in the world but lacked maturity.

It seems both legends realize they will go down as two of the best ever and have established some type of respect with each other, which has put the past in the past.
Will The Rock Win the WWE Championship at Royal Rumble?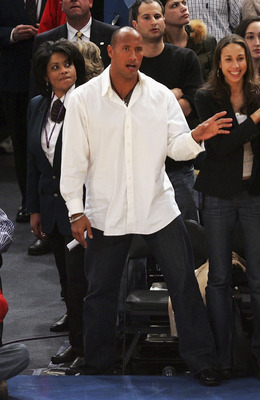 Jim McIsaac/Getty Images
I feel that is one plan WWE has had in place for a while that has much less chance of changing than any other idea.

I think WWE wants to make a big splash, and that splash is having a Hollywood leading man as the current world champion as it builds to its biggest event ever.

In terms of The Rock returning full time, I don't expect to see him working many matches as the champion. I could see him appearing regularly, but I don't think he will have a match on television each week the way we see CM Punk or Sheamus currently do.

It would be interesting to see if The Rock works dark matches at WWE events, both to help get attendance from those shows up to make them more profitable and allowing him to get some work in.

Last year, I heard he was working out with R-Truth and The Miz privately as he prepared for the Survivor Series 2011 tag match against them. I think this was done because of The Rock's busy schedule and he wanted to get loose in the ring.
If he has the time open in his schedule to commit to WWE, might as well have him get loose while making money off of him in front of the live crowd.

However, after WrestleMania 29, I do think he will disappear back to Hollywood.
Book WrestleMania 29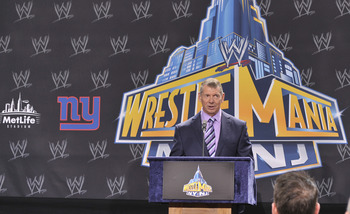 Michael N. Todaro/Getty Images
@ObnoxiousCJWebb says:
@JustinLaBar

, I'll be in jersey for Wrestlemania 29. Book the event for me. Be realistic with your choices please.

#B

/R
It's so far away, it is hard for me to do this. WWE will change its minds many times, so it makes it hard to have any real accuracy of what direction things will go.
I think we'll either get The Rock vs. John Cena vs. CM Punk for the WWE title while Brock Lesnar goes up against The Undertaker. Or I could see The Rock vs. John Cena again and CM Punk up against The Undertaker.

I don't want to think about Triple H vs. Brock Lesnar again because I don't feel the match needs to happen again at WrestleMania. Especially if you already have a sequel of The Rock and John Cena.

I think Sin Cara against Rey Mysterio is a must if both are healthy.

I think Wade Barrett will be involved in the World Heavyweight Championship match in some capacity.
Keep Reading