Fantasy Football: Start 'Em, Sit 'Em Week 7, Smart Plays You Must Make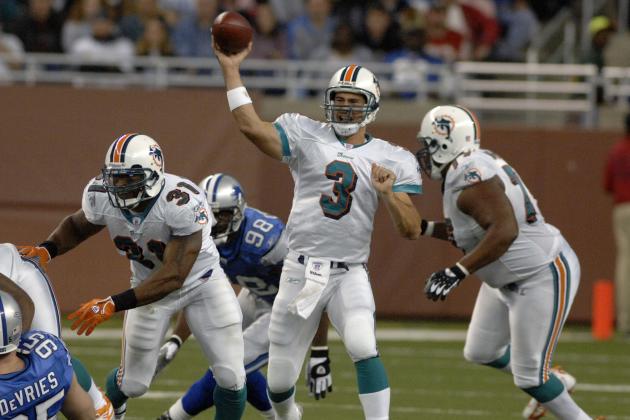 A. Messerschmidt/Getty Images

Fantasy predictions are like stock choices. It's always going to be more fun to make the risky play than the safe one. If you swagger around telling people you think this just might be a good week to start Aaron Rodgers, those people will laugh at you. And you will deserve it.
The brave stand is more interesting. It sparks debate. You will be wrong more often, but when you are right, you get to pat yourself on the back. I don't care how many times your hunches don't pan out; the ones that do are gloriously burned into your memory forever.
Watch: Following an injury to my fantasy starter Donovan McNabb, this was waiver-pickup Joey Harrington's stat line for the Dolphins (and my fantasy team) on Thanksgiving Day 2006:
19 of 29, 209 yards, 3 TD, 1 INT. 24 fantasy points in a win for the Las Vegas (Goshdarn) Animals.
So for the sake of argument, here are two brave sits and two brave starts for Week 7 of the NFL season.
Begin Slideshow

»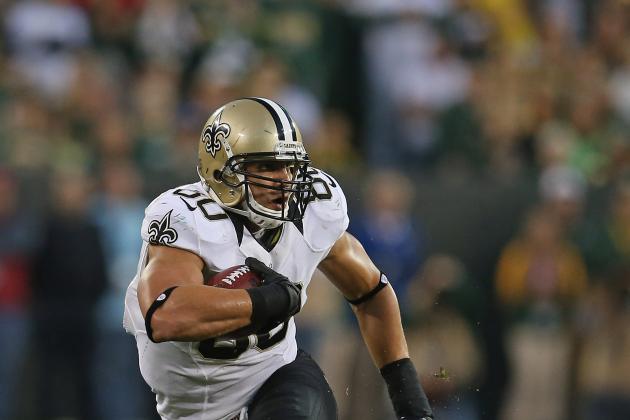 Jonathan Daniel/Getty Images

Jimmy Graham has been walking around in a soft cast/walking boot since spraining his ankle against San Diego.
I don't care about that.
Jimmy Graham caught 13 passes for 202 yards in two games against Tampa Bay last year.
That, I care about.
Don't overthink this. Graham is the best tight end in football. He's going to be a game-time decision. But if he is active for the Saints, he should be active for your fantasy team.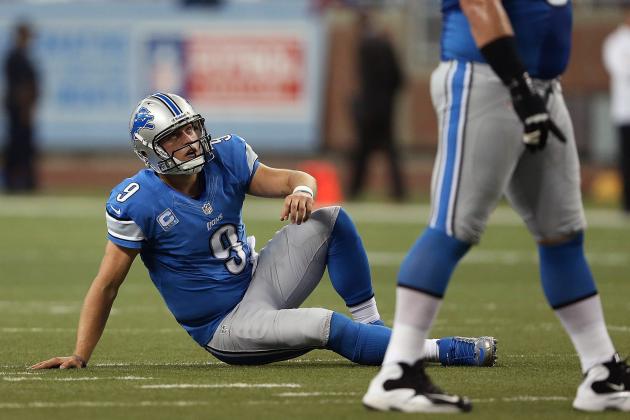 Leon Halip/Getty Images

Just about a year ago, the Bears were embarrassed, on both sides of the ball and on national television, by the Detroit Lions. They then turned around and crushed the Lions in Chicago a month later in a chippy game.
And these Bears are better than those Bears.
Chicago has the league's best rushing defense, and Detroit has the 23rd rushing offense. Normally you'd take this as a sign to start a team's QB, but Stafford has struggled much of this year and has struggled against Chicago throughout his career; plus Chicago is the league's best team in terms of fantasy points allowed to QBs.
This is a statement game for Chicago, and it would be no surprise to see Stafford finish with five sacks and three or four turnovers.
QBs ESPN rates below Stafford that I would start over Stafford this week: Jay Cutler, Carson Palmer and Matt Hasselbeck.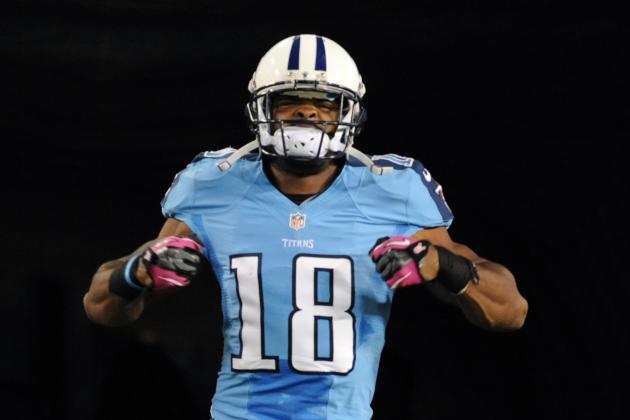 Al Messerschmidt/Getty Images

Kenny Britt's 2011 season—the magical Year Three for the talented WR—was lost to injury. Since returning, he has looked rusty and lost at times, but he has also shown flashes of the talent he displayed in the first three games of 2011.
Last week against Pittsburgh, he caught four balls for 62 yards and a touchdown from Matt Hasselbeck, and now he gets Buffalo's weak secondary in a game where the potential for the Titans to be playing catchup is very, very high
Britt is up to speed with Mike Munchak's offense and has recently proclaimed himself "95 percent'' healthy.
Prediction: This is the breakout week. A game in which he has 100 receiving yards and a touchdown is finally a reasonable expectation for the uber-talented but injury-prone wideout. If you think that's ambitious, remember, in the three games he played in 2011, he averaged 96 yards and a touchdown.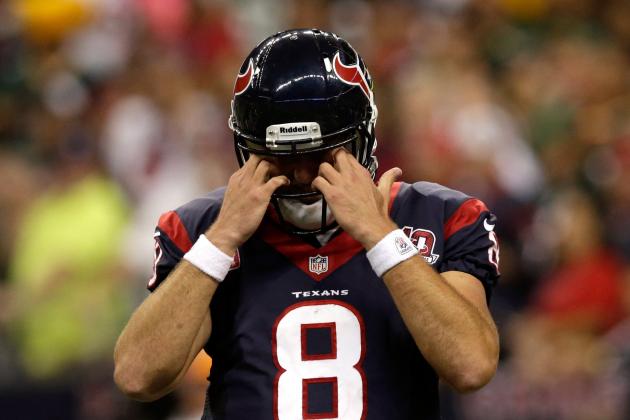 Scott Halleran/Getty Images

The Ravens' defense was already lousy before losing Lardarius Webb, Ray Lewis and maybe Ed Reed and Haloti Ngata. The Texans were embarrassed by Green Bay last week. Normally you'd start a QB in this situation.
But the Texans will be too busy running at will on the depleted Ravens for Matt Schaub to throw much. Baltimore was 28th against the run before the rash of injuries. Arian Foster and Ben Tate could see a hundred yards and a touchdown each.
That doesn't leave a lot for Schaub. It isn't even that hard to imagine a scenario in which T.J. Yates sees mop-up action.