Alabama vs. Tennessee: Breaking Down QB Battle of Tyler Bray vs. A.J. McCarron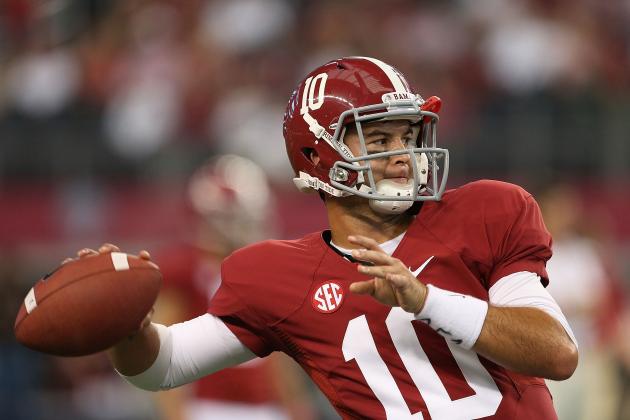 Leon Halip/Getty Images

The SEC isn't exactly known for great quarterback play, but the conference does have its fair share of success stories in 2012. Alabama quarterback A.J. McCarron is being considered a possible candidate for the Heisman Trophy, while Tennessee quarterback Tyler Bray is in the top 25 in the country in passing yards.
What is going on here?
Two of the top quarterbacks this conference has to offer will battle it out this weekend when the Crimson Tide travel to Knoxville, TN, to play the disappointing Tennessee Volunteers. Usually, defense and the running game decide contests in the SEC, but this one could come down to which quarterback makes the most throws.
With the game quickly approaching, let's break down these two SEC signal-callers.

Note: All stats come from CFBStats.com unless otherwise noted.
Begin Slideshow

»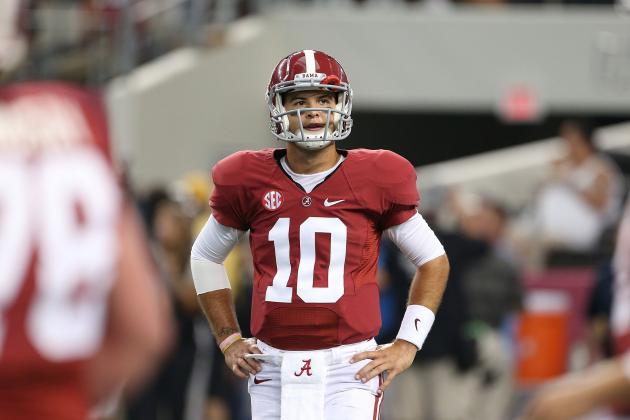 Leon Halip/Getty Images

Completion Percentage: 67.4
Passing Yards: 1,170

Passing Touchdowns: 12

Interceptions: 0
While Alabama is still a team that runs the football more than anything else, A.J. McCarron has been a better game manager this year than he was last season. He has improved his completion percentage from a year ago and, most importantly, has yet to throw an interception all season long.
His 132 pass attempts rank 10th among SEC quarterbacks, but his eight passing touchdowns and no turnovers in the red zone make him one of the more efficient quarterbacks there is. McCarron continues to grow up before our eyes and should be considered as a possible dark-horse Heisman candidate with a half season left to play.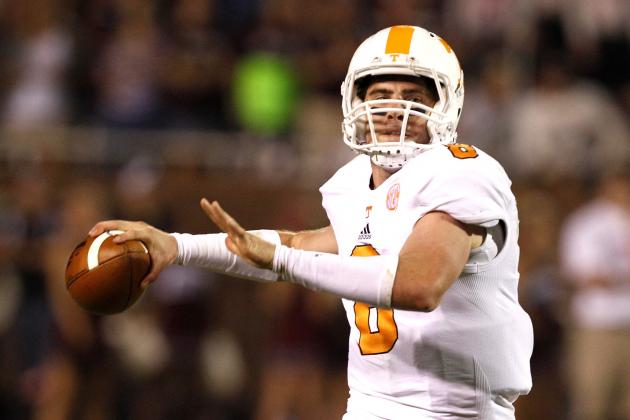 Butch Dill/Getty Images

Completion Percentage: 60.4
Passing Yards: 1,730

Passing Touchdowns: 16

Interceptions: 7
Tyler Bray is on pace to have his best season in Tennessee, as he is only two touchdowns shy of his career high (19) and only a couple hundred yards shy of topping last year's mark of 1,983.
Bray is currently second in the SEC in passing yards and has the most passing touchdowns of any other quarterback in the conference. Unfortunately, his seven interceptions rank at the bottom of the pack, as the junior quarterback has thrown at least one interception in four straight games.
On the bright side, though, he's thrown over 300 yards in three of the first six games and has at least two passing touchdowns in every game this season.
Pros: McCarron could certainly bulk up a bit more, but he nonetheless has terrific NFL size at 6'4", 210 pounds. He is capable of making nearly every throw on the football field and has shown a great amount of velocity as well. He throws a great deep ball and has improved his decision-making as he's picked up more experience.
He is a tough kid who has plenty of room to improve his game, considering he is only in his second year as a starter.
Cons: He isn't the most athletic quarterback in the world, and he does a bad job of moving around the pocket when he senses pressure. He tends to forget to keep his eyes downfield once he tries to avoid defenders and step up in the pocket. His footwork also isn't as polished as you would like it to be, which doesn't help with his accuracy at times.
Pros: The first thing you notice about Bray is that he has tons of arm strength and doesn't mind showing it off. He has oodles of confidence and believes he can make any throw, regardless of the coverage or where he is trying to place the ball. He sees the field well, doesn't let a bad play affect him and releases the ball very quickly.
Cons: With all of the confidence comes a lot of interceptions and bad decisions being made with the football. He also isn't the most accurate quarterback in the world, as this is the first season in which he's topped a 60 percent completion percentage. He also rarely takes snaps under center, which would concern me if I were an NFL team.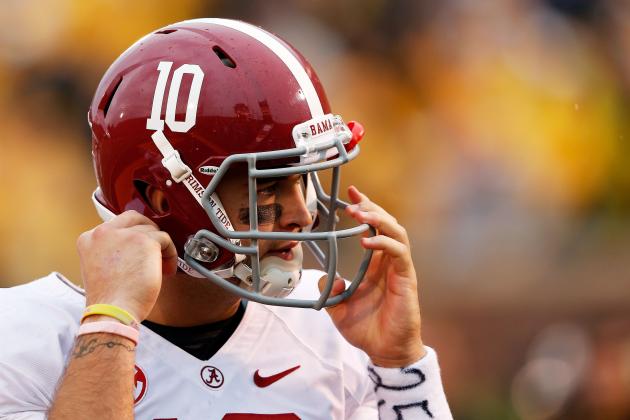 Jamie Squire/Getty Images

Tyler Bray throws the ball much more than A.J. McCarron, as the Alabama signal-caller has a more consistent running game to rely on. But McCarron makes better decisions with the football and isn't as careless with his decision-making as Bray is.
That's why I have to go with McCarron as the better quarterback.
While Alabama's star has yet to throw an interception all season, Bray has thrown seven. Tennessee is 1-4 over the last two seasons in games where he has thrown at least two interceptions, which simply isn't going to get the job done if you are trying to turn your program into a contender.
And while Bray may have athletic ability and a lot of raw talent that McCarron has not shown in his short career, ball security is pretty high on the list when searching for a reliable quarterback.
The Volunteers quarterback may get a much stronger look from the NFL than McCarron will due to his massive upside, but give me the quarterback that doesn't complete so many passes to the other team any day.