Big 12 Job Security: Who's on the Hotseat?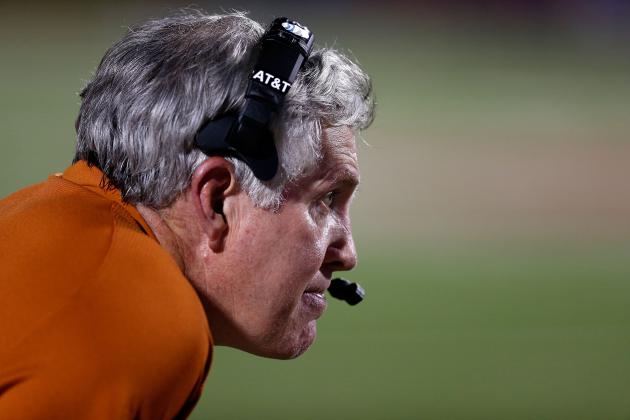 Scott Halleran/Getty Images

Halfway through the 2012 season we are starting to get a good picture of what teams in the Big 12 are made of.
Conference play, so far, has already made it obvious to everyone, newcomer or not, that you have to be ready to play every single week, or somebody will make you pay.
Today, we take a look at each Big 12 head coach, and their respective job security.
Who is getting the job done and who isn't?
Begin Slideshow

»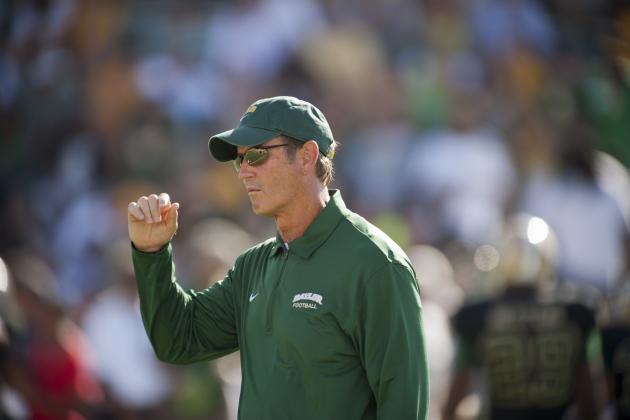 Cooper Neill/Getty Images

Job security level: High
No RGIII? Check.
No defense? Check.
Baylor is in trouble this year. Quarterback Nick Florence is solid enough, but he is no Robert Griffin III. He's not going to be able to carry the Bears every week while their defense struggles to stop anyone.
The problem? This is just the way Art Briles is. I won't go as far as to say he is indifferent to defense: He's not. Let's just say that he's an offensive-minded guy. Defensive coordinator Phil Bennett isn't doing him any favors.
That being said, Briles isn't going anywhere unless he gets hired away. Baylor is coming off a 10-win season that produced a Heisman trophy winner and the Bears' first bowl win since 1992.
Unless they have a losing season this year, which is very possible as Baylor is 0-2 after hitting the meat of their schedule, there will be no rumblings about replacing Briles in Waco.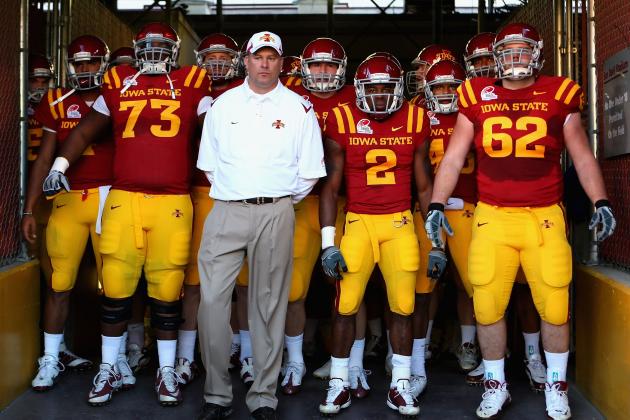 Christian Petersen/Getty Images

Job security level: High
Paul Rhoads is a fiery, likeable guy. He has endeared himself to the Cyclone nation since taking over prior to the 2009 season after Gene Chizik's departure.
Iowa State showed instant improvement under Rhoads' leadership, and despite two losing seasons in 2010 and 2011, the 'Clones seem to be on the verge of breaking out and becoming a player in this league. If they can improve their recruiting and develop a dependable offense in the next couple of years, look out Big 12.
The Cyclones are 4-2 on the year with two close losses to Texas Tech and Kansas State, and a solid road win in Fort Worth over TCU. Their remaining schedule doesn't get much easier, but they have a solid chance to finish with a respectable record and a bowl berth.
Rhoads' job in Ames, Iowa is solidly secure as long as Iowa State continues to improve under his tutelage.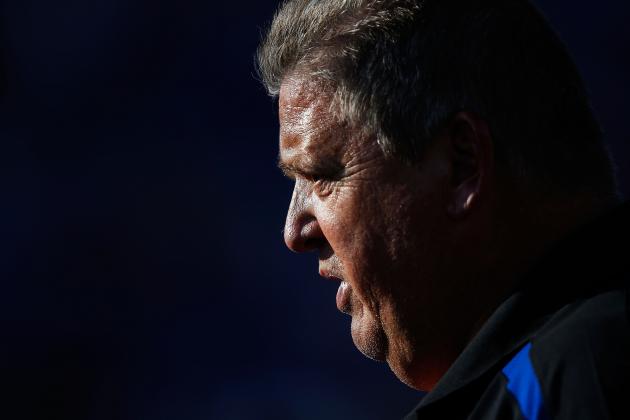 Jamie Squire/Getty Images

Job security level: Lukewarm

Normally, a coach that inherits a team that had won 10 games total in the previous three years would be able to consider his job pretty secure for at least a few years.
Charlie Weis' job security at Kansas is questionable and day-to-day for a couple of reasons:
1. The Jayhawks are showing no improvement under Weis this season. They are 1-5 so far on the season, and the odds are in the favor of them losing every single remaining game on their schedule unless they show some drastic, immediate improvement.
2. Weis has a history of alienating alumni and recruits. Hopefully, his experiences at Notre Dame have taught him some serious life lessons and he is taking a different approach in Lawrence.
That being said, Weis will probably get a pass for at least a couple of years to turn things around at Kansas. And he had better get it done, because if he doesn't, it's highly unlikely that he'll land another head coaching job in college football.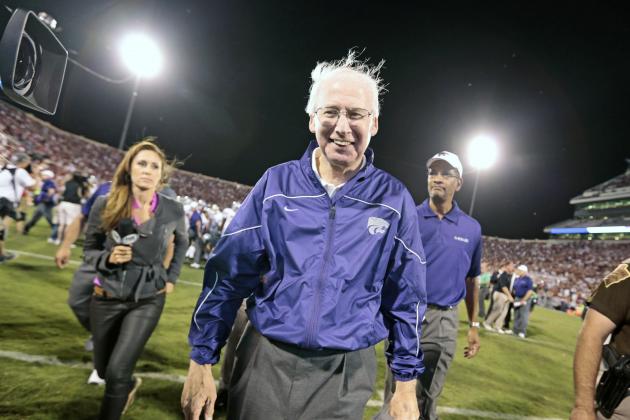 Brett Deering/Getty Images

Job security level: Adamantium
Is there any question to this one?
To turn around a program once is a remarkable feat. Kansas State was basically a cellar dweller when Snyder was hired prior to the 1989 season, and it took him only two seasons to turn the program around, and a few more years to turn the Wildcats into a perennial contender.
To retire, then return and turn the same program around a second time is nothing short of a miracle performed by the white wizard of Manhattan.
Bill Snyder's style may clash in contrast with the rest of the conference, but make no mistake about it: It gets the job done.
Snyder is free to coach Kansas State until the next coming (or at least until the 73-year-old coach decides to retire for good), as far as Wildcat fans are concerned, and why not? The Wildcats are not only relevant again, they are solid Big 12 and national title contenders.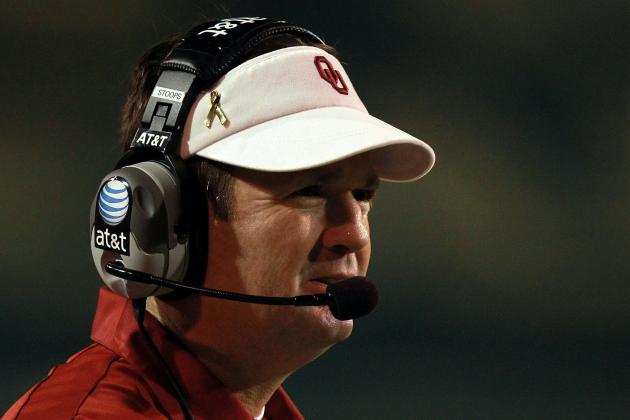 Ronald Martinez/Getty Images

Job security level: Iron-clad
Sooner fans were ready to run Stoops out of town wielding torches and pitchforks following their early home loss to Kansas State.
They couldn't be happier with him after last Saturday's steamrolling of the Longhorns in the 107th meeting of the Red River Rivalry.
Just another day in Norman; Oklahoma fans are as fickle as they come.
Make no mistake about it, Bob Stoops isn't going anywhere. The Sooners are looking to be a strong contender again this year despite stumbling early against a very good Kansas State team.
Stoops' tenure at Oklahoma has produced seven Big 12 titles and a national championship (albeit over a decade ago). That's good enough for just about anyone. Sooner fans would love to see another national title under their belts in the next few years, but otherwise, Stoops is as solid as they come.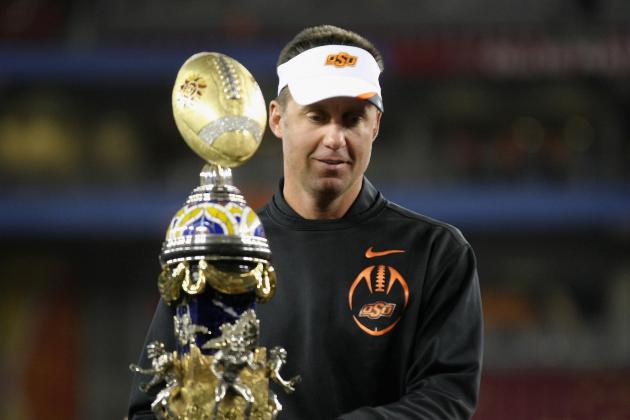 Donald Miralle/Getty Images

Job security level: High
The Oklahoma State Cowboys are a bit of an enigma this season. On the field, they haven't really produced much, and have arguably the toughest remaining schedule of anyone in the Big 12 conference.
Six, count 'em, six BCS top 25 teams are lying in wait for the Cowboys in the remaining weeks of conference play. That number is likely to change after Saturday, but it's still quite staggering.
Still, every time the Cowboys hit the field, there is always that thought in the back of your mind that this team is capable of running over anyone they play on any given Saturday. They have some issues to shore up, but there's still plenty of time to improve.
Despite the way this season may turn out for the 'Pokes, Mike Gundy can sit comfortably in Stillwater so long as the team doesn't have a massive collapse in the next few years.
Oklahoma State is coming off a 12-1 season and a Fiesta Bowl victory, and were a double overtime loss to Iowa State away from a likely national championship berth. Gundy is sitting pretty, despite having what looks like a rebuilding season in front of him.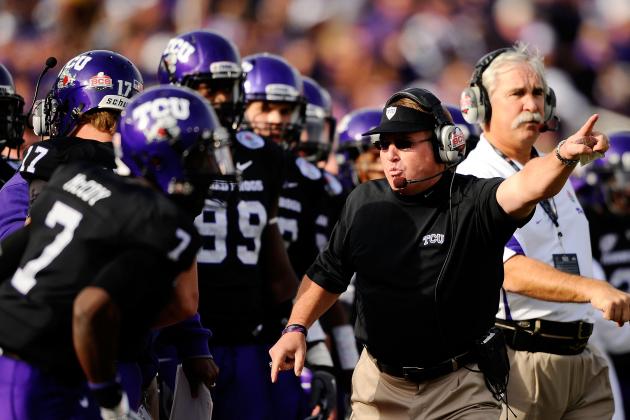 Kevork Djansezian/Getty Images

Job security level: Bullet proof (almost)

Gary Patterson has done a remarkable job at TCU. Yes, they played in mid-major conferences for years, but there is no question about his success in Fort Worth.
Don't believe me? Check out these accolades:
1. In the past decade, there have been only two seasons in which both final AP and Coaches polls have not featured the Horned Frogs (2004 & 2007).
2. Patterson's tenure has produced five conference titles (1 Conference USA & 4 Mountain West)
3. In the 2010 season, TCU probably deserved to play in the national title game, and proved it by taking out Wisconsin in the 2011 Rose Bowl, capping off an undefeated season.
Now, TCU is precisely where it wants to be: In a major conference and ready to prove itself.
The only major issues facing Patterson at TCU are all the off-the-field troubles they've had in the past several years, most recently with Casey Pachall.
Patterson is, for the time being, the perfect fit for TCU. Their schedule gets very tough from here on out, and this is his chance to prove his Horned Frogs belong in the Big 12.
Tom Pennington/Getty Images

Job security level: THE HOTSEAT (sort of)

There is a lot of turmoil in Austin, Texas this week.
Last Saturday's Red River Rivalry was a living nightmare for Longhorn coaches, players and fans. The Sooners made it look incredibly easy against a team that was supposed to have the conference's best defense and an offense that had looked impressive early in the season.
On paper, the Longhorns have looked good almost every season under Mack Brown. He has produced a myriad of 10-win seasons, a national title, countless top 10 recruiting classes and a program that always seems to be a contender. At first glance, anyway.
The reality is, Brown simply hasn't lived up to expectations at a school that has basically every advantage you could ask for. In his fifteen-year tenure, the Longhorns have only produced two conference titles, and that is simply unacceptable given the level of talent that flows through Austin.
On the other hand, getting rid of Brown is not as easy as it sounds.
His buyout isn't an issue. The University of Texas is rolling in dough, they could easily handle that. The issue is two-pronged:
1. Mack Brown is firmly entrenched in the culture of Austin, and he has very high-profile support from big-time donors and boosters, despite the lack of overall fan support.
2. There are simply not a lot of available coaches for Texas to scoop up. There are no jobless, big-name coaches floating around this year like there were last year. If Texas really wanted to get rid of Brown, they missed their shot last year to pick up a guy like Urban Meyer.
How will this all play out? It's impossible to tell. If this season collapses spectacularly like it appears it easily could, the fan backlash could be large enough for AD DeLoss Dodds to start looking around.
My prediction: Brown will be the head coach of the Texas Longhorns in 2013.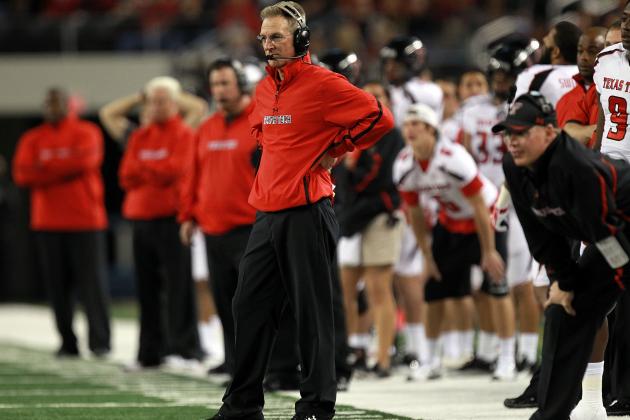 Ronald Martinez/Getty Images

Job security level: High
Tommy Tuberville has done a remarkable job turning around a program that was in turmoil after the events surrounding Mike Leach's termination subsided. After being hired prior to the 2010 season, Tuberville led the Red Raiders to a bowl victory in his first season.
Then things went south. Last season, the Red Raiders started strong, losing close games to Kansas State and Texas A&M, and pulling off a massive road upset over then No. 1 Oklahoma, before falling flat and finishing the season with a losing record for the first time in nearly two decades.
The Red Raiders' turnaround on the defensive side of the ball has been astounding (from 114th in total defense at this point last season to 4th), and they are poised to make a solid run at the latter half of their Big 12 schedule.
Tech fans were not happy after last season's debacle, but it appears that patience has paid off and the Red Raiders are back to being relevant in the Big 12, thanks to Tuberville's leadership.
Tuberville's recruiting has been outstanding, and if he can keep improving the program, he will have a comfortable hold on his job in Lubbock for years to come.
Patrick McDermott/Getty Images

Job security level: High
Despite last Saturday's drubbing by Texas Tech, there will be no rumblings about replacing Dana Holgorsen...yet. Joe DeForest, yes, but that's another story.
The apparent lack of readiness and intensity the Mountaineers displayed this past week in Lubbock should raise a few eyebrows, as should Geno Smith's attitude in the post-game press conference. I'm not going to say that Holgorsen needs to get control of his players and whip them into shape, but where there is smoke, there is usually fire.
That being said, Holgorsen's job at WVU is secure for the time being. He is in the middle of his second season coaching the Mountaineers, and his short tenure has been a successful one so far. Last season, the FWAA selected him as their First-Year Coach of the Year after a 10-3 campaign that ended with a dismantling of the Clemson Tigers in the Orange Bowl.
Holgorsen is a smart, savvy coach and he understands the meta-game of the Big 12 (spending the better part of a decade coaching in a conference will do that for you), which gives him an advantage in helping West Virginia make the transition from the Big East.