Saints vs. Buccaneers: Final Report Card, Player Grades for New Orleans
Final Score
The New Orleans Saints escaped (about as literally as possible) from Tampa Bay victorious. The Saints earned their second win of the season and played a full 60-minutes once again. Drew Brees and the offense looked as explosive as ever in the first half.
And the defense provided great reason for optimism going forward.
Here are the grades for each unit (and later individuals) in the Saints exciting 35-28 victory.
Quarterback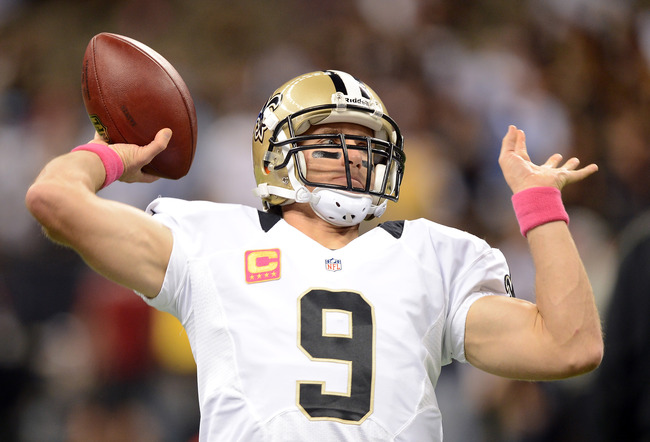 Harry How/Getty Images
Overall Game Grade--A-
Never mind the 375-plus yards Drew Brees threw for against Tampa Bay. More importantly and impressively was the way he made wise decisions. Even his tipped pass interception was not a decision-making issue.
His constant pump-faking and eye-manipulation worked wonders against an undisciplined Tampa Bay secondary. And I failed to mention the amazing accuracy with which Brees threw the ball within the seams and in the holes of the zone coverages employed by Tampa Bay.
Running Backs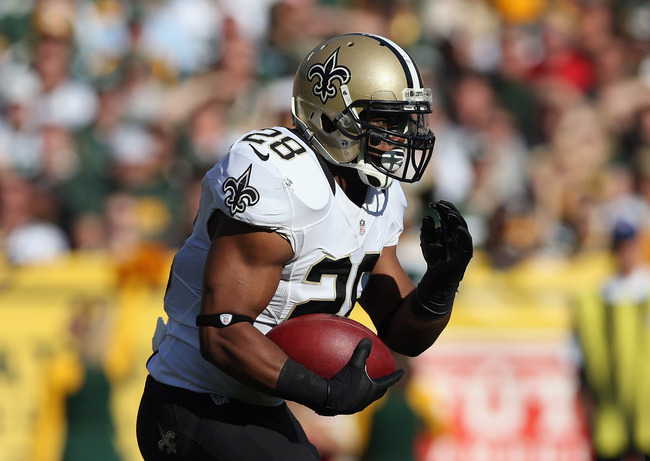 Jeff Gross/Getty Images
Pierre Thomas—Grade—B+
I know the numbers were far from sexy. Actually I wrote that line of Thomas in the win from two weeks ago. It seems to embody Pierre Thomas every game. Once again, his interior run was key to keeping the Saints offense balanced and flowing as well as it did Sunday.
Mark Ingram—Grade—B-
John Lynch and Dick Stockton kept insisting the Saints wanted to get Ingram going in this game. To some extent it seemed they were correct. Certainly the team handed the ball to Ingram with slightly more regularity than it had previously. And Ingram responded with some tough running in between the tackles.
Unfortunately Ingram has yet to pop one—like he is capable of doing. I insist that the team must keep giving him the ball, and it will come.
Darren Sproles—Grade—B+
Darren Sproles continued to present matchup problems as a receiver. Shockingly most of his catches came on check down type throws, as opposed to in the flats (as I suspected based on film study). Nonetheless his efforts were key to opening more holes in the intermediate zones.
Chris Ivory—Grade—Inactive
Inactive. No grade.
Travaris Cadet—Grade—Incomplete
Cadet played, and even saw an offensive snap, but did nothing of note (good or bad).
Wide Receivers
J. Meric/Getty Images
Marques Colston—Grade—A-
Could Colston have played any better? In this case yeah I would say he could have. Then again, this was probably the first game in memory in which he didn't drop a pass. In fact he caught everything he realistically could have.
And he made big plays, big conversions and was huge in creating offensive momentum for the Saints.
Lance Moore—Grade—A+
What a game by Lance Moore. Perhaps he could be identified as "The King of Clutch". Does it stick? Let me know.
Anyhow, Moore was exceptional working his way through holes in the zone coverage. And he was almost as beautiful (if you will) working the sideline. Moore could have been the MVP of the offense today if not for Drew Brees.
Devery Henderson—Grade—B
Devery Henderson did not have quite the same kind of game as he did two weeks ago against San Diego. But he did make a few key catches for the Saints offense. And that was enough to secure a "B" grade.
Joseph Morgan—Grade—A
How about that catch? You know which one I'm talking about. Actually it wasn't even so much the catch, as it was an amazing act of balance and staying on his feet then diving into the end zone. Morgan has now secured his spot as the "big play guy" for this offense. Two catches on the season have equaled two touchdowns. Amazing!
Courtney Roby—Grade—A
Roby's grade is based mostly on his outstanding coverage and play on special teams. But, he was seen at times blocking effectively for teammates in the running game and down field on run after catch opportunities. That's exactly the same thing I wrote two weeks ago.
Tight Ends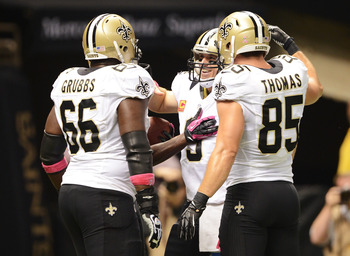 Harry How/Getty Images
Jimmy Graham—Grade—None
Jimmy Graham did not play due to an injury.
David Thomas—Grade—B
Thomas continues to make uncharacteristic mistakes that hurt the team. But for once, his effectiveness overran the mistakes. He even caught a touchdown pass in the second half. This was by far his best game of the season.
Daniel Graham—Grade—B
Graham did a nice job blocking when he was in the game. He really is a third string tight end, so giving him a grade is a difficult task. He did a nice job in this game when called upon.
Offensive Line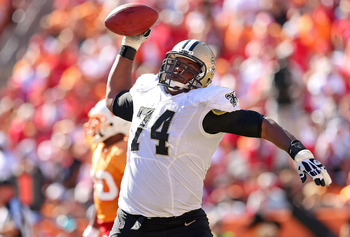 Mike Ehrmann/Getty Images
LT Jermon Bushrod—Grade—A
The Buccaneers managed almost no pressure at all. A big reason was the effectiveness of Jermon Bushrod against the edge rushers of Tampa Bay. And the run game was aided by Bushrod too.
LG Ben Grubbs—Grade—B+
Ben Grubbs isn't your average guard. He is a mammoth of a man who can move and has great feet. All of those tools were on display on Sunday night as he helped protect Drew Brees and open some holes in the running game, mostly for Pierre Thomas. Funny how comments can remain the same week-to-week. Grubbs has become a consistent weapon along the o-line.
C Brian de la Puente—Grade—C
For once, Brian de la Puente didn't get brutally assaulted by an opponent. His ability to work effectively with Drew Brees was reminiscent of the magic the two worked in 2011. That level of play must be had each week from the Saints' center.
RG Jahri Evans—Grade—A
Two weeks ago Jahri Evans might have had his worst game as a pro. Sunday he was wonderful. He was constantly opening holes in the run game and did an excellent job of keeping Drew Brees' pocket clean and vision unscathed.
RT Zach Strief—Grade—B+
Zach Strief has struggled mightily at times this year. Sunday he did not. In fact, it may have been his finest outing of the season. The entire o-line was outstanding, but let's make sure Strief is included in that. Give him the props he deserves for his efforts in this contest.
Defensive Line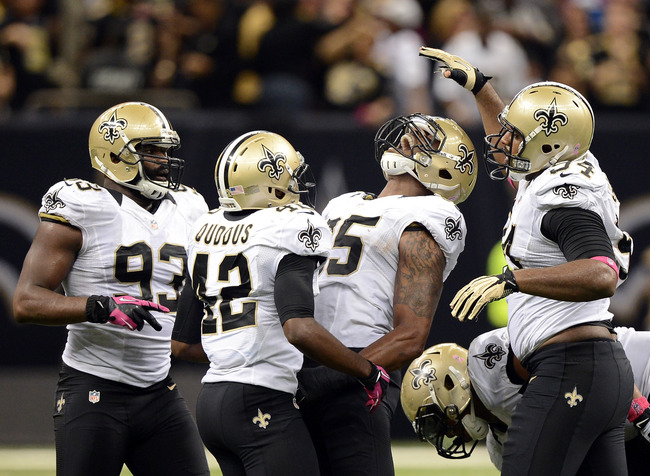 Harry How/Getty Images
DE Will Smith—Grade—A-
Will Smith—and the rest of the d-line—were all over the place from the second quarter on. Smith batted a few passes down, slowed the running game and got in the face of Josh Freeman. It was really interesting to see Smith and the line almost shift into a new mode in this game.
DT Brodrick Bunkley—Grade—A-
Brodrick Bunkley has stepped his game up recently. It's almost as if someone got in his grill and told him they'd kill his dog if his play didn't improve.
I don't know what actually happened but the point stands—Bunkley's play is approximately a million degrees different and improved from earlier in the season. He made impact plays in the run game and even started to do so against the pass.
DT Sedrick Ellis—Grade—c
It is possible that Sed Ellis himself recognizes his time in black and gold is coming to a halt. If not, he is blind to his own incompetence. Sunday his play was invisible as he stunk the place up. That's probably why he eventually left the game. He was somehow in the game at the end when the Saints were trying to create pressure with a three-man front.
DE Cameron Jordan—Grade—A
Anyone who has read anything I've written, knows I love Cam Jordan. Sunday that faith was rewarded as Jordan may have had his finest game of his young career. It seems to me he batted a pass down, while also making outstanding plays against the run and constantly creating pressure on Josh Freeman.
DT Tom Johnson—Grade—A
Tom Johnson had his finest game, in what is becoming a constant line of thought. Johnson is the best run defender on a team that is increasingly getting better against the run. Johnson mixes his great play against the run with an ability to get penetration against the pass. All of that was on display Sunday.
DT Akiem Hicks—Grade—A
Hicks was dominant against the run Sunday, thanks in part to being joined with Tom Johnson. And he also knows how to pressure the quarterback. Hicks, Johnson and Bunkley make for a great DT trio for years to come.
DE Junior Galette—Grade—A
Galette was one of two Saints defensive linemen to leave the game late in the fourth quarter due to cramps. Some of that was due to the high number of snaps the unit faced. Nonetheless, Galette was another part of an effective pass rush.
DE Martez Wilson—Grade—A-
Martez Wilson is another player who might be able to claim he played his best game as a professional. Wilson not only aided in pass pressure, but he even made an impact play, or two, versus the run.
Linebackers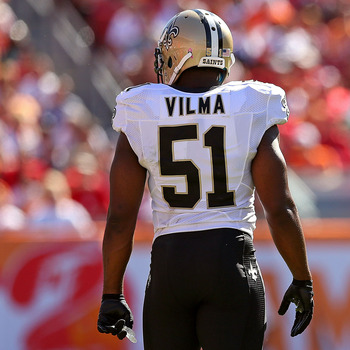 Mike Ehrmann/Getty Images
MLB Curtis Lofton—Grade—A
Curtis Lofton does everything well that Jon Vilma seems to struggle with. Lofton is as good as there is at scraping and making a tackle in space. Several times Sunday he did that effectively. Lofton played well Sunday.
OLB Scott Shanle—Grade—Incomplete
Scott Shanle was still recovering from a mysterious illness that caused him to miss practice throughout the week.
OLB Will Herring—Grade—Incomplete
Herring didn't play enough to warrant a grade.
Jonathan Casillas—Grade—C-
Casillas was another Saints defender who left the game due to injury. He managed to return but his play was ineffective at best. There was a time Casillas was the Saints' next hope at linebacker. Now the Saints are just borrowing time, waiting for his contract to run out.
Jon Vilma—Grade—B
Jon Vilma's greatest attribute he brought to the team Sunday was his energy level and leadership. He did make a nice play on a pass thrown at him. Ideally, he would have caught the ball but just making a play was nice for Vilma.
Defensive Backs
CB Jabari Greer—Grade—B+
Jabari Greer was just one of the Saints defenders who got burned by Vincent Jackson. And he missed a relatively easy opportunity for a pick. But this may have been Greer's best overall game of the season.
CB Corey White—Grade—B
The rookie is coming on in a big way. Sunday he continued to grow—though he was the victim on the Bucs last touchdown. He made some nice plays in coverage and showed he is ready to breakout.
CB Patrick Robinson—Grade—B+
It's odd to say that a corner played well when the defense gives up 420 yards passing. But P-Rob actually played really well Sunday. He played the football in coverage well on a number of occasions. It was his play that helped avoid a tying Tampa touchdown at the end of the game.
S Roman Harper—Grade—B-
Roman Harper was flagged on consecutive plays in the fourth quarter. Otherwise Harper played fairly well again. It is true he was slow to react on Vincent Jackson's 95-yard near touchdown. Otherwise Harper was effective against the run and held down the fort in deep coverage.
S Malcolm Jenkins—Grade—B
Everyone is going to remember Malcolm Jenkins running down Vincent Jackson to prohibit him from scoring. But it was his goalline defense on third down to stop LeGarrett Blount that caught my attention. Otherwise this may have been Jenkins finest game of the season.
Special Teams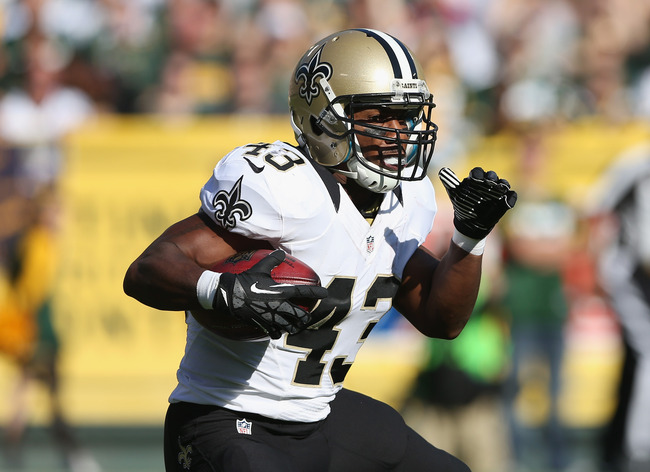 Jeff Gross/Getty Images
Overall Game Grade--B+
Special teams played a key role in this game. From Thomas Morstead's directional punting to some of the mistakes made on both ends, special teams played a key role in field position and other facets of the game that ultimately led to a Saints victory.
Morstead, Garrett Hartley and the rest of the special teams unit get a B+ for their effort.
P Thomas Morstead—Grade—B+
Thomas Morstead made a mistake on kicking the ball out of bounds near the end of the first half. But he did a wonderful job of punting directionally throughout the game, which was key to overall effectiveness of the special teams unit.
K Garrett Hartley—Grade—B
Hartley did his job. Enough said.
Coaching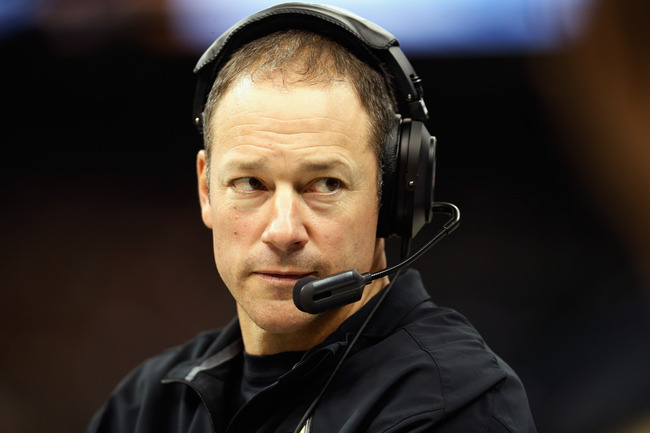 Chris Graythen/Getty Images
Overall Game Grade--A-
This was almost certainly the finest coaching game of the 2012 Saints season. Aaron Kromer was wise in all his game-management decisions. Pete Carmichael did a really nice job mixing run and pass.
Steve Spagnuolo was brilliant in his adjustments throughout the game. But his lead-protecting defensive approach was leaky and exposed. That said, his unit did what it had to do well on was said and done.
Most of all, the entire Saints team showed great energy, especially from the second quarter on. That is a testament to the entire coaching staff bringing the energy from the onset.
Keep Reading

New Orleans Saints: Like this team?