The 15 Greatest Streaks in MMA History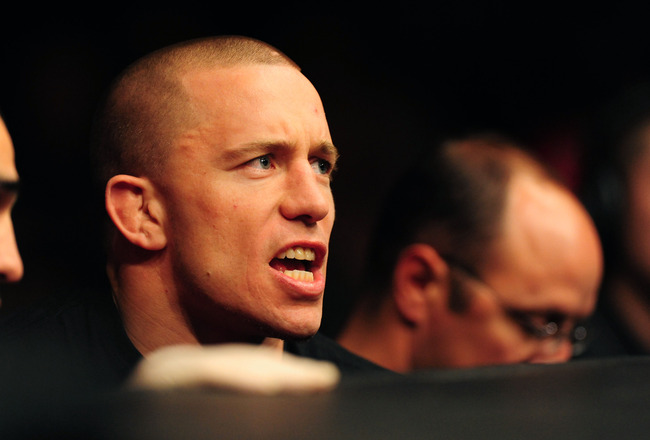 Mark J. Rebilas-US PRESSWIRE
Putting together any run of victories or avoiding defeat match after match is a herculean task in the unpredictable world of mixed martial arts.
Achieving such a feat at the highest level of the sport is even more difficult. Even MMA greats like B.J. Penn and Randy Couture struggled to put more than three or four wins together.
However, there is something to be said for picking your opponents carefully. Throughout this list there are fighters whose claim to the greatest streak in MMA rests on crushing cans and avoiding the toughest fight.
The order of this list is, therefore, not based on the fighters who remained undefeated longest, but the ones who remained undefeated in the face of serious competition.
15. Hector Lombard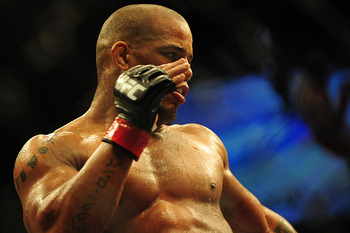 Anne-Marie Sorvin-US PRESSWIRE
Until July, Hector Lombard was among the most hyped fighters outside the UFC.
The reigning Bellator middleweight champion had, between 2007 and 2011, gone undefeated in 25 fights, winning 24 of them and drawing one.
That was already one of the longest streaks in the history of professional MMA, however the paucity of competition he was fighting—in such obscure events as WR8 and G-Force Fights—was brought to sharp relief after his lacklustre UFC debut in the summer.
He lost a three-round split decision to Tim Boetsch, fatally setting back his hopes of becoming a UFC champion.
14. Gilbert Melendez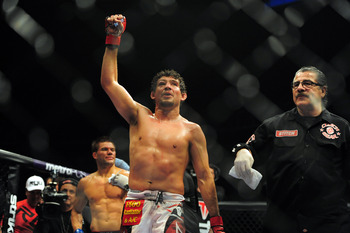 Kyle Terada-US PRESSWIRE
There are many who consider Gilbert Melendez the best lightweight in the world. He's dominated the weight class in Strikeforce as a seven-time champion with wins over Josh Thomson, Jorge Masvidal and Shinya Aoki.
However, as impressive as that run is, like the case with Hector Lombard, unless he can replicate a similar run in a much tougher promotion such as the UFC, it won't mean anything.
13. Jon Fitch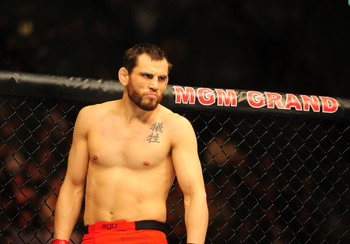 Mark J. Rebilas-US PRESSWIRE
For a long, long time, Jon Fitch was considered the second best welterweight in the world behind Georges St-Pierre.
One look at his record shows why.
Between 2003 and 2008 he had won 16 straight fights before being defeated by GSP. Shortly after that win, Fitch racked up another undefeated streak of six fights that, this time, was ended by a Johny Hendricks KO.
And now Fitch is back.
Last week he defeated the rising star Erick Silva with a gritty performance that no one can call boring. He is once again courting the attention of MMA fans and is ready to establish another dominant streak.
12. Bas Rutten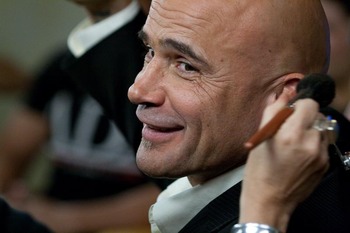 Dutch mixed martial artist Bas Rutten is the only fighter from the early days of MMA to make this list.
He went undefeated in 22 fights, culminating in him stealing the UFC heavyweight belt from Kevin Randleman at UFC 20.
That was the height of his powers, and what followed was a long layoff before he fought his final match, and won, against Ruben Villareal in 2006.
Admittedly, most of his opponents were obscure Japanese pro-wrestling stars, but he still fought and defeated some of the best in the 1990s, including Frank Shamrock, Maurice Smith and Guy Mezger.
11. Antonio Rodrigo Nogueira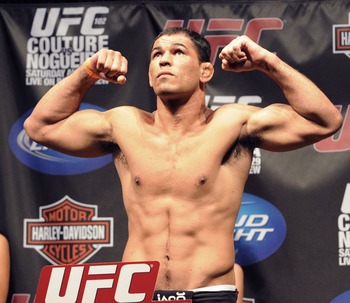 Jon Kopaloff/Getty Images
One of several pride stars with notable streaks, Antonio Rodrigo Nogueira is a true legend of the sport.
Last week, at UFC 153, he sealed his 34th career victory, an unprecedented feat at the top of MMA. Those victories include a 14-fight winning streak during his time fighting in Japan, where he defeated Gary Goodridge, Mark Coleman, Heath Herring, Semmy Schilt and Dan Henderson.
10. Jose Aldo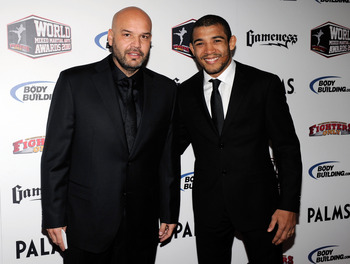 Ethan Miller/Getty Images
Jose Aldo's the best featherweight in the world right now, if not of all time, and is currently riding an awe-inspiring 14-fight winning streak.
The only reason he's not higher in the list is because featherweight has been such a sparsely populated weight class for much of Aldo's career. His one attempt to move up to lightweight back in 2005 is his only career loss.
Since then he's gone on to dominate the much tougher WEC promotion and is now doing the same in the UFC, having almost cleared out the division...almost.
9. Jake Shields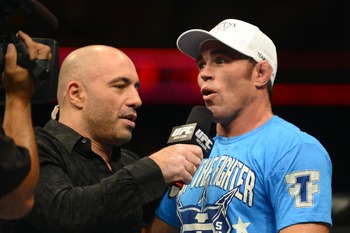 Ron Chenoy-US PRESSWIRE
Not many people's favourite fighter at the moment, Jake Shields' star has faded with recent losses, boring performances and a failed drug test.
However, only a year-and-a-half ago, he was parachuted into the UFC as the most likeliest fighter to knock Georges St-Pierre off his welterweight throne.
Between 2005 and 2010 he put together a 15-fight winning streak that was only stopped by the indefatigable GSP.
And these were no cans he was fighting either. As Sheilds rose to the top of the world of MMA, he went through Yushin Okami, Carlos Condit, Mike Pyle, Paul Daley, Robbie Lawler, Jason Miller and Dan Henderson to get there.
8. Matt Hughes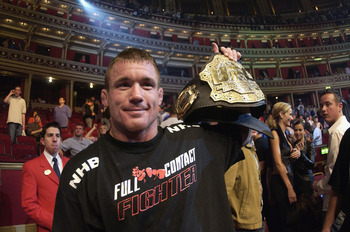 John Gichigi/Getty Images
UFC Hall of Famer Matt Hughes was the archetype of a complete mixed martial artist back in the mid-2000s.
The most dominant champion of his era, Hughes held the UFC welterweight title nine times, including a run of 13 straight victories.
Those victories were only interrupted by "The Prodigy," B.J. Penn. And even after that loss, Hughes went on to score another six-fight winning run before becoming just another fighter stopped by Georges St-Pierre.
7. Chuck Liddell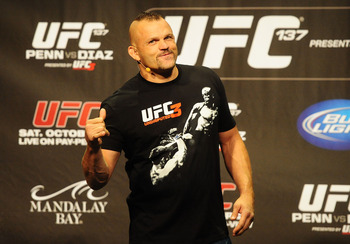 Mark J. Rebilas-US PRESSWIRE
Chuck Liddell is rightly considered one of the best light heavyweights of all time. In his career he's defeated Kevin Randleman, Guy Mezger, Murilo Bustamante, Vitor Belfort, Tito Ortiz, Randy Couture and Wanderlei Silva.
Those are some impressive scalps and a testament to the fact that Liddell always fought the toughest men he could find and never shirked from a fight.
His longest run was a 10-fight winning streak, and even his second longest run of seven straight victories is something few fighters can emulate.
6. Rashad Evans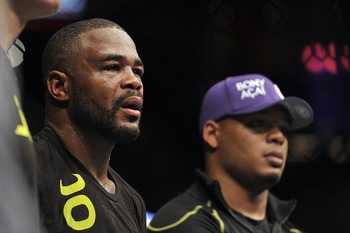 Paul Abell-US PRESSWIRE
Many MMA fans will be surprised to see light heavyweight Rashad Evans so high up in a list of fighters with the greatest streak in the sport's history.
But the fact is Evans is fighting in the toughest era of the sport, has been in the UFC since 2005 and has defeated men like Stephan Bonnar, Michael Bisping, Chuck Liddell, Forest Griffin, Thiago Silva, Quinton Jackson and Tito Ortiz.
On the way, he managed to go undefeated in 14 fights and captured the UFC light heavyweight title before being stopped by Lyoto "The Dragon" Machida.
5. Lyoto Machida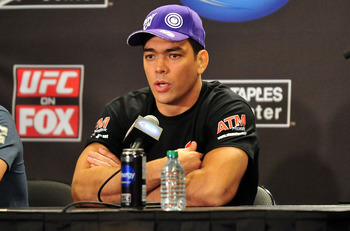 Gary A. Vasquez-US PRESSWIRE
There was a brief moment, as Lyoto Machida captured the UFC light heavyweight title from Rashad Evans, that Machida was regarded as unbeatable.
Such thoughts were put to an end after his two fights with Mauricio Rua, as Machida narrowly avoiding losing the first one before being knocked out in the second fight.
Since then his star has faded a little, and Machida still needs to prove that the expectation people had of him in 2009, when he'd gone on to a 16-0 MMA record, was justified.
4. Wanderlei Silva
Ethan Miller/Getty Images
The UFC hasn't been kind to Wanderlei Silva.
Like many of his fellow Pride veterans, the Brazilian has struggled to assert himself in the promotion and was forced, in 2010, to drop down to middleweight for the first time.
His recent less-consistent performances shouldn't overshadow the fact, however, that during his peak he was one of the most dominant fighters in the world.
Known for his ferocity and knockout power, Wanderlei once went undefeated in 18 fights. That run included three wins over Kazushi Sakuraba, two over Quinton Jackson and one over Dan Henderson.
2. Georges St-Pierre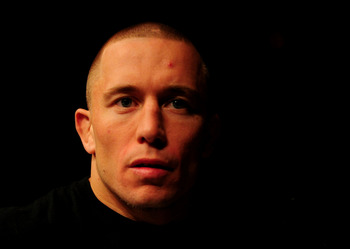 Mark J. Rebilas-US PRESSWIRE
There are only so many fighters who can stake a claim of being the greatest mixed martial artist of all time. Even though Georges St-Pierre isn't as electric as Fedor Emelianenko or Anderson Silva, he's one of the most complete fighters there has ever been.
That completeness has led him to defeat several fighters on this list, who were, until they met GSP, running away with unbeatable streaks of their own.
The fact that his longest run is nine straight victories doesn't do him justice.
Most all his career has been fought in the UFC, the toughest promotion in the world—if it weren't for a silly and unfortunate loss to Matt Serra in 2007, GSP would have pulled together 16 straight wins and defended his title 10 times.
2. Fedor Emelianenko
Tomokazu Tazawa/Getty Images
It's strange to see how Fedor Emelianenko has become such a divisive figure among MMA fans in the last few years.
Only three years ago, he was considered not only the pound-for-pound best fighter in the world, but also the greatest of all time.
But, as a minority of voices argued even back then, "The Last Emperor" never fought in the UFC and could therefore never truly be considered a great.
His three straight losses in Strikeforce toward the end of his career, still only a secondary promotion, seemed to confirm those criticisms.
However, the UFC was not always the premier MMA outfit in the world. Much of Emelianenko's career was fought out in Japan, which, for a period, truly did have the greatest fighters. And Emelianenko defeated them all.
Between 2000-2009, Emelianenko won 32 fights. His one loss in that period came from an unlucky cut to his eye, leading to a doctor stoppage.
His 28-fight undefeated run includes victories over the likes of Semmy Schilt, Antonio Rodrigo Nogueira, Mark Coleman, Kevin Randleman, Mirko Filopovic, Tim Sylvia and Andrei Arlovski.
1. Anderson Silva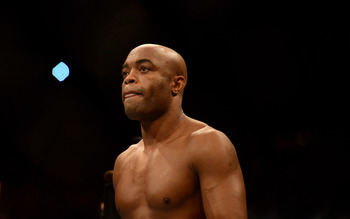 Mark J. Rebilas-US PRESSWIRE
In the eyes of many fans, last week at UFC 153, Anderson Silva settled the debate as to who is the greatest fighter of all time.
In a sublime performance, showing utter contempt for his opponent, Silva stretched his winning run to 17 fights, which includes 11 title fights.
He has dominated a single division (middleweight) like no other and has set an almost unassailable benchmark in the sport.
Keep Reading