Dwight Howard's Return from Back Injury Proves Lakers Stole Star Center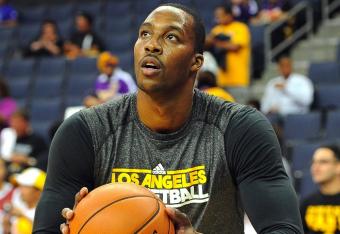 The Los Angeles Lakers have always been a franchise of overwhelming star power and unparalleled expectations. They've pushed the envelope with high-profile trades, bet the bank during free agency and thrived on the rare occasion that they've utilized the NBA draft.
This offseason, the Lakers achieved a new feat: highway robbery.
In one of the most memorable trades of all time, the Los Angeles Lakers acquired three-time Defensive Player of the Year Dwight Howard from the Orlando Magic (via ESPN.com). In return, the Lakers gave away center Andrew Bynum and a protected future first-round draft choice.
Call it even if you'd like, but this was a steal for the Lakers of Los Angeles.
The one question mark that held Showtime back from celebration was the fact that Howard was coming off of surgery to repair a herniated disk in his spine (via ESPN.com). As of this week, those concerns are of no relevance.
Per a report via Marc J. Spears of Yahoo! Sports, Howard could make his return to action as soon as Sunday, Oct. 21. His first preseason test would be a tough one, as he and the Lakers match up against the physical DeMarcus Cousins and the Sacramento Kings.
Per Spears' sources and Howard himself, he's ready for it.
"He is making progress," one Lakers source told Yahoo! Sports. "There is a good chance he can play Sunday."

"I'll be a little nervous out there for the first time, but [Steve Nash] said he would help me through it and hopefully it will be OK," [Dwight] Howard told reporters after Thursday's practice.
With this return to action, the Lakers have officially completed the process of stealing Dwight Howard from the NBA. As for those in debate of this belief, temper your bias and acknowledge what is known as true.
No big man has dominated the game quite like Dwight Howard since he entered the league. And that's just one deciding factor.
Performances like this were too few and far between. D-12 will dominate on defense every time out.
7 Years of Waiting
The argument for Andrew Bynum supporters is that he is only 24 years old and already approaching Dwight Howard's level of dominance. The fact of the matter is, Bynum is one of the oldest 24-year-olds in NBA history.
How do I figure? Well, that's simple. Bynum is now entering his eighth year in the NBA.
Eight long, grueling, injury-plagued years, for those keeping track.
What that means is that the Los Angeles Lakers waited a full seven years for Bynum to become the consistently dominant big man that they had envisioned. Considering Kobe Bryant may have just two years left of NBA basketball, the waiting process was not one that the Lakers could afford to pursue further (via CBS Sports).
This is not the franchise that waits on the development of a future star. It is an organization that goes title or bust.
With this being known, the Lakers swapped a player who may reach the upper echelon of NBA bigs for the most dominant big man since Shaquille O'Neal. The disparity in terms of talent may be slim, but consistent performance is the measurement that matters.
Having skill means nothing if you can't put forth the production. Bynum has only just begun to do so, while Howard achieves such a feat on a nightly basis.
No other player does what Dwight Howard does on defense.
Need Defense? Get the Best
In 2012, the Lakers flirted with mediocrity by allowing 95.9 points per game. Although that's a reputable number, it continues to place the Lakers in the middle of the pack on defense.
Considering this team wants to be elite in every facet of the game, such placement is not acceptable.
Instead, the Lakers must find themselves with the Miami Heat, Boston Celtics and Chicago Bulls as the best defensive teams in the league. They must bring the Eastern Conference's defensive dominance to a run-and-gun West.
Yet another reason why this trade makes so much sense.
In order to achieve such a feat, why not go out and grab the most dominant defensive force in the league? More importantly, why not snag the player who has defensively dominated the Eastern Conference for the better part of a decade?
That's exactly what the Lakers did by trading for Howard. Keep in mind, D-12 is a three-time Defensive Player of the Year who is coming off of a 2012 campaign in which he averaged 14.5 rebounds, 2.1 blocks and 1.5 steals per game.
Although Bynum has proven capable of such dominance, there is absolutely no consistency between those performances. Howard does it daily and will continue to dominate every time out.
The Lakers' desire to win right now is much more plausible with D-12 in the lineup than it was with Andrew Bynum.
Do you really think this won't make the Lakers more versatile on offense?
Changing the Culture
In swapping Bynum for Howard, the Lakers traded a player with poor body language for one of the most marketable personalities in the league. To say that the team will benefit from this acquisition from a financial and visual standpoint would be an understatement.
Yet another reason the Lakers walked away with a steal.
Beyond the marketability of Howard's personality is the simple fact that he fits the Lakers' lost culture. Bynum never did.
Howard has the energy to change the Lakers both on the floor and off of it. Bynum, meanwhile, always seemed to be of a sluggish nature and never appeared too interested in the games he was playing in.
Bright smiles, big numbers and legitimate title dreams sum this one up. The Los Angeles Lakers stole Dwight Howard from the NBA.
This article is
What is the duplicate article?
Why is this article offensive?
Where is this article plagiarized from?
Why is this article poorly edited?

Los Angeles Lakers: Like this team?