Giants vs. Redskins: Final Report Card, Grades and Analysis for Washington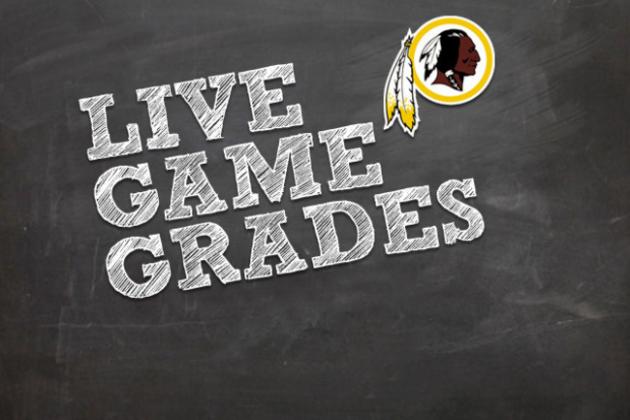 Eli Manning connected with Victor Cruz for a 77-yard touchdown that gave the Giants a 27-23 lead over the Redskins with just 1:15 to go in the game.
Although Robert Griffin III attempted his late-game magic once again, a fumble by Santana Moss with 39 seconds remaining sealed the Giants' victory.
Inside is a final report card and player analysis for the Washington Redskins against the Giants.
You can also follow along on Twitter, @BetBigDC
Begin Slideshow

»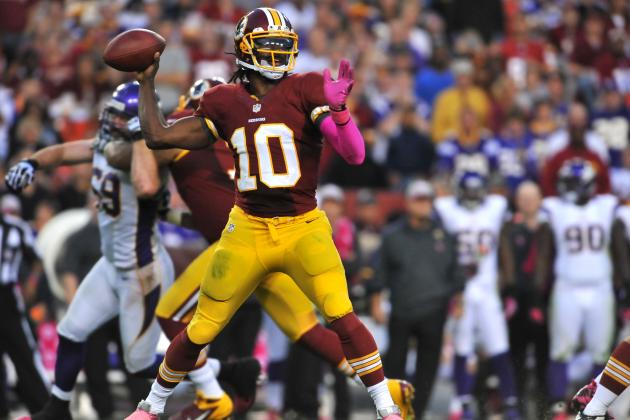 Larry French/Getty Images

Robert Griffin III -- B+
Barring an interception and fumble, Robert Griffin III threw together another awesome game both through the air and on the ground.
Griffin finished with 258 yards on 20-of-28 passing and two touchdowns. He also added nine carries for 89 yards.
Another accurate passing game for Griffin can be easily lost in the rookie's improvisation and creativity in big spots against the Giants. A half dozen third-down conversions and a crucial fourth-down conversion that allowed the game to go on.
Griffin hit Santana Moss with a perfect toss for the go-ahead touchdown with less than two minutes to go in the game, but the Redskins defense really doesn't the quarterback any support.
At the end of the day, RG3 can't do everything.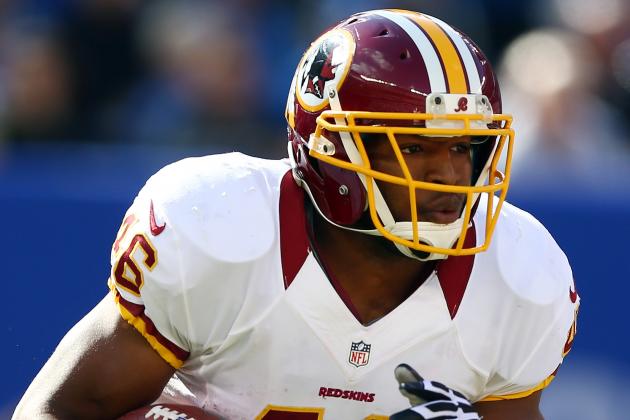 Elsa/Getty Images

Alfred Morris -- A
One of the rookie's better games, Alfred Morris finished the game with 120 yards on 22 carries.
Morris continues to get better and better with his patience behind his blocks and seeing holes develop before they're actually open. It's safe to say that the sixth-rounder has become comfortable with the NFL's speed.
And it's obvious that Morris' best trait is his lower body strength and ability to drag defenders. It doesn't seem to matter who comes at Morris, the stocky back simply doesn't take well to first contact.
Logan Paulsen -- A
After losing Fred Davis to a reported Achilles injury, Logan Paulsen stepped up in a huge way for the Redskins. Paulsen led the team with 76 yards on four receptions.
If Davis' injury is as serious as we all expect it to be (season-ending), then Paulsen's play today is a good sign. He's still developing as a blocker, but he has the body to progress and he's a reliable pass-catcher.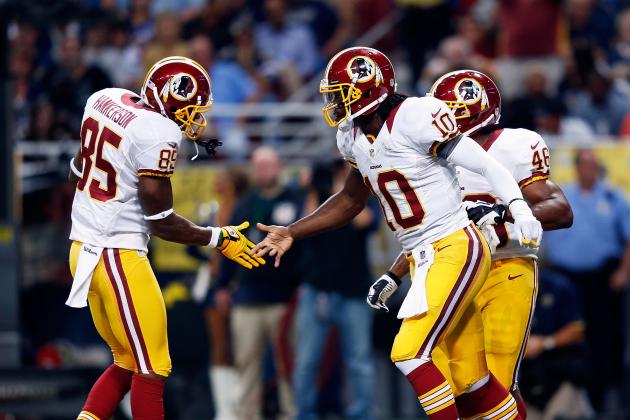 Jamie Squire/Getty Images

Josh Morgan -- C+
In terms of pass-catching, Josh Morgan was basically a non-factor today with just two catches for 16 yards. However, he continues to be one of the better position blockers on the team.
Leonard Hankerson -- B+
Although every target/catch seems like a roller coaster, Leonard Hankerson had a very good game today. He led the team with six receptions for 70 yards.
One play that may stick with fans was when Hankerson avoided contact and dropped himself to the turf about a yard shy of the first down marker. Pulling a 40-year-old Issac Bruce move as a young man late in a divisional matchup is not okay.
Santana Moss -- B
Even as the veteran, Santana Moss led the Redskins with two touchdowns and finished the game with three catches for 67 yards.
Moss is the Redskins' most reliable pass-catcher and it's good to see the rookie quarterback warming up to him in the past few weeks.
The only thing barring Moss a top-level grade was his costly fumble with 39 seconds to go in the game, ultimately sealing the Giants' victory. But then again, it should have never come to that.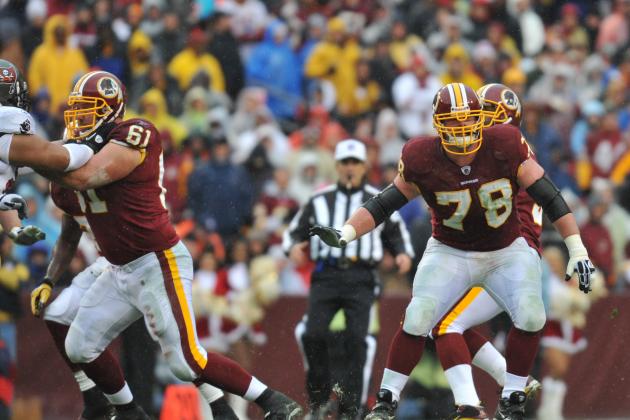 Larry French/Getty Images

Trent Williams -- B
Starting out the first half much better than he played in the second, Trent Williams began to fall victim to Osi Umenyiroa late in the game.
Williams has been a stud so far this season, and the Giants defense is certainly no easy match, but Robert Griffin III and the Redskins offense needs a full 60 minutes from the Silverback every week.
Kory Lichtensteiger -- B+
Another well-played game for Kory Lichtensteiger. He continues to be a solid blocker at the second-level in the Redskins' rushing attack and he forms well with Trent Williams on the left side.
Will Montgomery -- B
He's playing better than anticipated this season and Will Montgomery has joined the left side (in my opinion) as reliable and consistent.
Chris Chester -- B
Like usual, the right tackle's poor play can sometimes result in Chris Chester looking like he's playing a bad game. But that's not the case. Chester has improved as a run-blocker this season and he's solid in pass-pro.
Tyler Polumbus -- C
I typically don't have much love for Tyler Polumbus and Giants defensive end Justin Tuck apparently didn't either.
Polumbus was pushed around a lot today, including some large drops in his technique that resulted in a hurried Robert Griffin III.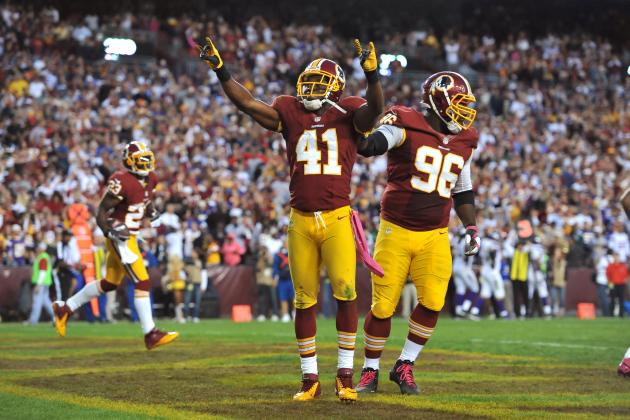 Larry French/Getty Images

Stephen Bowen -- B
Another game of controlling the line and containing the run. Stephen Bowen was effective today, but showed very little pass-rush.
Barry Cofield -- A
I'll continue to fight for Barry Cofield and his importance to this Redskins team. He's a reliable nose tackle that combines his speed and strength to help generate a pass-rush that the Redskins severely lack.
Josh Wilson's interception was a direct result of Cofield's push up front and pass deflection at the line.
Jarvis Jenkins -- C
A pretty quiet game from Jarvis Jenkins today. We'd love to see better initial punch on the line, but there's certainly no knocking his strength once engaged.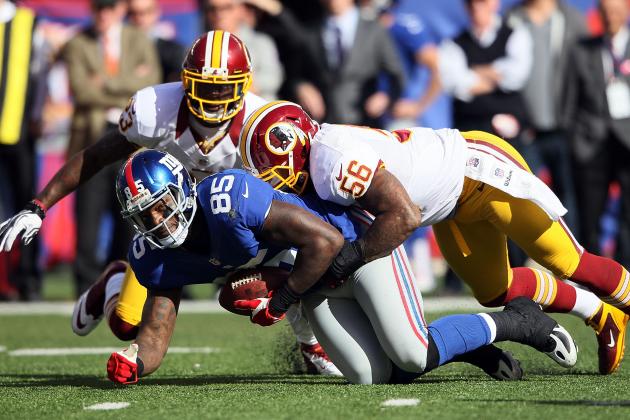 Alex Trautwig/Getty Images

Ryan Kerrigan -- C
Before the game, I was giddy to know that Ryan Kerrigan would be going against former Redskins tackle Sean Locklear on the right side. Kerrigan has moves that could plant Locklear in his tracks and make Eli Manning a sitting duck.
How about the complete opposite?
Perry Riley -- B
Finishing the game with five tackles was nice, but Perry Riley was more impressive in coverage.
Riley is a solid inside backer in the 3-4 scheme and I would expect him to get better as the year goes on. His recognition should improve and his tackling angles are still in progress.
London Fletcher -- C+
After a couple missed tackles to start the game and looking slow in coverage, London Fletcher looked a little better in the second half. Still, Fletcher wasn't himself.
At the end of the game, Fletcher was on the sidelines walking gingerly with a reported hamstring injury.
Rob Jackson -- A
Although not quite on a consistent basis, Rob Jackson has been a good replacement for the injured Brian Orakpo.
Today, Jackson came up with a big pass-deflection at the line, a half sack and a game-changing interception.
Lorenzo Alexander -- B+
Another game with more playing time for Lorenzo Alexander and we could see more of him depending on how serious London Fletcher's injury is.
Alexander helped to provide the Redskins with a little pass-rush today. Something this team has to find.
Elsa/Getty Images

Josh Wilson -- D+
The above picture says it all. Including this 77-yard Victor Cruz touchdown to help seal the Giants' victory, Josh Wilson was getting burnt all day long.
Wilson did benefit from a Barry Cofield pass deflection, in which he picked off Eli Manning and put the Redskins offense back on the field.
DeAngelo Hall -- D
Much like his teammate Wilson, DeAngelo Hall spent all day being burnt by Eli Manning and the Giants receivers. And then, to make things even worse, Hall once again found it smart to run his mouth, trash talk and cause a stir with every chance he got.
As the season goes on, it's looking more and more like Hall won't be back with the Redskins next season.
Madieu Williams -- C
Coming into the game, Madieu Williams had the crucial role of keeping the lid on the Giants offense -- no big plays.
WIth just 1:16 to go in the game and the Redskins leading, Williams was late with his help for Josh Wilson on covering Victor Cruz and the Giants stole the win.
Cedric Griffin -- B
In his first game back in about four weeks, I thought Cedric Griffin played a decent game today. And when compared to the starters, Griffin played very well.
Reed Doughty -- C
As usual, Reed Doughty was effective in run-support today. He ended the game with five tackles.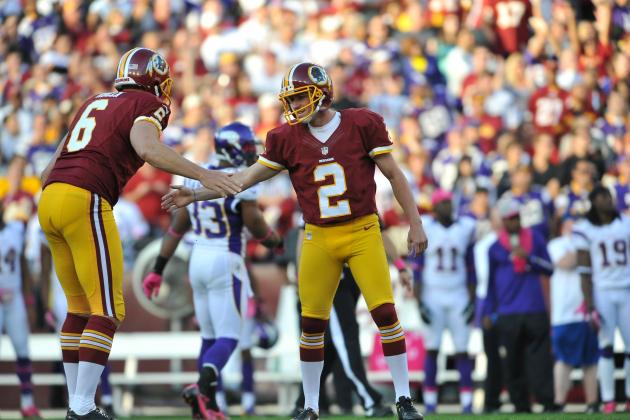 Larry French/Getty Images

Kai Forbath -- A
No one wants to speak too soon, but new kicker Kai Forbath is starting to look like the real deal.
Forbath went 3-for-3 on field goals today, including a 45-yarder on a rather windy day at the Meadowlands.
Sav Rocca did play today -- punting one time for 33 yards. Brandon Banks had one punt return for 12 yards.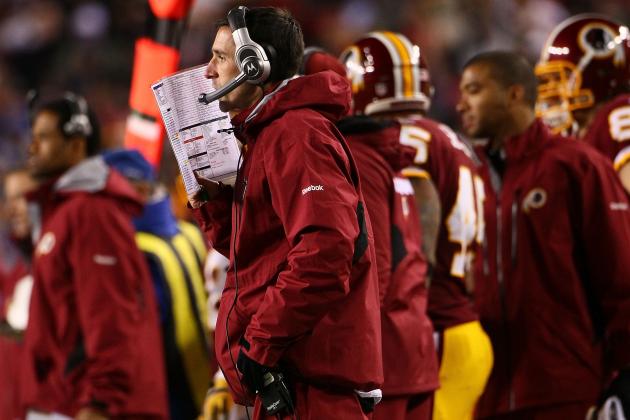 Win McNamee/Getty Images

Kyle Shanahan -- B+
For a large majority of the game, Kyle Shanahan's play-calling was spot-on. But, like it has been with most games this season, he always leaves you with a few head-scratchers. See: triple-option on third down resulting in no yards.
Kyle's growing relationship with Robert Griffin III is an exciting thing for Redskins fans.
Jim Haslett -- C
I repeat, Jim Haslett will not be the defensive coordinator of the Washington Redskins next season.
Does the secondary lack talent? Yes. Do injuries to two of your best players hurt? Yes. But that doesn't excuse Haslett for his lack of pass-rush, his lack of creativity, and his overall terrible performance through six weeks this season.