Why Claudio Marchisio Can Become a Juventus Legend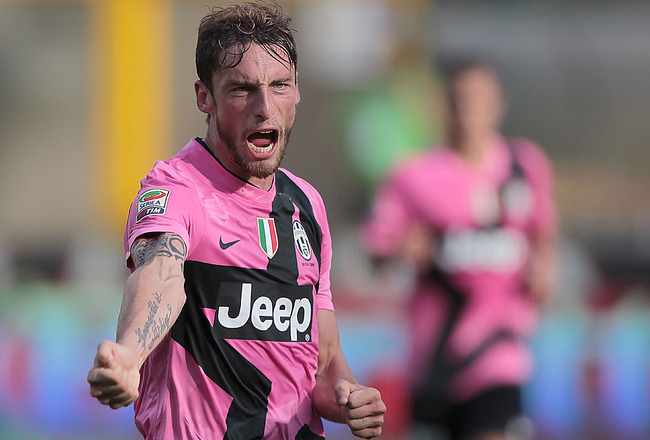 Gabriele Maltinti/Getty Images
Juventus' 26-year-old Italian international, Claudio Marchisio, is quietly becoming one of the world's best midfielders.
Claudio's father recently told Tuttosport (via Football Italia):
Now that he [Marchisio] is in the Ballon d'Or list, I'd love him to finish in the top 10. It would mean he is continuing to win with Juve and with Italy.

Claudio is someone who can score 10-15 goals per season. If he played for Barcelona, he'd reach 15 comfortably, so I think he now ought to improve his consistency in front of goal.

I would love to see my son in Bianconero for his whole life, just as he desires.
This article will pay tribute to Marchisio's performances for Juve.
Claudio Marchisio Is an Integral Member to the MVP Midfield
When you think about the best midfield triumvirates in Europe right now, Bayern Munich (Thomas Müller, Toni Kroos, Franck Ribéry) and Chelsea (Juan Mata, Oscar, Eden Hazard) would be on most people's minds.
Juventus' MVP midfield should be the No. 1 midfield triumvirate in Europe because it has no weaknesses.
Claudio Marchisio is an all-around footballer.
Arturo Vidal's dynamism drives Juve.
Andrea Pirlo initiates a significant portion of the Bianconeri's attacks with his world-class passing.
With Pirlo smoothly dispatching accurate long-range passes and Vidal's exciting box-to-box running, Marchisio's role in the MVP midfield is sometimes overshadowed.
Every game, he runs himself into the ground applying pressure to opposing players. Imagine the physical toll it's taking on his body.
Then when you factor in Vidal's world-class ball-winning ability, you begin to see why Pirlo seems to have all the time in the world to pick out a pass.
When Vidal is caught up field trying to emulate Humberto Suazo, who has tracked back to bail the Chilean out?
Marchisio.
Claudio Marchisio the Man of the Moment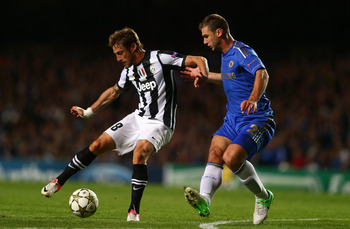 Clive Rose/Getty Images
The first time Claudio Marchisio left an impression on me was a few years ago against Cesare Prandelli's Fiorentina.
At the time, the Viola's No. 88, Felipe Melo [1] was one of the league's best players. There was also Riccardo Montolivo pulling the strings.
Yet, it was a then 23-year-old Marchisio who outperformed both players with his energy. He also ended up scoring what turned out to be the only goal of the game.
Alessandro Del Piero had the attention of five Fiorentina players.
Marchisio took note, made a smart run on the blind side of Per Krøldrup and received an immaculate through ball from Il Pinturicchio. From there, Marchisio slotted the ball past Sébastien Frey from an acute angle.
In a 2-1 win over José Mourinho's Inter Milan, Marchisio showed he was a fighter.
With possession on the left flank, he fended off Walter Samuel and launched a diagonal ball to Mohamed Sissoko, who shot from distance.
Júlio César parried the shot, Samuel thought he could win the ball but Marchisio got to it first, danced his way past the Argentine before he dinked the ball over César.
Last season, Marchisio stole the limelight with two goals in the last eight minutes against AC Milan.
These examples, and there are plenty more that I haven't talked about, show that he plays big when the game is on the line.
It's slightly ironic because he used to receive criticism for shrinking under the bright lights.
This season, he's proving that he is the man for the moment once again.
In a 2-2 draw against UEFA Champions League champions Chelsea, Marchisio orchestrated a comeback from a 2-0 deficit after Oscar's unforgettable two-minute brace.
The Italian provided two assists, completed 95 percent of his passes and won back possession six times.
Several weeks ago, when Siena were holding on for dear life at 1-1, with five minutes to go, who stepped up to score the winner?
Of course it was Marchisio.
[1] Five months later, Juve signed Melo for €20.5 million plus Marco Marchionni.
Claudio Marchisio's Playing Style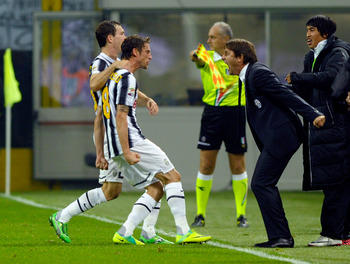 Claudio Villa/Getty Images
Claudio Marchisio has built up his stamina and strength from hard work and dedication. In the 2-2 draw against Chelsea, he covered 12,343 metres.
He's a technical footballer with a great feel for the game.
He is extremely opportunistic because he has a tendency to score, create a goal or win back the ball via a mistake from the opposing team.
His will to succeed and his playing style in general has drawn comparisons to Marco Tardelli, who told UEFA.com:
I was a bit different to Marchisio in the sense that I scored goals and played in the middle, but before that I had been a little bit more defensive than Marchisio. Physically we are pretty similar.
There's a great paragraph in fourfourtwo.com from Italian football correspondent Adam Digby about Marchisio:
There have been a number of impressive performers among the Juve squad under the new coach, but the man Conte referred to during the summer as "like me, only better" has done his 'Capitan Futuro' image no harm.
Barring injuries or unforeseeable circumstances, Marchisio will strive to be a more complete midfielder.
It leaves you pondering on how special he can become because he's already an elite midfielder.
Marchisio has unequivocally stated to Tuttosport (via goal.com) that he will be loyal to the Bianconeri:
I am feeling very young and I have an ongoing contract with Juventus. My dream is that when my contract expires in 2016, Juve offer me another five-year deal to keep me here until 2021 [Marchisio would be 35].
I'd love to hear your thoughts on Marchisio, so don't hesitate to comment below.
Please read The Rise of Nerazzurri Defender Juan Jesus
Statistics courtesy of WhoScored.com
Follow @allanjiangLIVE

Connect with +allanjiang
Keep Reading

Juventus: Like this team?