NFL Mock Draft Projections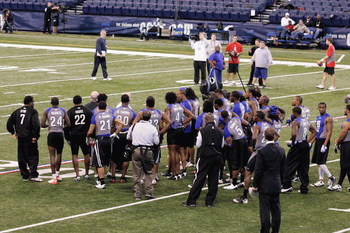 This is a projection only that, of what could happen at this years draft. This is what could happen if the Lions did not pick Stafford, as well as no trades.
Look at some of the earlier picks and later picks I have some reachables and some not so.
I'm certainly not saying that this is set in stone. There are trade possibilities and others out there.
But this is what may happen without any of those.
Pick No. 1: Detroit Lions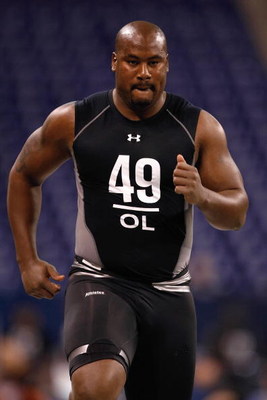 Jason Smith, OT, Baylor.
The Lions have been struggling at the o-line position for a while. Look for them to get a franchise tackle here.
Pick No. 2: St. Louis Rams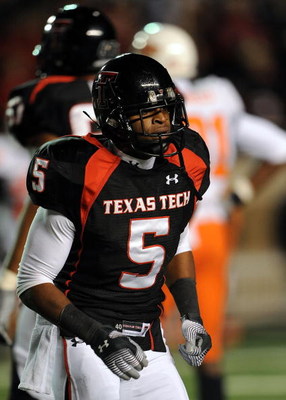 MIchael Crabtree WR, Texas Tech
Missed again at O-line. With his injury he may not be here, but it'll be one of those love him hate him picks.
The Rams have been looking for a dynamic WR for a long time. It could be here, but look for a tackle as well or possibly a trade.
Pick No. 3: Kansas City Chiefs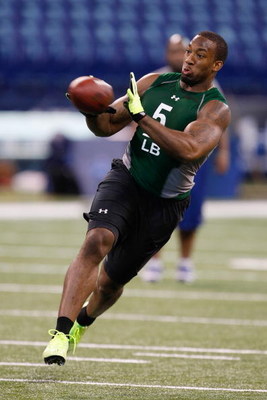 Aaron Curry, LB, Wake Forest
Scott Pioli loves his former New England defense look for him to try and help his new coach mold the Chiefs in the Pats' way of defense.
Pick No. 4: Seattle Seahawks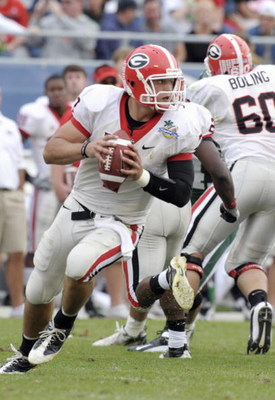 Mathew Stafford, QB, Georgia.
This could be a bit of a reach for most of you die-hard draft fans; however, look for the Seahawks to look toward the future here.
With the new coach and Hasselbeck getting up there in age and injuries, I think they can't pass him up. Also, Seneca Wallace is not your typical pro-type of QB.
Pick No. 5: Cleveland Browns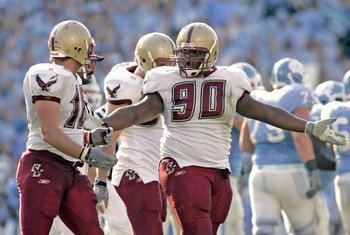 B.J. Raji, DT, Boston College
With their defensive line hurting for several years in the running, look for the Browns to beef up with the run stopping power of Raji. I think he'll make a great addition.
Look for offense as well.
Pick No. 6: Cincinnati Bengals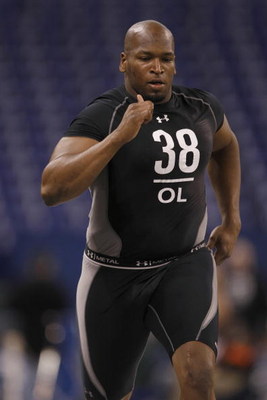 Eugene Monroe, OT, Virginia.
Their O-line has been hurting. The Bengals need to beef it up, so look for them to do that here.
Pick No. 7: Oakland Raiders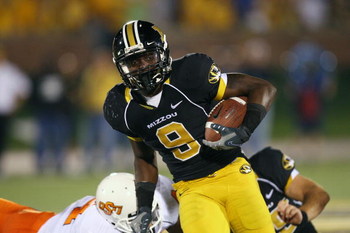 Jeremy Maclin, WR, Missouri.
The Raiders have so many needs it'll be hard to decide. Since this is Al Davis's team, however, and he loves speedy WRs, look for him to pick Maclin here.
Defense is another need, as well as O-line, but if they fall to in love with Maclin look for them to take him here.
Pick No. 8: Jacksonville Jaguars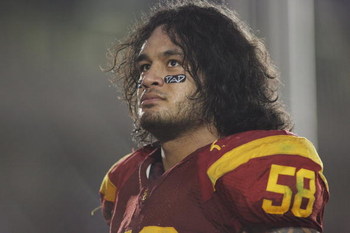 Rey Maualuga LB, USC
Maybe a bit of a reach here. However they let Peterson go, and they will at some point have to address their lb corps in the draft. I believe it could be here.
Pick No. 9: Green Bay Packers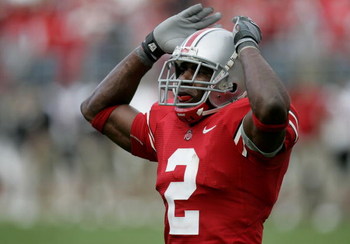 Their two corners are getting up there in age. I'm not sure that he'll be here, but if he is, look for the Packers to upgrade their secondary and get younger.
Pick No. 10: San Francisco 49ers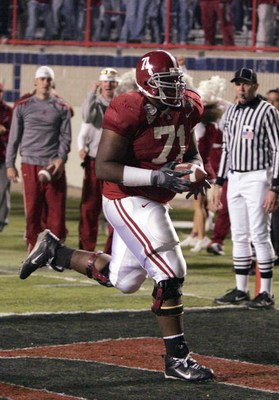 Andre Smith, OT, Alabama
The 49ers have a few QBs on their roster. I'm not sure that they are willing to risk another first-round pick since they also just restructured Alex's contract so he could stay in town.
Defense would be a great addition here as well.
Pick No. 11: Buffalo Bills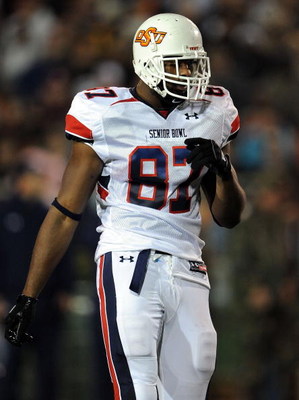 Brandon Pettigrew, TE, Oklahoma state
The Bills just signed T.O. Wow now, they need to add another offensive weapon to help get their WRs open.
Pick No. 12: Denver Broncos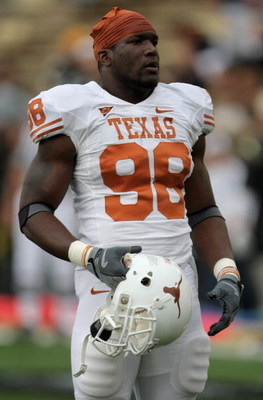 Brian Orakpo, DE, Texas
Some people have him going a bit earlier; however, I think that Raji will go first and Orakpo will go afterward. But either way, the Broncos' d-line have not helped them in the last few years.
Pick No. 13 Redskins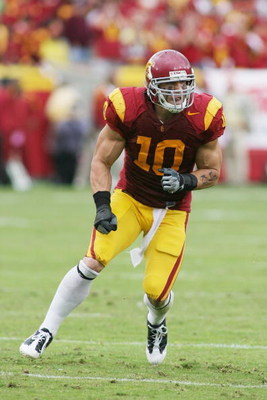 Brian Cushing LB, USC.
AFter signing a $100 million man in free agency, this year look for the Skins to address other needs—like their lb corps, which needs to be addressed.
Pick No. 14: Saints
Vontae Davis, CB, Illinois
Their secondary really needs some help. So far, their free agent pickups have not been working out.
They picked a corner in the last couple of years in the second round, but look for them to get another one here I believe.
Pick No. 15: Texans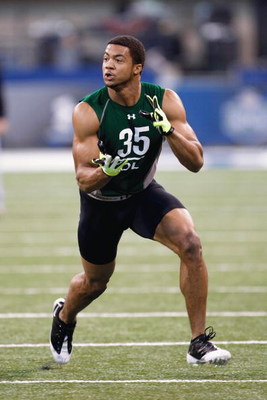 Aaron Maybin, DE-LB, Penn State
Maybin could most likely play linebacker for most teams in the NFL. The Texans have addressed a defensive end in free agency so look for them to address linebacker here. Also, cornerback or safety is a possibility.
Pick No. 16: Chargers
Everrette Brown, LB, Florida State
Despite one of the top middle linebackers being gone already, the Chargers still need to address their LB corps so look for them to look for that here.
Although the Ohio State MLB has dropped in the past few weeks. He could go here, but maybe not either.
Pick No. 17: Jets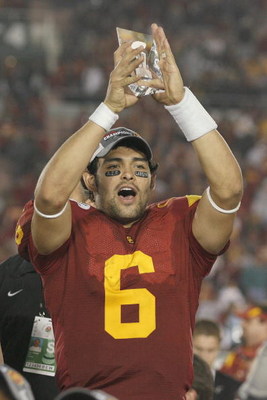 Mark Sanchez, QB, USC
Only playing one year in college and leaving early I believe has hurt his stock and he won't be a top-ten pick.
Whether or not he'll be here, I don't know. But if he is here, look for the Jets to address the QB problem on their roster.
Pick No. 18: Bears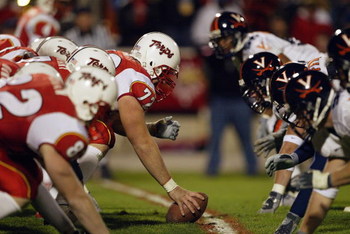 Darius Hayward-Bey, WR, Maryland
The Bears have been looking for a big time WR that can actually catch the ball. Look for that here.
(Sorry, couldn't find a picture of him.)
Pick No. 19: Bucs
Chris Wells, RB, Ohio State
Although their luck with drafting running backs in the first round has not really been present over recent years, this is a chance pick as well.
He has had some inury problems, even though toughness is not a problem—he maybe a bit to tough at times. The new head coach may have to try and teach him to save his legs and shoulders.
Pick No. 20 Lions (from Dallas)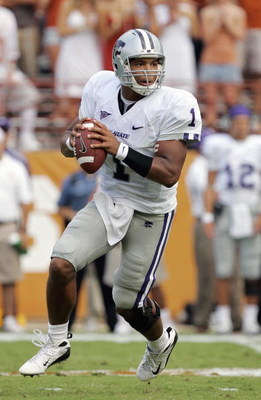 Josh Freeman, QB, Kansas
With the Lions addressing their O-line with their first pick, Look for them to address QB here.
picP No. 21 Eagles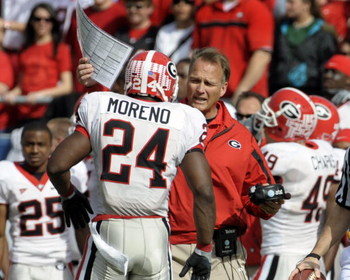 Knowshon Moreno, RB, Georgia
With Buckhutler gone and their RB corps aging a bit, look for them to address that here. WR, LB, or safety is also possible.
Pick No. 22: Vikings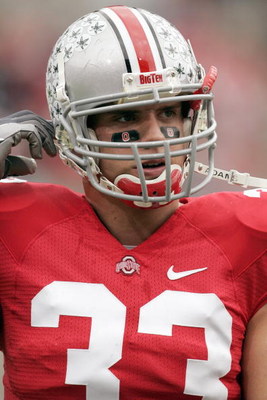 James Laurinaitis, MLB, Ohio State
I'm not sure if he'll be here, but he has slipped down in the draft a bit. With the Vikings needing linebackers, look for a great steal here. O-line, WR, and OLB are other possibilities.
Pick No. 23: Patriots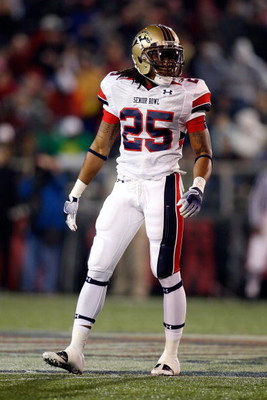 Louis Delmas, S, Western Michigan
The Pats love hard-hitting safeties, and with Harrison possibly not returning this year look for them to address that here.
They have four picks in the first 58 so don't be suprised if they trade out to get next year's picks stocked up or go after someone they want this year.
Look for linebacker, WR, OT, or even TE here as well.
Pick No. 24: Falcons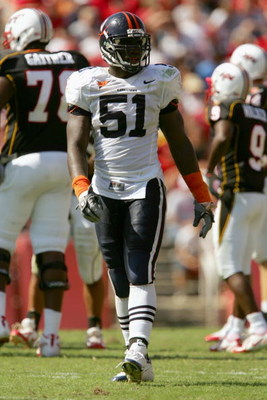 Clint Sintim, LB, Virginia
Look for the Falcons to beef up their LB corps here. After releasing two of their long-term LBs, they really need to address that.
Wr Brian Robiskie could be tempting here, as well with huge ties.
Pick No. 25: Dolphins
D.J. Moore, CB, Vanderbilt
With their secondary getting hurt by injuries last year, I think they'll address that here.
Pick No. 26: Ravens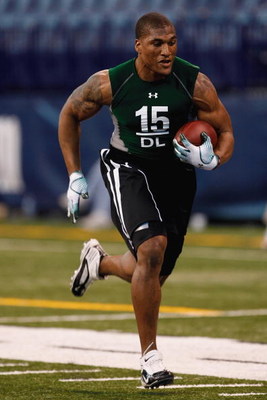 Larry English, DE-LB, Northern Illinois
The loss of Bart Scott to the Jets will be a huge blow to their dfense even though they re-signed Lewis and Suggs (franchise tag).
I think that they'll still want to go after another LB. They love those tweener DEs-LBs, and English will fit right in, being a sack master.
Pick No. 27: Colts
Tyson Jackson, DE, LSU
The Colts D-line has been aging and declining for a while. Look for them to address that here, with whomever they deem most valuable.
Pick No. 28: Eagles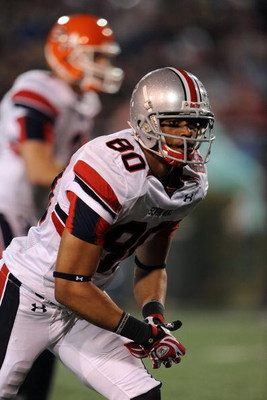 Brian Robiskie, WR, Ohio State
With their WR corps depleting, I think they'll address that here.
Pick No. 29: Giants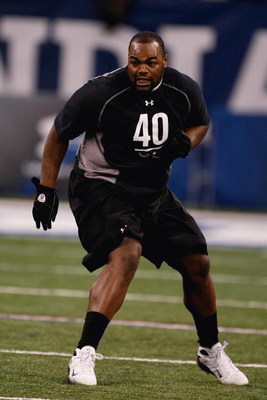 Michael Oher, OT, Ole Miss
The Giants addressed defense big time in their free agency this year. I'm not sure if a WR is in the cards, especially with the major WRs gone in my mock draft.
If Bey is here, sure, look for them to take him—but I think Oher will be a great steal and great for them to sure up their O-line.
Pick No. 30: Titans
Peria Jerry, DT, Ole Miss
The loss of Haynesworth will be a huge hit to their defensive line. Even though Jones played well, I think they'll address that here. Look for WR, LB, CB as well.
Pick No. 31: Cardinals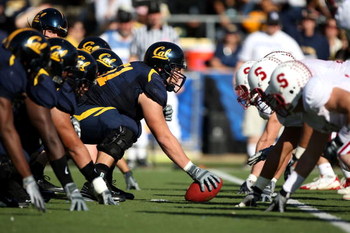 Alex Mack, C, Cal
The Cards have few holes on their offense—except with their O-line at center. Look for them to address that here.
Pick No. 32: Steelers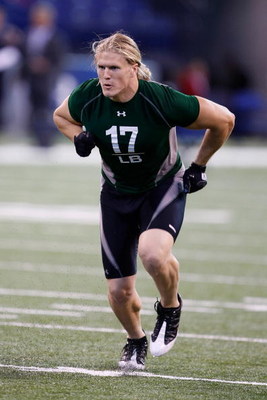 Clay Matthews, OLB, USC
The Steelers have been making great strides with their picks in the late rounds. However with the threat of Harrison not singing an extension on his contract, they'll want to mold a LB now to the Steeler way of D.
Keep Reading