Ravens vs. Texans: Final Report Card, Player Grades for Houston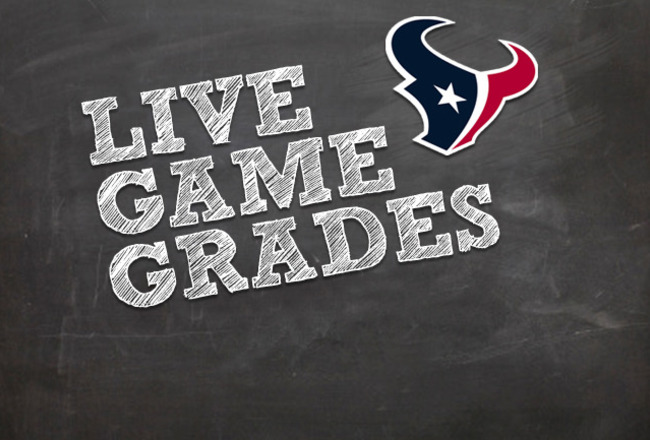 For those of us who have followed the Texans from their inception, this is the game we have been waiting for. Scoring a record forty-three points is reason enough for celebration. But the circumstances leading up to the game are what makes this win so sweet.
The escape from New York was when the doubts began, and the barrage of touchdowns from Aaron Rodgers was a throwback to other seasons that started with promise and ended up in despair.
The fact the Ravens had a 6-0 lifetime edge on the Texans and defeated them in a close 2011 playoff game simply added to the pressure. Could a team that had not responded very well in the past make this one a game to remember?
When the winning margin is thirty, how can it seem the game was not even that close? Pose that question to Joe Flacco and perhaps he will admit his 4.2 passer rating in the first half is what turned the game so completely in Houston's favor.
Besides the special teams and their special problems, every group came through in a big way. Individually, this is how they grade out.
Quarterback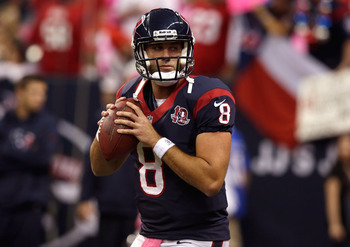 Scott Halleran/Getty Images
Matt Schaub — A
Say what you want about Schaub, he does not let a bad game or bad start hold him back for very long.
From the safety on the opening play in Denver, to last week's comeback that never was, to a couple of three-and-outs to start this one, he may get down but will not stay there.
The coaching staff knew going in that CB Jimmy Smith could not handle Andre Johnson so Matt went to him ten times. They also understood the Ravens would roll safety help in his direction which left Kevin Walter wide open more than once.
If not for nine incompletions to close out the first half, Schaub could have had a career-high passer rating. He ended up with a 100.7 rating with 23 completions on 37 attempts for 256 yards and two TDs. It was more than good enough.
Running Backs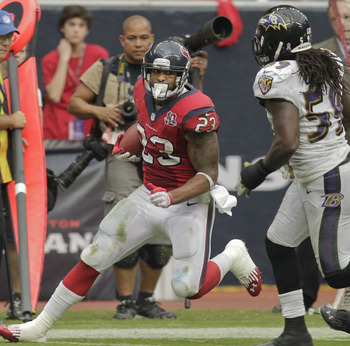 Bob Levey/Getty Images
Arian Foster— A
He had a better game than the one versus the Jets when he gained 152 yards. Consistency is the reason, as most of those Jets' yards came on just four carries.
The only thing separating him from a higher grade is the single catch he made in five targets. Foster was expected to be a huge part of the passing game, but 11 catches in seven games is hard to fathom.
But Arian was quicker through the hole than any other time this season. We would all like to see him do it against a defense that is better at stopping the run than the Ravens.
Ben Tate — B+
The word on turf toe is that it takes some time to heal. That is, unless you are Ben Tate.
He was just as steady as Foster, gaining tough yards to keep the ball moving. It also kept the clock rolling and the ball out of the Ravens' hands.
Justin Forsett — B
Forsett may have gotten most of his touches in garbage time, but he made the most of them. Baltimore's defense was probably thinking more about the ride home than what down it was after the score went to 43-13.
But someone needed to keep the clock running, and Forsett got it done.
James Casey— B+
The Texans' fullback did not add much to his stats, but his blocking on the edge aided the runners in racking up much of their yardage today.
On a few plays, the offense even misdirected the run away from his side of the formation. That's the kind of trickery that makes those "Kubiak is too conservative" complaints hard to support.
Wide Receivers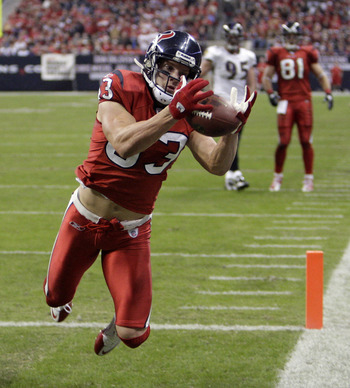 Bob Levey/Getty Images
Andre Johnson — A
Johnson had nine catches but not a lot of yardage. The fact he caught just about everything that came his way had a ripple effect through the entire Ravens' secondary.
His six receptions in the first half put enough fear in their minds that Walter and Daniels were open for most of the game. When the Texans needed to complete a pass, someone was there to make the catch. This came courtesy of a receiver that still commands a healthy measure of respect.
Kevin Walter — A
Yes, he cannot get separation from the defensive back on demand. But when the situation is right, meaning when Andre draws double coverage, he can get to where the play can be made.
Twice in this game he was so wide open a touchdown and a 34-yard gain were the results. This may not be the case in every game, but he does it often enough to make him as valuable as any other receiver on the roster. The exception would be his counterpart in the starting lineup.
Keshawn Martin — C
The education of Keshawn continues, with the rewards not arriving as desired. There is little choice but to stick with him, as no one else on the team offers his potential. It may take the rest of 2012 for this experiment to bear fruit, and we will all have to be patient in the meantime.
Tight Ends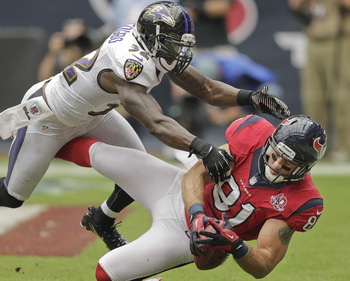 Bob Levey/Getty Images
Owen Daniels — A
OD caught his fourth touchdown and added seven catches to his reception total, both of which lead the team. And he stretched out like a wide receiver to grab that TD.
It is no wonder Schaub uses him just like a wideout. Between his hands and route running, he finds himself on the end of more throws than anyone else on the roster.
Garrett Graham — B+
The job description for a tight end is to catch passes and block when necessary, but not always in that order.
Graham is the better blocker compared to Daniels, and given the targets might just be as good catching the ball. As long as Daniels is on this team and healthy, Graham's potential will remain untapped. But he offers the kind of depth the best teams seem to possess.
Offensive Line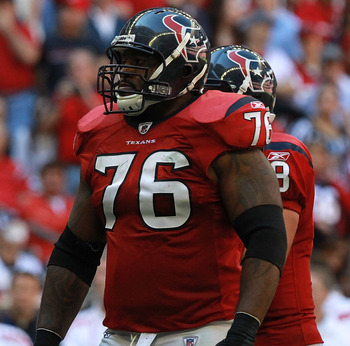 Ronald Martinez/Getty Images
Duane Brown — A
No sacks and the majority of running plays go over his side of the line again this week. Without a closer look at the game, it is difficult to judge how much Brown benefited from gimpy Haloti Ngata going in and out of the lineup.
When these two have met in the past, Brown has held his own. There is little doubt the Ravens' DE would not have fared any differently today.
Wade Smith — B+
Playing next to a Pro-Bowl caliber LT is always beneficial to the guard next to him, and Smith is one of those beneficiaries.
He also drew the Ngata/Cody duty, and handled each whether running or passing. Smith's only drawback is he rarely makes the block on the second level, which has limited the running game throughout the season.
Chris Myers — B
Dannell Ellerbe ended up being the replacement for Ray Lewis and he was all over the field. He led the Ravens with 12 total tackles.
While not always Myers' assignment, the inside linebacker has to be on the center's radar. He did a much better job on the rotund Terrence Cody, but Cody has been a disappointment since the 2010 combine.
Ben Jones — B+
When asked to identify 10 Keys to the Ravens Game, ending the rotation at right guard was one of my thoughts. It took a concussion to Antoine Caldwell to make it happen.
If Ben Jones is the best choice in this spot it will take more than this one game to convince those in charge. But it is certainly a step in the right direction.
Derek Newton — B
Newton gave up the early sack to Terrell Suggs, and most of the pass rushing stunts were run over his side of the line. No penalties were called on his number, a trend that has continued for the last four games. He has steadied his play and is improving week by week.
Defensive Line
Thomas B. Shea/Getty Images
J.J. Watt— A
No sacks, no tackles for loss, and he gets an A?
His tipped pass that Johnathan Joseph returned for six is reason enough, as it permanently altered the direction of the game. The reality that he had to be accounted for on every down adds to his effect.
Antonio Smith— A
It turns out Smith borrowed Watt's stat line for the week: two sacks (on consecutive plays), two tackles for loss, and two QB hits. His sacks turned a 14-play drive from a comeback touchdown into a plain old field goal.
Jared Crick— B
Crick is now the sub for the sub, meaning he replaces the fallen backup Tim Jamison. By the time he made it into the game, it was well out of reach. A good time for him to get some snaps under his belt.
Shaun Cody/ Earl Mitchell— C+
Ray Rice gained most of his yardage over the Houston NTs, and the two only registered a pair of tackles between them. The Ravens were behind most of the game, so their running game did not play much of a role.
That was fortunate for the centerpieces of the Texans' defensive line.
Linebackers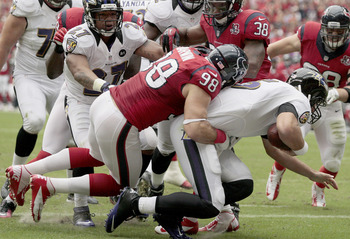 Thomas B. Shea/Getty Images
Connor Barwin— A
Barwin needed to get his mojo back, and he picked the perfect game to recapture it.
His first sack of 2012 was the safety that opened Houston's scoring. He hit the QB four more times, and added four tackles for loss. Is it enough to put his season on the plus side? One game does not a season make, but it does take the onus off his meager stats for the year.
But Barwin, as much as anyone in this game, made Joe Flacco look like a rookie QB by getting in his face so often he could not get a clean look at his reads. Averaging 3.4 yards per passing attempt is ample evidence of his pressure.
Brooks Reed— B
Reed had another workman-like game, with nothing special to show for it. There may be a big game in his future with multiple sacks, but his overall sound play is enough for now.
Whitney Mercilus— B+
The strip-sack by Mercilus preceded Barwin's sack for the safety. It was the beginning of series of mishaps that haunted the Baltimore QB for the rest of the game. More will be expected from him as the year goes on, so this was an auspicious start.
Bryan Braman— B+
Braman is one of the lone bright spots on special teams. His recovery of an onside kick meant the Ravens would not be able to turn a field goal into a potential game-changer.
Bradie James— B
James gave up some catches to Dennis Pitta, but they amounted to little in the end. The 55 yards the Ravens gained rushing came mostly up the middle, but this was a game the team from Baltimore would only win through the air.
James did his part to be sure neither would come to pass.
Tim Dobbins— B+
Filling in for Brian Cushing is just as hard as it sounds, but Dobbins acquitted himself well.
He may not have the sideline-to-sideline range of the missing ILB, but made it clear he was not a vulnerability ready to be exploited. Flacco tried Rice on a couple of screens and Dobbins held him to zero net yards.
Cornerbacks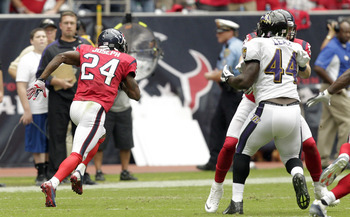 Bob Levey/Getty Images
Johnathan Joseph— A
Joe Flacco tried to pick on the seemingly lame cover corner of the Texans, and he did draw two pass interference penalties on him.
But Flacco could do nothing about the tipped pass that Joseph took to the house. Torrey Smith did catch a couple on passes on him, which under normal circumstances would be a bad day for J-Jo. As long as he is playing on one good leg, he gets the benefit of the doubt.
Kareem Jackson— B+
Jackson had an uneventful game, which after the abuse heaped on him by the Packers is a definite improvement. It must have been decided before the game Joseph would be targeted, which virtually gave Kareem the day off.
Brice McCain— B+
McCain only allowed one pass to be completed in his area, and when he was targeted he was a step ahead of the receiver for a change. Everyone in the defensive backfield enjoyed an exceptional day due to the exceptional pass rush.
Safeties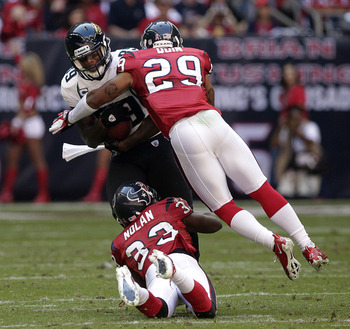 Bob Levey/Getty Images
Danieal Manning— B
At least Manning did not have to punch anyone this week to literally save his neck. The Baltimore passing routes were mostly sideline and the middle zones, which meant he could keep the receivers from getting behind him. The Ravens played right into his preferred cover technique.
Glover Quin— A
Johnathan Joseph may get the press, but Quin gets to the ball too. When the safety leads the team in tackles, it is typically a bad day for the defense. But the Ravens had 43 passes to 12 running plays, so the defensive backs were in for a long day.
His tackles only totaled six, but he went all over the field to make them. In the process, he picked off his first interception of the season and kept the short gains from becoming longer ones.
Special Teams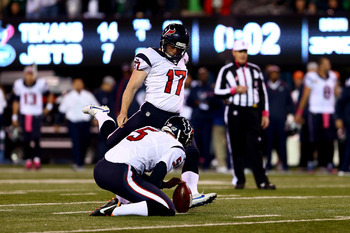 Elsa/Getty Images
Keshawn Martin— C
Only one kickoff return and four punt returns that gained nine yards. Another area of his that needs work, but then so does the entire kick coverage unit.
Donnie Jones— A
He had five punts for a 48-yard average. Two were downed inside the 20, one at the three-yard line. This led to the safety that started the leakage for Baltimore and ultimately turned into a flood.
Shayne Graham— B
Two of two on field goals, five of five on extra points, this was just another day at the office for the veteran kicker.
Kick Coverage— D
Every silver lining has a cloud, and we all know this one. If forty-three points are scored, that means a lot of kickoffs will ensue.
Jacoby Jones averaged 32.7 yards on his six returns, two of which were 45 and 47 yards in length. For this game they did not matter. Should this keeps happening, someday they will.
Coaching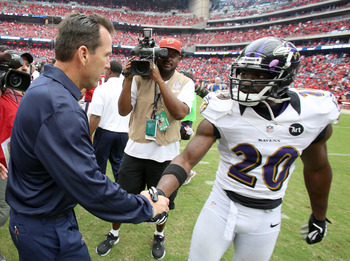 Thomas B. Shea/Getty Images
Coaching— A
The coaching staff knew they were facing a wounded squad. Would they come out fighting, or take a few licks and look for somewhere to hide?
The Ravens never seemed to give up in this game, unless you want to point the finger at their quarterback. Once things started going wrong, he had no idea how to respond.
Chalk that up to the Houston pass rush, which simply overwhelmed every attempt by Baltimore to hold back the tide. Wade Phillips accomplished this with his base defense and a minimum of stunts and fakes.
Matt Schaub took some time to get rolling, but once he did was unstoppable. The absence of Lardarius Webb was significant, but the hobbled Haloti Ngata had just as big an effect.
There was room to run as both Foster and Tate hit the holes without hesitation. Maybe the offensive line is finally starting to jell or they just met a team on an off day. Gary Kubiak now has a week off to figure out which description fits the facts.
Keep Reading

Houston Texans: Like this team?